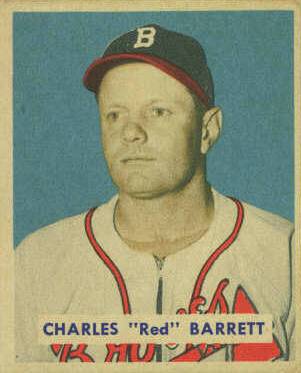 August 10, 1944: Braves' Red Barrett shuts out Reds with record-low 58 pitches
---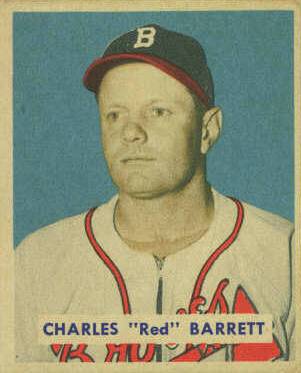 In the summer of 1944, the third season of wartime baseball, the Cardinals and Browns were leading their respective leagues on the way to the first-and-only "Meet Me in St. Louis" World Series.1
Down the rungs of the National League standings, the Boston Braves were just trying to stay out of the cellar. The sixth-place Braves were 32 games behind the Cardinals and a scant two games ahead of last-place Phillies and Dodgers. On August 9 they were in Cincinnati, early in a 20-game road trip. They had a four-game series on tap in the Queen City and won the Wednesday afternoon opener behind Al Javery and Jim Tobin. The victory gave them a modest three-game winning streak.
Thursday's game was a night affair, a result of the entreaty of President Franklin D. Roosevelt to Baseball Commissioner Kenesaw M. Landis shortly after Pearl Harbor, aimed in part at providing better opportunities for workers to see an occasional ballgame as a wartime morale booster.2 A good number for a midweek game, 7,783, turned out to see the Reds' ace, third-baseman-turned pitcher Bucky Walters,3 get the ball from manager Bill McKechnie. Walters had paced McKechnie's Cincinnati pitching staffs to National League pennants in 1939 and 1940. The sturdy righty led the league in wins both years and was on his way to a 23-8 record in 1944.4
Braves manager Bob Coleman countered with chunky (5-feet-11, 183 pounds) 29-year-old right-hander Red Barrett. Barrett had already started three games against Cincinnati in 1944, going 1-2 in 21⅔ innings of work. He had won his most recent outing against them, on July 26 at Boston, with a complete-game seven-hitter. That had been his last winning effort; he took a 6-11 record and a pedestrian 4.53 ERA into the August 10 game. Walters was already 16-5, 2.36.
Barrett was facing his original major-league team. He had debuted with Cincinnati in 1937 and pitched 43 innings in 12 games for them over the 1937-1940 seasons, bouncing between the majors and high minors. Cincinnati had dispatched him to Birmingham (Southern Association) for 1941 and Syracuse of the International League for 1942. In those two stops he blossomed into a reliable high-minors starting pitcher, going 40-28 overall. Impressed, the Braves purchased his contract from the Reds on September 30, 1942.5
Married with two children and a military draft deferment6 as the second year of wartime baseball caused teams to scramble to fill 1943 roster spots, Barrett stepped in as a regular in the Braves' rotation. While he wasn't the ace, he remained there in 1944.
If the August 10 game hadn't necessarily been billable as a pitchers' duel, it certainly shaped up as one for those prescient enough to visit Crosley Field that night. The Braves went out in order against Walters in the top of the first. In the Cincinnati half, Gee Walker touched Barrett for a two-out groundball single to center field. But Barrett retired the dangerous Frank McCormick — hitting .303 with 63 RBIs 100 games into the season — on a lineout to shortstop Dee Phillips to end his first inning.
Walters yielded a leadoff single to the Braves' Butch Nieman in the second inning. Nieman advanced to second, then third, on infield outs. Phillips, a .242 hitter in the midst of a six-game hitting streak whom Boston had purchased from Cincinnati at the end of the 1943 season, then bit the hands that formerly fed him, bumping a single into left-center to score Nieman and give Boston a 1-0 lead.
Both Barrett and Walters continued to "pour the pellet towards the plate with precision and speed" through four innings.7 Phillips struck again in the Boston fifth, though. With one out, he mastered Walters for a double to deep center field, then scored as Whitey Wietelmann, up next, hit a fly ball to right field that eluded Tony Criscola for a three-base error as the right fielder "stumbled and fell."8 With a run in, Wietelmann on third and still only one out, Walters regrouped to strike out Barrett9 and get Max Macon on a groundout to first base. Phillips's run was unearned, but it made it 2-0, Braves, through five quick innings.
Eddie Miller tried to get something started for Cincinnati in the sixth with a leadoff single, the second hit Barrett had yielded. Miller advanced to second base on a fielder's choice for the second out but was left there when Criscola popped out.
Walters wasted little time holding the Braves scoreless the rest of the way, although he issued his only walk, to Buck Etchison, to open the seventh, and gave up a one-out double to Tommy Holmes in the eighth. Phillips pestered him with his third hit, a two-out single in the ninth. But Barrett more quickly and methodically mowed down nine straight Reds over the same span to close out the 2-0 gem.
The official scorer recorded the length of the game as an hour and 15 minutes. Averaged, each of the nine innings took less than 10 minutes; each half-inning less than five, as both pitchers threw strikes and the batters made early and generally hapless contact. Walters walked one and struck out one, while Barrett saved pitches — he had no strikeouts and issued no walks. As Cincinnati writer Lou Smith with a possible tinge of hyperbole, put it, "[Barrett] is one of the fastest workers in the history of the game. Unlike most pitchers he wastes no time by hitching up his trousers and reaching for the resin bag."10
The documented 1-hour, 15-minute game time went down as, and remains, the fastest-played nine-inning night game in major-league history.11 Given current pace-of-game issues, there seems little likelihood that a nine-inning game, day or night, will ever be played more quickly.
Barrett's effort against Cincinnati is also recognized as having required only 58 pitches and is noted as the majors' fewest-pitch complete game ever. There was no pitch count mentioned in writer Lou Smith's coverage for the Cincinnati Enquirer. But another writer covering the game, Frank Grayson of the Cincinnati Times-Star, noted in his game story that "[Barrett] pitched just 58 balls in the course of the game, which was run off in the very fast time of one hour and 15 minutes due to the rapidity with which the pitchers operated and, incidentally, the speed with which the Reds went out."12 In his sidebar "Notes," Grayson mentioned that he had served as the official scorer for the game.13 Thus, he would have had a reason to keep a pitch count along with recording the length of the game.
The box scores of the game digitized by the Baseball-Reference and Retrosheet websites don't include pitch counts for games from the 1940s. Likewise for the contemporary box scores published on August 11, 1944, by the Boston Globe14 and the Cincinnati Enquirer,15 as well as the box score of the game published in the August 17, 1944, edition of The Sporting News.16 Pitch-count recording simply wasn't routinely done in 1944, but that Barrett used only 58 pitches and that the effort is a record appears in multiple sources — ranging from his SABR biography,17 through Barrett's entries in the Baseball-Reference.com Bullpen section, Baseball-Almanac.com, and the Michelson Book of World Baseball Records,18 to Barrett's obituary in the New York Times.19 Frank Grayson's article provides additional authentication.
After Grayson, Barrett himself is the closest-to-contemporary source for his having used 58 pitches in the game. Within two years of the event, on June 24, 1946, a short article, apparently part of a syndicated "My Big Thrill" sports series, appeared. Bylined "Red Barrett, Cardinal Pitcher,"20 it states:
"My biggest thrill without a doubt came in a night game, Aug. 10, 1944, when pitching for the Braves against the great Bucky Walters, I let the Reds down with two hits in beating them with 58 pitches in an hour and seven minutes [emphasis supplied by author]. I believe that this is an all-time record for the least number of pitches in a nine-inning game. Beating Bucky was an added thrill, of course."21
Although Barrett was eight minutes short in the time of game, the number of his pitches has not been challenged. And today, with pitch counts rigorously recorded and analyzed, the way pitchers are used in the current game seems to amply ensure that Barrett's accepted accomplishment will stand.22
Sources and acknowledgments
In addition to the sources cited in the Notes, I used the Baseball-Reference.com and Retrosheet.org websites for player, team, and season pages, game logs, and the box scores linked below. SABR member Bill Deane supplied me with copies of the pertinent pages of the Michelson Book of World Baseball Records cited in his January 4, 2020, post to SABR-L, which alerted me to that documentation of Barrett's pitch count. My thanks to Bill.
In fact-checking this account SABR member Laura Peebles alerted me, from a reference book that had just come into her possession,23 to the possibility of the existence of a more contemporary record of Barrett's 58 pitches by Cincinnati Times-Star writer Frank Grayson, the official scorer in Cincinnati on August 10, 1944.
baseball-reference.com/boxes/CIN/CIN194408100.shtml
retrosheet.org/boxesetc/1944/B08100CIN1944.htm
Notes
1 The Cardinals had a yawning 17½-game lead over Pittsburgh and Cincinnati on August 9 and went on to win the 1944 National League pennant by 14½ games over Pittsburgh. The Browns led the Boston Red Sox by 6½ games on August 9. That lead evaporated as the season ground on. To win the 1944 American League pennant by one game, the Browns had to sweep a season-ending four-game home series against the New York Yankees as Washington beat Detroit on the last day of the season. The 1944 pennant was the only one the St. Louis American League franchise ever won.
2 See January 15, 1942, "Green Light" letter from Roosevelt to Landis, Baseball Hall of Fame correspondence collection, collection.baseballhall.org/PASTIME/letter-franklin-roosevelt-kenesaw-mountain-landis-1942-january-15-0.
3 Walters began his professional baseball career in 1929 as an infielder and occasional pitcher. He reached the majors in 1934 with the Philadelphia Phillies as a third baseman. By 1935 spring training, the Phillies saw more merit in his arm than his glove. Although reluctant to make the switch, he did — and became a dominant National League starter, logging 198 wins over 16 seasons. Sheldon Appleton, "Bucky Walters," SABR Baseball Biography Project, sabr.org, accessed February 14, 2020.
4 Walters' 23 wins in 1944 again led the National League.
5 "Braves Buy Barrett," Berkshire Eagle (Pittsfield, Massachusetts), October 1, 1942: 16.
6 "Braves Buy Barrett."
7 "Barrett Gives Reds Two Hits; Tribe Wins, 2 to 0," Boston Globe, August 11, 1944: 4.
8 "Barrett Gives Reds Two Hits."
9 This was the only strikeout by either pitcher in the game.
10 Lou Smith, "Sparks Off Smith's Forge," Cincinnati Enquirer, August 11, 1944: 18.
11 Fewest Pitches in Complete Game" entry, Baseball-Almanac.com, accessed February 10, 2020.
12 Frank Y. Grayson, "Red Barrett Holds Former Teammates to Two Hits in Job of Whitewashing," Cincinnati Times-Star, August 11, 1944: 22.
13 Grayson.
14 "Barrett Gives Reds Two Hits."
15 Cincinnati Enquirer, August 11, 1944: 18.
16 The Sporting News, August 17, 1944: 18. The box score includes a brief summary of the game, which mentions that it was played in "only" an hour and 15 minutes. The summary makes no mention of Barrett's pitch count.
17 Sidney Davis, "Red Barrett," SABR Baseball Biography Project, sabr.org, accessed February 11, 2020.
18 Court Michelson, Michelson's Book of World Baseball Records (Chicago: Adams Press, 1985), 33.
19 "Charles (Red) Barrett, Pitcher, 75," New York Times, August 2, 1990: 28. While the obituary cites 58 pitches, it erroneously states that Barrett faced 27 batters. He in fact faced 29. There were no double plays by either team in the game. The Reds left two runners on base as the result of their singles in the second and sixth innings.
20 Barrett was pitching for the St. Louis Cardinals in 1946, having been traded by the Braves with $60,000 to St. Louis for Mort Cooper on May 23, 1945.
21 "My Big Thrill: Red Barrett Won With 58 Pitches," Statesville (North Carolina) Daily Record, June 24, 1946: 9. The identical article appears on Page 11 of the June 24, 1946, edition of the Standard-Speaker (Hazleton, Pennsylvania).
22 Just short of 40 years later a minor-league pitcher used 58 pitches in a complete-game, seven-inning, no-hitter. On June 10, 1984, 19-year-old lefty Bob Kipper, pitching for the Redwood Pioneers, beat the San Jose Bees 9-0 in a California League game. Michelson; Brian Sumpter, "Kipper's No-Hitter Gives Pioneers a Sweep," Press-Democrat (Santa Rosa, California), June 11, 1984: 33. Kipper, a draftee and farmhand of the California Angels at the time, reached the majors with the Angels for one start in 1985. He was traded to the Pittsburgh Pirates later that season and had a 27-37 record in eight seasons in the majors.
23 Joseph J. Dittmar, Baseball Record Registry, (Jefferson, North Carolina: McFarland & Co., 1997), 301.
Additional Stats
Boston Braves 2
Cincinnati Reds 0
---
Crosley Field
Cincinnati, OH
Box Score + PBP:
Corrections? Additions?
If you can help us improve this game story, contact us.
Tags
http://bioproj.sabr.org/bp_ftp/images3/BarrettRed.jpg
600
800
admin
/wp-content/uploads/2020/02/sabr_logo.png
admin
2020-03-24 13:28:18
2020-05-28 15:47:49
August 10, 1944: Braves' Red Barrett shuts out Reds with record-low 58 pitches