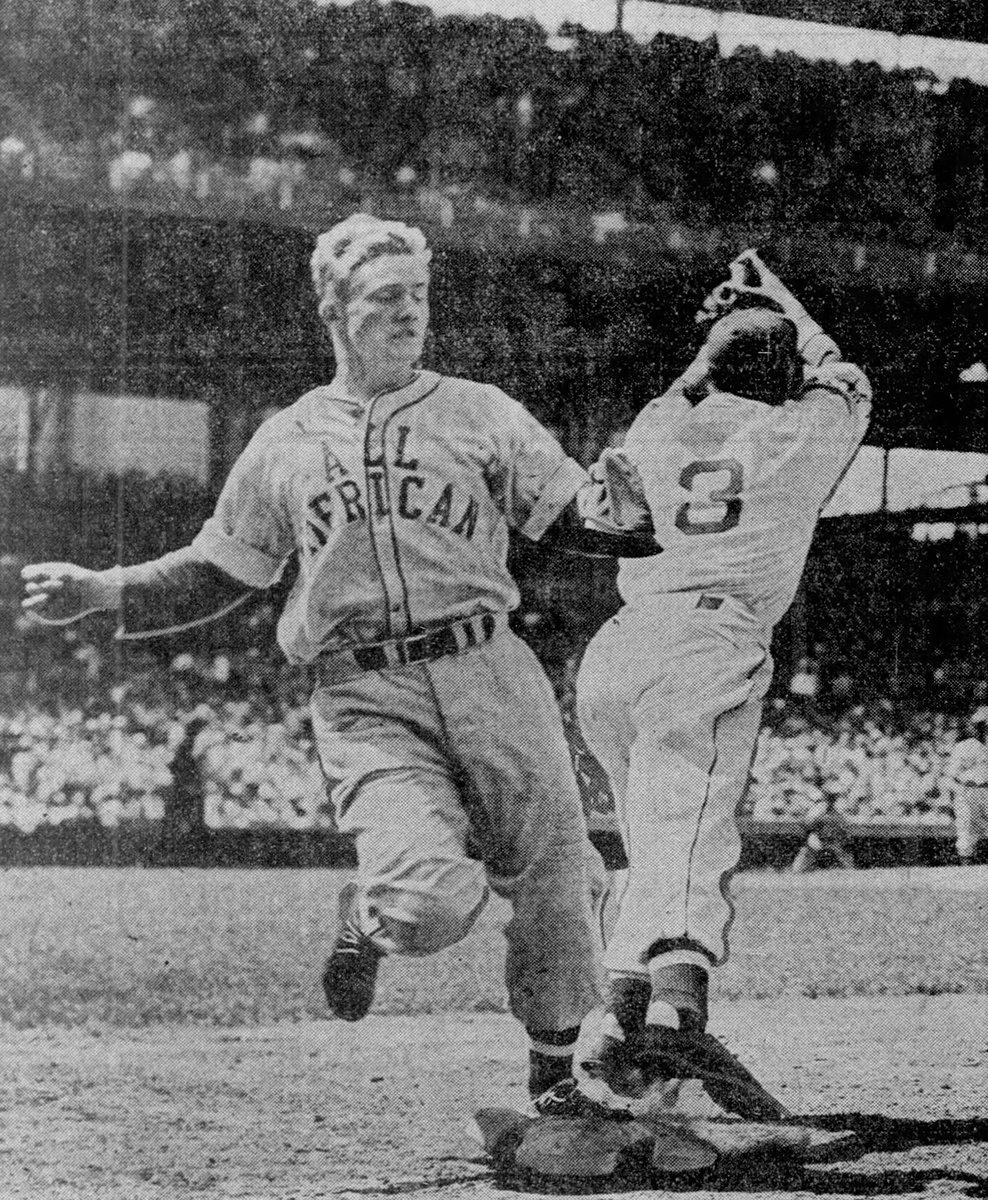 August 10, 1946: Cobb meets Wagner in the Windy City for high school all-star game
---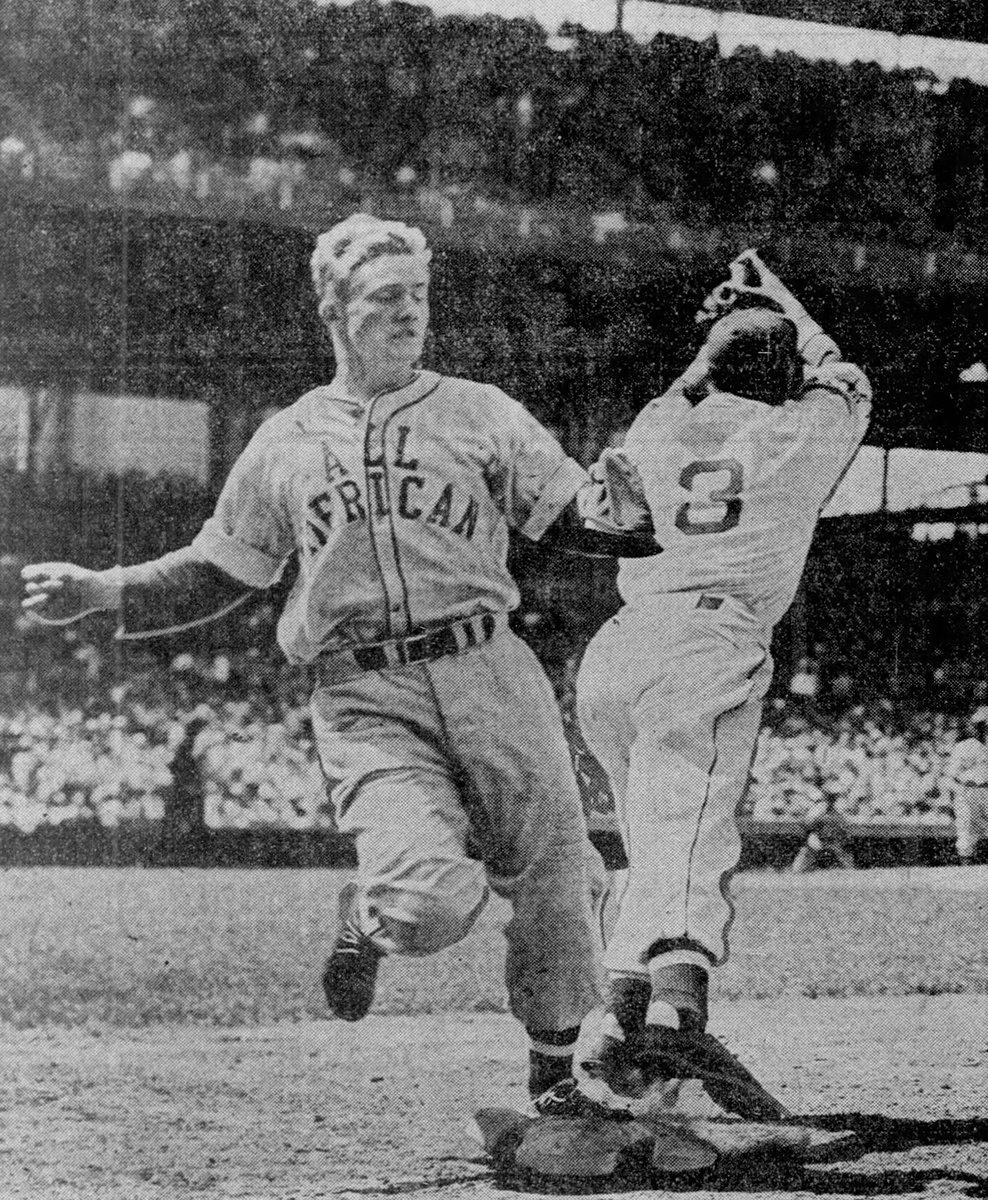 In 1946, the Esquire's All-American Boys' Baseball Game, in its third year, was moved from New York to Chicago and was played at Wrigley Field on August 10. The game brought together 33 boys, aged 16-18, sponsored by 32 US newspapers. The players represented 25 states, and the East All-Stars played the West All-Stars. In front of a crowd of 20,211, the West team, pounding out 10 hits and taking advantage of 14 walks, defeated the East, 10-4. The West team took the lead with three first-inning runs and didn't look back, sealing the win with a five-run rally in the sixth inning.1 Walter Pocekay was chosen MVP after going 4-for-5 in the contest. Pocekay had been sent east by the San Francisco Chronicle. He played in parts of nine minor-league seasons and batted .308, but never made it to the majors.
Commissioner Happy Chandler added his name to the growing list of supporters for the game when he commented:
"I am tremendously interested in amateur baseball and want to encourage all of those who sponsor ethical competition among the younger ballplayers. There is a marked upsurge in interest in junior baseball all over the country and I think this is a very healthy sign."2
American League President Will Harridge selected the umpires for the game, newcomers Bill Boyer and Jack McKinley.3
Jerry Ahrens was a double threat. He was accompanied to the game by Harold Tuthill of the St. Louis Post-Dispatch. Ahrens, who had two no-hitters, was so prodigious a hitter that manager Ty Cobb batted him fourth in the lineup and sent him to the outfield once his pitching chores were complete. He pitched the first three innings, striking out two, and was the winning pitcher. He had one hit in three appearances, driving in two runs. He was signed by Detroit and pitched two minor-league seasons, posting a mark of 21-8 while batting .223. However, he would not get past Class A.
The boys stayed at Hotel Stevens, overlooking Lake Michigan. Before playing on August 10, they saw two games between the White Sox and Cleveland. In one of those games, Bob Feller pitched a one-hitter, and the boys met with him after the game. They also attended a performance of the Ringling Brothers Circus, took a 2½-hour boat ride on Lake Michigan, and attended a practice of the College All-Stars football team at Soldier Field. They also took trips to the Shedd Aquarium, the Field Museum, and Riverview Park.4
Present at the game were Chandler along with former heavyweight boxing champions Gene Tunney and Max Baer. Proceeds from the game went to the Chicago Servicemen's Centers and the American Commission for Living War Memorials. Before the game, there was a moment of silence in memory of Vic Picetti. Picetti had played in the 1944 Esquire's Game in New York and, on June 26, 1946, had been among the nine killed when a bus carrying members of the Spokane team (Western International League) careened off a slippery mountainside in Washington state.
Ty Cobb, who had managed the West squad in the 1945 game in New York, returned in that capacity and applauded the game, saying, "When any event makes it possible for boys from all sections of the country to meet on common ground, and where all have a common interest, it is a big step forward in making this country a better place for our coming generation to live in."5 Assisting him were two Chicago Cubs scouts, Bill Conroy and Bill Prince. The pair had run the baseball school in Chicago that summer.
Honus Wagner, then 72 years old, managed the East squad. His coaches were Luke Appling and Mike Tresh. Wagner said, "Working with these boys will take me back to my kid days in Carnegie, Pennsylvania. We'll dig in and learn a lot of baseball while we are together. I can't say that we'll win, but I will say the West will get all the competition they are looking for when the umpire calls, 'Play Ball!'"6
Wagner was posed with an unusual challenge: Five of his players were first basemen and he had to do some juggling to field all nine positions. Cobb had his woes as well: Two of his pitchers stayed home and participated in local American Legion tournaments. They were replaced at the last minute.
Braven Dyer of the Los Angeles Times, attending the contest for the third consecutive year, wrote, "The value of this annual game cannot be estimated. In the first place, the thrill of a cross-country trip provides an educational experience which cannot be gauged in dollars and cents. Association with men such as Cobb and Wagner is a privilege seldom accorded youngsters of today. Ty is worth millions and no amount of money could make him take part in this type of promotion unless he loved kids and baseball."7
Players making it to the majors included Hobie Landrith, Chuck Stobbs, Harry Agganis, Pete Whisenant, John Powers, and Harold "Tookie" Gilbert.
Agganis, the top-ranking player in the Eastern Massachusetts School League, was sent to the game by Ernie Dalton of the Boston Globe. He was born Aristotle George Agganis, and was called Ari growing up. Although only a Lynn Classical High School sophomore at the time, he had been awarded the Fred Ostergren Memorial Trophy as the outstanding New England athlete and student of 1946. Later that year, on Christmas Day in the Orange Bowl in Miami, he led his football team to the National High School Championship, defeating Granby High School of Norfolk, Virginia, and its star quarterback, Chuck Stobbs. He represented Boston on the 1947 US All Star team in the Hearst Classic. Agganis then brought Boston University into national prominence on the gridiron. He made it to the majors with the Red Sox in 1954. The future was bright and he was en route to the most promising of careers, batting .313 in his second major-league season, when he was hospitalized with what was diagnosed as a massive pulmonary embolism. He died six weeks later, on June 27, 1955, at the age of 26.
Gilbert was sent to the game by Fred Digby of the New Orleans Item. He was the outstanding prospect of those playing in the game, having never hit below .600 in school and sandlot play, and batted .415 in American Legion play during the summer of 1945. Gilbert's father, Larry, played in the majors with the Boston Braves for two seasons, and was part of the 1914 Miracle Braves squad. Larry managed the New Orleans Pelicans from 1923 through 1938. Young Tookie was a fixture at the ballpark. "Harold grew right up in baseball, and his dad had him out to the New Orleans home games before he knew how to walk."8
At the time of the Esquire game in 1946, Larry was managing at Nashville and took the day off to travel to Chicago and watch his son play. Tookie signed with the New York Giants and batted .334 with 33 homers in 154 games at Nashville in 1949. Tookie made his major-league debut on May 5, 1950. His .220 batting average in 113 games played showed that he had been called up too soon.9 He was sent back to the minors, then returned to the Giants for an unproductive 70 games, batting only .169, in 1953. That was the end of his major-league career.
Whisenant of Paw Creek, North Carolina, was selected after starring in an all-star game in Charlotte, North Carolina, between teams from North and South Carolina. He was selected by a seven-man panel of judges headed by the coaches for the two teams, four writers including Wilton Garrison of the Charlotte Observer, and Claude Dietrick, head scout of the Atlanta Crackers.10 He was the best performer for the East Squad in the Esquire game, getting three hits in five at-bats. He made it to the major leagues with the Boston Braves in 1952 and played parts of eight seasons for six teams. After his playing days, he continued in baseball and managed for two seasons in the Oakland A's organization. He was named the California League's Manager of the Year in 1982 when he led Modesto to a 94-46 record.
Stobbs was a hard-hitting, hard-throwing first baseman and pitcher from Norfolk, Virginia, starring at Granby High School. He starred in the Eastern Virginia-Western Virginia All Star game, pitching his squad to a 7-1 win and earning a trip to the game in Chicago. At Chicago, he pitched the last 2⅔ innings. He was named Virginia Player of the Year in high school in 1946, was named to the All-State basketball team, and led his high-school football team to three consecutive undefeated seasons. He signed with George "Specs" Toporcer of the Boston Red Sox11 for a bonus estimated at $50,000, right after graduating from high school. When he made his major-league debut, on September 15, 1947, he was two months past his 18th birthday. He pitched with Washington for eight years, and accompanied the team to Minnesota in 1961. He is perhaps best known for one pitch. On April 17, 1953, at Griffith Stadium in Washington, Mickey Mantle sent one of Stobbs's offerings far and long. The tape-measure shot was said by a Yankees PR man to have gone 565 feet before coming to a rest. Stobbs won 107 games in the majors (with 130 losses), but that one pitch will never be forgotten.
Landrith was selected for the game by Lyall Smith of the Detroit Free Press. In 1948, he played in the Hearst game. He is best known as being the first-round draft pick of the New York Mets in the expansion draft after the 1961 season. But his career started much earlier. After attending Michigan State University for one year, Landrith signed with the Cincinnati organization prior to the 1949 season, and first appeared in the big leagues in 1950. He spent parts of 14 years in the majors, usually as a backup catcher. His first opportunity as a starter came with the 1956 Cubs, and he was also a starter with the 1959 Giants. Landrith was one of seven catchers to play for the Mets in 1962. Through 23 games with the Mets, he was batting .289 on June 6 when he became the "player to be named later" when the Mets traded him to Baltimore for Marv Throneberry. After his playing days, Landrith had a series of executive positions for Volkswagen of America, for whom he worked for 30 years.
Powers hailed from Birmingham, Alabama. He was selected for the game after starring in the Alabama All-Star game sponsored by the Birmingham News. In that game, his three doubles impressed the judges, one of whom was Commissioner Chandler. He was signed by the Red Sox before the 1949 season, was acquired by the Pirates organization the next year, and finally made it to the big leagues in 1955. Powers had 304 homers as a professional, all but six in the minor leagues. He slammed 298 homers in 13 minor-league seasons. Twice, with Class-B Waco in 1950 and with Double-A New Orleans in 1956, he banged out 39 round-trippers. He played in parts of six seasons in the major leagues, batting 195 with 6 home runs and 14 RBIs in 215 at-bats.
Esquire planned to take the game to a different city each year, but these hopes were dashed when the magazine, in December 1946, informed the participating newspapers that there would be no games after 1946. Nevertheless, in 1947, many of these papers got together and named an All-American team. The players went to Chicago and were treated to an excellent experience. However, baseball was not on the itinerary and hopes to rekindle the All-American Game were quickly extinguished.
This article appears in "Wrigley Field: The Friendly Confines at Clark and Addison" (SABR, 2019), edited by Gregory H. Wolf. To read more stories from this book online, click here.
Sources
In addition to the sources cited in the Notes, the author used Baseball-Reference.com.
Photo caption
Tom Whisenant of the East All-Stars beats a throw to Wayne Robinson of the West All-Stars at first base during the Esquire All-American Boys' Baseball Game on August 10, 1946, at Wrigley Field. (CHICAGO TRIBUNE / NEWSPAPERS.COM)
Notes
1 United Press, "West Wins Boys Game," Miami News, August 11, 1946: 3-C.
2 Ogden Standard Examiner, June 2, 1946: 12A.
3 Bob Latshaw, "Landrith Starts Esquire Game: Detroiter Will Catch for East," Detroit Free Press, August 10, 1946: 10.
4 Raymond Johnson, "Gilbert Given Cleanup Spot in East Lineup," The Tennessean (Nashville), August 9, 1946: 34.
5 Ogden Standard Examiner, May 9, 1946.
6 Pittsburgh Post-Gazette, May 10, 1946: 17.
7 Braven Dyer, Los Angeles Times, August 2, 1946: 6.
8 Paul O'Boynick, "Baseball Scouts to Mecca," Kansas City Star, August 6, 1946: 9.
9 Frank Graham, The New York Giants: An Informal History (reprint edition, Carbondale, Illinois: Southern Illinois University Press), 295.
10 Eddie Allen, Gastonia (North Carolina) Evening Gazette, July 12, 1946: 8.
11 Bill Nowlin, "Chuck Stobbs," SABR BioProject.
Additional Stats
West 10
East 4
---
Wrigley Field
Chicago, IL
Corrections? Additions?
If you can help us improve this game story, contact us.
Tags
https://sabr.org/sites/default/files/1946-08-11-Esquire-All-American-Game-Chicago_Tribune.jpg
600
800
admin
/wp-content/uploads/2020/02/sabr_logo.png
admin
2019-12-03 12:44:19
2020-04-17 10:22:23
August 10, 1946: Cobb meets Wagner in the Windy City for high school all-star game