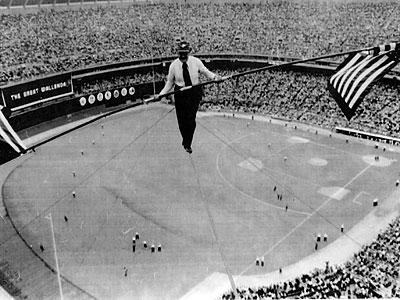 August 13, 1972: The Great Wallenda and Steve Carlton
---
I wonder who will be higher, Wallenda or Carlton?" — Montreal Expos catcher Tim McCarver1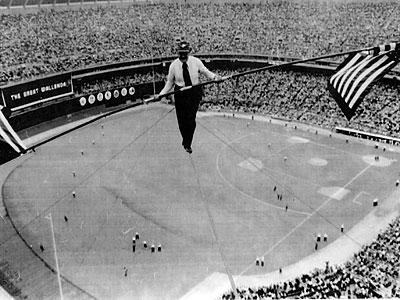 On a muggy August afternoon in 1972, Karl Wallenda and Steve Carlton performed during a doubleheader between the Philadelphia Phillies and the Montreal Expos at Philadelphia's Veterans Stadium.
Carlton was 27 years old and entering the prime of his career. During the offseason he was traded by the St. Louis Cardinals to the Phillies for pitcher Rick Wise, a transaction that did not made Carlton happy, but only because he hadn't been consulted. "You have to look forward to doing a good job with the club you are with," he said. "The Phillies have a young club with a chance to grow."2
Carlton was in the midst of an incredible 1972 season: Before pitching in this mid-August game, he had 18 wins, a personal 13-game-winning-streak, and a league-leading 232 strikeouts in 232 innings pitched. "Not since Bobby Shantz in 1952 has a pitcher stirred up as much fan interest (in Philadelphia)," wrote Roy Kelly in the Philadelphia Evening Bulletin.3
Karl Wallenda was a daredevil circus performer whose name was known throughout the world for his dangerous high-wire stunts. He was the founder and leader of a high-wire stunt team, the Flying Wallendas, and was still performing at the age of 67. Today's solo performance would take place between games of the doubleheader.
The brainstorm of using Wallenda's act to attract fans was that of Phillies promotions director Bill Giles, credited as the man behind the idea of the Astrodome's revolutionary scoreboard. The Phillies organization, looking for better fan attractions than the usual Ladies Day, Bat Day and baseball giveaways, hired Giles to invent them. On Opening Day 1971, the Phillies' first game at the new Veterans Stadium, Giles arranged for a circling helicopter to drop the game's first ball to Phillies catcher Mike Ryan. That proved to be a big hit, although it heightened expectations from Phillies fans for more creative entertainment.
On Opening Day 1972, Kite Man tried a stunt that failed, thus adding to the pressure on Giles. That's when the Great Wallenda came to mind. "I played in Philadelphia, at the Ringling Brothers and Barnum & Bailey Circus," Wallenda said. "But Philadelphia sports fans? No, I have heard nothing about them."
He was told that he could count on two things with Philadelphia sports fans: They would be there and they would boo.
"Boo?" Wallenda said. "I have never been booed. Never. But if it happens, I will just have to take it."4
On Opening Day, Kite Man attempted to fly across the ballpark before a big crowd. He ended up in the cheap seats in center field, upside down, and showered with a salvo of boos. There was no guarantee that Wallenda would do better when walking 640 feet on a high wire across Veterans Stadium. If he didn't, the last 140 feet of his act would be straight down.
Since 1962, three high-wire stunts performed by the Flying Wallendas had gone wrong, resulting in the death of four family members and leaving another paralyzed. Less than two weeks before the Veterans Stadium stunt, a Flying Wallendas performance in Wheeling, West Virginia, turned tragic when Karl's son-in-law, Richard Guzman, while bringing Karl a balancing pole at midwire, brushed against an electrical cable. He fell 50 feet to his death. "Everything is dangerous," Wallenda said. "This is only a different kind of dangerous."5
Even with Carlton on the roster, the last-place Phillies were 40-66 and heading for their second consecutive cellar finish and a fifth consecutive losing season. In May and early June they lost 22 of 25 games, planting the seed for another losing season. Not even Carlton, who lost five straight during that slump, could stem the losing streak. However, after those five defeats put his season record at 5-6, the big left-hander won 13 in a row, a streak that was still alive going into this game.
The Montreal Expos, an expansion team in 1969, had been making better strides since a pulverizing 110-loss maiden season. After last-place finishes their first two seasons, they nosed out the Phillies for fifth place in 1971. Going into this twin bill they were a respectable 48-57, just three games behind the fourth-place St. Louis Cardinals. They had dominated the Phillies this season, winning seven of eight games, including the first two of this series. Their only setback to the Phillies, as one might expect, was a loss to Carlton.
Carlton's mound opponent was Ernie McAnally, a tough-luck second-year pitcher with a 1-12 season record. Lack of run support had been McAnally's problem; his teammates had scored just 21 runs in his 13 decisions and were shut out four times, including June 25, when Carlton blanked McAnally and the Expos, 1-0.
Carlton already had a precedent in mind when Montreal's leadoff batter, Ron Hunt, stepped in: "He's tough to strike out so I know I have to get the ball over the plate and make him hit it somewhere."6 That is what Carlton did, and Hunt flied out to left field.
The next batter, Clyde Mashore, was Carlton's first strikeout victim of the afternoon. Bob Bailey was next to bat. "Give him nothing but good stuff," Carlton thought to himself. Pitching carefully, he walked Bailey. Next up was first baseman Hal Breeden, who had faced Carlton twice during his young major-league career. "Don't forget that I know most of the hitters in this league," said Carlton. "The ones I don't know, I give them the heat (fastballs)." Three fastballs and Breeden struck out to end the inning.7
Denny Doyle led off the home half of the first with a single. After a fielder's choice and a fly out, Willie Montanez sent a low liner to the right-center-field wall, his fifth hit in his last six at-bats, for an RBI double. Greg Luzinski followed with a grounder that bounced into centerfield to score Montanez for a 2-0 Phillies lead. Then Don Money laced a double, sending Luzinski to third and putting McAnally on the ropes. "You can trace that to Carlton," Expos manager Gene Mauch said after the game. "McAnally thought he had to crank up a great game and he started off by over-extending himself instead of throwing normally."8
McAnally began to throw normally, and he retired the next batter to end the inning. He set the Phillies down in order in four of the next six innings and held them scoreless on just one hit from the bottom of the second inning through the seventh.
The Expos batters went hitless against Carlton through the first three innings. With one out in the top of the fourth, Bailey got hold of one, sending it over the left-field fence for Montreal's first hit and first run. "It was a good fastball, but it was down and over the plate, and that's where Beetle loves it," Carlton said.9
Carlton struck out the side in the top of the fifth; his strikeout of McAnally to end the inning was his 238th, breaking Chris Short's 1965 mark for the most strikeouts by a Phillies left-hander in a season.
Ron Hunt led off the Expos' sixth with a hit, but the guests were unable to capitalize. Mashore flied out and Bailey bounced into an inning-ending around-the-horn double play. In the seventh Carlton yielded his third walk of the afternoon, but again retired the side before the visitors could mount a threat. He then retired the Expos in order in the top of the eighth.
With the Expos down 3-2 in the top of the ninth, the first two batters, Mashore and Bailey, went down swinging for Carlton's seventh and eighth strikeouts of the game, as the hometown crowd roared its approval. "It's great to have the crowd behind you," Carlton said, "But these day games …"10
The temperature soared into the upper 80s, and Carlton was beginning to feel the effects of the humidity. "Perspiration was getting in my eyes in the late innings. There were a couple of pitches late in the game when I couldn't see the ball."11
With the Expos down to their last out, Breeden singled to center to keep Montreal's hopes alive. But Ken Singleton grounded out to wrap up a 3-2 Phillies win, Carlton's 19th win and 20th complete game of the season, the most in a season by a Phillies pitcher since Art Mahaffey completed 20 in 1962. His next start would be against the one team he had yet to beat in 1972: the Cincinnati Reds. "It's only fitting I should beat them for number 20," Carlton said.12
Sources
In addition to the game story and other sources cited in the Notes, the author consulted the Baseball-Reference.com and Retrosheet.org websites
http://www.baseball-reference.com/boxes/PHI/PHI197208131.shtml
http://www.retrosheet.org/boxesetc/1972/B08131PHI1972.htm
Notes
Additional Stats
Philadelphia Phillies 3
Montreal Expos 2
Game 1, DH
---
Veterans Stadium
Philadelphia, PA
Box Score + PBP:
Corrections? Additions?
If you can help us improve this game story, contact us.
Tags
http://sabr.org/sites/default/files/1972-Karl-Wallenda-Vet-Philadelphia.jpg
600
800
admin
/wp-content/uploads/2020/02/sabr_logo.png
admin
2017-03-14 22:04:04
2020-04-17 10:25:54
August 13, 1972: The Great Wallenda and Steve Carlton