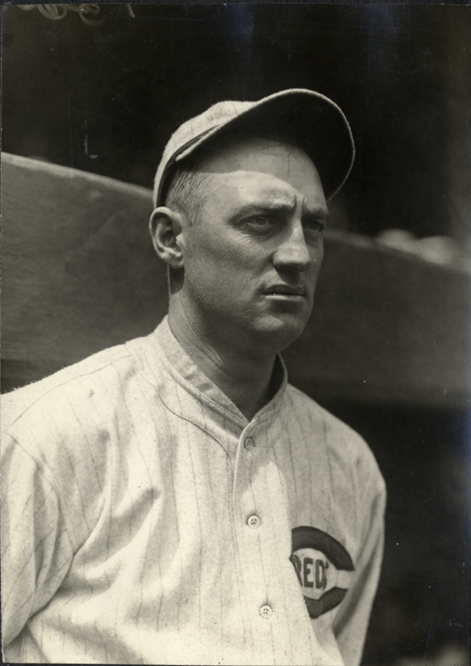 August 18, 1924: Tom Sheehan throws 15-plus innings in relief as Reds overcome 6-run deficit in thriller
---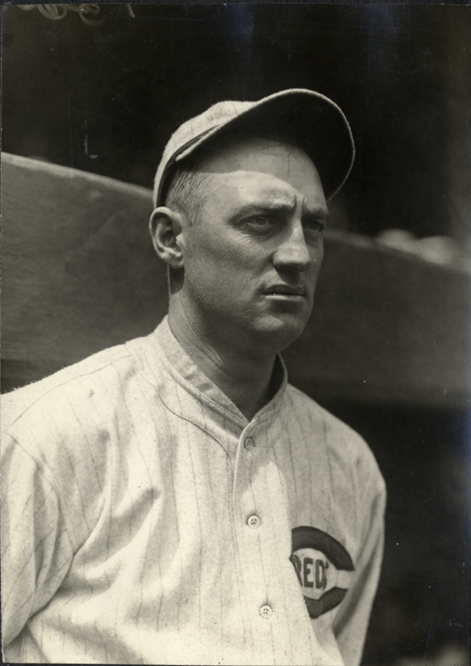 Mop-up duty and long relief. They are two of the most thankless and unenviable tasks for a pitcher. For Cincinnati Reds 30-year-old journeyman Tom Sheehan, it was another chance to prove that he belonged in the major leagues. He had broken in with the Philadelphia Athletics in 1915, but after compiling an unsightly 5-25 record in parts of two campaigns, he was banished to the minors, where he spent the next six seasons save for a three-month trial with the New York Yankees in 1921. Sheehan led the American Association in victories with 26 and 31 as a member of the St. Paul Saints in 1922 and 1923, earning another shot in the big leagues. Here's the story about one of the greatest, and longest, relief outings in baseball history.
Coming off consecutive second-place finishes, the Reds were expected to compete once again for the NL pennant, but the season had not progressed as planned. Beloved manager Pat Moran, who had guided the Reds to the World Series title in 1919, had died on March 7, during spring training, and was replaced by Jack Hendricks. Struggling to play .500 ball, the fifth-place Reds (59-57) had lost six of their last nine games as they prepared to begin a three-game series against the New York Giants. Manager John McGraw's well-oiled machine, en route to its fourth straight pennant, had just been swept in a four-game set in Pittsburgh, but still owned the best record in baseball (69-42).
A sparse crowd of about 4,500 turned out to Crosley Field for a Monday afternoon of baseball that began with a solemn ceremony honoring Moran. Baseball Commissioner Kenesaw Landis, NL President John A. Heydler, and Reds President and owner August Hermann, among others, gave short speeches, and a plaque dedicated to Moran was unveiled and affixed to the grandstand wall.
The day had begun badly for Reds starter Carl Mays, and got worse when the game commenced. He had been in a car wreck on his way to the ballpark, but convinced Hendricks to let him pitch. The 32-year-old right-hander with a sparkling 165-97 career record (including 13-7 thus far in '24) walked the first two batters he faced, then yielded a two-out single to High Pockets Kelly, resulting in the game's first two runs. Thirty-one more hits would follow before the game was finally decided. In the second, Travis Jackson led off with a single and scored on Frank Snyder's double. Two batters later, Heinie Groh, lofted a one-out Texas Leaguer, a short fly to right field that Edd Roush couldn't reach. It rolled away as Snyder crossed the plate for a 4-0 Giants lead.
Hendricks had had enough and pulled Mays in favor of Sheehan. Making his 32nd appearance, Sheehan was 7-8 with a respectable 3.25 ERA in 116⅓ innings. He kept the game close, holding the Gants scoreless until he ran into some bad luck in the seventh. With runners on first and third via singles, Ross Youngs hit a bounder up the middle that ricocheted off Sheehan's glove into center field, resulting in two more runs.
The Giants' 6-0 led seemed insurmountable considering the way their rookie starter, Wayland Dean, had pitched. Mired in a hitherto unimpressive season (6-10, 4.28 ERA), Dean held the Reds hitless through three innings, and although he struggled with control at times, he kept the Reds off the scoreboard until he unraveled in the seventh. He loaded the bases with one out on a single sandwiched by two free passes. Roush, who entered the game batting .344, lined a single over first to drive in a pair of runs and send Dean to the showers. In relief came Art Nehf, the former two-time 20-game winner and onetime ace of the Giants staff. By the time the inning was over, the Reds had picked up two more runs, on pinch-hitter Pat Duncan's single and a groundout by Rube Bressler.
Described by sportswriter Jack Ryder as "brilliant" on the mound, Sheehan tossed two more scoreless innings, and then the Reds rallied in the bottom of the ninth.1 With runners and first and second with one out, Bressler singled to pull the Reds to within one. The next batter, Babe Pinelli, followed with another single to tie the game. McCarthy replaced Nehf with Claude Jonnard, who squelched the rally by inducing Sam Bohne to hit into an inning-ending double play and send the game into extra innings.
It was a "hectic ball game," opined Ryder, adding that the tense, nail-biting action was "spectacular beyond description."2 With two outs in the 10th, the Giants loaded the bases on a single by Jackson and two walks, but longtime former Reds third baseman Groh flied out. In the next frame Youngs was on first with two outs, when High Pockets belted a long drive to left field. In the most impressive defensive sequence of the afternoon, Bressler took the ball on the bounce and fired to shortstop Bohne, whose strike to Bubbles Hargrave cut down Youngs at the plate.
The Reds threatened in the 14th. With Hargrave on first via a single, Sheehan smashed a liner that looked as though it would roll to the wall in the right-center-field gap. Rookie flychaser Hack Wilson scooped up the ball barehanded and rifled it to the infield, forcing Hargrave to hold up at third and Sheehan at first. Needing just a deep fly for the win, Hughie Critz poked a grounder back to the mound. Hargrave broke for home on contact and was erased in a rundown. Jake Daubert's fly end the rally.
Sheehan "stood like a stone wall," declared the Cincinnati Enquirer, holding the Giants hitless from the 12th inning through the 16th, when he once again fell victim to some bad luck.3 Kelly started the rally with his third hit, a leadoff single. Daubert fielded Wilson's sacrifice bunt toward first, but his throw glanced off Kelly's shoulder and caromed into left field. Sheehan intentionally walked Jackson to load the bases and set up a force at the plate. Snyder's fly to center was deep enough to drive in Kelly for the Giants' go-ahead run, 7-6. With nerves of steel, Sheehan fanned Rosy Ryan and dispatched Groh on a routine grounder to end the frame.
With dusk quickly approaching, Sheehan had no intention of leaving the game. He beat out a grounder third to lead off the bottom of the 17th. He moved up a station on Critz's sacrifice bunt and Daubert's outfield fly. Roush followed with a "vicious smash" past a diving Kelly at first to drive in Sheehan and tie the game.4 George Burns, the former Giants speedster and longtime left fielder, smashed a liner into the left-center-field gap. Roush was rounding third as Billy Southworth fired the ball to shortstop Travis Jackson, whose relay throw home was too late to nab the sliding Roush.
After 3 hours and 45 minutes, the Reds emerged victorious in one of their biggest comebacks and most exciting games of the season. It was a remarkably well-pitched ballgame despite the offensive fireworks. The Reds collected 17 hits, drew 11 walks and left a staggering 18 men on base; the Giants were not far behind with a 15-9-15 line.
The tough-luck loss went to Rosy Ryan, who had relieved Jonnard to start the ninth and tossed 7⅔ scoreless innings before the Reds tallied their two in the 17th.
The story of the game was Sheehan. In 15⅔ innings of relief, he yielded 11 hits and three runs (two earned), fanned eight and walked seven while facing 63 batters. It was the then third-longest relief outing in major-league history, following the Chicago Cubs' Zip Zabel's 18⅓ innings to beat the Brooklyn Robins on June 17, 1915, and the Pirates' Elmer Jacob's 16⅔ innings in a loss to the Robins on August 22, 1917. In one of the sport's most peculiar games, Eddie Rommel of the Philadelphia Athletic pitched 17 innings of relief on July 10, 1932, to defeat the Cleveland Indians despite yielding 29 hits, walking nine, and surrendering 14 runs.
Sheehan's performance is likely to remain the fourth longest relief appearance in history. At one time pitching 10 innings was commonplace for starters, and even a regularity among relievers. Since 1913 (as far back as complete data is available for individual games), relievers have hurled 10 or more innings in a game 122 times; however, only four of those have come since 1970.5 Bob Stanley of the Boston Red Sox was the last to accomplish the feat, hurling 10 innings in a tough-luck loss to the Minnesota Twins on May 22, 1983.
In his next appearance, Sheehan tossed a six-hit shutout in the first game of a double header to beat the Boston Braves on August 24. But neither fame nor a fairy-tale ending followed. Less than two years after his yeoman feat, he was out of the majors, concluding his career with a 17-39 record.
Sources
In addition to the sources cited in the Notes, the author also accessed Retrosheet.org, Baseball-Reference.com, SABR.org, The Sporting News archive via Paper of Record, as well as
"Notes of the Game," Cincinnati Enquirer, August 19, 1924: 9.
"Giants Lose in 17th on Burns's Double," New York Times, August 19, 1924: 10.
Photo credit: Detroit Public Library, Ernie Harwell Collection.
Notes
1 Jack Ryder, "Redlegs Beat Giants in Seventeen Inning Battle, 8 to 7," Cincinnati Enquirer, August 19, 1924: 9.
2 Ibid.
3 Ibid.
4 Ibid.
5 The following have hurled at least 10 innings of relief in one game since 1970: Lindy McDaniel (New York Yankees), 13 innings in a win against the Detroit Tigers; Dick Tidrow (Yankees), 10⅔ scoreless innings on August 25, 1976, to beat the Twins; Jim Crawford (Detroit Tigers), 10 innings in a win against the Milwaukee Brewers; and Bob Stanley (Boston Red Sox), 10 frames in a loss to the Twins on May 22, 1983.
Additional Stats
Cincinnati Reds 8
New York Giants 7
17 innings
---
Redland Field
Cincinnati, OH
Box Score + PBP:
Corrections? Additions?
If you can help us improve this game story, contact us.
Tags
https://sabr.org/sites/default/files/Sheehan-Tom-DPL.jpg
600
800
admin
/wp-content/uploads/2020/02/sabr_logo.png
admin
2019-09-18 15:16:33
2020-04-17 10:22:32
August 18, 1924: Tom Sheehan throws 15-plus innings in relief as Reds overcome 6-run deficit in thriller