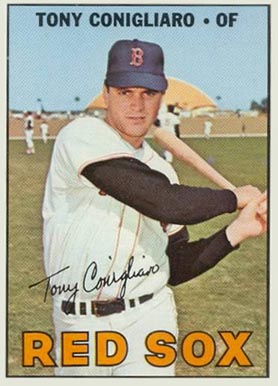 August 18, 1967: Tony Conigliaro's career, and life, threatened by beaning
---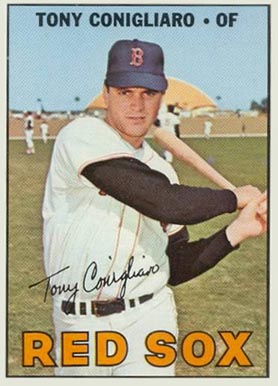 The sickening sound—a sharp crack—could be heard above the din of the 31,027 fans who filled Fenway Park that Friday night.
On August 18, 1967, in the midst of what would become to be known as the Boston Red Sox' "Impossible Dream" year, a brilliant career was derailed and a life nearly taken when favorite son Tony Conigliaro was unable to escape a wayward fastball thrown by the California Angels' Jack Hamilton.
The Red Sox, who had not won an American League pennant since 1946, entered that night in fourth place, but just 3½ games behind the first-place Minnesota Twins.
Hamilton, the Angels' starter, was a hard-throwing right-hander who had beaten the Red Sox 2-1 in Anaheim the weekend before, outdueling Boston righty Gary Bell, who was again his opposite number in this game.
After Bell set the Angels down in order in the top of the first, Hamilton, who entered the game with an 8-2 record and a 2.77 earned-run average, walked Boston leadoff batter Mike Andrews but retired the next three batters in order—including a strikeout of Carl Yastrzemski, who would win the American League Triple Crown that year.
In the bottom of the second the Red Sox got their first hit off Hamilton, a one-out single to center by Conigliaro, who had been mired in a 1-for-23 slump that had dropped his batting average from .302 to .284. It was only his second career hit off Hamilton in eight at-bats.Nothing came of the hit, and the two pitchers continued to put up zeroes.
George Scott opened the Boston half of the fourth with a single to center, but was gunned down trying to stretch it into a double. Reggie Smith followed with a fly out.
That's when Conigliaro stepped into the batter's box for the second time that nightand the last time for more than a year. Conigliaro was just 22 years old but had already hit 104 big-league home runs; on July 23 he had become the youngest American Leaguerat 22 years, 197 days,to reach 100 round-trippers when he homered off Cleveland's John O'Donoghue. Two years earlier, at 20, he was the youngest player to lead the AL in homers for a season, belting 32. And the season before that, at 19, he had set a record for teenagers with 24 circuit blasts, a mark that still stood at this writing in 2016.
As much as those of any player who had not yet turned 23, Conigliaro's achievements seemed to portend even greater things to come. But all of his potential for greatness was lost in the blink of an eye.
Before Hamilton could pitch to Conigliaro, someone in the stands hurled a smoke bomb onto the field, and the resulting cloud of black smoke delayed the game for nearly 10 minutes.1When play resumed, a thought briefly crossed Conigliaro's mind.
"Just before he made his first pitch," Conigliaro recalled years later, "I wondered if the delay had caused his arm to stiffen. It was the last thought I had before he hit me."2
Hamilton, who had a reputation for doctoring the ball,3 fired a fastball that suddenly started to break toward Conigliaro's head.
"The ball came sailing right toward my chin," said Conigliaro. "Normally a hitter can jerk his head back a fraction and the ball will buzz by. But this pitch seemed to follow me in. I know I didn't freeze. I definitely made a move to get out of the way of the ball."4
To no avail. The ball smashed into Conigliaro's left cheekbone, dislocating his jaw and damaging the retina in his left eye.
"When the ball was about four feet from my head I knew it would get me. And I knew it would hurt because Hamilton was such a hard thrower," Conigliaro said. "I was frightened. I threw my hands up in front of my face and saw the ball follow me back and hit me square in the left side of the head. As soon as it crushed into me, it felt as if the ball would go in one side of my head and come out the other; my legs gave way and I went down like a sack of potatoes. Just before everything went dark I saw the ball bounce straight down on home plate. It was the last thing I saw for several days."5
"If it had been two inches higher, he would have been dead," said the Red Sox team physician, Thomas Tierney.6
"I've not hit anyone all year," said Hamilton after the game. "I certainly wasn't throwing (at him). I was trying to get the ball over."7
"The sound that it made, when it hit him, it was a pretty distinct sound that you don't hear very often, but when you hear it, you know that it's serious," said Red Sox pitcher Jim Lonborg.8
"I remember the hush," Boston Globe sportswriter Bob Ryan wrote years later. "The sound of silence from 31,027 people is an eerie sensation."9
Present in the crowd that night were Conigliaro's mother, father, and brothers Billy Conigliaro and Richie.
"The ball crashed into the side of his face with a sharp crack that I swear could have been heard clearly all over that noisy ballpark," Red Sox shortstop Rico Petrocelli remembered. "It sounded like the ball hit his helmet, so my immediate reaction was relief that the ball had struck plastic instead of flesh. But the sound was probably his cheekbone breaking."10
"I was never knocked out but I wish I had been," said Conigliaro. "I rolled on the ground trying to stop the pain in my head with my hands. The impact of the ball made both my eyes slam shut and I felt a tremendous swelling in my mouth. I couldn't see. I remember thinking, 'I'm blind, I can't see.' Then I heard Rico Petrocelli's voice saying, 'Take it easy, Tony. You're gonna be all right.'"11
"The swelling was so bad inside my mouth that I was worried about breathing," Conigliaro recalled. "My mouth was filling up fast with fluid—I thought it was blood but it wasn't. I had only a small opening that I could breathe through, and then the thought started running through my mind: Suppose this thing closes up? I won't be able to breathe. I thought, 'Oh, Jesus, if this thing closes up on me I'm gone.' That's when I asked God to keep me alive."12
Conigliaro was lifted onto a stretcher by teammates Lonborg, Joe Foy, and Mike Ryan and taken into the locker room, where Dr. Tierney began to attend to him."It hurts like hell," Conigliaro told Tierney. "I heard a hissing sound, and that was all."13
An ambulance took Conigliaro to Sancta Maria Hospital in Cambridge. His season was over.
At Fenway Park, the game resumed with outfielder Jose Tartabull pinch-running for Conigliaro.
Petrocelli drilled a triple to center off the rattled Hamilton, driving in Tartabull with the first run of the game and scoring himself when Angels' shortstop Jim Fregosi threw wild on the relay to third.
In the sixth Boston expanded its lead to 3-0 when Bill Kelso, who had relieved Hamilton, walked Tartabull and Petrocelli and gave up a run-scoring single to Bell.
Jimmie Hall hit solo home runs in the seventh and ninth for California. But Bell finished off a strong complete-game effort by retiring Don Mincher on a liner back to the mound for the final out. The Red Sox right-hander, who had been acquired from the Cleveland Indians in a trade on June 4, ended the game with a four-hitter for his eighth win of the season in 18 decisions, the victory moving Boston to within three games of first place.
Hamilton took the loss, slipping to 8-3.
The Aftermath
Conigliaro was never again the same player. Nor, for that matter, was Hamilton.
Conigliaro, who had earned his first American League All-Star selection that season, missed the remainder of the 1967 season as the Red Sox, led by Yastrzemski, won their first pennant since 1946 and came within one game of their first World Series title since 1918. He missed the 1968 season as well, but made a miraculous recovery at the age of 24 and was the American League Comeback Player of the Year14 in 1969 when he batted .255 with 20 home runs and 82 RBIs. A year later, when he was still only 25, Conigliaro had career highs of 36 home runs and 116 RBIs.
In 1971, after he had been traded to California,Conigliaro's eyesight suddenly deteriorated and he was forced to retire at the age of 26. He made a brief comeback attempt in 1975 as a 30-year-old designated hitter with the Red Sox, but retired again after just 21 games while hitting .123 with 2 homers. Conigliaro had 166 career home runs, 516 RBIs, and a .264 batting average.
On January 9, 1982, Conigliaro suffered a heart attack, then a stroke that left him in a coma. He died on February 24, 1990, at the age of 45.
Jack Hamilton pitched in 61 more gamesduring the remainder of his major-league career, which ended in 1969, and never hit another batter. In eight seasons he hit just 13 batters. In 1968 with the Angels and 1969 with the Indians and White Sox, Hamilton was 3-6 withan ERA that exceeded his 4.53 career mark.
"I think [hitting Conigliaro] did have a lasting effect on him," said catcher Buck Rodgers, who was Hamilton's batterymate that night in Boston. "Jack Hamilton had to pitch inside, and after that he never would come inside hard anymore."15
For the rest of the 1967 season the Red Sox used four right fielders in Conigliaro's absence— Jose Tartabull, George Thomas, Jim Landis, and Ken Harrelson. Collectively they hit .197 in 178 at-bats, with 4 homers and 17 RBIs.
In the World Series loss to the St. Louis Cardinals, Landis was gone from the roster and Harrelson, Tartabull, and Thomas were ineffective at the plate, leaving Red Sox fans to forever wonder what might have been but for Jack Hamilton's errant fastball on August 18, 1967.
Sources
In addition to the Sources cited in the Notes, the author used the Baseball-Reference.com and Retrosheet.org websites.
Notes
Additional Stats
Boston Red Sox 3
California Angels 2
---
Fenway Park
Boston, MA
Box Score + PBP:
Corrections? Additions?
If you can help us improve this game story, contact us.
Tags
http://sabr.org/sites/default/files/images/ConigliaroTony.jpg
600
800
admin
/wp-content/uploads/2020/02/sabr_logo.png
admin
2016-11-18 14:51:00
2022-10-27 11:38:06
August 18, 1967: Tony Conigliaro's career, and life, threatened by beaning