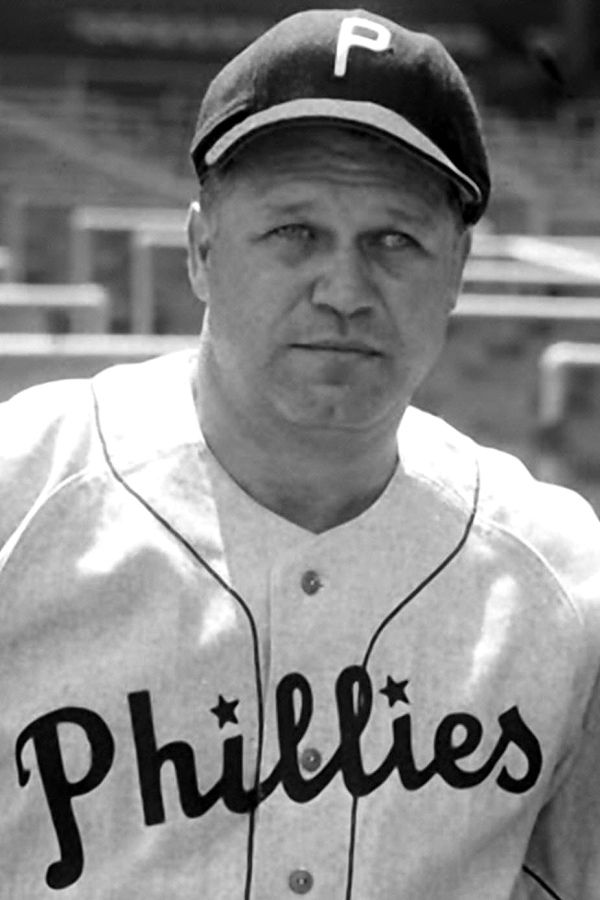 August 19, 1945: Jimmie Foxx records five strikeouts and a win in his first start as pitcher
---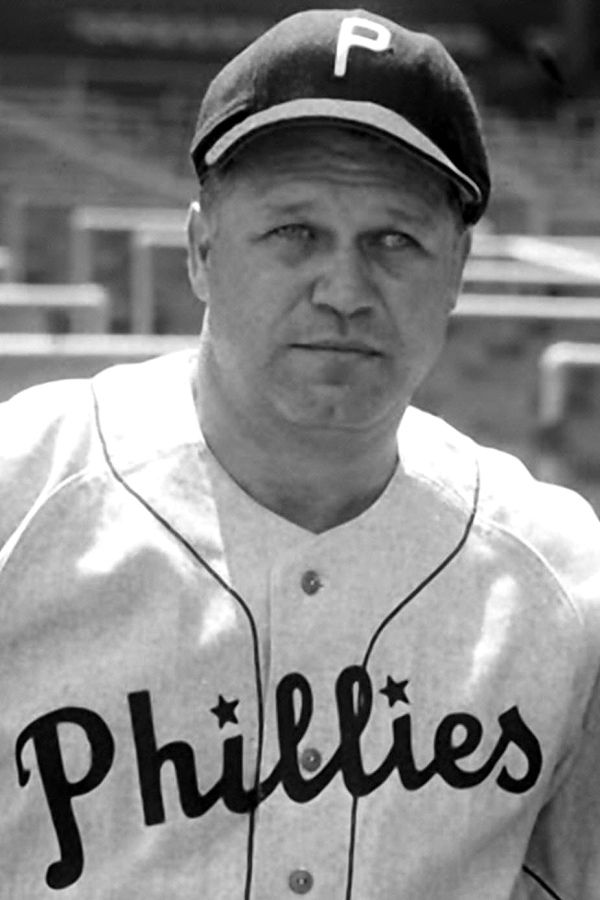 By August 1945, Jimmie Foxx was in his 20th season in the major leagues and approaching his 38th birthday. He was no longer the fearsome "Beast" who clubbed 484 home runs between 1929 and 1940 and challenged Babe Ruth's single-season record by hitting 58 in 1932. He had actually already retired once, spending all of 1943 out of baseball (and flunking the physical exam when he attempted to enlist in the military1) before attempting a comeback at the height of the World War II player shortage. Having spent his glory days with Connie Mack's greatest Philadelphia Athletics clubs and then with the Boston Red Sox, Double X was now a part-time player with the Philadelphia Phillies, described by one contemporary sportswriter as "the lowest form of baseball life in the major leagues."2
After the Phils' first 112 games, Foxx was batting .265 with four home runs. Meanwhile, manager Ben Chapman3 had identified the team's greatest need as "pitchers, and then more pitchers." At the same time, he had concluded that Foxx was pretty well washed up as a hitter and that his "only chance to stay active in the big leagues" was as a pitcher.4 Foxx had broken into the major leagues as a teenage catcher and spent most of his career at first base, but he had done some pitching. He once struck out 18 batters in a high-school game5 and had hurled a few innings when he toured Japan with a team of American League stars in 1934. He had even logged a perfect "official" inning for the Red Sox in 1939. During a brief managerial stint with Portsmouth in the Class B Piedmont League in 1944, he tossed a complete-game six-hit victory in which he struck out eight, "mixed his pitches up well,"6 and "was master of the situation all the way."7 Chapman first tried Foxx on the mound in losses July 15 at Cincinnati and July 22 at Chicago. The old slugger pitched 4⅔ innings and finished both games. He walked five batters but allowed only two hits and no runs, striking out two.
The experiment reached its culmination on August 19. It was the first Sunday after the announcement of Japan's surrender, ending the war, and the eighth-place Phillies were at home for a doubleheader against seventh-place Cincinnati. President Harry Truman had called for a day of prayer and thanksgiving. Before the playing of the National Anthem, the players and 12,326 spectators8 stood for a minute of silence, then rookie right-hander Dick Mauney pitched the home side to a 5-0 victory in the first game.
For Game 2, Chapman handed the ball to Foxx. As in his previous outings, Double X initially had a little difficulty locating the strike zone. He walked two batters in the first inning and two more in the second, and hit a batter in the third. Cincinnati scored first on an RBI single by pitcher Howie Fox (referenced on this occasion as Single X9) in the top of the second, but the Phillies took the lead in the bottom of the inning on Vince DiMaggio's double sandwiched between two walks and followed by Bitsy Mott's two-run single.
The lineup facing Foxx was hardly Murderers' Row. Aside from first baseman Frank McCormick and shortstop Eddie Miller, none of the Reds' position players was more than a wartime stopgap. None had played regularly in the major leagues before 1942 and none survived in the majors after 1946. Foxx set them down in order in the fourth, fifth, and sixth innings "as the fans cheered wildly with every pitch."10 In the meantime, Philadelphia had pushed its lead to 4-1 in the fourth on Stan Andrews' run-scoring double and Foxx's sacrifice fly.
It's not entirely clear what Foxx was serving up to opposing batsmen. One witness said he showed "a sort of curve, a sly change of pace and yes, a fast ball when he felt he needed it."11 Another said he relied on a "splendid fast ball and sinking screw ball," adding emphatically that "he did not throw a curve."12 It was also noted that Foxx had demonstrated "a serviceable knuckler"13 years earlier, though no one seems to have detected that pitch on this day. In any case, at the end of six innings, Foxx had allowed just one hit, dismissed in some quarters as a "scratch"14 or a "fluke."15 Miller opened the seventh by becoming Foxx's fifth strikeout victim. When Woody Williams fouled out, the old right-hander had retired 12 in a row.
That's where Foxx hit the wall. Al Unser singled. Howie Fox singled (again). Dain Clay singled, scoring Unser. At that point, Ben Chapman called in his relief ace, Andy Karl. Foxx "received a tremendous ovation" as he walked off the mound16 and Karl shut down the Reds the rest of the way, sealing Philadelphia's — and Foxx's — 4-2 victory.
Foxx's performance got good reviews. One reporter said he pitched "superbly"17 and another said he "looked like the McCoy."18 A headline trumpeted his "auspicious debut."19 From there, it was a short leap to assuming that Foxx was launching "a new career as a pitcher."20 He was described as "trying to emulate Bucky Walters,"21 a converted third baseman who by this time had pitched 180 victories in the major leagues. Some observers were ready to believe that Foxx had already made a successful transition. "It looks as if Manager Ben Chapman has come up with a [new] pitcher," one wrote.22 Only the Cincinnati writers were unconvinced. One said Foxx had proved only "that he had very good stuff when pitted against mediocrity."23 Another chose to withhold judgment until Foxx pitched against somebody else: "The Reds are currently making all types of pitchers look good."24
For himself, Double X had few illusions. With players beginning to return from military service, he saw the writing on the wall. Two months before his pitching victory he told Arthur Daley of the New York Times, "When the war's over, I'm through."25 The day after his mound triumph, he returned to first base and hit a home run, helping the Phillies to a 4-3 victory over Cincinnati. He hit his final home run on September 9 and ended his career with 534, at the time second to Ruth on the all-time list.
In the final weeks of the season, Foxx pitched six more times for Philadelphia, all in relief except for a September 2 start in Boston, when he went just two innings. His career pitching line showed 10 games and 23⅔ innings during which he allowed 13 hits and 14 walks (one intentional). He retired with a perfect 1-0 record and a handsome 1.52 earned-run average.
Sources
https://www.retrosheet.org/boxesetc/1945/B08192PHI1945.htm
https://www.baseball-reference.com/boxes/PHI/PHI194508192.shtml
Notes
1 Mark R. Millikin, Jimmie Foxx: The Pride of Sudlersville (Lanham, Maryland: Scarecrow Press, 1998), 234.
2 Russ Needham, "Cincinnati Baseball at New Low in Double Loss to Lowly Phillies," Columbus Dispatch, August 20, 1945: 14.
3 Chapman had taken over for Freddie Fitzsimmons as manager.
4 Stan Baumgartner, "Phils Trying Out New Pitcher — It's One-Time Slugger, Foxx," The Sporting News, July 12, 1945: 16.
5 W. Harrison Daniel, Jimmie Foxx: The Life and Times of a Baseball Hall of Famer, 1907-1967 (Jefferson, North Carolina: McFarland & Co. Inc., 1996), 6.
6 Daniel, 151.
7 Associated Press, "Foxx Hurls Cubs to Win," Newport News Daily Press, September 6, 1944: 6.
8 The Philadelphia papers reported this figure as the total attendance. The 10,418 listed at Baseball-Reference.com was the paid attendance. See Don Donaghey, "Mauney and Jimmy Foxx Pitch Phils to Double Victory over Reds," Philadelphia Evening Bulletin, August 20, 1945: 13.
9 "Plenty of Life Left in the Old Foxx," Philadelphia Record, August 20, 1945: 12.
10 "Plenty of Life."
11 Don Donaghey, "Mauney and Jimmy Foxx Pitch Phils to Double Victory over Reds," Philadelphia Evening Bulletin, August 20, 1945: 13.
12 Baumgartner, "Phils Jar Reds, 5-0, 4-2; Foxx Victor," Philadelphia Inquirer, August 20, 1945: 14.
13 Donaghey.
14 Lou Smith, "Victory to Foxx in Nightcap," Cincinnati Enquirer, August 20, 1945: 16.
15 "Foxx Looks Good on Mound; Arm Still Sore, Bucky Says," Cincinnati Enquirer, August 20, 1945: 16.
16 Baumgartner, "Phils Jar Reds."
17 "Plenty of Life."
18 "Foxx Looks Good."
19 Les Conklin, "Jimmy Foxx, the Slugger, Makes Auspicious Debut as Pitcher for Phillies," Coshocton Ohio Tribune, August 20, 1945: 2.
20 Conklin.
21 International News Service, "Now Jimmy Foxx Has Pitching Aspirations; Looks Well in Debut," Canton (Ohio) Repository, August 20, 1945: 8. Walters broke into the major leagues in 1931 and was the Phillies' regular third baseman for most of the 1934 season before concentrating on pitching beginning in 1935. He pitched for the last time in 1950 and retired with a record of 198-160.
22 "Plenty of Life."
23 "Lowly Phils Play Like Champions in Flailing Redlegs Hip and Thigh in Both Ends of Sunday Double Bill," Cincinnati Times-Star, August 20, 1945: 10.
24 "Foxx Looks Good."
25 Arthur Daley, "The Maryland Strong Boy," New York Times, June 18, 1945: 13.
Additional Stats
Philadelphia Phillies 4
Cincinnati Reds 2
Game 2, DH
---
Shibe Park
Philadelphia, PA
Box Score + PBP:
Corrections? Additions?
If you can help us improve this game story, contact us.
Tags
https://sabr.org/sites/default/files/FoxxJimmie-PHI.jpg
600
800
admin
/wp-content/uploads/2020/02/sabr_logo.png
admin
2019-08-12 15:36:56
2020-04-17 10:22:35
August 19, 1945: Jimmie Foxx records five strikeouts and a win in his first start as pitcher