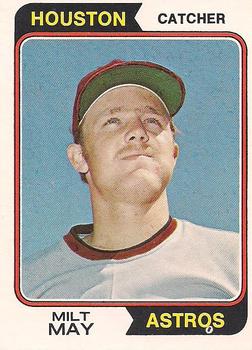 August 19, 1974: Milt May's magic helps Astros defeat Mets in 11 innings
---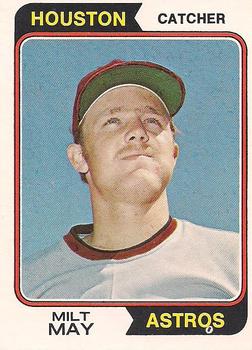 "I just happened to hit one up the middle in the right spot," said soft-spoken Milt May almost apologetically after his walk-off single in the 11th inning gave the Houston Astros a dramatic 2-1 win over Tom Seaver and the New York Mets. "I was fortunate it wasn't right at somebody."1
Just weeks after the 1973 season ended, the Houston Astros acquired May, a 23-year-old catcher, from the Pittsburgh Pirates in a trade widely lampooned by the local media, in exchange for sturdy left-handed hurler Jerry Reuss, who was coming off an NL-high 40 starts and a then career-best 16 wins. The Astros hoped that the highly touted May, with only 142 starts in three years of backing up All-Star Manny Sanguillen, might develop into the club's first All-Star-caliber catcher. The Pirates had moved Sanguillen to right field in the wake of Roberto Clemente's tragic death on December 31, 1972, and installed May behind the plate, but the experiment failed when Sanguillen struggled mightily in the field. Pittsburgh shifted Sanguillen back to catcher in June 1973; this made May expendable.
The Pirates appeared to have won the trade handily at first. While Reuss was en route to another fine season (16-11) as one of the NL's most consistent southpaws, May's batting average dipped to .243 on July 3. But two days later May commenced one of the hottest stretches in his 15-year big-league career. From July 5 to August 18, he batted .370 (40-for-108) and slugged .491 in 33 games. "I have been swinging the bat good," said May, the son of former Phillies All-Star third baseman Pinky May. "[I]t means a lot when you go to the plate and have confidence that you're going to hit the ball hard."2
The Astros entered the game in fourth place in the NL West (61-59), 13½ games behind the streaking Dodgers. First-year skipper Preston Gomez's club had struggled of late, winning just 12 of its last 30 games. The Mets had been in a season-long funk for iconic Yogi Berra, in his third year piloting the club. The reigning pennant winners were in fifth place in the NL East (52-65), trailing the Cardinals by 10½ games.
The teams sent their respective 29-year-old aces to the mound, Don Wilson and Tom Seaver, in what shaped up to be a rematch of their game on April 15, 1968, at the Astrodome. In that contest both hurlers dazzled in an eventual Astros 1-0 victory in 24 innings, the longest game in the history of either franchise and the longest shutout in major-league history. A hard-throwing right-hander, Wilson was 8-10, and sported a record of 101-89 in his nine-year career. Seaver, arguably the best hurler in the NL, if not baseball (7-7, 3.51 ERA), had thus far not pitched to his typical standards; however, the reigning Cy Young Award winner had a career record of 142-83. Recognized as the highest-paid pitcher in baseball, "Tom Terrific" had been suffering from shoulder pain since the end of the previous season, and grumblings about his demise had permeated the New York media all summer.
The 10,619 spectators in the Astrodome on Monday evening, August 19, 1974, were treated to a classic pitchers' duel in which even the slightest mistake was amplified. Through the first eight innings, the game was defined by tough pitching and failed scoring opportunities. During that time the Astros' only serious chance came in the second inning. Bob Watson led off with a single and moved to third when Seaver unleashed two wild pitches while facing May, whose foul fly to Ken Boswell in short right was not deep enough drive in Watson. Seaver, heading toward his seventh of nine consecutive seasons with at least 200 strikeouts, whiffed Lee May and Doug Rader to end the threat.
The Mets, the league's second-lowest-scoring team, (3.53 runs per game) in 1974, failed to capitalize on men in scoring position and one out in the third, fourth, and seventh innings. After Bud Harrelson singled to advance Seaver (who had walked) to second with one out in the third, Wilson retired the next two batters on fly balls. In the fourth Boswell cracked a one-out double, then Wayne Garrett stroked a long single to right. According to UPI, Boswell "would have easily scored," but third-base coach Eddie Yost inexplicably held him up as Greg Gross's throw sailed into third.3 With runners on second and third, Wilson ended the threat by punching out the next two batters. In the seventh, Don Hahn reached second via a walk and sacrifice bunt, but was left stranded.
Tension mounted in the ninth inning when second baseman Tommy Helms, a two-time All-Star and Gold Glove winner, muffed Garrett's grounder. Jerry Grote followed with a long single over the head of Wilbur Howard (a defensive replacement for left fielder Bob Watson, who replaced Lee May at first base) and off the wall. With runners on the corners, Mike Cosgrove relieved Wilson and yielded a bloop single to shallow right field to pinch-hitter and former Astro Rusty Staub to knock in Garrett. The Mets were on the verge on breaking the game open when Cosgrove walked Harrelson to load the bases with one out, but reliever Ken Forsch induced Felix Millan to hit a grounder to third baseman Doug Rader, who fielded it cleanly and fired a strike to Milt May at the plate to force the charging Grote; May quickly threw to Watson for the inning-ending double play.
Cesar Cedeño, Houston's fleet-footed slugger, walked to lead off the bottom of the ninth and moved to third on Watson's third hit of the game, a single, which according to New York Times reporter Michael Strauss, "skimmed over the edge" of first baseman Ed Kranepool's glove.4 It was Seaver's game to win or lose as the Mets bullpen remained quiet. May tied the score on a long fly to right field; however, Watson was tagged out in a rundown between first and second in his attempt to advance. Howard then tapped one back to the mound and the game headed for extra innings.
While Forsch set down all six batters he faced in the 10th and 11th innings, Seaver began the Astros' 11th working on a six-hitter. After Gross hit a leadoff single and moved to second on Roger Metzger's sacrifice bunt, the future Hall of Famer faced the heart of the Astros batting order coming up. Seaver induced Cedeno to ground back to the mound on an offspeed pitch. With his long stride in his pitching follow-through, Seaver slipped and fell to the ground, but still managed to field the ball and throw to Kranepool in time to nab the speedy Cedeno. Assuring his skipper that he was fine, Seaver intentionally walked Watson to face Milt May. May's grounder on a 2-and-1 pitch by Seaver was described by Joe Heiling of the Houston Post as "just out of the reach" of second baseman Felix Millan, playing deep behind the bag.5 Racing from second base, Gross scored easily to give the Astros an exciting 2-1 victory in 2 hours and 37 minutes. Forsch picked up the win to improve his record to 5-5, while Seaver was the tough-luck loser.
"[Seaver's] been awful tough on me the last four years," said Milt May, who entered the game with just two hits in 27 at-bats against him. "The hits have been few and far between. That's pretty common, though, with him. I don't know anyone that wears Seaver out very much."6 The modest catcher deflected attention and lauded his pitching staff, which yielded only six hits. "You've got to give credit to Don, Kenny, and Cosy," said May. "That's the only way you're going to beat Seaver. Don pitched a great game and deserved to get a win out of it."7
Seaver commanded most of the attention in the Mets' clubhouse. "There was nothing wrong with me," said the future 311-game winner with an air of frustration. "The only thing that went wrong was that the pitch I tried to throw to May on the inside misfired."8 Often perceived as cocky with a sometimes prickly relationship with the press, Seaver had no apologies for his yeoman effort, the 13th of 18 times in his 20-year career that he hurled at least 10 innings in a game. "Obviously I chose to pitch to the player I felt I could get out. I had to pitch to two of the three (Cedeño, Watson and May)."9
This article appears in "Dome Sweet Dome: History and Highlights from 35 Years of the Houston Astrodome" (SABR, 2017), edited by Gregory H. Wolf. To read more articles from this book at the SABR Games Project, click here.
Sources
In addition to the sources cited in the Notes, the author also accessed Retrosheet.org, Baseball-Reference.com, the SABR Minor Leagues Database, accessed online at Baseball-Reference.com, SABR.org, and The Sporting News archive via Paper of Record.
https://www.baseball-reference.com/boxes/HOU/HOU197408190.shtml
https://www.retrosheet.org/boxesetc/1974/B08190HOU1974.htm
Notes
1 Joe Heiling, "Milt Melts Mets in 11th Inning," Houston Post, August 20, 1974: D1.
2 Dick Peebles, "Astros Win in 11th on Milt May's Hit," Houston Chronicle, August 20, 1974: Section 2, 5.
3 United Press International, "Mays Keys Astros by Mets, Seaver," Valley Morning Star (Harlingen, Texas), August 20, 1974: 10.
4 Michael Strauss, "Milt May's Single Off Seaver Wins for Astros," New York Times, August 20, 1974: 29.
5 Heiling.
6 Ibid.
7 Ibid.
8 Strauss.
9 Heiling.
Additional Stats
Houston Astros 2
New York Mets 1
11 innings
---
Astrodome
Houston, TX
Box Score + PBP:
Corrections? Additions?
If you can help us improve this game story, contact us.
Tags
https://sabr.org/sites/default/files/MayMilt.jpg
600
800
admin
/wp-content/uploads/2020/02/sabr_logo.png
admin
2018-09-18 12:40:24
2020-04-17 10:24:39
August 19, 1974: Milt May's magic helps Astros defeat Mets in 11 innings