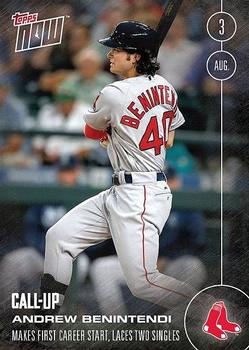 August 2, 2016: Andrew Benintendi makes his debut; Edwin Diaz records first save
---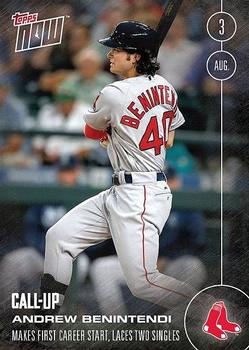 Two years after this game, the Boston Red Sox were well on their way to winning the American League East. That team went on to win the 2018 World Series, marching through each of the three rounds of the postseason with only one loss per round. The 2018 Red Sox featured an outfield of Andrew Benintendi in left, Jackie Bradley Jr. in center field, and Mookie Betts in right. The latter two won Gold Gloves. Benintendi was runner-up (with Brett Gardner) to Alex Gordon. Their stellar defense (Benintendi won the AP's Play of the Year Award for a catch in the ALCS) led to the Red Sox outfield being described by many as the best in baseball. This game in Seattle — a spectacular come-from-behind win for the Mariners — was the first in which the Red Sox "Killer B's" played together.
Bradley had debuted in 2013 and Betts in 2014. On August 2, 2016, Benintendi made his debut.
The Seattle Mariners were 52-52 so far, nine games behind Texas in the American League West. A loss would drop them below .500 for the first time since June 23. The 58-46 Red Sox were very much in the hunt, just one game out of first place behind the Baltimore Orioles in the AL East.
Mariners manager Scott Servais started left-hander Wade LeBlanc, a veteran with eight big-league seasons behind him and now back in the United States after a year pitching for the Seibu Lions in Japan.
Boston's John Farrell went with a lefty, too, David Price.
The Red Sox scored first, in the first. Dustin Pedroia drew a base on balls and David Ortiz hit a two-out double to the opposite field, down the left-field line, scoring Pedroia from first.
Price set down the Mariners in order. Through the third inning, there was only one more hit — a double by Kyle Seager off Price, also hit down the left-field line. The score was 1-0 Red Sox heading into the fourth.
After LeBlanc struck out Ortiz and Xander Bogaerts, Hanley Ramirez hit a solo home run to deep left-center. Jackie Bradley Jr. doubled to center, and third baseman Aaron Hill singled Bradley in. The score was 3-0 in Boston's favor.
Robinson Cano singled off Price in the fourth, and Franklin Gutierrez singled in the bottom of the sixth, but they were the only two baserunners for the Mariners and neither scored.
Bryce Brentz started the game playing left field for Boston. With two outs and nobody on, Farrell gave rookie Andrew Benintendi his first big-league action. Just brought up from the Double-A Portland Sea Dogs (he never did play Triple-A baseball), Benintendi was to pinch-hit for Brentz and then play left field. He'd been hitting .295 at Portland. He had survived the July 31 trade deadline; the Red Sox picked up reliever Fernando Abad.1 A center fielder, Benintendi had played only four games in left field. "There's always something to work on," he said. "Jumps on balls. Recognizing pitches, playing hard, and doing what I can to help the team win." He added the pro forma "I'm just going to go out there and contribute the best I can." He did admit to being excited: "Extremely excited. It's something I've dreamed of since I was a kid, and to be here is as incredible feeling."2
Benintendi had made it to the major leagues "quicker than any Red Sox player since Fred Lynn was drafted out of Southern Cal in 1973 and made hid debut on Sept. 5, 1974."3
Red Sox skipper Farrell said, "We'll just let him go out and play. Play to his abilities."4
In his big-league debut, Benintendi grounded out to the second baseman.
Price seemed to have the game well in hand. Through seven innings he had recorded five strikeouts and only five balls had left the infield — the three hits and two fly balls.
The Red Sox added an insurance run in the top of the eighth when Mookie Betts doubled to left, advanced on a groundout, and tagged up and scored on a line drive to deep left field by David Ortiz.
Farrell decided to stick with Price, but Seattle catcher Mike Zunino swung at the first pitch he saw and homered to deep left field. Leonys Martin singled on an 0-and-1 pitch and Luis Sardinas jumped on the first pitch he saw and singled as well. That brought up Guillermo Heredia. It took him five pitches, but on a 2-and-2 pitch he singled to short right, scoring Martin and moving Sardinas to second. It was Heredia's first base hit in the majors, a liner over a leaping Hanley Ramirez at first base. As Farrell brought in Matt Barnes to pitch, the whole crowd of 25,240 stood to give the departing David Price a standing ovation. A Seattle sportswriter commented: "The invading Red Sox horde was tipping its collective hat to a mostly dominant seven innings, while Mariners fans breathed life into their team's first sustained rally of the night."5
Servais turned to Seth Smith, pinch-hitting for Gutierrez, but Barnes struck out Smith.
Farrell made another move, relieving Barnes with Fernando Abad. Robinson Cano was up and he had been only 1-for-11 against Abad in the times they had met. It proved an unfortunate move. On a 1-and-2 pitch, Cano hit a three-run homer into the seats in deep right-center and the Mariners suddenly had turned the tables, taking a 5-4 lead. Abad got the next two batters, but the edge was Seattle's.
Seattle had had a rough time with closers, and Steve Cishek had fared poorly in his last two games, blowing the game against the Cubs on Sunday and bearing the loss to the Red Sox on Monday. Servais turned to 22-year-old Edwin Diaz to pitch the top of the ninth, and hopefully preserve the one-run lead. "I like to pitch in pressure," Diaz said after the game. "I feel more confident when I got in a close game. I don't know why, I feel really, really good."6
Diaz struck out Betts and catcher Sandy Leon. In between them, Travis Shaw — pinch-hitting for Hill — drew a walk. Benintendi came up to bat and struck out looking, on three pitches.
Price was charged with four runs, but Abad bore the loss, the deciding run being Cano's on the home run. The winning pitcher for the Mariners was Donn Roach, who had worked the seventh and eighth and was the pitcher of record when Seattle turned the score upside down.
Diaz got the save, the first in his major-league career. He added 17 more before the season was done, saved 34 games in 2017, and led the major leagues with 57 saves in 2018.
The Red Sox dropped down a game, to third place, but remained only two games behind in a tightly-bunched AL East. Seattle picked up a game on the Rangers, and, though it was still only August, the dramatic win positioned them only five games behind the Red Sox for the AL wild card. By season's end, they finished second but the same nine games behind Texas they had been on August 1. The Red Sox prevailed, taking the AL East by four games over both the Orioles and the Blue Jays, who were tied for second place. The Red Sox were swept in the Division Series by the Cleveland Indians.
Benintendi went 2-for-3 the next day and played in 34 games in 2016, establishing himself in left field by hitting for a .295 average (.359 on-base percentage), with 2 homers and 14 RBIs. He committed one error in 56 chances (a .982 fielding percentage). In his first postseason game, he was 2-for-4 with one RBI, a home run leading off the third inning of ALDS Game One. For the Division Series as a whole, he was 3-for-9 with two RBIs, the other run coming on a double in Game Three.
In 2017 Benintendi placed second in the American League Rookie of the Year voting to the Yankees' Aaron Judge, who understandably won every first-place vote. Benintendi was the clear choice for second place, though, recording 75 total votes to Judge's 150. Ranked third was Baltimore's Trey Mancini, with 31 votes.
Sources
In addition to the sources cited in the Notes, the author relied almost exclusively on Baseball-Reference.com. Thanks to Steve Steinberg for sending me the Seattle Times stories covering this game.
https://www.baseball-reference.com/boxes/SEA/SEA201608020.shtml
http://www.retrosheet.org/boxesetc/2016/B08020SEA2016.htm
Notes
1 The Red Sox picked up Abad in a trade with the Minnesota Twins for Pat Light.
2 Nick Cafardo, "Red Sox, Benintendi Hoping for Big Things," Boston Globe, August 3, 2016: D4.
3 Peter Abraham, "Abad Happy with Deal," Boston Globe, August 3, 2016: D4.
4 Ibid.
5 Matt Pentz, "M's Stun Red Sox in 8th," Seattle Times, August 3, 2016: C1.
6 Larry Stone, "M's Closing Acts Share Fickle Fate," Seattle Times, August 3, 2016: C1.
Additional Stats
Seattle Mariners 5
Boston Red Sox 4
---
Safeco Field
Seattle, WA
Box Score + PBP:
Corrections? Additions?
If you can help us improve this game story, contact us.
Tags
https://sabr.org/sites/default/files/Benintendi-Andrew-2016.jpg
600
800
admin
/wp-content/uploads/2020/02/sabr_logo.png
admin
2019-01-08 15:48:15
2020-04-17 10:23:42
August 2, 2016: Andrew Benintendi makes his debut; Edwin Diaz records first save