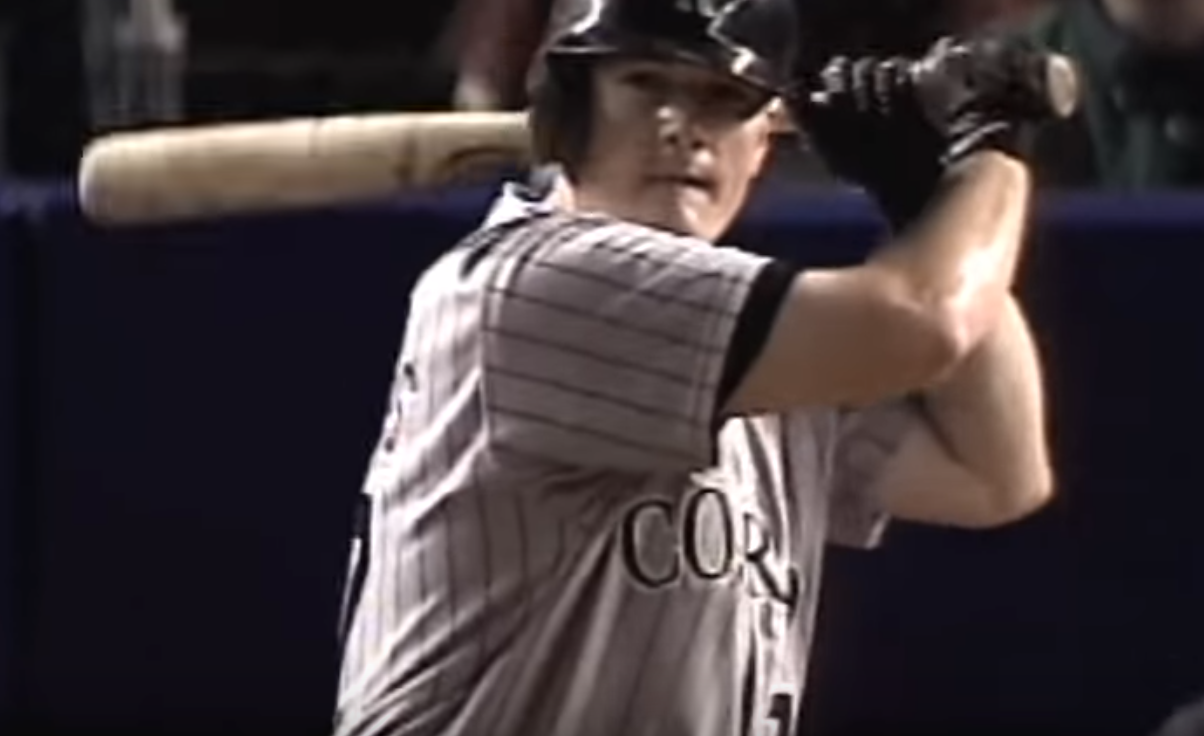 August 23, 2001: Rockies' Jason Jennings homers, shuts out Mets in major-league debut
---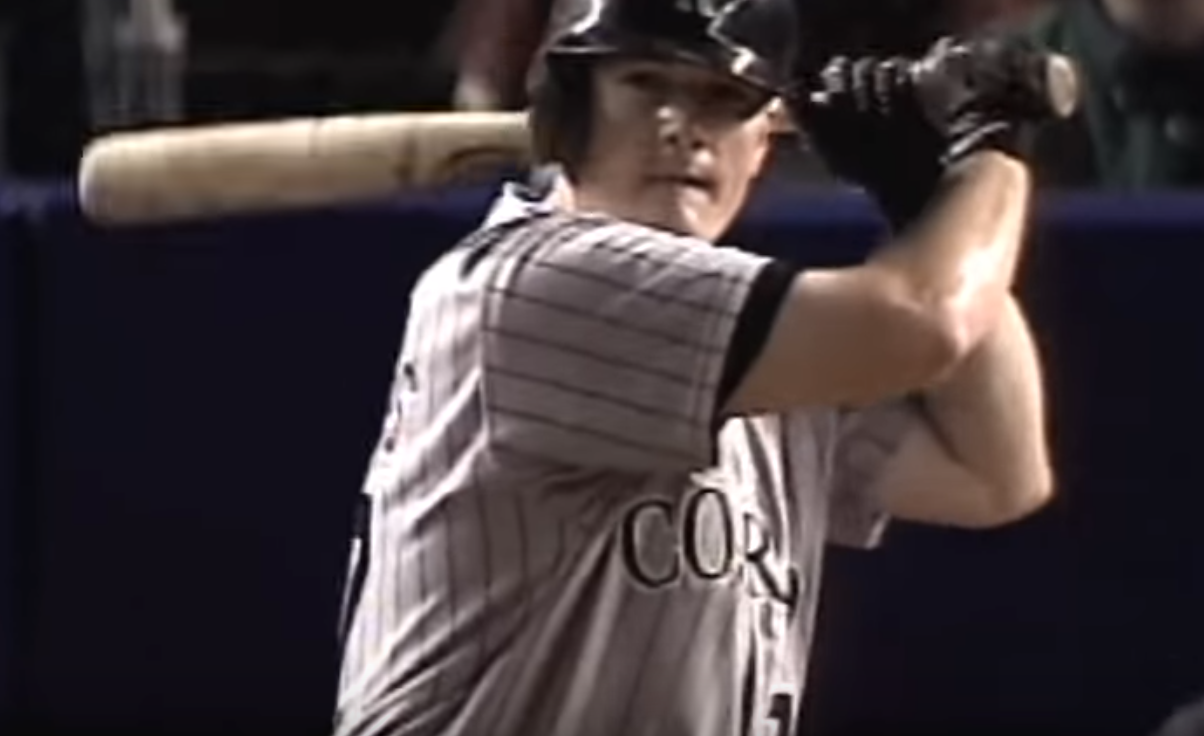 It seems simple, but every player who has stepped onto the diamond at a major-league ballpark had a debut game in the big leagues. But it would be hard to find one as auspicious as the game Jason Jennings had on August 23, 2001, at Shea Stadium.
The 1999 number-one draft pick of the Colorado Rockies was as celebrated a pick as there was. The Texas native was a two-sport star (football and baseball) at Ralph H. Poteet High School in Mesquite. He excelled as a punter and placekicker in football, but it was his impressive numbers in baseball that brought the most attention. In his senior season at Poteet, Jennings batted .410 with seven home runs and posted a 10-3 record with a 0.92 ERA and 132 strikeouts.1
Jennings was selected by the Arizona Diamondbacks in the 54th round of the free-agent draft on June 4, 1996. He bypassed the invitation to enter professional baseball and instead enrolled at Baylor University.
His decision was sound, as he had a banner career at Baylor. In his junior year, Jennings hit .386 with 17 home runs and 68 RBIs. As a pitcher, he won 13 games and totaled 172 strikeouts with a 2.58 ERA. He was named the National Player of the Year in 1999.2As a result, his stock skyrocketed and the Colorado Rockies selected Jennings with their first pick (16th overall) in the free-agent draft on June 2, 1999.
Jennings ascended through the Rockies farm system with mixed results. Even though his record in 2000 was 8-13, he had a 3.47 ERA and showed tremendous control. Jennings struck out 166 and walked 53 between Class-A Salem and Double-A Carolina. He followed that up with a 7-8 record at Triple-A Colorado Springs. His ERA was 4.72, but he struck out 110 batters in 131⅔ innings pitched.
The 2001 Colorado Rockies were in the basement of the National League West. On August 23 they had a 53-72 record, 20 games behind division leader Arizona. Veteran Mike Hampton was the leader of a rather abysmal pitching staff, posting a 12-10 record with a 5.26 ERA before Jennings made his first start.
The Rockies, seeking a spark, recalled Jennings and inserted him as the starting pitcher in the third game of a series against the New York Mets. The Mets had won the first two games of the series and were riding a four-game winning streak. New York was also the reigning National League champion. But the Mets were experiencing a bit of a hangover from the previous year's success, and they were 11½ games back in the NL East with a 58-68 record. Despite their precarious position, it was a daunting assignment for the young hurler to debut in the Big Apple.
To add to the 23-year-old's anxiety, a one-hour rain delay made the waiting seem interminable. But Jennings received the gift that many starting pitchers would treasure. On the strength of singles by Juan Pierre and Terry Shumpert and a sacrifice fly by Larry Walker, his teammates gave him a 1-0 lead. But the parade to home plate continued. Mets starter Glendon Rusch issued walks to Jeff Cirillo and Alex Ochoa, which were followed by a two-run single by Juan Uribe.
Jennings took the mound with a 3-0 lead. The Mets were able to get baserunners aboard in the first two innings, but they were unable to score. The 3-0 advantage was intact until the top of the fifth inning, when the Rockies scored two more runs. A single by Cirillo was followed by a bunt attempt by Todd Helton. A throwing error on the play by third baseman Desi Relaford put baserunners at the corners. Ochoa followed with a sacrifice fly to score Ochoa and advance Helton to second. Helton moved to third on a passed ball charged to catcher Mike Piazza. Sal Fasano followed with a single to plate Helton.
In the top of the fourth inning, Jennings singled to left field for his first big-league hit but was forced at second base on a grounder to short by Pierre. Having just been called up from the minors, Jennings needed a bat. He used one of Uribe's bats, and showed off the hitting ability he had demonstrated in high school and college.
The Mets' Rusch was lifted after pitching five innings and giving up five runs (three earned). Grant Roberts emerged from the bullpen to take his place. Meanwhile, Jennings worked around a two-out double by Matt Lawton in the bottom of the fifth and struck out two batters in the sixth to keep the Mets off the scoreboard.
Colorado scored three runs in the top of the seventh inning to increase its lead to 8-0. The Rockies totaled five hits in the frame, with singles by Cirillo, Ochoa, Uribe, and Jennings and a double by Pierre that spelled the end of the day for Roberts. Jennings's single scored Ochoa and gave him his first major-league RBI.
Donne Wall entered the game for the Mets. Helton doubled and scored on Ochoa's single. The Rockies' final run came in the top of the ninth inning, when Jennings slugged his first career home run, over the right-field fence, to make the score 10-0. He set down the Mets in the ninth inning to post the shutout. He was the first major-league pitcher to throw a shutout and also hit a home run in his debut game. Jennings, who threw a mix of breaking balls and two-seam fastballs, whiffed eight Mets batters and walked four. "I guess you can't get better than that," he said. "It's going to be hard to top that one."3 On the day, Jennings scattered five hits, striking out eight and walking four. At the plate, he was 3-for-5 with two RBIs and a run scored.
"I tip my hat to him," said New York manager Bobby Valentine. "You don't expect that. I don't know if I saw a hitting debut like that."4Added Relaford, "He pitched a great game, not to mention those three hits. It was kind of fun to watch, if you look at the positive. He's probably thinking it's pretty easy at this level now."5
The National Baseball Hall of Fame in Cooperstown requested some items from the historic game. "It's my picture and hat and Juan Uribe's bat," said Jennings. "It's a cool thing to be recognized in Cooperstown. It's something I can tell my grandkids. It's extra-special."6
As a team, the Rockies didn't escape the cellar in their division, finishing with a 73-89 record. The Mets finished the season strong with an 82-80 record, good for third place in the East.
As for Jennings, he finished the season with a 4-1 slate and a 4.58 ERA. He was one of 26 pitchers used by Rockies manager Buddy Bell. Jennings was the leader of the Rockies staff in 2002. He went 16-8 with a 4.52 ERA and totaled 127 strikeouts. He was named NL Rookie of the Year by the Baseball Writers Association of America and The Sporting News.
This story originally appeared in "Major League Baseball A Mile High: The First Quarter Century of the Colorado Rockies" (SABR, 2018), edited by Bill Nowlin and Paul T. Parker. To read more articles from this book at the SABR Games Project, click here.
Sources

https://www.baseball-reference.com/boxes/NYN/NYN200108230.shtml
http://www.retrosheet.org/boxesetc/2001/B08230NYN2001.htm
Notes
1Jerry Hill, "Hall of Fame Profile: Jason Jennings," Baylor Bear Insider, Baylorbears.com, October 11, 2009.
2Ibid.
3Liz Robbins, "Punchless Mets Surrender to Rockies' Rookie Pitcher," New York Times, August 24, 2001: D3.
4Ibid.
5Ibid.
6Irv Moss, "Colorado Classics: Jason Jennings Former Rockies Pitcher," Denver Post, June 18, 2013.
Additional Stats
Colorado Rockies 10
New York Mets 0
---
Shea Stadium
New York, NY
Box Score + PBP:
Corrections? Additions?
If you can help us improve this game story, contact us.
Tags
https://sabr.org/sites/default/files/Jennings-Jason-2001-debut.png
600
800
admin
/wp-content/uploads/2020/02/sabr_logo.png
admin
2019-04-03 11:09:33
2020-04-17 10:23:37
August 23, 2001: Rockies' Jason Jennings homers, shuts out Mets in major-league debut