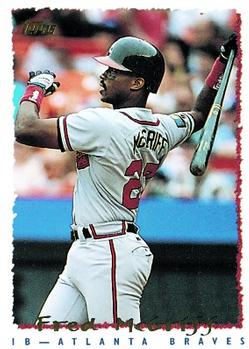 August 24, 1996: Fred McGriff goes 5-for-5, beats Cubs with three-run homer in ninth
---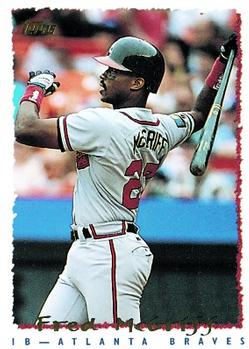 Slugger Fred McGriff had been an Atlanta fan favorite since he joined the Braves on July 20, 1993, and hit 19 homers and drove in 55 runs in 68 games to help the Braves rally from nine games behind the San Francisco Giants to win the NL West title in 1993. But he was struggling as he entered the game on Saturday, August 24, 1996, against the Cubs at Atlanta-Fulton County Stadium; his average had dropped to .288 after being at .349 on June 10, and he had not homered since August 10.
By the end of the evening the 46,804 spectators had seen him match his career high with five hits, including two homers, and drive in four runs in the Braves' stunning comeback over the Cubs. "I've been hitting pretty lousy," McGriff admitted. "I have been hitting a lot of line drives lately and not finding the hole. I've got a lot of work to do to get ready to help us in the postseason. A good day like this is encouraging."1 His big day at the plate made McGriff just the second major leaguer to have a 5-for-5 game that ended with a walk-off home run, joining Jim Northrup, who was actually 6-for-6 when he did it on August 28, 1969, in a 13-inning win over Oakland.2
Former Cub Greg Maddux had won the first game of the series the previous night with seven solid innings, in which he allowed five hits and three runs (two earned) while striking out seven, and the Braves were cruising in the NL East, 11 games up on Montreal, with a record of 80-47. The Cubs, meanwhile, were 63-63 and in fourth place, four games behind the first-place Cardinals in the NL Central Division.
The Cubs started 29-year-old righthander Jaime Navarro, who was 12-9 with a 3.71 ERA but who had won his five previous starts while compiling a 2.67 ERA with 25 strikeouts and just six walks in 33⅔ innings. The Braves countered with 37-year-old veteran Mike Bielecki, who was making his third consecutive start after appearing in 27 games in relief.
The Cubs struck quickly in the top of the first when Scott Bullett singled with one out, stole second, and scored on a double to short left-center by Dave Magadan. A second run was kept off the board when center fielder Marquis Grissom threw out Luis Gonzalez at the plate to end the inning.
The Braves failed to score in the bottom of the first but McGriff, who had just three singles in his previous 16 at-bats, grounded an opposite-field single to left with two outs.
In the top of the fourth with one out, Ryne Sandberg homered to deep left field against Bielecki to put the Cubs up 2-0. After sitting out the 1995 season following his surprise retirement announcement on June 13, 1994, Sandberg had returned for 1996. The blast was his 21st homer of the season and the 261st of his career, pulling him to within five of Joe Morgan's record of 266 homers by a second baseman.3
McGriff cut the lead back to a single run and picked up his second hit of the game when he smashed a 3-and-1 pitch from Navarro to right field for a long solo homer with one out in the bottom of the fourth.
After Dean Hartgraves got the final two outs in the fifth in relief of Bielecki and Brad Woodall pitched two scoreless innings, Brad Clontz took over in the mound in the top of the eighth as the Braves' fourth pitcher of the game and allowed a groundball double to first on his first pitch to Brian McRae. After Bullett sacrificed McRae to third, the Braves walked Mark Grace and Gonzalez to load the bases in hope of double play; but the strategy did not work out as the Cubs increased their lead to 5-1 when Leo Gomez drove in a run with a soft groundout to Clontz near the first-base line and Sandberg followed with a grounder to left field that scored Grace and Gonzalez. Grace, who was 0-for-3 before being intentionally walked, would not make another trip to the plate in the game and his 16-game hitting streak would come to an end.
The Braves responded with a rally in the bottom of the eighth but plated only one run. With one out, Terry Pendleton singled against Cubs reliever Terry Adams and McGriff (who had collected his third hit with an infield single in the sixth) followed one out later with a line-drive double to right field. Bob Patterson relieved Adams, walked Ryan Klesko on five pitches to fill the bases, and was removed for Turk Wendell, who walked Jermaine Dye on a full-count pitch to force in Pendleton before getting Javy Lopez to line out to left with the bases loaded.
With the Braves trailing 5-2 in the bottom of the ninth, Wendell quickly retired Mark Lemke with a swinging strikeout and Mike Mordecai on a grounder to the shortstop. Down to their last out with Grissom coming up, Chipper Jones admitted the Braves were just hoping their teammate could keep a hitting streak alive. "With two outs, we were a little discouraged. We're just hoping Marquis continues his 28-game hitting streak," Jones said. "He did. Then things started to roll."4 Grissom did extend his hitting streak to 28 games with a seemingly harmless pop fly that fell in short right field for a single. (His streak, the second longest in the majors in 1996, would end the following day when he went 0-for-4.) 
Pendleton followed with a walk to bring the tying run to the plate and Cubs manager Jim Riggleman elected to remove Wendell and bring in left-hander Larry Casian to face Braves switch-hitter Jones. Riggleman explained later, "Jones has had a lot of success against Turk. He is also more likely to hit a homer from the left side. I was keeping the odds in our favor."5 Jones foiled the move with a sharp single to right that scored Grissom and moved Pendleton to third. Jones's hit extended his own hitting streak to 18 games. (It would also end the next day.) 
With a 1-and-2 count on McGriff, Casian grooved a fastball down the middle which McGriff fouled straight back to the screen with a good cut. This prompted a trip to the mound from Riggleman, who met with Casian and catcher Tyler Flowers. The catcher suggested that they throw McGriff a slider in the dirt.6 The conference on the mound only served to convince McGriff that Casian wouldn't throw him another fastball and he hammered the next offering to deep right-center for a three-run homer. He noted later, "Most left-handers will throw me a slider or curve in that situation, and I guessed right."7 He added, "I know the manager goes out there and probably tells him to throw me a breaking ball, so I was just trying to hang in there and hit it."8 Casian acknowledged, "It was a slider. It wasn't a good pitch. I just didn't make my pitch."9
The devastating defeat was the Cubs' 25th one-run loss of the season (they would end up second in the NL with 34) and dropped them one game under .500. They hovered around the .500 mark until they faded down the stretch, going just 3-15 in their last 18 games to finish fourth in the NL Central Division with a 76-86 record. The Braves ended the season as the NL East champions with a record of 96-66, eight games ahead of second-place Montreal, and would make it to the World Series where they lost in six games to the Yankees.
Author's note
The author attended this game with his father. A Cubs fan from Arkansas, he was thrilled to see Ryne Sandberg, his favorite player ever, connect for a home run. Although the Cubs lost, McGriff's performance made the game unforgettable.
Sources
In addition to the sources cited in the Notes, the author consulted Baseball-Reference.com and Retrosheet.org.
https://www.baseball-reference.com/boxes/ATL/ATL199608240.shtml
https://www.retrosheet.org/boxesetc/1996/B08240ATL1996.htm
Notes
1 Associated Press, "McGriff Homer Breaks Cubs," Decatur (Illinois) Herald and Review, August 25, 1996.
2 Washington Nationals Communications, "Olivo: 5-for-5 Including Walkoff HR," curlyw.mlblogs.com/friday-fun-facts-65a6421e86b3, May 14, 2010.
3 Mike Kiley, Chicago Tribune, August 25, 1996 (Text block; no headline).
4 Associated Press, "McGriff Homer Breaks Cubs."
5 Kiley.
6 Tim Luke, "McGriff's Homer Caps Braves' Rally in Ninth," Greenville (South Carolina) News, August 25, 1996.
7 Associated Press, "McGriff Homer Breaks Cubs."
8 Associated Press, "McGriff Homer Breaks Cubs."
9 Associated Press, "McGriff Homer Breaks Cubs."
Additional Stats
Atlanta Braves 6
Chicago Cubs 5
---
Atlanta-Fulton County Stadium
Atlanta, GA
Box Score + PBP:
Corrections? Additions?
If you can help us improve this game story, contact us.
Tags
https://sabr.org/sites/default/files/images/McGriffFred-1995Topps.jpg
600
800
admin
/wp-content/uploads/2020/02/sabr_logo.png
admin
2020-02-18 14:27:24
2020-12-15 13:42:54
August 24, 1996: Fred McGriff goes 5-for-5, beats Cubs with three-run homer in ninth