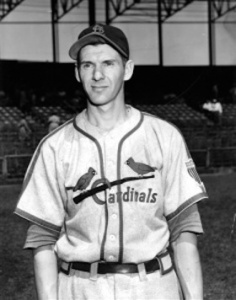 August 25, 1942: Marty Marion's dash preserves Mort Cooper's 14-inning gem
---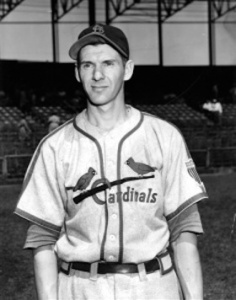 Described as "the largest throng to see a night game in the Mound City," a capacity crowd of 33,527, including 267 servicemen, packed Sportsman's Park to see the invading Brooklyn Dodgers face the hometown St. Louis Cardinals on August 25, 1942.1 The Sporting News praised the game as "one of the tensest, most dramatic games ever played in Sportsman's Park," with the Cardinals emerging victorious, 2-1, in 14 thrilling innings.2 "It also was the toughest contest of the season in St. Louis," continued the publication, "and the longest night game in the league since Larry MacPhail started the nocturnal shows in Cincinnati in 1935."3
What made this game so interesting to the fans of St. Louis was that they had trailed Brooklyn in the standings all season to this point and were poised to make a charge.
The 1942 Dodgers were tied for the third-best record through 81 games since 1901 with a record of 58-23. The Cardinals were 50-31, eight games behind.4 The trend for Brooklyn continued as St. Louis was 10 back on August 5, their worst deficit of the year. Then the Cardinals started to turn it around and went 44-9 while Brooklyn went 31-20 for the remainder of the 1942 season. The Cardinals won the pennant by two games in one of the most impressive stretch drives in major-league history, and this late-August series was when things started to get serious.
The two teams had played each other 17 times previously in 1942 and the Cardinals had won nine. After this night's game the teams would meet four more times. Since the low point of the Cardinals' season (measured by games behind) on August 5 until the 25th, the Cardinals had scored 122 runs, an average of 5.8 per game. Brooklyn had scored 68, an average of 4.2, and not surprisingly the Dodgers' lead had narrowed from 10 games to 6½.
This game was the second of a four-game series and started off as a pitchers' duel. The two starters, Whitlow Wyatt for Brooklyn and Mort Cooper for St. Louis, were facing off for the fourth time in the season. Wyatt was 1-2 with a 5.40 ERA in those matchups while Cooper was 2-1 with a 2.11 ERA. Overall, Cooper had 15 wins and 7 losses with a 2.04 ERA, while Wyatt had 15 wins and 4 losses, and a 2.71 ERA.
Through the first eight innings, manager Leo Durocher's Dodgers had been on base seven times with five hits, an error, and a walk. The walk and error were each erased by the next batter via double-play balls. Only twice was more than one runner on base: In the fifth Billy Herman doubled and Mickey Owen walked, but then Wyatt grounded into a 6-4-3 double play. In the seventh, Joe Medwick and Herman singled back-to-back with two outs, but Owen grounded out to first baseman Johnny Hopp to end that threat.
Brooklyn was its own worst enemy in the ninth. After Pete Reiser fouled to third baseman Whitey Kurowski, Dolph Camilli doubled to right and tried to get the game closer to closure by stretching it to a triple. A fine throw from right fielder Enos Slaughter to Kurowski led to a rundown with Marty Marion receiving the throw from Kurowski and Marion then throwing it back to Kurowski, who tagged Camilli for the second out of the inning. Dixie Walker, the next batter, singled, but Medwick forced Walker at second.
Billy Southworth's Cardinals had only four hits through nine innings, although they did augment them with four walks and benefited from a throwing error by Owen, the Brooklyn catcher. There were two mild threats. Walker Cooper led off the fifth with a single but was forced out by Hopp. Owen tried to double Hopp off first after catching Kurowski's foul pop but his throw was wild and Hopp advanced to second. However, after an intentional walk to Marion, Mort Cooper flied out to end the inning.
In the sixth, after one out, Terry Moore and Slaughter walked consecutively, but Musial popped to short and Walker Cooper flied out to end that threat.
Scoreless after nine, the game went into extra innings.
In the next three innings, with the game still scoreless, probably the most exciting moments came in the 12th, when Durocher started questioning a ball call on Walker, who eventually flied out to Moore in center. After Medwick singled, Durocher came out of the dugout and confronted the home-plate umpire, George Barr. Durocher was immediately ejected. Barr later tossed Brooklyn coach Charlie Dressen in the bottom of the inning for continuing to argue balls and strikes after Marion had walked.
The game went into the 13th inning before either team scored. The Dodgers got on the scoreboard first. Owen led off with a single and Wyatt sacrificed him to second. Two batters later, Lew Riggs hit a single to score Owen with the game's first run.
In the Cardinals' half of the 13th, Slaughter walked with one out and Musial moved him to second with a single. Walker Cooper came through with another single and Slaughter scored the tying run. Larry French relieved Wyatt and induced pinch-hitter Coaker Triplett, batting for Hopp, to ground into an inning-ending 4-3 double play.
In the top of the 14th the Dodgers went out on three harmless infield outs by Camilli, Walker, and Medwick. Kurowski led off the Cardinals' half of the inning with a single. After Les Webber relieved French, Marion laid down a sacrifice bunt. First baseman Camilli tried to get the lead runner, Kurowski, at second but the throw was too late. Runners on first and second and nobody out.
Mort Cooper hit a tapper to the mound. Webber threw to Riggs to get Kurowski at third. There were still runners on first and second, but now one out. Jimmy Brown walked, loading the bases for Moore. With the infield drawn in, he hit a smash to third baseman Riggs, who fell attempting to field the ball. He scrambled to his feet and fired home but it was too late to get Marion, who came across with the winning run. After 3 hours and 30 minutes of hard-fought baseball, the Cardinals had prevailed, 2-1.5 The victory went to Mort Cooper, who pitched all 14 innings, surrendering 10 hits and just one walk.
St. Louis won the next day's game in walk-off fashion as well, before losing the series finale. But the Cardinals had reduced Brooklyn's once seemingly insurmountable lead to 5½ games on their way to an eventual pennant and World Series championship.
This article appears in "Sportsman's Park in St. Louis: Home of the Browns and Cardinals at Grand and Dodier" (SABR, 2017), edited by Gregory H. Wolf. Click here to read more articles from this book online.
Sources
In addition to the sources in the Notes, the author also accessed his own game scoresheet, BaseballReference.com, and Retrosheet.org.
Notes
1 The Sporting News, September 3, 1942: 11.
2 Ibid.
3 Ibid.
4 David Nemec, The Great Book of Baseball Knowledge (Lincolnwood, Illinois: Masters Press, 1999), 417.
5 As it turned out, the final numbers for the August 25 game were like those of the May 20 game, a 1-0 St. Louis victory. In that game both pitchers threw complete games. Wyatt gave up four Cardinals hits and Cooper gave up two Dodgers hits.
Additional Stats
St. Louis Cardinals 2
Brooklyn Dodgers 1
14 innings
---
Sportsman's Park
St. Louis, MO
Box Score + PBP:
Corrections? Additions?
If you can help us improve this game story, contact us.
Tags
https://sabr.org/sites/default/files/MarionMarty.preview.jpg
600
800
admin
/wp-content/uploads/2020/02/sabr_logo.png
admin
2018-11-13 15:03:34
2020-04-17 10:23:47
August 25, 1942: Marty Marion's dash preserves Mort Cooper's 14-inning gem