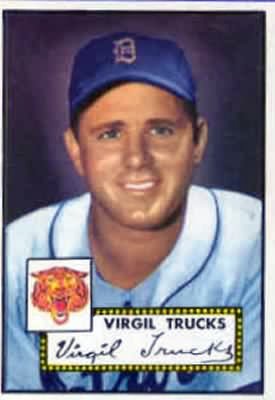 August 25, 1952: Virgil Trucks hurls his second no-hitter of the season
---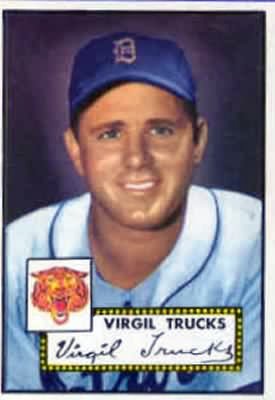 Virgil Trucks's 1952 season has been described by Gregory H. Wolf as "one of the most incongruous and surprising ones imaginable."1 Trucks had missed almost the entire 1950 season with a serious arm injury and struggled in 1951 to regain his well-regarded fastball. In his first four starts of 1952, Trucks was tagged for 30 hits and 16 earned runs in just 15⅔ innings.2
The Tigers' afternoon game on May 15, 1952, at Briggs Stadium against the Washington Senators has been well detailed by Wolf.3 Bob Porterfield, pitching for the Senators, virtually matched Trucks's performance, so when Trucks left the mound after pitching no-hit ball for nine innings, the score was still 0-0. Vic Wertz ended the suspense with a solo two-out home run off Porterfield to preserve Trucks' first no-hitter. Trucks was mobbed in the dugout after a first in major-league history, a two-out walk-off home run in the ninth inning to preserve a no-hitter.4Shortly after the no-hitter, Trucks remarked, "Before my arm trouble, I depended mostly on my fastball. Now I am using curves and sliders … but my fastball has returned."5
Trucks came to the mound on August 25 with an unspectacular 4-15 record but a respectable 3.55 ERA. His pitching opponent was Bill Miller (3-4), in his rookie season with the Yankees. Another central figure for the game was John Drebinger. Drebinger had two jobs this afternoon – covering the game for the New York Times and serving as the official scorer at Yankee Stadium, a common practice for baseball writers since the earliest days of major-league baseball.
In the bottom of the third inning, Phil Rizzuto hit a groundball to Johnny Pesky, who appeared to have trouble getting the ball out of his glove and threw to first was low and late. Drebinger immediately called it an error. He noted in his Times report that "upon the insistence of several colleagues that the ball had stuck in the webbing of the player's glove, which technically makes it a hit, the verdict was changed," and Trucks' potential no-hitter appeared lost.6
But Drebinger was clear on what action he took after the verdict on Rizzuto's groundball was changed: "However, that still did not satisfy the official scorer [Drebinger], who then had Pesky himself queried on what had happened. Pesky emphatically declared that the ball had not stuck in his glove, that it had spun out and as a result he had trouble closing his right hand on it in time to make a proper throw. … That clearly made it an error and that became the final decision"7 Trucks later noted in an interview with Gregory H. Wolf that "when I went out in the eighth inning, they announced over the PA system what Drebinger had done and it had been corrected as an error … and it was still a no-hitter."8 In fact, that announcement pleased the crowd and "a rousing cheer went up from the fans who didn't seem to like the "hit" decision from the beginning."9
Meanwhile, through six innings, Miller had given up only one hit, a second-inning infield single by Matt Batts. But in the seventh inning, Walt Dropo's double down the left-field line and an RBI single by Steve Souchock in the same spot produced what would be the game's only run. Trucks responded well to the shifting emotions and no-hitter pressure. As Drebinger expressed it, "Trucks swept majestically through the remaining nine batters."10 In fact, after three Yankees reached base in the first three innings (errors by Pesky and catcher Matt Batts, walk to Mickey Mantle), Trucks retired the last 20 Yankees and struck out eight.
With his second no-hitter, Trucks joined Johnny Vander Meer (1938 Cincinnati Reds) and Allie Reynolds (1951 New York Yankees) as the third pitcher to hurl two no-hitters in a single season. Subsequently, Nolan Ryan (1973 California Angels), Roy Halladay (2010 Philadelphia Phillies), and Max Scherzer (2015 Washington Nationals) accomplished the feat.11
The second no-hitter was Trucks's last victory of the season which ended with a won-lost record of 5-19, a 3.97 ERA, and eight complete games, but those five wins were masterful! In addition to the two no-hitters, Trucks hurled a one-hitter, a two-hitter over 7⅔ innings, and a six-hitter.12
There is no reason at all to question the integrity of John Drebinger, but perceptions about home-team favoritism and hassles between official scorers and players over scoring decisions have been an inevitable part of baseball over many years.13The perceived conflict of interest when baseball writers also serve as official scorers eventually led many major newspapers to end that practice. The Washington Post was the first to do so, in 1958.14The New York Times adopted a similar policy in 1963.15By the early 1980s, all the major newspapers had followed suit, citing the perceived conflict of interest. Eventually Major League Baseball took over the responsibility of recruiting scorers for all franchises.
Trucks was traded to the St. Louis Browns after the 1952 season and over the next six seasons also pitched, without another losing record, for the Chicago White Sox (1953-1955), the Tigers again (1956), Kansas City A's (1957-1958), and the Yankees (1958). His stellar pitching performances in 1952, despite the Tigers' worst season ever (as of 2017) set the tone for what would be outstanding pitching in the following two seasons. Trucks was a 20-game winner in 1953 splitting the season with the Browns and White Sox and finishing fifth in the American League MVP voting. In 1954, he won 19 games for the White Sox and was named to the American League All-Star team.16
Over an 18-year major-league career, Trucks won 177 games, lost 135, recorded 33 shutouts and compiled a 3.39 ERA. He lost nearly two full seasons (1944 and 1945) to military service and Wolf speculated on whether that circumstance cost him a spot in the Hall of Fame.17 Regardless, Virgil Trucks will always be remembered for those two no-hitters in that incongruous season of 1952.
Author's note
I attended this game with the Linden (New Jersey) Police Athletic League as a 9-year-old Brooklyn Dodgers fan sitting behind "enemy lines" in the left-field bleachers at Yankee Stadium. Little was I aware of what was about to unfold on the field.
Sources
In addition to the sources cited in the Notes, the author also accessed Baseball-Reference.com (baseball-reference.com/boxes/NYA/NYA195208250.shtml) and Retrosheet.org (retrosheet.org/boxesetc/1952/B08250NYA1952.htm).
Notes
Additional Stats
Detroit Tigers 1
New York Yankees 0
---
Yankee Stadium
New York, NY
Box Score + PBP:
Corrections? Additions?
If you can help us improve this game story, contact us.
Tags
http://sabr.org/sites/default/files/images/TrucksVirgil.jpg
600
800
admin
/wp-content/uploads/2020/02/sabr_logo.png
admin
2017-01-23 18:11:31
2020-04-17 10:25:56
August 25, 1952: Virgil Trucks hurls his second no-hitter of the season