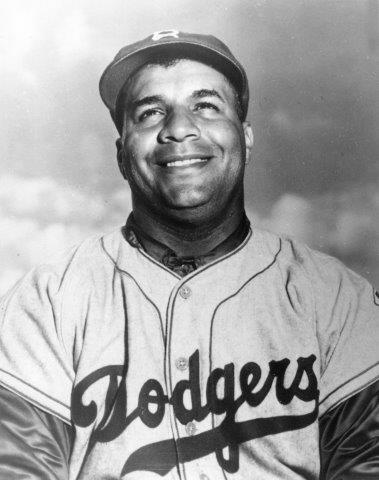 August 26, 1950: Roy Campanella's three homers sink Reds
---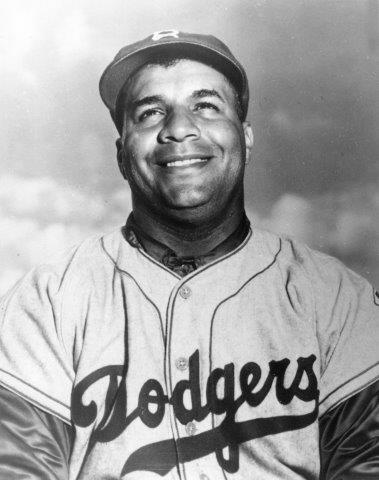 "His homers were terrific clouts," gushed sportswriter Harold C. Burr in the Brooklyn Eagle about Roy Campanella's three round-trippers accounting for six RBIs in the Dodgers' 7-5 victory over the Cincinnati Reds in the Queen City.1 The Cincinnati Enquirer's Lou Smith seemed in awe of Campy's "Ruthian" blasts, each of which targeted the laundry beyond the left-field fence.2 "Campanella staged a one-man blitz," remarked Smith.
The reigning pennant-winning Dodgers were on a roll as they prepared to battle the reeling Reds in the final game of a four-game series at Crosley Field. Skipper Burt Shotton's squad had won its last nine games, all but one on the road. Following Don Newcombe's decisive seven-hit shutout the night before, "Dem Bums" improved to 66-47, and trailed the surprising Whiz Kids of Philadelphia by only five games in the standings and just two in the loss column. The Reds, on the other hand, seemed far removed from the pitching-laden teams that captured consecutive pennants in 1939-40. In his first campaign piloting the Reds, Luke Sewell's club (47-69) had lost its last eight games, and was heading toward a second-division finish for the sixth consecutive season.
The pitching matchup featured youth vs. experience. Brooklyn's 22-year-old right-handed screwballer Erv Palica (7-4) seemed to be coming into his own in his fourth big-league season. After relieving most of his career, he had moved into the starting rotation about six weeks earlier, but had recently been suffering from a sore shoulder. Cincinnati countered with veteran southpaw Ken Raffensberger, 10 years older than his mound opponent, and the workhorse of the Reds staff. Toiling for bad Phillies and Reds teams for most of his career, Raffensberger sported an unenviable 77-103 record, including 12-14 thus far in '50.
A gorgeous Saturday afternoon with temperatures in the low 80s drew a ladies' day crowd of just 10,343 (of whom 6,229 were paying customers) to Crosley Field for a matchup of the NL's most potent, highest-scoring offense against one of the league's worst pitching corps. The fans, suggested Burr, "received the verdict of apathy."3
Raffensberger escaped a jam in the first when Jackie Robinson, batting cleanup for the first time in three games, grounded into a 5-4-3 double play with two men on. The "Reds opened as if they were going to make short work" of Palica, wrote Smith excitedly.4 With runners on first and second in the first, Johnny Wyrostek belted a liner to drive in Lloyd Merriman for the game's first run, but right fielder Carl Furillo's quick strike to first baseman Gil Hodges trapped Wyrostek, who was tagged in a rundown for the first out. Hulking Ted Kluszewski lifted a sacrifice fly for the Reds' second run.
The Dodgers tied the game minutes later, when in the second inning Hodges walked and Campanella, hitting in his customary seventh slot, blasted his 25th home run of the season, a towering shot onto the roof of the laundry behind the left-field fence. Home runs were nothing new to the 28-year-old slugger. Since beginning his professional career as a 15-year-old with the Negro National League Washington Elite Giants in 1936, Campy was known for his brute strength. In 1949, his first full season with the Dodgers, the Philadelphia native whacked 22 home runs, just one off the Brooklyn record for right-handers set by Hack Wilson (1932) and tied by both Hodges and Duke Snider in '49. The home-run triumvirate of Campanella, Hodges, and Snider obliterated that mark in 1950.
Palica looked shaky again in the second. He yielded a one-out single to Johnny Pramesa and squandered the lead on light-hitting shortstop Virgil Stallcup's two-run round-tripper. Palica settled down thereafter, allowing only one baserunner in each of the next five innings on four hits and a walk.
While Palica kept the Dodgers in the game, his teammates gave Raffensberger a "going over," wrote Burr.5 With two outs in the fourth, Hodges beat out a swinging bunt when the ball went dead in the dust to the left of home plate, catching backstop Pramesa "napping."6 Campanella followed with a moon shot which, according to the Cincinnati Enquirer, went over a signpost on top of the laundry, completely clearing the building.7 Only one other player, the Pirates' formidable ball-basher Ralph Kiner, had ever done that, added the paper.
With the score tied, 4-4, Raffensberger was battered but kept standing. He overcame a bases-loaded jam when Bobby Morgan, starting at third in place of the slumping and fatigued Bobby Cox, popped out to first to end the sixth; and retired Robinson on a deep fly to right field to end the next frame with runners on the corners. Raffensberger's luck soon ran out when the "game followed the Flatbush script" in the eighth, wrote Burr.8 After Hodges lined a one-out single, Campanella, who had walked in the sixth, stepped to the plate. The New York Times noted that the paltry crowd greeted the slugger with a hefty round of applause.9 Not waiting to delight his new-found fans, Campy swung at Raffensberger's first pitch and deposited his third clout on the laundry building, hitting it on one hop. Three batters later, Pee Wee Reese singled home Morgan, who had reached on an error, to increase the Dodgers' lead to 7-4.
Despite being spiked on a putout covering first base on Merriman's bunt in the seventh, Palica returned to the mound the next inning. Kluszewski greeted him with a line-drive single, but was immediately erased when Connie Ryan grounded into a 5-4-3 twin killing to extend to 13 the Dodgers' major-league record of consecutive games with a double play. Still wobbly, Palica yielded a double to Joe Adcock and a single to Pramesa, his career-best fourth hit of the game, but seemed destined to escape the jam when Stallcup grounded to short. Reese fielded the ball behind second base and flipped to Jackie Robinson, but a sliding Pramesa was ruled safe as Adcock crossed home plate for the game's final run.
The Reds mounted one last furious rally in the ninth off Palica. Grady Hatton drew a one-out walk and went to third on Kluszweski's two-out single, which finally signaled the end of Palica's afternoon. Shotton summoned 24-year-old Ralph Branca to face Connie Ryan, whom the Reds had acquired in a trade with the Boston Braves in exchange for Walker Copper in May. Branca, a 20-game winner in 1947 and a three-time All-Star, had been confined mainly to spot starting and relieving in 1950. Representing the go-ahead run, Ryan popped up to Robinson to end the game in 2 hours and 23 minutes.
Palica got credit for his eighth victory of the season despite an ugly outing (13 hits and two walks in 8⅔ innings) while Raffensberger (10 hits and three walks in eight innings) was charged with the loss. The Dodgers' victory, coupled with the Phillies' 14-4 loss in Pittsburgh, reduced the Whiz Kids' lead to just four games, setting up a memorable stretch run for both teams over the last five weeks of the season.
The story of the game was Campanella, the squat, 5-foot-9 ball of power. He became the fourth Dodger to wallop three round-trippers in a game, joining Jack Fournier (1926), Gene Hermanski (1948), and Duke Snider, who turned the trick on Labor Day in 1950.
Acknowledged as the NL's best catcher, Campanella suffered a fractured thumb on his right hand from a foul tip in the second game of a doubleheader sweep against the Phillies on September 6 at Shibe Park. (Remarkably Newcombe started both games of the that twin bill, tossing a shutout in the first and hurling seven innings in the second contest, yielding just two combined runs and 11 hits). Campanella missed the next nine games. Some historians, like Rick Swaine in his biography of the future Hall of Famer on the SABR BioProject, cite Campanella's absence, during which Brooklyn won just three times, as one of the main reasons the Dodgers lost the pennant to the Phillies by one game.10 Campanella (31), Snider (31), and Hodges (32) all surpassed the former Brooklyn record of 23 home runs for a right-handed hitter, in 1950.
Campanella clouted 242 home runs in his 10-year big-league career, but never again hit three in a game. He had 21 games with two home runs. His six RBIs represented a career high; a total he matched in two subsequent games.
This article was published in "Cincinnati's Crosley Field: A Gem in the Queen City" (SABR, 2018), edited by Gregory H. Wolf. To read more articles from this book at the SABR Games Project, click here.
Sources
In addition to the sources cited in the Notes, the author also accessed Retrosheet.org, Baseball-Reference.com, the SABR Minor Leagues Database, accessed online at Baseball-Reference.com, SABR.org, and The Sporting News archive via Paper of Record.
https://www.baseball-reference.com/boxes/CIN/CIN195008260.shtml
https://www.retrosheet.org/boxesetc/1950/B08260CIN1950.htm
Notes
1 Harold C. Burr. "Campy's 3 Homers Humble Reds by 7-5," Brooklyn Eagle, August 27, 1950: 22.
2 Lou Smith, "One-Man Blitz by 'Campy' Beats Reds," Cincinnati Enquirer, August 27, 1950: 51.
3 Burr.
4 Smith.
5 Burr.
6 Smith.
7 Ibid.
8 Burr.
9 Roscoe McGowen, "Dodgers Win, 7-5; Campanella Stars," New York Times, August 27, 1950: S1.
10 Rick Swaine, "Roy Campanella," SABR BioProject, sabr.org/bioproj/person/a52ccbb5.
Additional Stats
Brooklyn Dodgers 7
Cincinnati Reds 5
---
Crosley Field
Cincinnati, OH
Box Score + PBP:
Corrections? Additions?
If you can help us improve this game story, contact us.
Tags
https://sabr.org/sites/default/files/Campanella%20Roy%201462-77_HS_NBL.jpg
600
800
admin
/wp-content/uploads/2020/02/sabr_logo.png
admin
2019-10-01 12:38:05
2020-04-17 10:22:31
August 26, 1950: Roy Campanella's three homers sink Reds