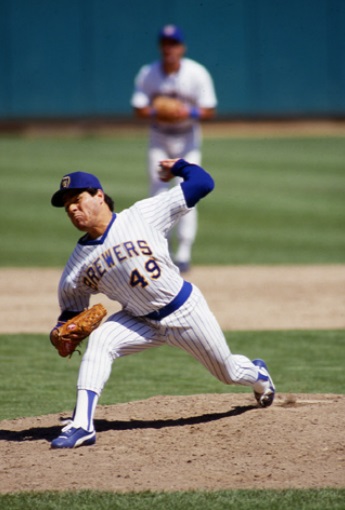 August 26, 1987: Rick Manning's walk-off single preserves Teddy Higuera's 10-inning shutout
---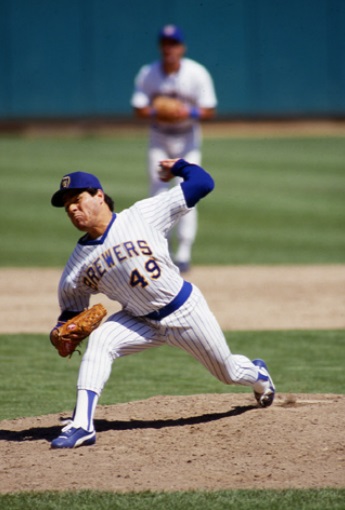 With crews on hand from all three major television networks and reporters from a dozen newspapers that did not normally cover the Brewers crowding the press box, all eyes at County Stadium were fixed on Paul Molitor.
Molitor had stretched what was already the fifth longest hitting streak since 1900 to 39 games by lining a single in the sixth inning of the previous night's 10-9 victory over the Cleveland Indians.
"Everybody says it can't be done — that it's [DiMaggio's 56-game streak] the one record that will never be broken," Brewers catcher Bill Schroeder told reporters after that game. "Who says it can't? Maybe it won't end. He sprays the ball all over. He's the kind of hitter who can do it."1
Standing between Molitor and history was John Farrell, a 25-year-old right-hander making his second start for the Indians. Farrell had been called up from Triple-A Buffalo only eight days earlier when reliever Sammy Stewart went on the disabled list, and had made his major-league debut in the 12th inning of Cleveland's 9-8 win over the Brewers, earning credit for the victory. Three nights later Farrell threw a six-hitter in an 8-3 win over Detroit. Indians manager Doc Edwards had tapped Farrell to start tonight's game when scheduled starter Rich Yett was scratched with a tender left ankle.
Taking the mound for the Brewers was Teddy Higuera. Higuera had followed up an outstanding 15-8 rookie season in 1985 with a 20-11 record and a second-place finish in the Cy Young Award balloting in 1986, but had been somewhat of an enigma this season. After a 4-0 start, he had inexplicably gone cold. In one stretch from late April into June, Higuera made 12 starts with only one win, dropping his record to 5-7. There was some talk of a sore ankle, but Higuera had yet to miss a scheduled start. Since late June, however, the left-hander's fortunes had turned around, with seven wins in his last nine decisions to improve to his record to a respectable 12-9, albeit with a 4.42 ERA.
It was a cool, damp evening in Milwaukee and, from the outset, neither the Brewers nor the Indians seemed to be able to hit the ball out of the infield. Through five innings only the Brewers' B.J. Surhoff had managed so much as a single, and each team had been limited to only a pair of baserunners.
A leadoff single by Tommy Hinzo to open the sixth gave Cleveland its first hit, but any opportunity to score was lost when Brett Butler popped out to Higuera, who wheeled and fired to first to catch Hinzo off base for a double play.
The Indians reached Higuera for a pair of singles in the top of the seventh, but left both runners stranded. The Brewers briefly came alive in the bottom of the inning when Greg Brock laced a two-out double and Surhoff drew an intentional walk, but Rob Deer struck out to end any threat.
After Farrell fanned Ernest Riles to open the Brewers' half of the eighth inning, Dale Sveum lashed a single. Juan Castillo laid down a successful sacrifice, bunting back to the mound and advancing Sveum to second. All eyes were on Paul Molitor as he stepped to the plate.
Even now, in the eighth inning of a scoreless game, the focus remained less on the remarkable pitching duel between Farrell and Higuera than on the fact that Molitor had gone 0-for-3 with a strikeout and two groundouts to shortstop, one for an inning-ending double play. With the game on the line, to say nothing of Molitor's streak, and first base open, would Doc Edwards elect to walk baseball's hottest hitter, or let Farrell pitch to Molitor?
The crowd of 11,246 roared lustily for Molitor to be given the chance to hit. "The crowd was not only trying to get him to rise to the occasion," Farrell said after the game, "but it made me rise to the occasion. It pumped me up, got my adrenaline flowing that much more so that I could stand up to the challenge tonight."2
After a brief conference with Farrell and catcher Andy Allanson, Edwards gave the order to pitch to Molitor. Molitor, swinging at a fastball, hit a groundball toward third base. Third baseman Brook Jacoby scooped it up and threw to Pat Tabler at first. The first-base umpire, Mike Reilly, initially called Molitor out, but ruled him safe when Tabler bobbled the ball. Molitor had reached base on an error; the crowd, longing for a hit, booed the call. Sveum advanced to third but no farther as Robin Yount popped out to end the inning.
As Molitor left the field, he crossed paths with Farrell coming off the mound. "Good job," Molitor called as he jogged past.3
If the Indians were to score in the ninth inning, it would be unlikely Molitor would get another chance to extend his streak. Higuera, touched for only three hits while striking out eight, remained on the mound for the Brewers.
Julio Franco, hitting .321 coming into the game, was retired on a fly ball to left field. Tabler, the Tribe's leading hitter at .322, flied out to center. Higuera then induced slugger Joe Carter to ground out to second base to retire the side.
John Farrell had matched Teddy Higuera almost pitch-for-pitch, having surrendered only three hits entering the ninth inning while notching seven strikeouts. Farrell made short work of the Brewers, retiring Glenn Braggs, Brock, and Surhoff on groundball outs. After nine full innings, the game remained deadlocked at 0-0.
Still sharp, Higuera retired the side in order in the 10th inning, fanning two more for his ninth and tenth strikeouts.
As the Brewers came to bat in the bottom of the 10th, Edwards pulled Farrell in favor of reliever Doug Jones, a right-hander who had supplanted Ernie Camacho over the summer as the Indians' primary closer. Jones had saved four games over the last two weeks and paced the pitching staff with a 3.00 ERA.
Jones, however, plunked Deer with a one-ball, two-strike fastball, giving Milwaukee a baserunner to open the inning. After Mike Felder went in to run for Deer, Riles bounced a pitch back to Jones, who tossed the ball to first base for the out, with Felder advancing to second on the play. Sveum was given an intentional pass to put runners on first and second. Due up next was the light-hitting Castillo.
A ripple went through the crowd as Brewers manager Tom Trebelhorn waved Castillo back and sent out Rick Manning to hit. Manning was 4-for-10 as a pinch-hitter this season, but those in attendance were less interested in seeing a hit than in seeing the inning extended so that Molitor, now on deck, could come to the plate one more time. Many in the stands were rooting for Manning to strike out rather than risk an inning-ending double play.
Accordingly, the crowd cheered when Jones slipped a strike past Manning on the first pitch.
"When I heard the cheers after the first strike," said Manning, "I had to step out of the batter's box and collect myself. I wondered if I'd gotten traded back to Cleveland between innings or something. But I checked my uniform and it was still a Milwaukee one."4
Stepping back in the box, Manning slapped the next pitch up the middle, beyond the reach of an outstretched Franco. Felder raced home with the winning run.
Seldom is a walk-off hit met with boos from the hometown crowd, but such was the case this night. Although Molitor was the first to hug Manning after Felder crossed the plate, many of the Brewers faithful were anything but jubilant. Catcalls rained down from the grandstand, and one fan took to the field to accost Brewers coach Larry Haney as he headed for the dugout.
"I can understand the fans," Trebelhorn said afterward, "but they have to always understand that Paulie did get four whacks at them. You've got to win a ballgame. You have to try to win."5
The boos and catcalls turned into a standing ovation, however, as Molitor returned to the field to tip his cap to the crowd.
While the postgame news centered on the end to Molitor's streak, Teddy Higuera's performance — a 10-inning, three-hit shutout with 10 strikeouts and only two runners getting as far as second base — did not escape complete notice.
"Those are the kind of games a pitcher loves," the Spanish-speaking Higuera said through teammate Juan Nieves, his personal interpreter. "You know the other pitcher is pitching well. You have to concentrate. There's no relaxing."6
As Paul Molitor put it, "Teddy pitched his heart out."7
This article appears in "From the Braves to the Brewers: Great Games and Exciting History at Milwaukee's County Stadium" (SABR, 2016), edited by Gregory H. Wolf. To read more stories from this book at the SABR Games Project, click here.
Sources
Newspapers
Capital Times (Madison, Wisconsin)
Cleveland Plain Dealer
Milwaukee Journal
Milwaukee Sentinel
New York Times
The Sporting News
Wisconsin State Journal (Madison, Wisconsin)
Website
Baseball-reference.com
Notes
1 "Molitor's Hit in 6th Sends Streak to 39," New York Times, August 26, 1987, A20.
2 "The Streak Is Struck Down by a Rookie," Milwaukee Journal, August 27, 1987, 1C.
3 "Brewers Top Tribe, 1-0, in 10 Innings," Cleveland Plain Dealer, August 27, 1987, 1E.
4 "Manning Put in a Tough Spot," Cleveland Plain Dealer, August 27, 1987, 1E.
5 "Trebelhorn Defends Move," Milwaukee Journal, August 27, 1987, 1C.
6 "Manning's Hit Wins It With Molitor on Deck," Milwaukee Journal, August 27, 1C.
7 "Higuera Tosses 3-Hitter for 1st Shutout of Year," Milwaukee Sentinel, August 27, 1987, B1.
Additional Stats
Milwaukee Brewers 1
Cleveland Indians 0
10 innings
---
County Stadium
Milwaukee, WI
Box Score + PBP:
Corrections? Additions?
If you can help us improve this game story, contact us.
Tags
https://sabr.org/sites/default/files/Teddy%20Higuera.jpg
600
800
admin
/wp-content/uploads/2020/02/sabr_logo.png
admin
2018-04-13 15:16:55
2020-04-17 10:24:49
August 26, 1987: Rick Manning's walk-off single preserves Teddy Higuera's 10-inning shutout