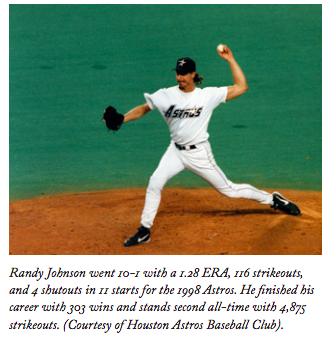 August 28, 1998: Big Unit fans 16 in third straight shutout in the Dome
---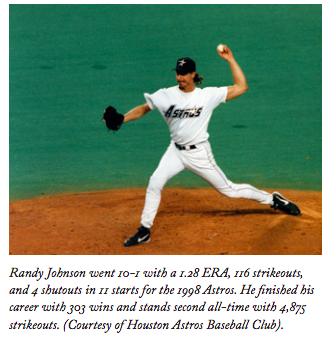 The reigning NL Central champion Houston Astros made a bold move at the July 31 trading deadline in 1998 by acquiring left-hander Randy Johnson from the Seattle Mariners in a trade the club hoped would propel them to their first World Series appearance. The trade, however, was risky. The 34-year-old, 6-foot-10 hurler with his signature mullet haircut had won the AL Cy Young Award the previous season with a 20-4 record, but had unexpectedly struggled prior to the deadline, winning just nine of 19 decisions and posting a 4.33 ERA. Furthermore, the impending free agent, whose market value probably exceeded what the Astros could pay, essentially made him a two-month rent-a-pitcher. Houston also had to part with two highly touted prospects, pitcher Freddy Garcia and infielder Carlos Guillen, both of whom eventually developed into All-Stars. Nonetheless Astros GM Gerry Hunsicker decided to go for broke and pulled the switch on one of the biggest in-season trades in franchise history.
Those concerns were probably forgotten when the Big Unit whiffed 12 Pittsburgh Pirates in seven innings to win his first start with the Astros, and then fashioned consecutive five-hit shutouts in his first two starts in the Astrodome. Johnson was a physical marvel, to say the least. "[His] arm is 38 inches long, which means that he is actually delivering the ball three feet behind a left-handed hitter's back," wrote umpire Durwood Merrill. "The amazing part is that the ball winds up on the outside of the plate, causing the left-handed hitter to lean so far forward that he's almost falling on his nose."1
As the Astros prepared to play the first game of a three-game set with the Pirates on August 28, second-year skipper Larry Dierker's squad was hot. Houston had won 18 of 25 games since acquiring Johnson and held a comfortable 10-game lead in the NL Central (83-51). A victory would match its win total from the previous season. Though manager Gene Lamont's Pirates harbored no postseason hopes, the club was playing its best ball of the season. They had scored four or more runs in 15 consecutive games and were riding a nine-game winning streak that pushed their record to 64-68, good for third place in the Central Division.
The game was scoreless through the first five innings. The Pirates tallied five singles and had men in scoring position in the first, third, and fourth innings, but came up empty each time. Johnson struck out 10, six of them swinging. The Pirates' talented 26-year-old Mexican-born right-hander Francisco Cordova pitched just as well, though not as overpoweringly, yielding just two hits.
Brad Ausmus, Houston's hardscrabble catcher, led off the bottom of the sixth with a double down the left-field line. He went to third when Cordova balked while facing his mound opponent, who later whiffed. Craig Biggio, who entered the game batting a team-high .328, hit a slow bouncer back to Cordova, whose throw to catcher Jason Kendall "seemed in time to get [Ausmus]," in the opinion of Paul Meyer of the Pittsburgh Post-Gazette . However, home-plate umpire Bill Hohn saw it differently, ruling Ausmus safe and sending the crowd of 40,709 in the Astrodome into a loud cheer.2 "I thought he was out," said Kendall, the Bucs' All-Star backstop. "It was a bang-bang play."3 Ausmus was unequivocal in his perception of the play that gave Houston a 1-0 lead: "No question I was safe. My foot went right between his legs and touched the plate."4 Biggio, who had earned his fifth consecutive and last of seven All-Star berths a month earlier, stole second, but was stranded when Cordova retired the next two batters.
After racking up his 12th punchout in the seventh inning, Johnson yielded a one-out single to Adrian Brown in the eighth. It was the third hit of the game for Brown, a mid-August call-up who had entered the game batting .414 (12-for-29) in his last eight contests. Shortstop Kevin Polcovich fanned for the third time, and then Kendall lined a single to short right field. An error by flychaser Richard Hidalgo enabled Brown to advance to third, but Johnson defused the threat by inducing Kevin Young to pop up.
Ausmus led off the eighth by placing a bunt perfectly between right-hander Mike Williams, who had just entered the game in relief of Cordova, and first base. Williams was charged with an error on his wild throw to first, enabling Ausmus to reach safely. Williams fanned Johnson, but the ball got away from Kendall, permitting Ausmus to advance to third. It was déjà vu all over again as Biggio hit a slow chopper with the infield drawn in. Shortstop Lou Collier fielded the ball cleanly but his throw to the plate was high, allowing Ausmus to slide home safely and giving the Astros a 2-0 lead.
"I don't know if it's [Ausmus] being so fast or me hitting the balls slow enough for him to score," joked Biggio after the game.5 Not only was Ausmus deceptively fast for a catcher, he was hot, too. He had entered the game having collected hits in his last seven consecutive at-bats. "My legs actually feel very strong," he said after the game, and credited his backup, Tony Eusebio, whose sturdy play in 38 starts thus far had given him a chance to rest.6 Ausmus drew praise, even wonder, from his skipper, who spent 13 of his 14 years pitching in the big leagues with the Astros. "You think about how many games he's caught, and he's still running like that," said Dierker.7
"Johnson had the Pirates guessing as he seemingly got stronger as the game progressed," wrote the Houston Chronicle's Joseph Duarte.8 With his fastball reaching speeds of 96 to 98 miles per hour, coupled with a deadly slider, the Big Unit struck out the side in the ninth; Freddy Garcia swung and missed on Johnson's 133rd pitch to end the game in 2 hours and 23 minutes.
"He overpowered us — plain and simple," said Lamont of Johnson's superlative performance, in which he did not walk a batter.9 Johnson's 16 strikeouts set an Astros record for left-handers, and were the most since Nolan Ryan fanned 16 on September 9, 1987. (Don Wilson set the club mark with 18 on July 14, 1968, at Cincinnati's Crosley Field.) "It's not as though we had chance after chance," continued Lamont. "With him striking so many guys out, it's tough when you can't put the ball in play."10 It was Johnson's 98th game with at least 10 strikeouts, breaking the tie he had with another dominant southpaw, Sandy Koufax; Ryan's record of 215 such games seemed out of reach. Biggio summed up Johnson's outing in four words: "He was totally dominant."11
A humble player despite his pitching prowess, Johnson was quick to give the Pirates credit. "Pittsburgh is a very disciplined and scrappy team," he said. "Those are the teams that make me work hard [because they] don't give me any room for error."12 Unflappable on the mound, Johnson's concentration and ability to tune out all distractions on or off the field contributed to his success. "I realize that I have to be focused the entire game," he said. "With a one-run game, the tying run is up every inning."13
"At this rate, Randy Johnson may never lose a start at the Astrodome," wrote Duarte jokingly, but he was right — at least for the regular season.14 Johnson's third straight shutout at home improved his overall record to 5-1. He pitched only two more times in the Astrodome in '98. He blanked the Reds 1-0 on September 7 and beat the St. Louis Cardinals five days later, though his scoreless-inning streak at the Dome ended at 36 innings when the Redbirds scored in the first. In two months with the Astros, Johnson enjoyed one of the best stretches any Houston pitcher had ever had. He went 10-1, carved out a 1.28 ERA, and struck out 116 in 84⅓ innings. Remarkably, he finished seventh in the NL Cy Young Award voting despite making just 11 starts.
Houston's acquisition of Johnson helped transform the team from a dark-horse challenger for the NL pennant to one of the favorites. Houston finished with a team-record (as of 2016) 102 victories. Against the surprising San Diego Padres in the NLCS, Johnson's winning streak in the Astrodome ended in Game One when he succumbed in a pitching duel with Kevin Brown, who fanned 16 and surrendered just two hits in eight scoreless innings to win the game, 2-1, in the Padres' eventual 3-games-to-1 upset of the Astros.
After the season Johnson, who resided in Phoenix in the offseason, surprised the baseball world by signing a four-year free-agent deal with the Arizona Diamondbacks for a reported $52 million, making him the second-highest-paid player in baseball. The Big Unit's tenure in Houston was brief, and some may even consider it a bad move in light of what the club surrendered to get him, but for just over two months Johnson rocked the Dome like few pitchers had before or since.
This article appears in "Dome Sweet Dome: History and Highlights from 35 Years of the Houston Astrodome" (SABR, 2017), edited by Gregory H. Wolf. To read more articles from this book at the SABR Games Project, click here.
Sources
In addition to the sources cited in the Notes, the author also accessed Retrosheet.org, Baseball-Reference.com, the SABR Minor Leagues Database, accessed online at Baseball-Reference.com, SABR.org, and The Sporting News archive via Paper of Record.
Notes
1 Durwood Merrill, You're Out and You're Ugly (Ashland, Oregon: Blackstone Publishing, 1998), quoted in Bill James and Rob Neyer, The Neyer/James Gide to Pitchers (New York: Fireside, 2004), 258.
2 Paul Meyer, "Pirates' Streak Ends. Johnson Fans 16, Allows 7 Singles; Astros Win, 2-0," Pittsburgh Post-Gazette, August 29, 1998: C1. According to both Baseball-Reference.com and Retrosheet.org, Ausmus scored on a fielder's choice enabling Biggio to reach first safely.
3 Neil Hohlfeld, "Ausmus Defies Conventions," Houston Chronicle, August 29, 1998: 8B.
4 Ibid.
5 Ibid.
6 Ibid.
7 Ibid.
8 Joseph Duarte, "Bucs Amount to Nothing vs. Johnson," Houston Chronicle, August 29, 1998: B1
9 Meyer.
10 Ibid.
11 Duarte.
12 Ibid.
13 Ibid.
14 Ibid.
Additional Stats
Houston Astros 2
Pittsburgh Pirates 0
---
Astrodome
Houston, TX
Box Score + PBP:
Corrections? Additions?
If you can help us improve this game story, contact us.
Tags
https://sabr.org/sites/default/files/Johnson_RandyHOU1998.png
600
800
admin
/wp-content/uploads/2020/02/sabr_logo.png
admin
2018-09-26 13:31:30
2020-04-17 10:23:55
August 28, 1998: Big Unit fans 16 in third straight shutout in the Dome