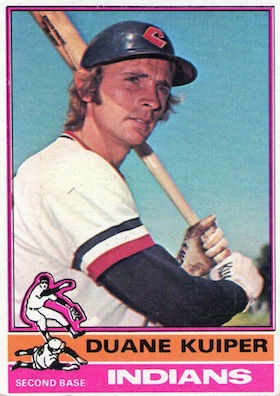 August 29, 1977: Indians' Duane Kuiper smacks his only career home run
---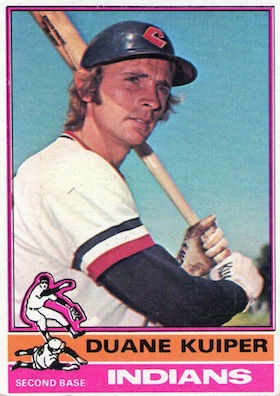 The Chicago White Sox were sparking a revival of sorts on the South Side of the Windy City in 1977. Dubbed the "South Side Hitmen," the White Sox were making their presence known. Through the month of July, Chicago held a 5½-game lead over both Kansas City and Minnesota in the American League West Division. But a disastrous month of August, in which the White Sox posted a 10-17 record, proved costly as they swapped places with the Royals, now trailing K.C. by three games. The White Sox needed to right the ship as they headed to Cleveland for a two-game series with the floundering Indians. Cleveland was 60-69, and was holding down fourth place in the AL East, 17 games behind first-place New York.
In 1976, Chicago totaled 73 home runs as a team. Jim Spencer and Jorge Orta were the only two players to exceed double digits in homers with 14 apiece. New acquisitions for the 1977 season included Richie Zisk, Oscar Gamble and Eric Soderholm. The trio combined for 86 home runs, eclipsing the team's total from the previous season. Add 56 round-trippers from holdovers Chet Lemon, Lamar Johnson, and Spencer, and the moniker seemed to be apropos.
For Cleveland, thoughts turned from despair with regard to the fledgling baseball nine to dreams of hope for the football eleven. This was evident in the lack of effort by the grounds crew to rid the lines and hashmarks off the baseball diamond that were normally reserved for the gridiron at Cleveland Stadium. The Cleveland Browns had played three exhibition games at home in 17 days. Fans would respond with laughter when center fielder Rick Manning camped under a fly ball at the 30-yard line, raising his right hand as if he were a punt returner fielding a fair catch. The lack of interest was also apparent by the 6,236 paid customers on August 29 who each could have had his or her own row to watch the ballgame.
Because the White Sox were still in the hunt for a division title, the game was being broadcast regionally by ABC as part of its Monday Night Baseball schedule. Al Michaels and Bill White were behind the mikes. It was a true anomaly that the Indians were to be featured for a national or regional audience. For good reason, they were almost always overlooked by ABC or by NBC on its Saturday Game of the Week broadcast. Decades of losing baseball will do that as the networks tried to fill their schedules with competitive teams.
The first pitch was scheduled for 8:40 P.M. Eastern Time, as opposed to the normal 7:30 P.M. start time for weekday games in Cleveland. Then ABC changed the start time again. to 8:33 P.M. The starting pitchers for the game were right-hander Steve Stone for the White Sox and southpaw Rick Waits for the Indians. Stone, a Cleveland native, entered the contest with a 13-9 record and an ERA of 4.36. Waits, who had pitched exclusively out of the bullpen for the first two months of the season, was 7-5 with a 4.47 ERA.
Waits set the White Sox down in order in the top of the first inning. Stone struck out leadoff man Paul Dade in the bottom of the frame. Duane Kuiper stepped into the batter's box next. Kuiper, after 1,381 major-league at-bats, was still looking for his first home run. (A few weeks earlier, he had surpassed Milwaukee's Tim Johnson in home-run futility among active players.) Kuiper deposited Stone's 1-and-0 pitch two rows deep beyond the right-field wall to give Cleveland a 1-0 lead. "Me and Sadaharu Oh," Kuiper quipped. "Actually, I didn't think of anything rounding the bases. I think I hit a slider. When I got back to the dugout, I tried to think back. Did I touch all the bases? I knew it would happen. Eventually it has to happen. It was a big thrill. You lose perspective sometimes, it makes for a lot of laughs and I might like to have kept my homerless streak alive. But a home run has to happen, even by accident."1
Kuiper's teammates rushed to home plate to greet him as he rounded the bases. But the fireworks for Cleveland were just getting started. After Buddy Bell flied out to left field, Andre Thornton collected his 25th round-tripper in an unorthodox manner. Thornton hit a line drive toward the left-field line. Zisk gave chase and tried to make a knee-high catch. But the ball landed just fair in front of him. The ball scooted past Zisk and by the time the throw came in to shortstop Don Kessinger, Thornton had rounded the bases for an inside-the-park home run. Bruce Bochte completed the trifecta with a blast to deep left field for his seventh homer of the year.
"I was told the game was going to start 8:40 local time, and it started 10 minutes early," said Stone. "I couldn't believe it. I need about 25 minutes to warm up, and I was just about halfway through when the umpires came out on the field to start the game. I asked for extra time when it was time for me to pitch, but all I got was about a minute. I wasn't ready to pitch. I had nothing in the first inning."2
The Indians extended their lead to 4-0 on a double to left field by Frank Duffy and a single to right by Dade. Meanwhile, Waits was sailing right along. He set the White Sox down in order in the third and fourth innings, whiffing five.
The White Sox broke through for their first run in the fifth inning on the strength of Soderholm's 22nd homer, which sliced the Indians' lead to 5-1. Stone was replaced by Silvio Martinez in the sixth inning after Dade singled home another run. Thornton hit his 26th home run, off Martinez, in the seventh inning.
Cleveland tacked on two runs off Martinez in the eighth to increase its lead to 9-1. Soderholm knocked in his second run in the ninth to end the scoring at 9-2, Indians. Waits went the distance, striking out eight, walking two, and scattering six hits to pick up his eighth win. Chicago committed four errors, but only one led to an unearned run. Chicago pitchers gave up eight earned runs over eight innings. "We can't do anything right, it's a miracle we're still in the running," said Spencer. "We're playing awful, and we're still only three games out of first place. Close, but it makes you wonder."3
The White Sox never got back in the race, finishing third in their division at 90-72. They hit 192 home runs as a team, second in the AL only to Boston, which slugged 213. Cleveland finished in fourth place with a 71-90 record.
Kuiper and Stone both pursued broadcasting careers after they left the diamond. They are considered by many to be at the top of their profession. Kuiper's broadcast partner with San Francisco is former pitcher Mike Krukow. When a player hits his first career home run, Krukow inevitably will proclaim that the player just tied Duane Kuiper on the all-time home-run list.
The ABC broadcast was blacked out in Cleveland, but it was beamed back to Kuiper's hometown of Racine, Wisconsin. Family and friends were able to see Kuiper's first career round-tripper. Some wondered if Al Michaels first uttered the phrase "Do you believe in miracles?" after Kuiper's blast, and not three years later when the US hockey team upset the Russian team at the 1980 Winter Olympics.
Below is a link to a mockumentary about Kuiper's solo home run.
https://www.youtube.com/watch?v=Cq7ChxkCK2o
Sources
https://www.baseball-reference.com/boxes/CLE/CLE197708290.shtml
http://www.retrosheet.org/boxesetc/1977/B08290CLE1977.htm
Notes
1 Bob Sudyk, "Kuiper Hits 1st Homer," Cleveland Press, August 30, 1977: C-2.
2 Bob Verdi, "Sox Bear More Bad News," Chicago Tribune, August 30, 1977: 4-1.
3 Ibid.
Additional Stats
Cleveland Indians 9
Chicago White Sox 2
---
Municipal Stadium
Cleveland, OH
Box Score + PBP:
Corrections? Additions?
If you can help us improve this game story, contact us.
Tags
http://sabr.org/sites/default/files/images/KuiperDuane.jpg
600
800
admin
/wp-content/uploads/2020/02/sabr_logo.png
admin
2018-01-18 01:49:37
2020-04-17 10:24:57
August 29, 1977: Indians' Duane Kuiper smacks his only career home run