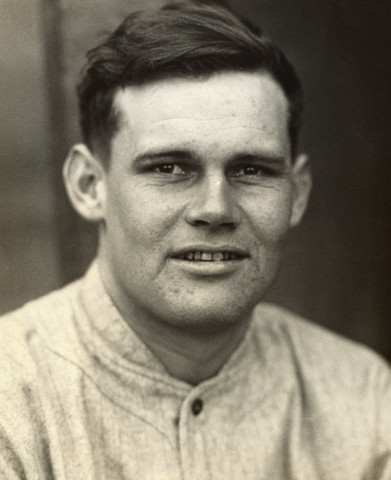 August 30, 1916: Boston's Dutch Leonard no-hits the Browns at Fenway Park
---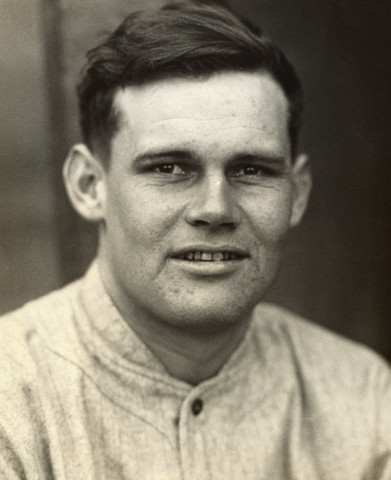 Oh, what a difference a day makes. In the first game of an August 29, 1916, doubleheader at Fenway Park, Hubert "Dutch" Leonard was knocked out of the box in the first inning after facing just five St. Louis Browns. Two of them got hits, one was hit with a pitch, and another walked. During Leonard's one-third inning of work he also threw a wild pitch and watched as two runners crossed home plate. There were Browns standing on second and third when he left the diamond.1 As the Boston Globe reported, Leonard's pitches "had nothing."2
August 30 was very different. Called upon by the Red Sox to start against the Browns for a second consecutive day, Leonard pitched a no-hitter, winning 4-0. This time, "the pitching of Leonard was a poem."3 The 8,246 in attendance4 witnessed "the portly southpaw from the Coast"5 retire the first 23 batters he faced before he walked St. Louis catcher Hank Severeid in the eighth.6 He walked another batter in the ninth, but neither runner got beyond first base.7
Leonard's superb game — in 1916 it was considered "one of the finest pitching performances ever seen at Fenway Park"8 — came at a time when the Red Sox (70-51) were not playing very well. Boston had lost four in a row, and, although the Red Sox remained in first place in the American League, their lead had shrunk from 6½ games on August 24 to just three games.9 The Boston fans were losing confidence in their world champion Red Sox.10
The Browns entered the game in third place, just four games behind Boston. Between July 23 — when they launched a 14-game win streak — and August 29, St. Louis had compiled a remarkable 31-8 record. For the season the Browns were 68-57; and could already claim five more victories than in 1915, when they finished the season 63-91. Right-handed Carl Weilman, 16-11 with a 2.02 ERA, was selected to pitch for the Browns in this important game with Boston. He had won his last six decisions — three as a starter, and three in relief.11 He was slender and at 6-feet-5½ he was one of the tallest players in baseball.12
As game time approached, it was not clear who would pitch for Boston. Both Leonard and Rube Foster, a right-hander with an 11-7 record, warmed up.13 Foster had last pitched on August 19 when three scoreless innings of relief against Cleveland got him his sixth consecutive win.14 According to the Boston Globe, Browns manager Fielder Jones believed his team would be facing Foster, not Leonard, on the afternoon of August 30.15 That was a logical assumption considering Leonard's poor performance the previous day.
During his no-hitter, Leonard relied on "change of pace and control" rather than speed or a curve.16 He kept the ball on the corners — high, low, inside, and outside.17 Leonard struck out only three batters, but was backed by terrific defense.
The no-hitter could have been lost in the first inning if not for a great defensive play. Right fielder Harry Hooper "made a remarkable running catch"18 on a ball hit by George Sisler that might have been a triple.19 The ball was hit like a shot to right center, and Hooper, running like a greyhound,20 caught it over his head only a few feet from the fence.21 In the sixth there was another defensive highlight. Jimmy Austin "drove a low liner close to the foul line"22 that left fielder Duffy Lewis "picked off his shoestring while dashing toward the fence."23 Austin was victimized again with two outs in the eighth, when Hooper "made another splendid catch" of his hard liner.24 For the game, Lewis had six putouts and Hooper four.
The Red Sox scored two runs in the second inning. Tillie Walker led off with a triple to center field and scored when Larry Gardner singled past Sisler at first base.25 Everett Scott sacrificed Gardner to second. After player-manager Bill Carrigan made the second out, Leonard singled, scoring Gardner for a 2-0 Boston lead.26
Their lead grew to 4-0 in a wild sixth inning. Del Gainer started things with a hit to left field, only to be erased at second base trying to turn the single into a double.27 Walker followed with a two-base hit to the left-field corner, and he scored his second run of the game on Gardner's double to right field.28 Scott left Gardner at second base when he popped to the shortstop for the second out.29 Carrigan came through with a single to score Gardner, but he became the second Boston runner of the inning to be thrown out at second base when he tried but failed to advance on the throw to the plate.30
Leonard had little trouble wrapping up his no-hitter in the ninth. Doc Lavan flied to Lewis in left for the first out. Pinch-hitter Grover Hartley became the Browns' second baserunner when he walked, but Leonard retired Burt Shotton on a popup to shortstop for the second out. The Browns sent up another pinch-hitter, Jack Tobin, but he "closed the game with a high fly" caught by third baseman Gardner, who handed the ball to Leonard for a souvenir.31 Leonard raised his record to 14-10 with the historic win and lowered his ERA to 2.35; Weilman, who surrendered 10 hits and four runs in eight innings, fell to 16-12.
The Boston newspapers lauded Carrigan for his work as Leonard's catcher. The Globe reported, "Leonard is twice as effective with Carrigan behind the bat than he is with any other catcher."32 The Post expressed similar sentiments when it stated, "It takes a man like Carrigan to get the best out of a twirler with Leonard's peculiar temperament."33 The "peculiar temperament" no doubt referred to Leonard's reputation as a selfish ballplayer, and his penchant for whining about every adverse call.34 The Post praised Carrigan's demeanor and judgment during the game, concluding, "Leonard must share the glory for this truly great feat."35
Leonard won 18 games in 1916, and the Red Sox won their second consecutive American League pennant. Their 91-63 record was two games better than that of the runner-up Chicago White Sox. Leonard added a World Series win over Brooklyn, helping the Red Sox defeat them four games to one to repeat as world champions.
Leonard pitched for Boston from 1913 through 1918, compiling a 90-64 record. In 1914 he established a major-league record that has yet to be broken (as of 2020) when he completed the season with a 0.96 ERA. He threw a second no-hitter for the Red Sox on June 3, 1918, at Detroit.36
Sources
retrosheet.org/boxesetc/1916/B08300BOS1916.htm
baseball-reference.com/boxes/BOS/BOS191608300.shtml
Notes
1 baseball-reference.com/boxes/BOS/BOS191608291.shtml.
2 T.H. Murnane, "Off Day for Champions; Outplayed All the Way," Boston Globe, August 30, 1916: 6.
3 T.H. Murnane, "Leonard Pitches a No-Hit, No-Run Game Here, Shutting Out the St. Louis Browns, 4-0," Boston Globe, August 31, 1916: 7.
4 "Baseball in Brief Form," Boston Post, August 31, 1916: 10.
5 Paul H. Shannon, "Hitless Game by Leonard," Boston Post, August 31, 1916: 1.
6 Shannon.
7 Shannon.
8 Shannon.
9 retrosheet.org/boxesetc/1916/VBOS01916.htm.
10 J.B. Sheridan, "Walker's Triple and Double Play Important Part in Bringing About the Downfall of his Former Team," St. Louis Globe-Democrat, August 31, 1916: 6.
11 retrosheet.org/boxesetc/1916/Kweilc1010051916.htm.
12 Steven V. Rice, "Carl Weilman." sabr.org/bioproj/person/dd19a13d.
13 Murnane, "Leonard Pitches a No-Hit, No-Run Game Here."
14 retrosheet.org/boxesetc/1916/B08190BOS1916.htm.
15 Murnane, "Leonard Pitches a No-Hit, No-Run Game Here."
16 Sheridan, "Walker's Triple and Double Play Important Part in Bringing About the Downfall of his Former Team."
17 Sheridan.
18 Sheridan.
19 Sheridan.
20 Murnane, "Leonard Pitches a No-Hit, No-Run Game Here."
21 Murnane.
22 Murnane.
23 Murnane.
24 Shannon.
25 Shannon.
26 Shannon.
27 Murnane, "Leonard Pitches a No-Hit, No-Run Game Here."
28 Murnane.
29 Murnane.
30 Shannon.
31 Murnane, "Leonard Pitches a No-Hit, No-Run Game Here."
32 Murnane.
33 Shannon.
34 David Jones, "Dutch Leonard," sabr.org/bioproj/person/b37d9609.
35 Shannon.
Additional Stats
Boston Red Sox 4
St. Louis Browns 0
---
Fenway Park
Boston, MA
Box Score + PBP:
Corrections? Additions?
If you can help us improve this game story, contact us.
Tags
https://sabr.org/sites/default/files/LeonardDutch.jpg
600
800
sabr
/wp-content/uploads/2020/02/sabr_logo.png
sabr
2020-04-19 16:48:46
2020-06-22 16:44:10
August 30, 1916: Boston's Dutch Leonard no-hits the Browns at Fenway Park