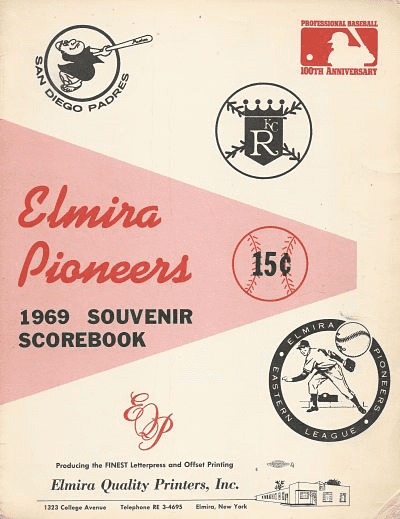 August 4, 1969: When Waterbury and Elmira played a minor-league game by mistake
---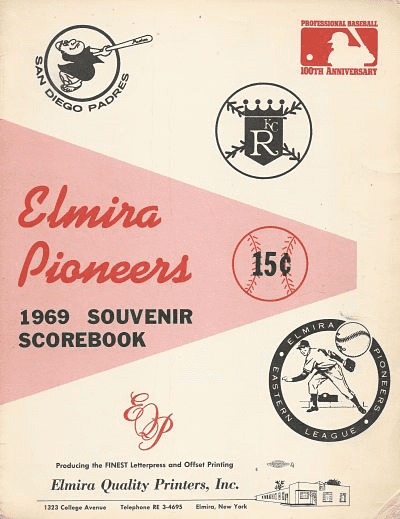 This is a true baseball story. In 1969 two minor-league teams were supposed to play each other 28 times. Somehow they lost count and played 29.
When the Elmira Pioneers beat the Waterbury Indians on August 11, 1969, the daily newspapers covering the Eastern League reported that the Pioneers had won the teams' season series, 21 games to 8.1 That was 29 games, not the scheduled 28. (The six-team Eastern League had a 140-game season, with each team playing the others 28 times.)
So how did the Waterbury Indians and Elmira Pioneers upend their schedule symmetry and play 29 games? Was it a snafu that scheduled the two teams to play the same night as the league all-star game? Or was it the managed chaos of scheduling 140 games in 134 days, then accommodating rainouts with doubleheaders.
Ill-timed rain tormented the Pioneers and Indians during the spring. From April through early June, five of their first 12 games were postponed or suspended, even though total rainfall was below average in both Elmira and Waterbury.2
With five series remaining, there were enough dates to complete one tied game and make up postponements with doubleheaders. But doubleheaders were piling up for the Pioneers. Between June 1 and July 6 four were already scheduled, and three more were added because of rainouts.
Pioneers outfielder Dave Robinson, who played in all 142 of Elmira's games, said the team played eight or nine doubleheaders in a row. "I remember all the doubleheaders," he told the author.3 Robinson was the Padres' first draftee to play for San Diego. He was selected in the 1968 amateur draft — the Padres began playing in 1969 — and reached the majors in 1970.4
Games were played unless there was steady rain, Robinson said, recalling a rainy game at Wahconah Park in Pittsfield, Massachusetts, against the Pittsfield Red Sox. The Housatonic River was just beyond the outfield fence and it had overflowed its banks. "A ball was hit to left field and the river was in left field," said Robinson. "The ball was flowing away from me and I had to run after the ball."5
Despite the many postponements, all the scheduled Pioneers-Indians games had been played by July 9.6 However, the schedule's delicate equilibrium was again upset on the first weekend in August. A league scheduling error forced yet another makeup-game doubleheader, the seventh time that season that the teams played a doubleheader. Here's how it happened.
The 1969 Eastern League schedule was created by Jerry Waring, an executive in his 26th year of professional baseball.7 His career began in 1942 when he managed tickets and publicity for Columbus of the American Association as a college freshman.
"I made the Eastern League schedule in 1969, I believe, and only 28 games were scheduled, 14 in each city," Waring said a decade later.8 This was confirmed by the schedule published in the York (Pennsylvania) Gazette and Daily.9
The 1969 Eastern League All-Star Game was scheduled for Saturday, August 2, in Philadelphia at the Phillies' Connie Mack Stadium. The 1969 Eastern League schedule displayed the All-Star Game as a diagonal graphic. The game was played as planned, but had an unintended consequence on a three-game Elmira-Waterbury series at Dunn Field in Elmira, 170 miles away.
Mistakenly, the schedule created by Waring had Waterbury playing at Elmira on August 2. Since both teams had players at the all-star game, they decided to postpone the game and play it as part of a doubleheader the next day, Sunday.
On Monday morning, August 4, when the Pioneers' two-game sweep was reported in the Waterbury Republican-American and the Elmira Star Gazette, both newspapers listed the Eastern League schedule for that day. A Pioneers-Indians game was scheduled for 7:30 P.M. in Elmira.10
The schedule notwithstanding, the teams played two games on August 4, their second doubleheader in two days and their eighth of the season. Twenty-eight innings of baseball in just over 24 hours.11
Waterbury won the scheduled game, 1-0. Elmira won the unscheduled second game, 4-2, behind the three-hit pitching of Fred Katawczik. The Indians' first baseman, self-described "streaky hitter" Steve Wrenn, hit his 13th home run. He would hit 11 more home runs in the next 37 games. "I had a hot August," he said.12
The doubleheader was reported in the Elmira Gazette, the Waterbury Republican-American, and The Sporting News. There was no mention that two games were played despite the schedule calling for just one.13
A week later, on August 11, Elmira defeated Waterbury before 392 fans in Waterbury.14 The Pioneers won the season series, 21 games to 8. Since this game was on the original schedule, it is not considered the "extra" game.
In 2018 the author contacted seven Pioneers and Indians about the extra game.15 None could remember or were aware that the teams had played an unscheduled 29th game.
Waterbury third baseman Lou Camilli, who was promoted to the major-league Indians in early August, was not on the roster for the extra game. Like the others, he could not recall details from 1969. "Lots of games. Too many days gone by," he said.16
Memories of specific games may have faded after a half-century, but Elmira first baseman Jeff Pentland distinctly recalled that the doubleheaders did take a toll on one player. Pentland was a star pitcher at Arizona State and pitched for the 1967 College World Series champion Sun Devils. He compiled a career 32-12 record with a 2.25 ERA and is still in the Arizona State top 10 for wins, shutouts, and ERA. From 1996 to 2015 he was the hitting coach for six major-league teams. (In his three-season minor-league career, Pentland pitched in 29 games but was mostly a first baseman.)
Pentland said the doubleheaders wore down catcher Fred Kendall, who played in 136 of the Pioneers' 140 games. Pentland said Kendall confronted manager Harry Bright on the team bus about playing virtually every game.17
In 1978 the author contacted the Kansas City Royals and San Diego Padres, who both provided players for the 1969 Elmira club, about the extra game.18 Dick Balderson, the Royals' assistant farm director, said he had no explanation. "I really don't feel this matter is of major importance," he added, and suggested contacting the Padres and the Eastern League office.
The Padres director of minor-league operations, Jim Weigel, said staffers involved with Elmira in 1969 were no longer with the club, so he could not help. He suggested contacting the Elias Sports Bureau in New York, which maintained Eastern League statistics.
In Cleveland, former Waterbury owner Waring had returned to the Cleveland Indians front office after nine years. After working as a general manager in the Pacific Coast League and as a traveling secretary and assistant ticket director in the major leagues, he was hired as the Indians' ticket director in 1978.19
Asked in 1979 about the unscheduled game, Waring's Cleveland colleague Robert Quinn, then the team's director of scouting, announced in a letter to the author, "You are to be congratulated for uncovering this rather strange situation." He forwarded an interoffice memo that Waring prepared on the unscheduled game.20
Waring had sold the Waterbury franchise after the 1968 season to Bernie Durocher, nephew of Cubs manager Leo Durocher.21 "I would not credit this sale as one of my more astute baseball moves, but I needed the money to pay my bills," Waring said.22 In 1970 Waterbury won the pennant as a Pirates franchise anchored by future major leaguers Bruce Kison, Richie Zisk, and Gene Clines. Total attendance increased by 87 percent, to 70,031.23
"I can't understand how such a mistake could occur and be caught by no one," said Waring in the interoffice memo.24 "Certainly it should have been caught by the league office, if not by the Elmira Club, but I don't believe [league President] Tommy Richardson paid that close attention to such things in those days."
"I was in Portland [Oregon] in 1969," he said, "so I am innocent on this boo-boo. Sorry, I can't give any more information on it."
Was it too many rainouts? Too many doubleheaders? Regardless, when the 1970 Baseball Guide was issued by The Sporting News, on page 434, below the 1969 Eastern League standings, it listed in boldface: "Elmira and Waterbury inadvertently played 29 games with each other instead of 28."
Author's note
This story concludes the author's research of the "29th game" that began in 1970 when he read about the unscheduled game in the 1970 Baseball Guide published by The Sporting News. The box score for this game can be found in the Elmira Star-Gazette recap below: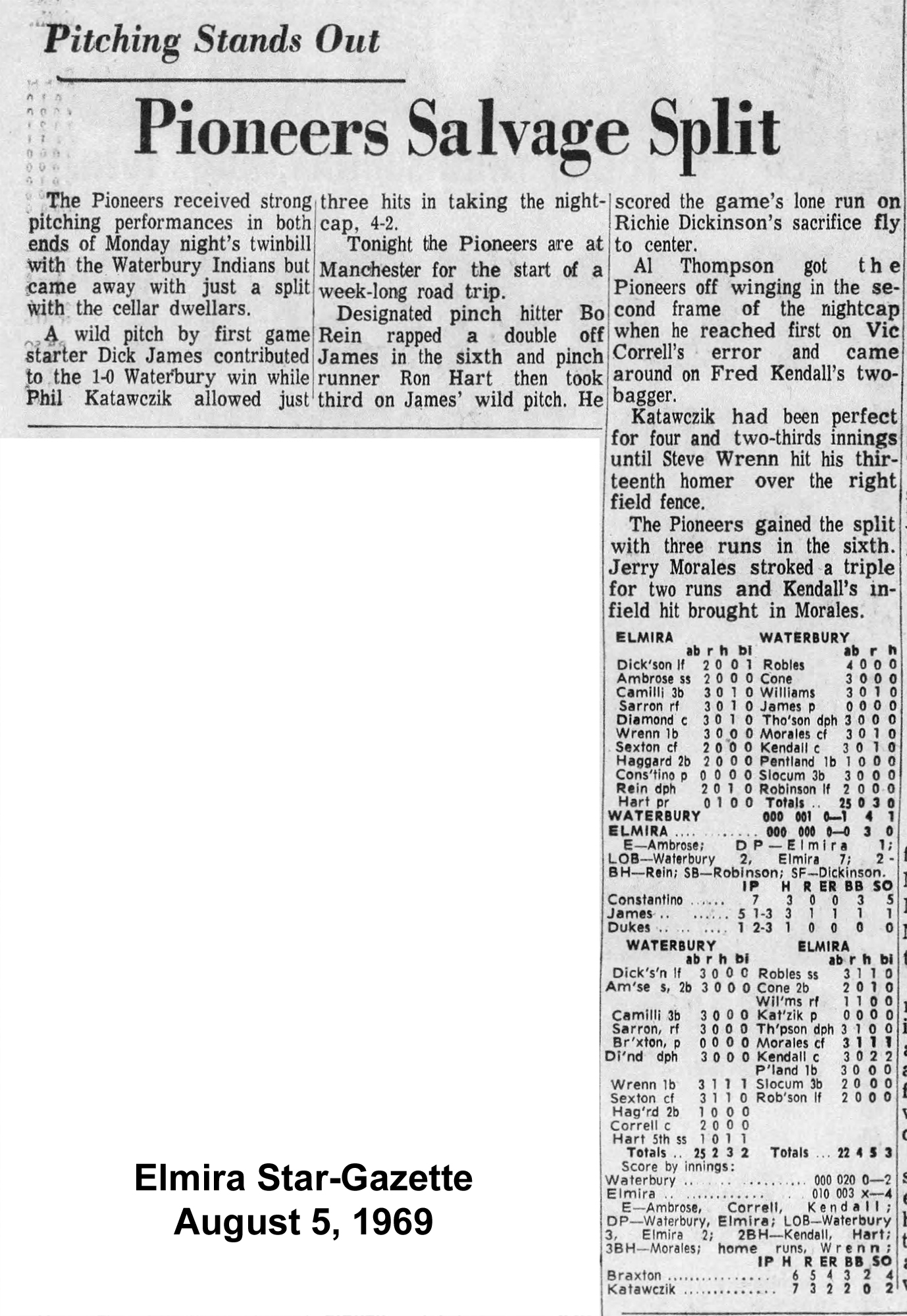 (Click image to enlarge.)
Sources
Lou Camilli, email, November 6, 2018.
Larry Agrella, phone interview, November 11, 2018.
Jeff Pentland, phone interview, November 16, 2018.
Dave Robinson, phone interview, November 29, 2018.
Steve Wrenn, phone interview, February, 2019.
Vic Correll, written response to letter of November 9, 2018.
Skip Lockwood, written response to letter of December 18, 2018.
Photo credit
Thanks to Andy Crossley for use of the 1969 Elmira Pioneers program.
Notes
1 Reading Eagle, August 12, 1969: 18; Elmira Gazette, August 12, 1969: 14; Waterbury Republican-American, August 12, 1969: 22.
2 The April-through-June average rainfall in Waterbury is 12.99 inches (Weather.com); the actual rainfall for those months in 1969 was 11.47 inches (WeatherUnderground.com). The April-through-June average rainfall in Elmira is 10.49 inches (Weather.com); the actual rainfall for those months in 1969 was 9.7 inches. WeatherUnderground.com).
3 Robinson telephone interview, November 29, 2018.
4 Robinson interview. He was selected by the Padres in the seventh round of the June 1968 amateur draft, one of 16 players chosen by San Diego. Six signed with the Padres and Robinson was the only one to play in the major leagues.
5 Robinson interview.
6 The first two games of the season in Elmira were postponed. One was made up during the same homestand and the other on July 2. The May 7 and 8 postponed games in Waterbury were made up on June 7 and July 9. The June 2 suspended Elmira game was completed on July 1. By July 9 the teams had played six doubleheaders, including the completion of the suspended game.
7 Waring owned the Waterbury franchise in 1968 and sold it after the season. In 1951 as general manager of the Miami Sun Sox of the Florida International League, he fielded an integrated team just two years after the Brooklyn Dodgers had first brought black players to the Deep South. In 1958 Waring was named Class A-B-C-D Minor League Executive of the Year by The Sporting News as general manager of the Macon Dodgers. Waring died in 2013 in Yuma, Arizona.
8 Jerry Waring interoffice memo to Cleveland Indians director of scouting Robert Quinn, November 13, 1979.
9 York Gazette and Daily, April 15, 1969: 27.
10 Elmira Gazette, August 4, 1969, Sports Section: 1. Waterbury Republican-American, August 4, 1969, Sports Section: 1.
11 Minor-league doubleheader games are seven innings.
12 Wrenn telephone interview, February 2019.
13 Elmira Gazette, August 5, 1969; Waterbury Republican-American, August 5, 1969, Sports Section; The Sporting News, August 23, 1969: 39.
14 Waterbury Republican-American, August 12, 1969: 23.
15 Pioneers: Larry Agrella, Skip Lockwood, Jeff Pentland, Dave Robinson; Indians: Lou Camilli, Vic Correll, Steve Wrenn.
16 Lou Camilli email, November 6, 2018.
17 Pentland telephone interview November 16, 2018.
18 Responses to letters from Evan Katz by Dick Balderson, assistant farm director, Kansas City Royals, November 13, 1979, and Jim Weigel, director of minor-league operations, San Diego Padres, November 19, 1979.
19 After selling the Waterbury franchise in 1968, Waring was the general manager of the Portland Beavers of the Pacific Coast League (1969); traveling secretary of the Los Angeles Angels (1970-1972); and assistant ticket manager of the New York Yankees and New York Mets (1973-1977). He was the Cleveland Indians ticket director in 1978.
20 Robert E. Quinn letter to Evan Katz, November 20, 1979.
21 Waring memo to Quinn.
22 Ibid.
23 Official Baseball Guide for 1970 (St. Louis: The Sporting News), 434; Official Baseball Guide for 1971 (St. Louis: The Sporting News), 444.
24 Waring memo to Quinn.
Additional Stats
Elmira Pioneers 4
Waterbury Indians 2
Game 2, DH
---
Dunn Field
Elmira, NY
Corrections? Additions?
If you can help us improve this game story, contact us.
Tags
https://sabr.org/sites/default/files/1969-Elmira-Pioneers.png
600
800
admin
/wp-content/uploads/2020/02/sabr_logo.png
admin
2019-05-30 00:35:25
2020-04-17 10:22:37
August 4, 1969: When Waterbury and Elmira played a minor-league game by mistake