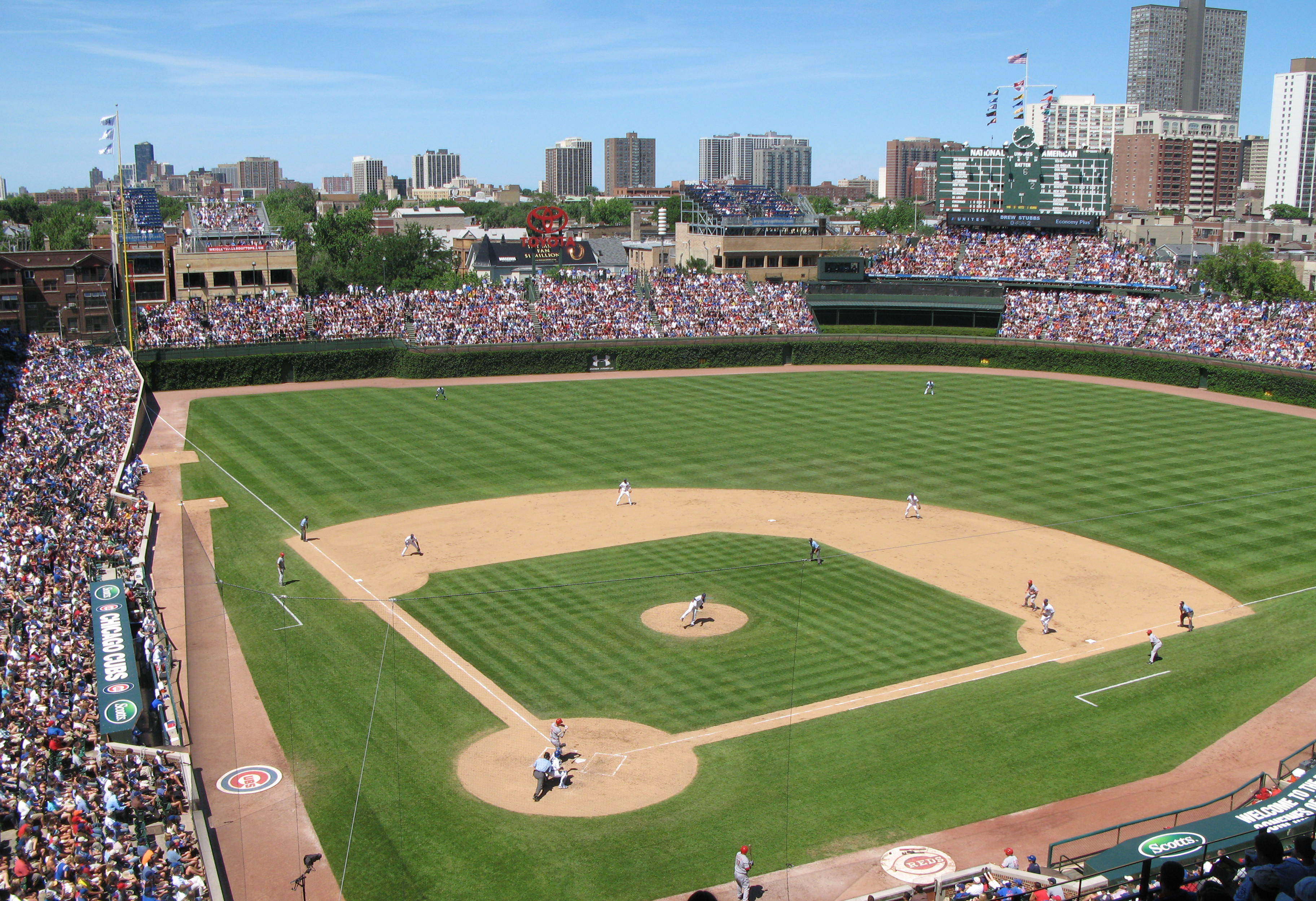 August 8, 1988: Nature intervenes as first Wrigley Field night game is rained out
---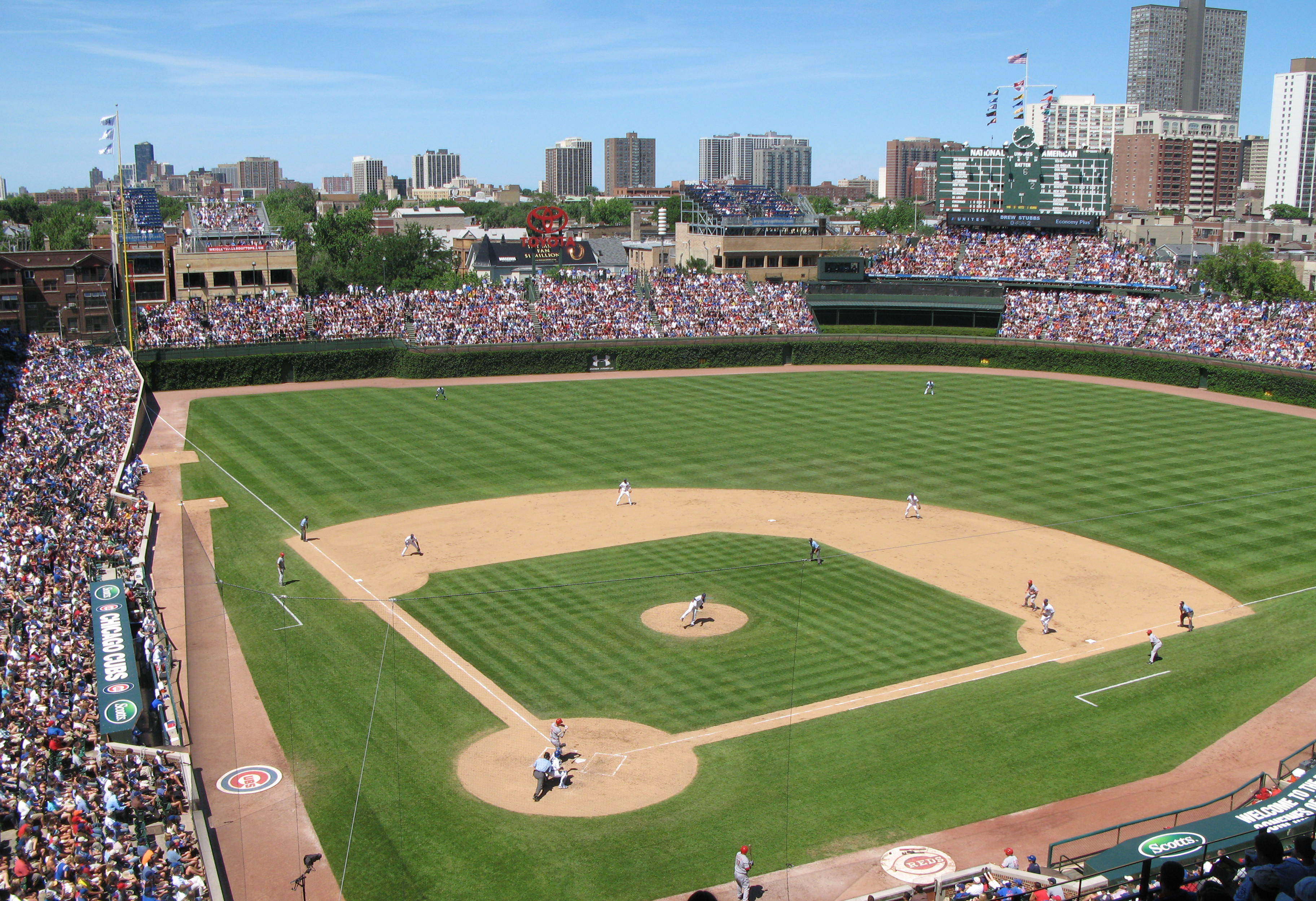 By the time the Cubs scheduled their first home night game, they were, by four decades, the last holdout against baseball under the lights. The first major-league team to host a night game, the Cincinnati Reds, had done so in 1935, with the other teams following suit until 1948 when the Detroit Tigers played their initial night home game, leaving the Cubs alone with a full home daytime schedule.1
Although it took them 53 years from that initial night game to play their own, the team was not initially vehement in its resistance. Cubs President Philip K. Wrigley, for example, was one of four league owners who sponsored a 1934 proposal to allow National League teams to experiment with games under the lights; the proposal passed by a vote of 5 to 3, with Pittsburgh, Brooklyn, and the New York Giants voting no.2
By 1939, however, the team had added a condition on when, or if, it would ever play at night at home: In a statement through a spokesman after Wrigley attended the White Sox' first home night game, he said that the Cubs' home park "would not be lighted until the Cubs were certain their fans wanted night baseball."3
Over the next few years, however, the team flirted with the idea. Early in the spring of 1942, for example, Wrigley told the Chicago Tribune that the team had acquired lights it was prepared to erect for the coming season. He suggested that, because of World War II he anticipated that night baseball would become even more in demand as recreation for the nation's workers, adding, "The stories we were opposed to night baseball because it would destroy the beauty of the park for daytime baseball are without foundation. It's our job to give the fans what they want … and if they want night baseball, they'll have it."4
By the 1960s, however, Wrigley's position against night baseball was intractable, so much so that late in 1962, the league asked him to reconsider. That year, the Cubs had the majors' smallest home attendance (barely over 600,000), meaning visiting teams' portions of the gate were "pygmy-sized" and that "by holding out against lights … the Cubs were not doing their share in contributing to the league's financial structure."5
The Cubs refused, and in 1977, when P.K. Wrigley died, one of the first things heir William Wrigley said was that the team would continue that position under his leadership.6
Four years later, in 1981, however, the Wrigley family sold the Cubs to the Chicago Tribune Corporation, which favored night baseball. In response, a group of residents who lived near the ballpark – the Citizens United for Baseball in the Sunshine (CUBS) – petitioned the state and city governments, seeking legislation prohibiting night ball in Wrigley, arguing that it would ruin their neighborhood (the ballpark was the only one in the majors located in a neighborhood instead of a downtown or sparsely populated area). In 1982, the Illinois legislature passed such a measure, citing federal noise-pollution rules.7
In 1985, the team and Major League Baseball increased their efforts against the prohibition. Commissioner Peter Ueberroth said that if the city and state continued to block night games, Major League Baseball would "have no alternative but to resolve the situation on its own, including prohibiting the Cubs from hosting any postseason games.8" The next month, the team petitioned the Illinois Supreme Court to declare the 1982 law unconstitutional, but the court found against the Cubs.9
In response, a team spokesman said club would consider moving from the neighborhood: "The decision emphasized the need to look for alternatives to Wrigley Field. …"10 One possibility was a 100-acre site the Tribune Company owned in nearby Schaumberg Township.11
That threat, as much as anything, led the state legislature, the Chicago City Council, and Mayor Harold Washington (who had previously opposed lights in Wrigley) to reconsider, and in 1987, the state took up a bill that would allow night games at Wrigley. Said state Senator Doris Karpiel, who introduced it, "Wrigley Field is such a beautiful place, we ought to encourage the Cubs to stay there."12
The state voted in 1987 to allow the Cubs to install lights, and in February 1988 the city followed suit, setting the stage finally for the first Cubs night home game.
The team set the game for August 8, 1988, against the Philadelphia Phillies, proclaiming the event as "precedent-setting"; immediately rumors arose that Frank Sinatra would sing the National Anthem and President Ronald Reagan would throw out the ceremonial first pitch.13 (Neither attended.)
The Cubs actually turned the lights on for an official team event roughly two weeks before the first game: a reception for their Cubs Care charity on July 25, where for a $100 donation fans could witness a lighting ceremony, mingle with current and former players, and watch a workout capped by a home-run derby featuring Hall of Famers Ernie Banks and Billy Williams and future Hall of Famers Ryne Sandberg and Andre Dawson. (Although the official record books don't record it, it is an interesting piece of trivia to note that Dawson hit the first homer under the lights during that contest.14)
The festivities for the night of August 8, 1988, started when 91-year-old fan Harry Grossman, who had been attending Cubs games for 82 seasons, threw the switch that illuminated the field while the Chicago Symphony Orchestra's brass section heralded the moment with "Also Sprach Zarahustra."15 The symphony performed the anthem and, after Banks and Williams threw out ceremonial first pitches, the game got underway at 7:01 P.M. when Cubs hurler Rick Sutcliffe (who was 9-9, with a 3.79 ERA) threw his first pitch to Philadelphia's Phil Bradley, the moment even more illuminated by "hundreds of flash bulbs … recording photographic evidence of the new era."16
Fans' enthusiasm dimmed three pitches later, when Bradley, who had only five home runs for the season to that point, hit one into the left-field bleachers, "an ominous beginning that stunned the crowd into silence."17
The Cubs however, responded in the bottom of the inning. Mitch Webster led off with a single against Kevin Gross (10-8, 3.45), bringing up Sandberg. Before the first pitch to him, however, infamous "kissing bandit" Morgana, who was, the Tribune reported, on a four-year quest to kiss Sandberg, ran onto the field but was caught by a security guard before she reached the hitter.18 "Perhaps inspired or relieved," Sandberg hit the first pitch into the left-field bleachers, giving the Cubs a 2-1 lead.19
The Cubs added a run in the third when Sandberg walked, stole second, went to third on a groundout by Mark Grace, and scored on a single by Rafael Palmeiro.
The inning, however, was punctuated by lightning and in the fourth a heavy rain began, prompting the umpires to stop the game. Two hours and 10 minutes later, they halted it completely, prompting Sutcliffe to say, "It's kind of like the good Lord letting us know he's sad" about the Cubs breaking their tradition.20
The Cubs would have to wait another day to officially end their string of games under the sun. However, while the rained-out game would not count, Cubs vice president of operations Don Grenesko told reporters it was the historic moment that mattered.
The Tribune reported, " 'We had a great event,' he said. 'We just didn't get the game in. … This is a bad pun – but I've never seen electricity going through that crowd as before the first pitch. It was a once-in-a-lifetime event.
"The first official night game at Wrigley will be just a night game.
"'We did our thing, and that's it. … Everything went perfect up until the rains came.'"21
This article appears in "Wrigley Field: The Friendly Confines at Clark and Addison" (SABR, 2019), edited by Gregory H. Wolf. To read more stories from this book online, click here.
Sources
In addition to the sources cited in the Notes, the author also accessed Retrosheet.org, Baseball-Reference.com, and SABR.org.
Notes
1 Edward Burns, "Lights to Go On for 163 N.L. Contests," Chicago Tribune, February 16, 1948: 54.
2 Edward Burns, "Night Games Approved by National League," Chicago Tribune, December 13, 1934: 25.
3 Edward Prell, "Cub Officials See Sox Play Under Lights," Chicago Tribune, August 15, 1939: 15.
4 "Wrigley Says Cubs May Yet Install Lights," Chicago Tribune, March 21, 1942: 19.
5 Edward Prell, "Review Night Game Views, League Asks Wrigley," Chicago Tribune, December 1, 1962: 61.
6 Bill Jauss, "Status Is Quo: Wrigley," Chicago Tribune, April 29, 1977: 60.
7 Philip Lentz, "No-Lights Bill Goes to Thompson," Chicago Tribune, June 25, 1982: 79.
8 Charles Mount, "Ueberroth Warning Revealed by Cubs," Chicago Tribune, February 5, 1985: 42.
9 Daniel Egler, "Court Rules No Lights for Cubs," Chicago Tribune, October 4, 1985: 1.
10 Ibid.
11 Ibid.
12 Daniel Egler, "Bill Backs Wrigley Lights," Chicago Tribune, February 6, 1987: 50.
13 Bruce Buursma, "Fans No Longer in Dark: Cubs Turn Lights On Aug. 8," Chicago Tribune, June 21, 1988: 43.
14 Jerome Holtzman, "The Inevitable Arrives With Dusk," Chicago Tribune, July 26, 1988: 49.
15 Barbara Brotman, "View From the Bleachers Puts History in Focus," Chicago Tribune, August 9, 1988: 17.
16 Jerome Holtzman, "Lights, Action, and Then …," Chicago Tribune, August 9, 1988: 37.
17 Ibid.
18 Ibid.
19 Ibid.
20 Alan Solomon, "Bright Lights, Big City? Depends Whom You Ask," Chicago Tribune, August 9, 1988. 37.
21 Ibid.
Additional Stats
Chicago Cubs
Philadelphia Phillies
PPD, rain
---
Wrigley Field
Chicago, IL
Corrections? Additions?
If you can help us improve this game story, contact us.
Tags
https://sabr.org/sites/default/files/images/IMG_1325.JPG
600
800
admin
/wp-content/uploads/2020/02/sabr_logo.png
admin
2019-12-16 16:32:54
2020-04-17 10:22:21
August 8, 1988: Nature intervenes as first Wrigley Field night game is rained out