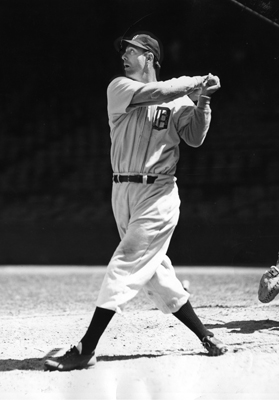 July 1, 1945: Tigers' Hank Greenberg returns to baseball
---
"We'll all have the answer pretty soon. Hank Greenberg is coming back. If he can't make it, all the rest of them better cash in their GI pay and open a poolroom somewhere." — Al Simmons1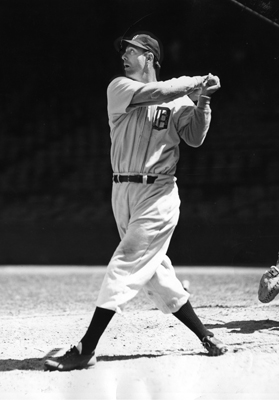 With the surrender of Germany and the Japanese Empire on the verge of collapse, war-weary Americans were eager for a return to peace and life as they had known it before the US entered World War II. The call to military duty had taken a toll no less on the national pastime than on any other occupation or field of endeavor, depriving fans of a phalanx of stars and favorite players and requiring major-league rosters to be filled out with 4-F and minor-league-caliber fill-ins.
Major-league players had returned from military service before. Some, like the Tigers' own Dick Wakefield in 1944, had even played a significant role in their team's fortunes. But no major-league hitter had spent as long away from the game as had the Tigers' slugging hero, Hank Greenberg. Drafted in May 1941 and discharged that December, only to rejoin the Army Air Corps after the attack on Pearl Harbor, Greenberg had spent more than four years in the service. Additionally, unlike many major leaguers who played in armed-services games in the US and overseas while serving in the armed forces, Greenberg had barely played at all — a couple of exhibition games, a 1943 War Bond benefit game at the Polo Grounds and a handful of pickup softball games in China — since his last game with the Tigers, on May 6, 1941.
"There is a question whether Greenberg can regain his former effectiveness as a hitter," wrote Sam Greene of the Detroit Free Press. "It will be a debatable question whether a ball player can be divorced from the game for two years or more and come back with anything like his former skill. Greenberg has been away for more than four years. … He will offer the first real test of the theory that they can't come back."2
The Sporting News was similarly pessimistic about Greenberg's ability to return to anything approaching his American League MVP form of 1940. "Nearly five seasons have elapsed. Greenberg now is 34 years of age. Quite obviously he is not in possession of the physical qualities which made him the highest salaried ball player of 1941. Perhaps, while in the service, Hank became rusty in the game."3
Although Greenberg himself was keen to pick up where he left off, he too hedged his bets. "Yes, I want to return to major league baseball," he had told the New York Times in February. "And if I can't return as a player, I want to return as a manager, a coach, or even to a job in a front office."4
"But I'd really love to get back and hit my 250th home run," he added. Two home runs against the Yankees in his last game had left Hank stuck at 249 for four years.
On June 14 Greenberg left the Army separation center at Fort Dix, New Jersey, spent a few days visiting family in New York, then flew to Detroit to rejoin the Tigers. Arriving at Briggs Stadium early on June 21, Greenberg took batting practice with Tigers reliever Zeb Eaton, after which he jogged the bases, shagged flies in the outfield, and fielded some balls at first base. There were no plans to play him in that afternoon's game against Cleveland, but the sight of Greenberg in a Tigers uniform brought chants of "We want Greenberg" from the early arrivals so long and loud that Hank was compelled to climb on top of the dugout to acknowledge the jubilant crowd, shaking hands and signing autographs.
When the Tigers left the next day for a road trip, Hank stayed behind. "After ten days or two weeks," said Greenberg, "I'll have a lot better idea than I have now of how much or how little I can help the club. I believe it will be a matter of timing. I know I need plenty of batting practice."5
Bill Crouch, a local sandlotter who'd had brief stints with the Dodgers, Phillies, and Cardinals, was hired to serve as Greenberg's personal pitcher for hour upon hour of daily drills at the ballpark. Blisters developed on Hank's hands and the skin peeled off his palms. His throwing arm grew sore and his legs ached. After 10 days of toil he still wasn't sure of his timing at the plate, but with the Tigers struggling to hit .240 as a team and clinging to a slim 1½-game lead over the Yankees, the pressure was mounting to put Greenberg in the lineup. Manager Steve O'Neill gave him a day's reprieve from practice and announced that Greenberg would play in the first game of the Tigers' doubleheader against the Philadelphia Athletics on July 1.
"Hank will help the club if he never gets the bat off his shoulder," stressed Tigers general manager Jack Zeller. "Just having him around will pay off in inspiration to the rest of the fellows."6
The largest crowd of the year so far — 47,729 in paid attendance plus nearly 1,000 servicemen admitted free — filled Briggs Stadium that Sunday afternoon to see the return of Hank Greenberg. O'Neill sat Jimmy Outlaw, the Tigers' leading hitter at .284, and put Greenberg in left field, batting cleanup.
The stadium erupted with tumultuous applause each time Hank came to bat. His hands raw, his arm still sore, Greenberg flied out twice to right field and popped up to the catcher in his first three trips to the plate against Athletics starter Jesse Flores. In the seventh inning Hank walked on four straight pitches from reliever Bobo Newsom, then pulled his left hamstring running from first to third on Doc Cramer's single.
In the field Greenberg handled the ball but twice. Once he scooped up a ball hit by Charlie Metro and threw to second base, but there was no play as Metro settled for a single. In the eighth inning Hank, still hobbled by the pulled hamstring, backed against the left-field screen to pull down a long fly, again off the bat of Metro, for his only putout of the game.
Thanks to a six-run outburst in the seventh inning highlighted by Rudy York's three-run homer, the Tigers had pulled themselves out of a 5-2 hole to take an 8-5 lead by the time Greenberg came to bat again in the bottom of the eighth. Leaving aside his 36-ounce bat in favor of Cramer's 34-ounce bat, hoping it would help him get around better on the ball, Hank took three straight balls from left-hander Charlie Gassaway, then watched the reliever's fourth pitch go by for a called strike. On the next delivery, Greenberg whipped Cramer's bat around and connected. As the ballcleared the fence in left-center and settled in the pavilion some 390 feet away, the crowd rose to its feet. To a standing ovation Hank trotted around the bases in an improbable but unforgettable coda to a hero's return to baseball.7
That the Tigers took both ends of the doubleheader was far from the story of the day, as "for the big crowd," in the words of one newspaper account, "and for millions interested in a soldier's transition from military life to resumption of a major-league career, one man gripped attention."8 With a single swing of the bat, Hank Greenberg had silenced any doubt and threw the doors of opportunity open wide for his fellow servicemen returning home.
This article appeared in "Tigers By The Tale: Great Games at Michigan and Trumbull" (SABR, 2016), edited by Scott Ferkovich.

Sources
In addition to the sources cited in the Notes, Retrosheet.org and Baseball-Reference.com were also accessed.
http://www.baseball-reference.com/boxes/DET/DET194507011.shtml  
http://www.retrosheet.org/boxesetc/1945/B07011DET1945.htm 
Books

Greenberg, Hank, with Ira Berkow, The Story of My Life (New York: Times Books, 1989).
Rosengren, John, Hank Greenberg: The Hero of Heroes (New York: New American Library, 2013).
Smith, Burge Cameron, The 1945 Detroit Tigers: Nine Old Men and One Young Left Arm Win It All (Jefferson, North Carolina: McFarland, 2010).
Newspapers
Detroit Free Press.
Detroit News.
Notes
1 Red Smith, "When Hank Came Back," New York Herald Tribune, January 30, 1956, 24.
2 Sam Greene, "Greenberg Gives New Flag Punch to Tigers," The Sporting News, June 21, 1945, 1.
3 "Returning Servicemen Create Problems," The Sporting News, June 21, 1945, 12.
4 Arthur Daley, "Sports of the Times," New York Times, February 13, 1945, 28.
5 Sam Greene, "Hank in A-1 Shape — Old Suit a Perfect Fit," The Sporting News, June 28, 1945, 6.
6 Sam Greene, "Hank Breaks In Again With a Bang," The Sporting News, July 5, 1945, 2.
7"Tigers Win Two; Hank Homers," Newsday (Long Island, New York), July 2, 1945, 13.
8 Sam Greene, "Hank Breaks In Again…," 2.
Additional Stats
Detroit Tigers 9
Philadelphia A's 5
Game 1, DH
---
Briggs Stadium
Detroit, MI
Box Score + PBP:
Corrections? Additions?
If you can help us improve this game story, contact us.
Tags
http://sabr.org/sites/default/files/images/_Greenberg%20Hank%206486.70_Bat_NBL.jpg
600
800
admin
/wp-content/uploads/2020/02/sabr_logo.png
admin
2018-01-24 18:39:42
2020-08-12 00:14:16
July 1, 1945: Tigers' Hank Greenberg returns to baseball