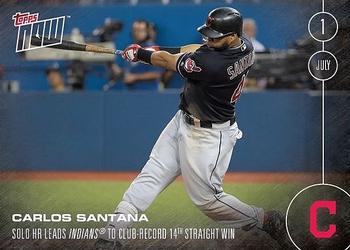 July 1, 2016: Canada Day Classic: Cleveland captures 14th consecutive win in 19-inning marathon
---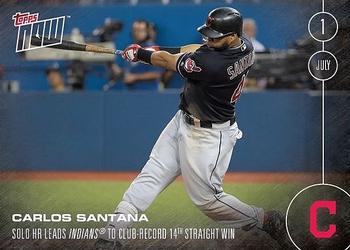 Cleveland had won 13 straight games coming into a Canada Day confrontation at Toronto. The Jays host matinees to celebrate Canada's creation, and this contest attracted 45,825 partisans looking to idle away a few hours before barbecues and fireworks. Instead, the teams played 6 hours and 13 minutes of tense baseball in a game with 606 pitches, three ejections, two position players pitching, and one extra-inning homer that extended the winning streak of the Indians and finally sent those remaining in the stadium out into Canada's biggest city to enjoy the last hours of their country's birthday.
The fireworks actually began in the first. Cleveland starter Josh Tomlin struck out Ezequiel Carrera and Josh Donaldson looking before Edwin Encarnacion batted. On a full count, Tomlin threw an outside pitch. Understandably believing he had walked, Encarnacion headed toward first as home-plate umpire Vic Carapazza called strike three. Encarnacion argued, got ejected, and "lightly bumped"1 Carapazza before John Gibbons, manager of the Blue Jays, arrived on the scene, whereupon Carapazza ejected him, too.
Facing Toronto starter Marcus Stroman, the Indians threatened in the second. With two outs, Yan Gomes reached on Donaldson's throwing error. Gomes went to second on Tyler Naquin's single, but Stroman retired Rajai Davis on a grounder.
Tomlin fanned two more in the second. In the third, Carlos Santana doubled and scored on Jason Kipnis's single to put Cleveland up 1-0.
In the fourth with one out, Toronto's Devon Travis singled. With two outs, Russell Martin, one of two Toronto starters born in Canada, singled Travis to third. Troy Tulowitzki walked to load the bases, but Justin Smoak grounded to Kipnis to strand three runners.
The Jays loaded the bases again in the fifth. Kevin Pillar and Darwin Barney singled. Carrera sacrificed the runners to second and third. Tomlin intentionally walked Donaldson because, with Encarnacion ejected, Tomlin could face Travis rather than the Toronto slugger. Travis struck out, Michael Saunders (the other Toronto starter from Canada) lined out, and the Indians still led 1-0.
In the sixth, Smoak hit a game-tying homer. Tomlin finished the inning, his last, with eight strikeouts, a total he had exceeded only when he one-hit Seattle with 11 K's on June 28, 2014.
Stroman departed in the seventh after Lonnie Chisenhall's leadoff single, an error by Smoak, and a two-out walk to Santana loaded the bases. The righty Stroman left for the lefty Brett Cecil, who retired the lefty Kipnis on a fly out to center to end the frame.
Neither team advanced a runner into scoring position again until extras. In the 10th, Toronto's Joe Biagini hit Kipnis with one out and yielded a single to Mike Napoli with two gone. Biagini retired Jose Ramirez on a liner to Pillar to keep the score even.
Zach McAllister came on for the Indians in the 11th and began by walking Travis. With two outs, Travis stole second before McAllister wild-pitched Travis to third and walked Tulo to put runners on the corners. McAllister recovered and got Smoak to foul to Ramirez.
Tommy Hunter relieved McAllister in the 12th. In the 13th Hunter hit Donaldson and retired the next two batters before facing Martin with two outs. On a 1-and-2 pitch with Donaldson going, Hunter threw a pitch outside. Martin tried but failed to check his swing, according to the men in blue. Martin protested, and Carapazza got the hat trick by ejecting his third Blue Jay on Canada Day.
"It's tough as a player when the umpire makes a mistake, you say your piece about it and then you get thrown out for being right," Martin said.2
The next week, a newspaper later printed a letter from a fan who accused "an American umpire [deciding] the day was about him and spoiled things for the faithful."3
Joba Chamberlain replaced Hunter in the 14th. Tulowitzki singled, and Smoak forced him at third base. Junior Lake came on to run for Smoak. Pillar seemed to ground into a double play, but the Toronto dugout successfully challenged the call, after which Barney doubled Pillar to third. Carrera walked to load the bases for Donaldson, the best hitter on the Jays. But Donaldson grounded out, and Toronto had left the bases loaded for the third time.
In the 15th with one out, Drew Storen walked Kipnis. Francisco Lindor singled Kipnis to third. Bo Schultz replaced Storen and got Napoli to hit into a 5-4-3 DP to preserve the tie.
Normally a starter, Trevor Bauer came on as the ninth and final Cleveland pitcher for the 15th.
In the 16th Schultz faced a similar but more severe jam, this one of his own making. Ramirez and Chisenhall singled to put runners on the corners with none out. But a popout, strikeout, and lineout helped Schultz escape.
In the home 16th, Tulowitzki singled, advanced to second on a passed ball, and moved to third on a one-out infield hit by Pillar. After a steal by Pillar, Bauer retired Barney on an infield fly and fanned Carrera to extend the exciting game.
The crowd went wild in the 18th when Toronto turned to middle infielder Ryan Goins to make his mound debut. As in the 16th, Ramirez and Chisenhall singled to put runners on the corners with none out. Surely the Indians would eke out at least one run facing a position player in this predicament. But Goins had good groundball stuff. Michael Martinez hit into a 4-2-5-1 fielder's choice with Goins doing what he was probably most comfortable doing as a pitcher, namely, tagging a runner. The rundown left Chisenhall at third and Martinez at second. Goins intentionally walked Naquin and then got a 6-4-3 DP on "what looked like a 60-mph changeup"4 off the bat of backup catcher Chris Gimenez as the crowd went even crazier.
After the game, Goins denied throwing a change. "It was more of an eephus," he said, referring to the old-school lob pitch.5
In the bottom of the 18th, Junior Lake walked with one out and stole second with two outs. Barney grounded out and then replaced Goins (who went on the disabled list the next day with forearm tightness) to pitch the 19th. Santana homered off Barney to put Cleveland up, 2-1. Barney retired the next three, and "Donaldson nearly tied it in the 19th but his drive to right was caught on the warning track. 'I thought he hit it out for sure,' Bauer said."6 Bauer ended up getting the Blue Jays in order as Cleveland's winning streak hit 14.
After the third out, Bauer "stood on the mound. 'I didn't know what to do,' said Bauer. "I was like, "It ended? We won?'"7
"They ask you to pitch, and you just try and throw strikes," said Barney, who was saddled with the loss. "It was unfortunate we were in that situation. Plenty of us had opportunities to finish the game and get the hit and we didn't, so it's our own fault we had to go out and pitch."8
"What Trevor did was kind of above and beyond," Indians manager Terry Francona said. "You get so invested in a game like that, because you've shot everybody."9
The two teams met again in the American League Championship Series in October. The Indians won the first two games and started Bauer, who had not pitched in Toronto since the extra-inning marathon, in the third. After throwing 83 pitches in relief on July 1, Bauer, after hurting his hand playing with a drone, lasted only 21 pitches (two-thirds of an inning) as a starter on October 17. The difference in Bauer's performance did not lead to a different result, however, as Cleveland beat Toronto in five games, making the Canada Day classic an unfortunate omen of the ultimate fate of the 2016 Blue Jays.
Author's Note
The two teams richly rewarded me for flying to Toronto on July 1 to celebrate Canada Day by seeing my first game at Rogers Centre.
Sources
http://retrosheet.org/boxesetc/2016/B07010TOR2016.htm
http://baseball-reference.com/boxes/TOR/TOR201607010.shtml
Notes
1 Mark Zwolinski, "Blue Jays' Estrada to Get MRI on Back Sunday, Encarnacion Suspended One Game," Toronto Star, July 3, 2016.
2 Gregor Chisholm, "Trio of Blue Jays Ejected in Draining Loss," MLB.com, July 1, 2016.
3 Chris James, "Day Spoiled by Lousy Umpire," Toronto Star, July 7, 2016.
4 Mark Zwolinski, "Blue Jays Lose 19-Inning Marathon, With Some Help From Home-Plate Umpire," Toronto Star, July 1, 2016.
5 David Shoalts, "Jays Run Out of Juice in Marathon Game," Globe and Mail (Toronto), July 2, 2016: S5.
6 Associated Press, "On Canada Day, Blue Jays Lose Longest Game in Franchise History," July 1, 2016.
7 Paul Hoynes, "Cleveland Indians Work OT to Extend Winning Streak to 14 Games With 19-Inning Win Over Toronto," cleveland.com, July 1, 2016.
8 Gregor Chisholm, "Pitching In: Goins, Barney Take the Hill in 18th, 19th," MLB.com, July 1, 2016.
9 Jordan Bastian and Gregor Chisholm, "Extra winnings: Tribe's 14th Straight Goes 19," MLB.com, July 1, 2016.
Additional Stats
Cleveland Indians 2
Toronto Blue Jays 1
19 innings
---
Rogers Centre
Toronto, ON
Box Score + PBP:
Corrections? Additions?
If you can help us improve this game story, contact us.
Tags
https://sabr.org/sites/default/files/Santana-Carlos-2016-Topps.jpg
600
800
admin
/wp-content/uploads/2020/02/sabr_logo.png
admin
2018-06-28 17:01:26
2020-04-17 10:24:45
July 1, 2016: Canada Day Classic: Cleveland captures 14th consecutive win in 19-inning marathon