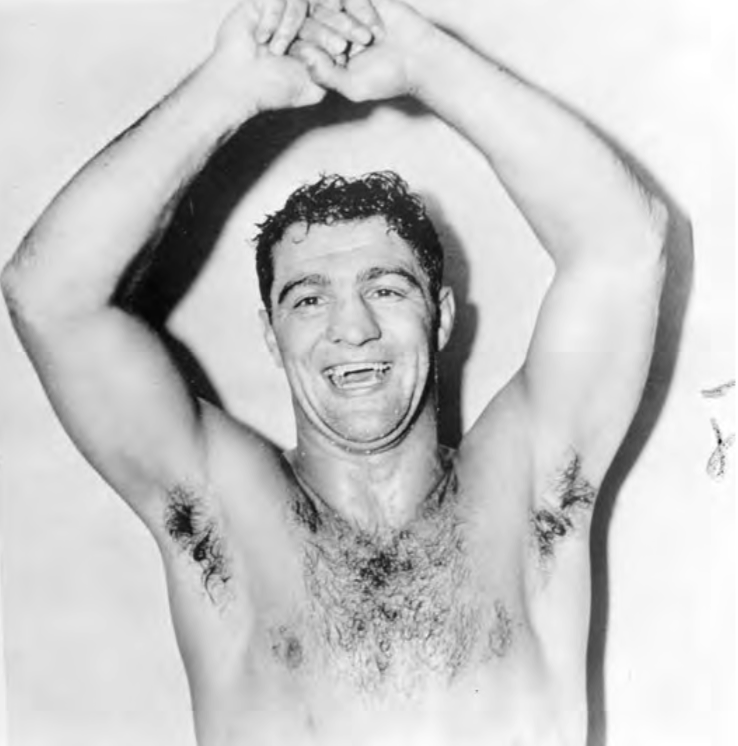 July 10, 1950: Pugilism at the ballpark: Marciano, DeMarco win boxing bouts at Braves Field
---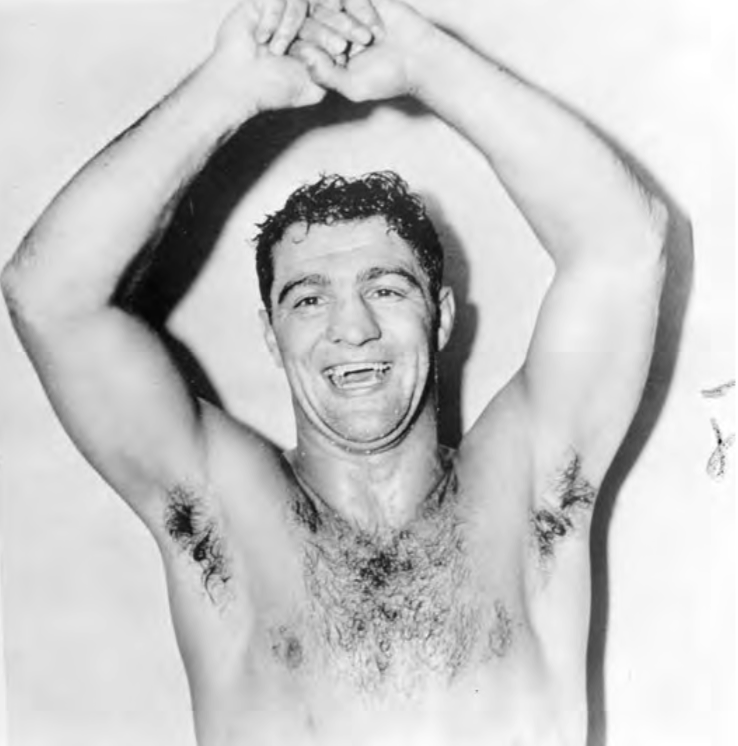 On occasion over the years, some of Boston's Green Cathedrals have served as venues for outdoor boxing programs. Fenway Park staged its first fight on October 9, 1920, and would continue to host fisticuffs within its confines through 1956. Braves Field got a later but more auspicious start. Just three days later, on October 12, more than 15,000 fans gathered at the Wigwam to witness a battle for the welterweight championship of New England. The Boston Globe of the following day declared that the attendees comprised "the largest crowd that ever saw a fight in New England." But for rain in the forenoon and threatening weather later in the day, at least an additional 10,000 individuals would have come to the contest, according to the newspaper.
In all, Braves Field played host to around 70 boxing programs, most featuring multiple matches, through July of 1951. The majority of these events occurred during the Depression years as Braves ownership leased the ballpark to generate revenues to stay afloat financially. According to Bob Fuchs in Judge Fuchs and the Boston Braves, Boston Garden boxing promoters attempted to stage evening boxing cards at the Wigwam directly after afternoon Braves games in hopes of retaining the baseball crowd. The promoters paid $25,000 for such rights but soon found that the Tribe's fans were not interested in sticking around and quickly negotiated a buyback.
International Boxing Hall of Famers such as welterweight champion Jack Britton (The Boxing Marvel), heavyweight champion Jack Sharkey (The Boston Gob), light-heavyweight champion Paul Berlenbach (The Astoria Assassin), heavyweight champion James J. Braddock (The Cinderella Man), featherweight champion Willie Pep (Will o' the Wisp), bantamweight champion Manuel Ortiz, and middleweight champion Theodore "Tiger" Flowers (The Georgia Deacon) all made appearances at Braves Field.
Well before African American ballplayers took to the field at the Wigwam and Fenway Park, minority pugilists performed before crowds in temporarily assembled rings on the respective diamonds. Tiger Flowers, the first African American to become world middleweight champion, fought at Braves Field in 1925, well before Jackie Robinson's barrier-breaking season of 1947 and Sam Jethroe's integration of Boston home-team baseball in 1950. Similarly, Fenway Park opened its doors to black boxers such as Cuba's Kid Chocolate in 1932, many years in advance of its primary tenant's 1959 welcoming of Pumpsie Green to the home turf.
A landmark boxing event at Braves Field took place on July 10, 1950. The Braves abandoned the Wigwam on July 9 after a 13-inning victory over the Giants to embark upon a road trip and the All-Star break that wouldn't have them return to action at their Gaffney Street residence until July 25. Given ownership's past receptivity toward leasing out the premises to nonbaseball events when the field was otherwise vacant, an evening of boxing featuring local pugs with championship potential was set up. The site also proved to be an attractive venue as the ballpark possessed its own internal streetcar stop, allowing fight patrons quick and easy inexpensive public transportation to and from Braves Field.
With the Boston region's large Italian-American community, it seemed only natural to put together a boxing card involving two up-and-coming slugging paisanos: welterweight Leonardo Liotta and heavyweight Rocco Marchegiano. Upon embarking upon professional careers in the ring, both underwent name changes — Liotta fought as Tony DeMarco while Marchegiano battled as Rocky Marciano. Liotta assumed the DeMarco moniker upon borrowing the latter's birth certificate to fight professionally while still under age.
The Wigwam's alternative use as a boxing battleground did not seem out of place for Marciano. As a youth, Rocky was torn between baseball and the fight game. Through the auspices of a Boston Herald sportswriter, he had been invited to the Chicago Cubs' annual tryout camp in 1947, conducted at their Fayetteville, North Carolina, Tri-State League facility. While Rocky showed promise as a hitter, he was unable to throw accurately from his backstop position to second base because of an arm injury incurred during his time in the Army. According to Ed Fitzgerald in the January 1953 issue of Sport magazine, Rocky reported, "My arm was dead. I couldn't throw." Given the local publicity that had surrounded his baseball trip south, Rocky was reluctant to return home upon failing the tryout. An acquaintance referred him to the Goldsboro (North Carolina) Goldbugs of the Class-D Coastal Plain League. The unaffiliated club was short of catchers and he sought a job with them. As Rocky related to Fitzgerald, "I played for a couple of weeks, maybe three altogether, and I got my hits, but I couldn't throw. The manager finally told me I'd better go home." Rocky would ultimately make it to Boston's National League ballgrounds wearing boxing gloves instead of the "tools of ignorance." Two of his younger brothers, Louis (Sonny) and Peter Marchegiano, would follow in Rocky's baseball footsteps, playing a few seasons of low-level minor-league baseball. Peter, in fact, signed in 1962 with the Braves, albeit the Milwaukee version, at Rocky's former catching position.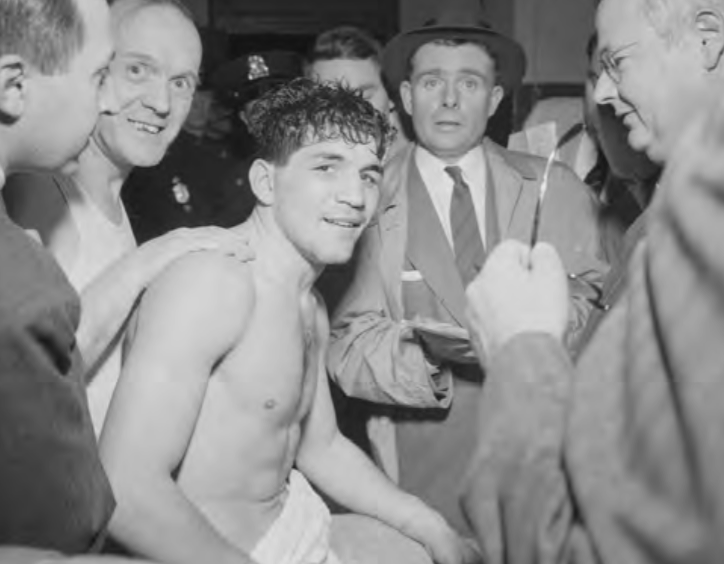 Tony DeMarco (11-2-0) appeared on the Braves Field undercard of July 10. His contest, against journeyman Roger Ringuette (11-9-0) of Fall River, Massachusetts, was scheduled for four rounds. The pride of Boston's North End pummeled his opponent, sending him to the canvas three times in the first round. Mercifully, the referee stopped the bout and handed DeMarco a technical-knockout victory. He would go on to claim the world welterweight crown in 1955. Perhaps not wanting to show favoritism toward either of Boston's baseball parks, DeMarco would later fight to a unanimous victory at Fenway Park on June 16, 1956, representing, as of 2014, that site's last boxing card.
Rocky's 28th bout on his way to the heavyweight crown was the main event of the July 10, 1950, boxing program at Braves Field. Marciano's opponent was former Italian amateur heavyweight champ Gino Buonvino (22-11-7) of Bari, Italy. Joe Zapustas, a former South Boston athlete of some renown, drew the refereeing assignment. Zapustas, had had a "cup of coffee" as an outfielder with the 1933 Philadelphia Athletics and had played offensive and defensive end for the '33 NFL New York Giants, who lost that season's league championship game to the Chicago Bears, 23-21.
The rainy July evening resulted in a disappointing gate as only 4,900 filed through the turnstiles. Another noted negative to the bout was the antique ring used for the contest. It was in a dilapidated condition and several feet smaller than regulations required. Fight patrons also suffered from poor lighting of the ring, causing a chant of "LIGHTS" to often arise from grandstand spectators during the bout.
The future champ started strongly, knocking Buonvino to the canvas with a left hook to the jaw for an eight-count in the first round, but was unable to quickly put his opponent away. Buonvino fought back valiantly but began to tire noticeably by the seventh round. Knocked down in the ninth, Buonvino was saved by the bell. The exhausted Italian faced a relentless barrage of Rocky's blows in the next round until the referee stepped in and stopped the fight for a TKO. Rocky commented about his Braves Field experience, "[W]hat a ring. It was really small and tilted. I felt like I was fighting uphill all night." Writer Arthur Siegel of the Boston Traveler panned Rocky's performance, opining that the heavyweight ranks must be weak in talent if a "good club fighter" like the Brockton Blockbuster was considered a leading contender. Marciano and Buonvino would meet one more time with even worse results for the former Italian champ. On April 21, 1952, in Providence, Rhode Island, Rocky kayoed Buonvino in the second round. Buonvino hung up his gloves after this defeat. Rocky took the heavyweight title on September 23, 1952, knocking out Jersey Joe Walcott in the 13th round of their championship bout. He retired undefeated (49-0-0) after his final bout in 1955.
Braves Field was but a brief stop along the road to boxing glory for Tony DeMarco and Rocky Marciano. Today, their achievements in the ring have been commemorated in statutes of each in fighting poses. DeMarco's sculpture resides at the entrance of Boston's North End. Marciano is memorialized by a two-ton, 20-foot statue in Champion Park on the grounds of Brockton High School.
This article appeared in "Braves Field: Memorable Moments at Boston's Lost Diamond" (SABR, 2015), edited by Bill Nowlin and Bob Brady. To read more articles from this book, click here.
Sources
In addition to the sources identified in the text of this article, the author utilized BoxRec.com.
Photo credits
Boston Public Library, Leslie Jones Collection.

Additional Stats
Corrections? Additions?
If you can help us improve this game story, contact us.
Tags
https://sabr.org/sites/default/files/Marciano-Rocky-BPL.png
600
800
admin
/wp-content/uploads/2020/02/sabr_logo.png
admin
2017-08-09 21:13:24
2020-04-17 10:25:46
July 10, 1950: Pugilism at the ballpark: Marciano, DeMarco win boxing bouts at Braves Field