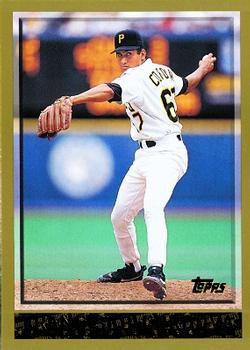 July 12, 1997: Cordova, Rincon, and Smith provide fireworks for Pirates in 10-inning no-hitter
---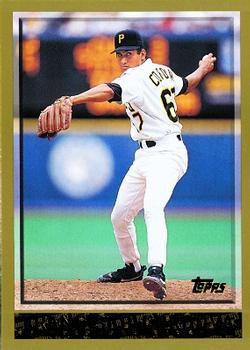 It took the dual attractions of a Jackie Robinson number-retirement ceremony and a postgame fireworks show to lure the Pirates' first non-Opening Day sellout crowd since June 5, 1977, to Three Rivers Stadium on July 12, 1997.1 The surprising Bucs, who had been dubbed "The Freak Show" by announcer Greg Brown because of their unexpected rise to contention, were in first place in the NL Central Division as they entered their first series of the season's second half, which pitted them against second-place Houston.2 The Astros had registered consecutive dominant shutouts, 7-0 and 10-0, to overtake the Pirates for the division lead. In light of the two disappointing losses, the crowd of 44,119 had come primarily to watch the pregame and postgame festivities on this day; however, they received an additional thrill as the hometown nine won a no-hitter in dramatic fashion in the bottom of the 10th inning.
Before the game, the Pirates formally retired Jackie Robinson's number 42 — which had already been retired by Major League Baseball earlier in the season — as part of what was called Breaking Barriers Night. Six Pittsburgh residents, including the Pirates' Hall of Fame first baseman Willie Stargell, were honored for following "Robinson's path by breaking barriers of their own," and Robinson's daughter, Sharon, threw out the first pitch.3 While this was happening, Pirates starter Francisco Cordova was having difficulty with his control while warming up, and pitching coach Pete Vuckovich worried that Cordova might not last longer than an inning or two. Looking back on what followed, Vuckovich observed, "It just goes to show you, all you're doing down in the bullpen is getting loose and getting ready to go."4
Whatever Cordova's own feelings about his warm-up session may have been, his confidence was likely bolstered by the fact that he already had tossed a two-hit, 6-0 shutout against Houston at the Astrodome on June 23. Astros manager Larry Dierker later said about that game, "It was like we were swinging at butterflies. We didn't get a good swing the whole game," and also believed, "Well, (Cordova) might shut us down [on July 12], but there's no way he can pitch better."5 Though unaware of Dierker's thoughts, Cordova nevertheless proved them to be wrong.
While the game would turn out to be a historic occasion, a perfect game was quickly out of the question when Cordova walked Jeff Bagwell with two outs in the first inning. The next batter, Luis Gonzalez, hit a line drive straight at first baseman Kevin Young for the third out of the frame. Beginning with Gonzalez's lineout, Cordova bore down and retired 20 consecutive Astros batters before issuing his second walk of the evening, to Gonzalez, with two outs in the top of the seventh. Of those 20 consecutive outs, 10 came by strikeout, including a string of five consecutive punchouts from the second inning through the end of the third .
Amid the growing anticipation that a no-hitter might take place, the fact that Pittsburgh was also being kept off the scoreboard appeared to be lost on the crowd. The Pirates batters, however, were well aware that they were involved in a struggle. Astros starter Chris Holt had surrendered a single to the first batter he had faced, second baseman Tony Womack, but he had immediately stifled any potential scoring threat by inducing a 5-4-3 double-play grounder from Jermaine Allensworth. Holt was not as dominant as Cordova, but he held his own in the pitchers' duel as he retired the Pirates in order in the fourth, fifth, and seventh innings and allowed no more than one baserunner in any inning until the bottom of the eighth.
In that eighth inning, Holt allowed two singles that, with two fielder's-choice grounders, left Lou Collier on second and Cordova on first. Collier was the first runner the Pirates had gotten into scoring position in the game, so Dierker brought in Billy "The Kid" Wagner, his fireballing, left-handed reliever, to quash the threat. Wagner obliged by striking out Womack to keep the game in a scoreless tie.
Cordova allowed his final baserunner of the evening with two outs in the top of the ninth when he hit Chuck Carr with a pitch, but Bagwell lofted a lazy fly ball to right field that kept the no-hitter intact. Wagner continued to throw BB's and struck out the side to send the game to extra innings.
At this point the significance of the 0-0 ballgame no doubt dawned on any longtime Pittsburgh fans in attendance. They surely recalled Pirates pitcher Harvey Haddix throwing 12 perfect innings against the Braves in Milwaukee on May 26, 1959, only to lose the game 1-0 in the 13th inning. If a similar fate were to strike the Pirates on this night, it would not befall Cordova alone as Pirates manager Gene Lamont sent Ricardo Rincon to the mound in the top of the 10th. Lamont reasoned, "(Cordova) had thrown enough, a few too many. If I send him back out there, he ends up throwing 135 or 140 pitches. Remember, the game is riding on every pitch. That puts more stress on the arm."6 Cordova said after the game, "I wanted to keep on going. But it's not my decision."7
Cordova may have found some solace in the fact that his no-hitter now rested in the hands of Rincon. The two pitchers were Mexican compatriots who had become friends as teammates with the Mexico City Diablos Rojos (Red Devils) in 1994 and 1995. Rincon issued the Astros' third free pass of the contest (to Derek Bell) with one out, but Bill Spiers struck out and Brad Ausmus popped out to catcher Jason Kendall to increase the tension inside Three Rivers Stadium. The suspense would soon come to an end in a manner that delighted the crowd and exorcised some of the demons of Haddix's unfortunate loss 38 years earlier.
Wagner was done for the evening, so John Hudek entered the game for Houston in the bottom of the 10th. Initially, Hudek picked up where Wagner had left off and struck out Dale Sveum. However, he then walked Kendall, retired Jose Guillen, and walked Turner Ward (who was pinch-hitting for Collier). With men on first and second and the pitcher's spot due up, Lamont sent Mark Smith to the plate to hit for Rincon.
Smith had been acquired in a four-player trade with the San Diego Padres on March 29 and had 11 RBIs in 59 at-bats for Pittsburgh.8 In regard to what happened next, Smith asserted, "I got a great scouting report from [batting coach] Lloyd McClendon. He told me to watch for fastballs, that (Hudek) likes to get ahead on fastballs. He started me off with an inside fastball [for a strike]. I watched for the same thing."9 Smith saw what he was looking for on the next pitch, and he smacked his third home run of the season to deep left field to give the Pirates a 3-0 victory.
Although the Pirates had emerged victorious, Cordova did not receive credit for the no-hitter; in fact, he did not even receive the win, which went to Rincon. In regard to Cordova's plight, Bagwell remarked, "Pretty weird. But I'm sure he's happy they got the win even if he didn't get the no-hitter."10 Ausmus compared Cordova's no-hit effort to his earlier two-hitter against the Astros, saying, "In this game he threw more off-speed pitches and moved the ball around a little more. He really kept us off balance. I don't think we hit a ball hard, did we?"11
The answer to Ausmus's question was no, which was why Cordova and Rincon entered the record books together with the eighth combined no-hitter in major-league history.12 Their 10-inning effort also tied the major-league record for the longest no-hitter, which had been accomplished four times previously.13 It was only the third no-hitter by the Pirates in Pittsburgh in the 110-year history of the franchise, joining John Candelaria's gem against the Los Angeles Dodgers on August 9, 1976, and Nicholas Maddox's no-hitter against the Brooklyn Superbas on September 20, 1907.
Not to be forgotten in the midst of all the fanfare about the no-hitter was the other hero of the day, Smith, who said of his game-winning blast, "It's funny, but I got all fired up sitting on the bench in the ninth inning, thinking how great it would be to win the game with a homer. I can't describe the feeling. It's the greatest feeling you could ever have."14
This article appears in "Moments of Joy and Heartbreak: 66 Significant Episodes in the History of the Pittsburgh Pirates" (SABR, 2018), edited by Jorge Iber and Bill Nowlin. To read more stories from this book at the SABR Games Project, click here.
Notes
1 Alan Robinson, "Pirates Team for 10-Inning No-Hitter," washingtonpost.com/archive/sports/1997/07/13/pirates-team-for-10-inning-no-hitter/85717df9-2a82-4260-883a-881481ffffe7/?utm_term=.95063a7cd082, accessed September 22, 2017.
2 Paul Meyer, "Pirates' 'Freak Show' Hit Zenith With July No-Hitter, Pittsburgh Post-Gazette, July 11, 2007: F-1.
3 Bob Smizik, "Pirates Celebrate Jackie," Pittsburgh Post-Gazette, July 13, 1997: D-10.
4 Kevin Stankiewicz, "Twenty Years Later, a Look Back at the Francisco Cordova-Ricardo Rincon No-Hitter," post-gazette.com/sports/pirates/2017/07/12/Pirates-Francisco-Cordova-Ricardo-Rincon-20-years-no-hitter-Gene-Lamont/stories/201707120033, accessed September 22, 2017.
5 Ibid.
6 Bob Smizik, "Cordova and Rincon Combine on No-Hitter," Pittsburgh Post-Gazette, July 13, 1997: D-1.
7 "Cordova and Rincon," D-10.
8 Ibid.
9 Ibid.
10 Ron Cook, "A Weird Gem for Cordova," Pittsburgh Post-Gazette, July 13, 1997: D-1.
11 "A Weird Gem," D-10.
12 As of September 22, 2017, there have been 11 combined no-hitters in major-league history.
13 Three of the other 10-inning no-hitters also occurred in the National League: the Cincinnati Reds' Jim Maloney, 1-0, against the Chicago Cubs on August 19, 1965; the Cincinnati Reds' Fred Toney, 1-0, also against the Cubs, on May 2, 1917; and the New York Giants' Hooks Wiltse, 1-0, against the Philadelphia Phillies on July 4, 1908. The fourth such no-hitter was hurled by Sam Kimber of the old American Association's Brooklyn Atlantics against the Toledo Blue Stockings in a game that ended in a 0-0 tie on October 4, 1884.
14 Robinson.
Additional Stats
Pittsburgh Pirates 3
Houston Astros 0
10 innings
---
Three Rivers Stadium
Pittsburgh, PA
Box Score + PBP:
Corrections? Additions?
If you can help us improve this game story, contact us.
Tags
https://sabr.org/sites/default/files/CordovaFrancisco-1997.jpg
600
800
admin
/wp-content/uploads/2020/02/sabr_logo.png
admin
2019-01-22 11:37:13
2020-04-17 10:23:41
July 12, 1997: Cordova, Rincon, and Smith provide fireworks for Pirates in 10-inning no-hitter