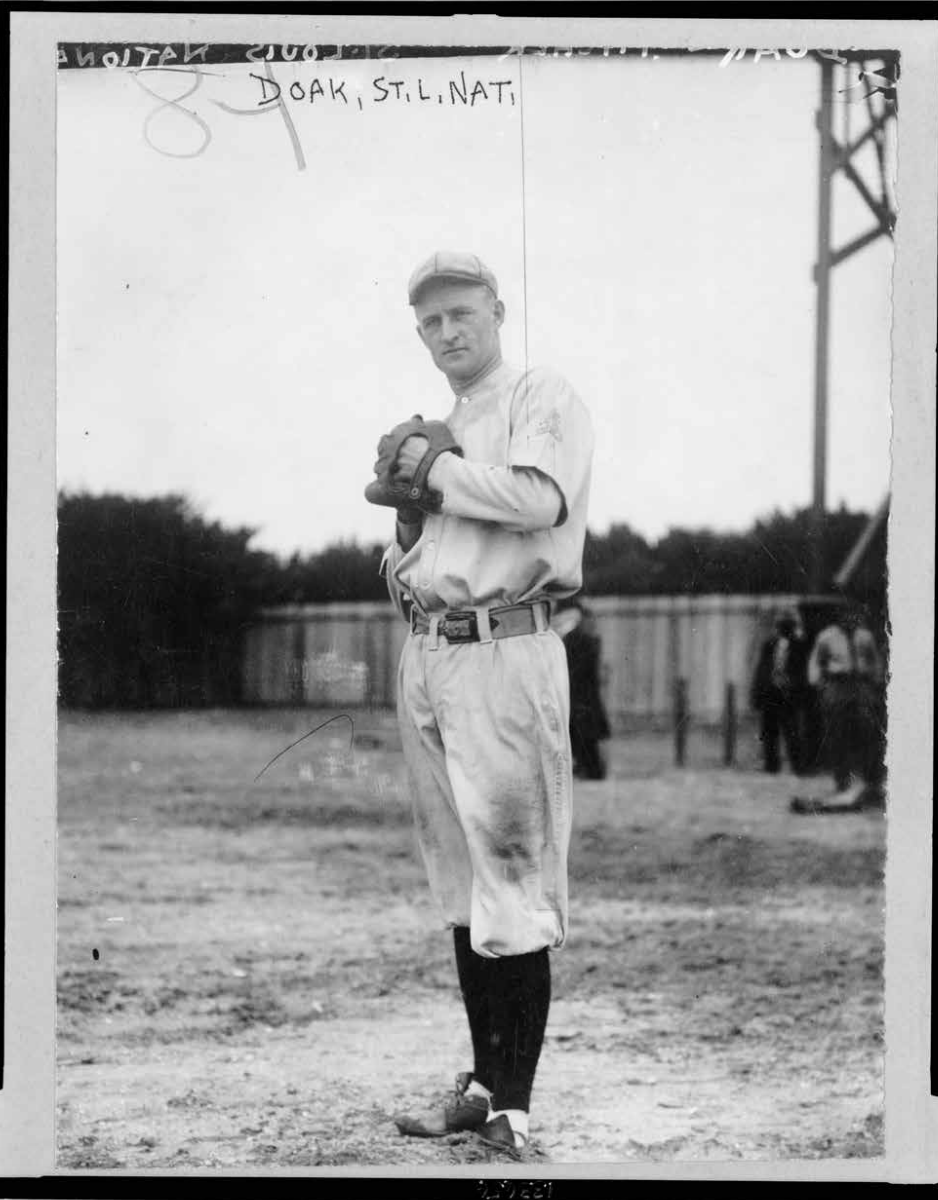 July 2, 1920: Cardinals get first win at Sportsman's Park as Doak swashbuckles Pirates
---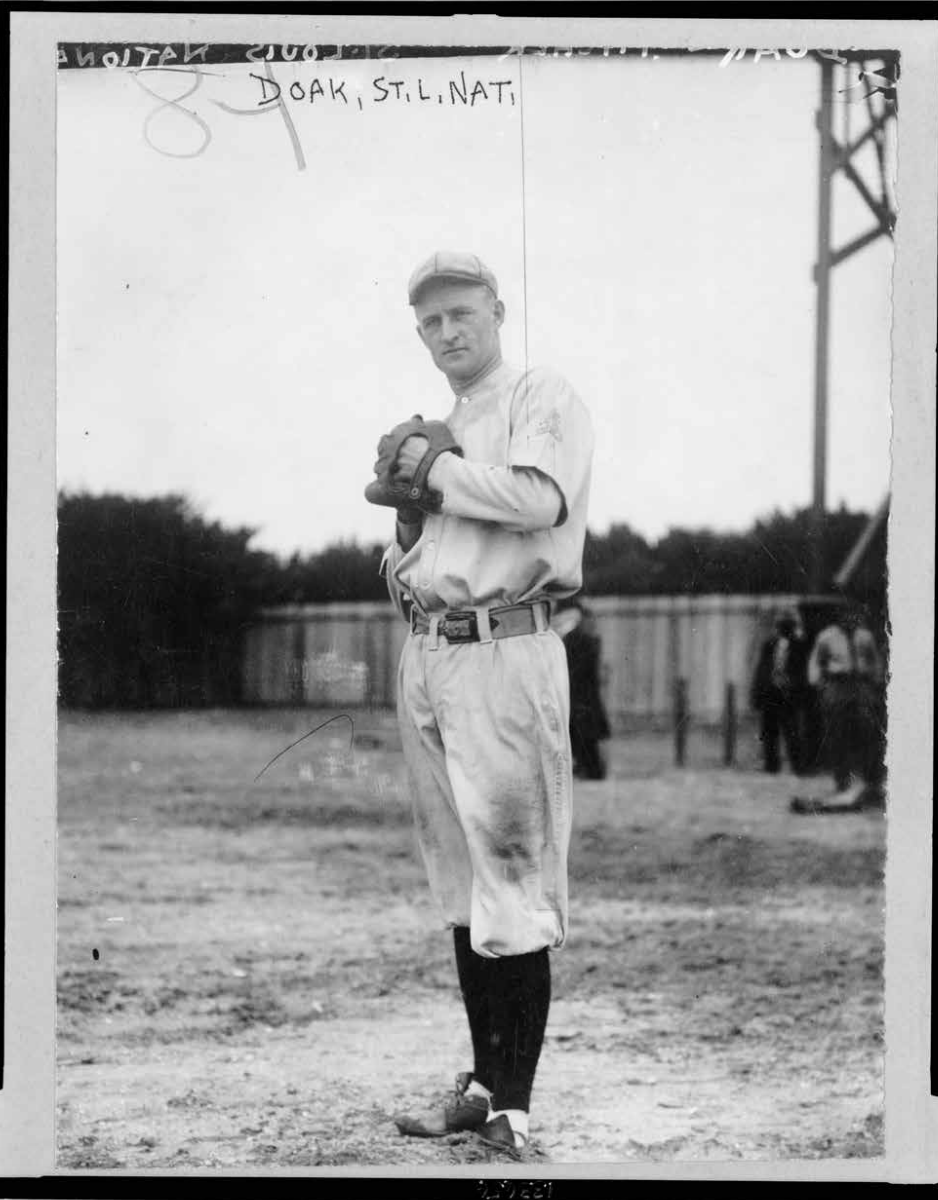 The St. Louis Cardinals' owner, Sam Breadon, generally shunned publicity. Nevertheless, Breadon knew that the way to attract more fans to the games was to have a winning team and also to get more information about the games to the fans.1 The June 24, 1920, issue of The Sporting News steadfastly questioned how the newbie Breadon and his associates would be able to take care of the bugs and allow their improving ballclub to be showcased at the dilapidated Cardinals plant (Robison Field), located at the end of Vandeventer Avenue.2
Breadon had been wheeling and dealing, but was not yet tipping his "Cards." He soon let the media in on the monetary details of an agreement with Browns owner Phil Ball to lease Sportsman's Park.3 Subsequently, the July 1 publication of "The Base Ball Paper of the World" reversed its previous week's concern and touted Breadon as a genius for his coup in the venue switch.4 This edition came out on the same date that the Redbirds hosted the Pittsburgh Pirates in their first game at Sportsman's Park, which was viewed by an overflow gathering in the annual benefit game for the St. Louis Tuberculosis Society.5 All seemed perfect, except for the final score of Pirates 6, Cardinals 2, in 10 innings.
At least one individual at the Cardinals' inaugural loss was decidedly more upset about leaving an important article inside the ballpark after the conclusion of the extra-frame affair. An appeal in the St. Louis Post-Dispatch spelled out the situation: GOLD MESHBAG – Lost, at Sportsman's Park Thursday: containing small amount of money and owner's cards. Call Forest 4370: reward.6
While the Cardinals players could not do anything about the missing handbag, they were determined to "right the ship" and earn a triumph during the midafternoon tilt on Friday, July 2. The fourth-place Cardinals had lost four straight and stood at 34-32. Pittsburgh had also been struggling lately and possessed a 30-30 record, good for fifth. The Pirates' first-year manager, George Gibson, settled on 28-year-old southpaw Earl Hamilton, fittingly born in Gibson, Illinois.7 Hamilton's father happened to be in St. Louis on business and was able to watch his son pitch.8
Cardinals skipper Branch Rickey tabbed 6-foot right-hander Bill Doak, who was coming off a bout with ptomaine poisoning.9 "Spittin' Bill" was 8-7, with a 3.57 ERA, as he neared the halfway mark of his ninth major-league season. Rickey had to order his regular first baseman, Jack Fournier, to the bench due to a lingering hand injury.10 Utilityman Hal Janvrin played first and batted leadoff for St. Louis. Janvrin had not played a full game at first in over four years.
Unlike the day before, plenty of seats were available. Five price levels were offered with the ducats ranging from 50 cents to $1.50,11 and could be purchased in advance on North Broadway at Dengler & Hatz Cigar Store inside the Boatmen's Bank Building.12 A paid crowd of 2,500 passed through the gate along with an additional 1,500 members of the Knot Hole Gang to watch the Cardinals in steamy 93-degree heat.13
Born in Pittsburgh, the 29-year-old Doak strolled to the hill with a 15-11 career record versus the Pirates. He was a deliberate worker who used a large red handkerchief to wipe his brow during the game. He relied on good control, an effective curve, and a signature spitball.14 In the top of the first, Max Carey singled and advanced to second when right fielder Joe Schultz fumbled the ball, but Doak pitched out of the trouble.15 Hamilton, despite giving up two hard-hit balls and benefiting from a shoe top grab of a little popup by first baseman Charlie Grimm, retired the first six St. Louis batters.16
Hamilton, who was 2-3 with a 3.11 ERA, saw his luck go south in the third when Doc Lavan singled to right. With the hit-and-run on, 17 Pickles Dillhoefer came through with a double to right and Lavan scored. Doak's bunt moved his batterymate to third, and Dillhoefer came home when Janvrin's hard grounder caromed off second baseman Walter Barbare for an infield hit to make it 2-0. Cliff Heathcote forced Janvrin, and then the young center fielder was caught napping and picked off first by Hamilton.18
In the fifth, Barbare knocked a one-out infield hit that went off Doak's glove. With the Pirates attempting the hit-and-run, Schmidt drove a liner to right-center that the left-handed Heathcote dashed over for to make a backhanded catch, forcing Barbare to race back to first. Pittsburgh turned in three defensive gems of its own during the bottom half when third baseman Possum Whitted stabbed a tricky hopper by Schultz, spun and fired low to Grimm, who scooped up the peg. Lavan sent a deep drive down the line that left fielder Carson Bigbee raced for and caught in front of the fence. Dillhoefer's bid for another hit was foiled when his smash glanced off Hamilton's mitt and was scooped up by shortstop Howdy Caton, who fired to first for the putout.19
The Pirates were looking for a way to get to Doak in the sixth, but failed to deliver even after two free passes from the Cardinals hurler. Bigbee was out on a close play after second baseman Rogers Hornsby knocked down his grounder and threw quickly to Janvrin. Carey walked, but Dillhoefer, the catcher, made an alert snap throw and picked the speedster off first. Billy Southworth also walked, but was left on when Whitted flied out to Schultz in deep right.20
St. Louis started strong in the bottom half when Doak and Janvrin opened with singles. After Heathcote forced Janvrin at second, Milt Stock grounded slowly to Caton, who fired home to Schmidt. Doak was tagged out after a rundown, but Heathcote maneuvered to third and Stock slipped in to second. Hornsby worked the count to 3-and-1 and Hamilton fired outside for ball four, but Heathcote, trying to steal home on the pitch, was tagged on the heel by Schmidt and called out by plate umpire Cy Rigler for the third out.21 Heathcote indignantly whirled, grabbed a nearby glove, and accidentally shoved it into Schmidt's face when he actually meant the physical abuse for the arbiter.22
Another argument over a close play took place in the seventh. With one away for the Pirates, Janvrin ranged to his right to field Grimm's groundball. Doak covered first base and caught Janvrin's toss just as Grimm hit the dirt with a head-first dive for the bag. Umpire Charlie Moran signaled out and Grimm was not pleased as he lay flat across the base protesting the decision. The Cardinals' Austin McHenry launched his third consecutive long drive to the outfield in the home half, but Southworth put this one away, just as center fielder Carey had run down his first two clouts.23
The bottom of the eighth featured plenty of action on the basepaths for St. Louis. Rookie right-handed reliever Johnny Meador had taken over on the mound for Hamilton. Two walks, a sacrifice, and a force put Cardinals runners on the corners with two outs. Stock came through with a line-drive single to right, plating Dillhoefer for a 3-0 lead and sending Heathcote to third base. The Cardinals again tried some trickery as Rickey signaled for a double steal; however, Caton, after taking Schmidt's late throw to second, whipped the ball over to third and nipped Heathcote trying to return to the base.24
With a three-run lead, Doak went after the complete-game conquest. A one-out double to right-center by Caton, followed by Grimm's infield hit brought the tying run to the plate. But Doak prevailed for his ninth win by getting a force out and a routine fly ball to center field,25 securing his shutout and giving the St. Louis Cardinals their first regular-season victory at the intersection of Grand and Dodier.
The time of game was 1 hour and 40 minutes. Overall, the base-on-balls total (six) skunked the strikeout figure (0), with six hits in the line score for each team, and St. Louis committing the only error. Many of the fans exiting the ballpark headed for the busy streetcar transit stops and stations that could return them home via the 485-mile track network within and near the city.26
The game's hero, Bill Doak, eventually made history off the field as well as on it. After baseball outlawed the spitball, Doak was a prominent voice in the successful effort to allow 17 pitchers, including himself, who used the pitch to continue throwing it for the remainder of their careers. Also, Doak approached the St. Louis-based Rawlings Sporting Goods Company with a proposal for a new model of baseball glove with webbing that made it easier for fielders to catch the ball. Doak's design marked a significant evolution in the role of the glove, transforming it from primarily a means of protection, and Rawlings sold the Bill Doak model for years to come.27
This article appears in "Sportsman's Park in St. Louis: Home of the Browns and Cardinals at Grand and Dodier" (SABR, 2017), edited by Gregory H. Wolf. Click here to read more articles from this book online.
Photo Caption
Bill Doak tossed a six-hit shutout to record the Cardinals' first victory in Sportsman's Park. He posted a 169-157 record in his 16-year career (1912-1924; 1927-1929). (Library of Congress)
Sources
In addition to the sources cited in the Notes, the author also accessed Retrosheet.org, Baseball-Reference.com, SABR.org/bioproject, and The Sporting News archive via Paper of Record. Additional websites accessed were newspapers.com and stltoday.com.
Notes
1 Rob Rains, The St. Louis Cardinals, The 100th Anniversary History (New York: St. Martin's Press, 1992), 30.
2 "Babe Draws Crowd but Ping Does Work," The Sporting News, June 24, 1920: 1.
3 Rains, 26.
4 "Cards Sure Move to a Place in the Sun," The Sporting News, July 1, 1920: 1.
5 Robert L. Tiemann, Cardinal Classics: Outstanding Games From Each of the St. Louis Baseball Club's 100 Seasons, 1882-1981 (St. Louis: Baseball Histories, Inc., 1982), 100.
6 St. Louis Post-Dispatch, July 2, 1920: 32.
7 Edward Callary, Place Names of Illinois (Urbana: University of Illinois Press, 135). Gibson was later renamed Gibson City by the US Post Office Department.
8 "Notes of the Game," Pittsburgh Daily Post, July 3, 1920: 10.
9 Edward F. Balinger, "Doak Has Pirates at Mercy and Cardinals Score Whitewash, 3-0," Pittsburgh Daily Post, July 3, 1920: 10.
10 "Notes of the Game," Pittsburgh Daily Post, July 3, 1920: 10.
11 The Sporting News, July 1, 1920: 8.
12 St. Louis Post-Dispatch, July 2, 1920: 22.
13 "Janvrin Is Sent to Initial Sack by Boss Rickey," St. Louis Post-Dispatch, July 2, 1920: 24.
14 Steve Steinberg, "Bill Doak," SABR Baseball Biography Project, https://sabr.org/bioproj/person/1359e4e2.
15 "Play-by-Play," Pittsburgh Daily Post, July 3, 1920: 10.
16 "Notes of the Game," Pittsburgh Daily Post, July 3, 1920: 10.
17 Charles J. Doyle, "Failure to Hit Bill Doak Cost Buccos Hard Battle, 3 to 0," Pittsburgh Post-Gazette, July 3, 1920: 9.
18 "Play-by-Play," Pittsburgh Daily Post, July 3, 1920: 10.
19 "Play-by-Play," Pittsburgh Post-Gazette, July 3, 1920: 9.
20 Ibid.
21 "Play-by-Play," Pittsburgh Post-Gazette, July 3, 1920: 9.
22 "Notes of the Game," Pittsburgh Daily Post, July 3, 1920: 10.
23 Ibid.
24 "Play-by-Play," Pittsburgh Post-Gazette, July 3, 1920: 9; James M. Gould, "Cardinals 3, Pittsburg 0," St. Louis Star, July 2, 1920: 20.
25 Ibid.
26 Tim O'Neill, "A Look Back – Hodiamont Line Street Car Closed Out After 107 Years of Service," St. Louis Post-Dispatch, May 23, 2010, stltoday.com.
27 Steinberg.
Additional Stats
St. Louis Cardinals 3
Pittsburgh Pirates 0
---
Sportsman's Park
St. Louis, MO
Box Score + PBP:
Corrections? Additions?
If you can help us improve this game story, contact us.
Tags
https://sabr.org/sites/default/files/Screen%20Shot%202018-10-25%20at%201.58.43%20PM.png
600
800
admin
/wp-content/uploads/2020/02/sabr_logo.png
admin
2018-10-25 14:01:18
2020-04-17 10:23:50
July 2, 1920: Cardinals get first win at Sportsman's Park as Doak swashbuckles Pirates