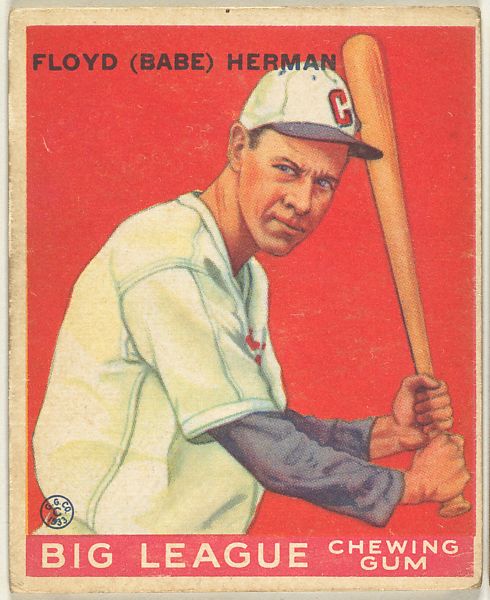 July 20, 1933: Babe Herman's three homers overwhelm Phillies
---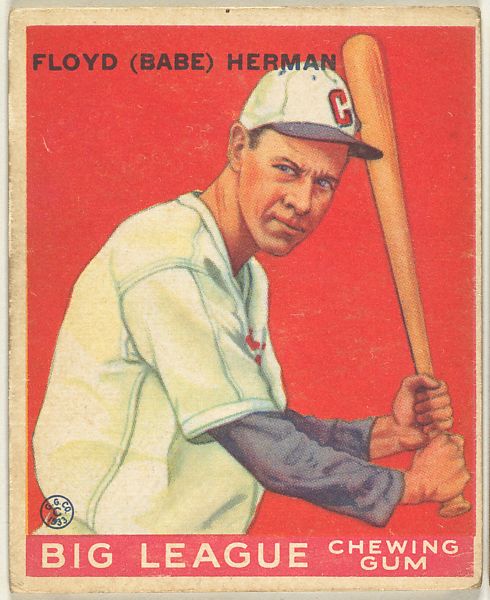 His parents named him Floyd and his fans knew him as Babe. In certain baseball writing circles, he was the "other Babe." Born in Buffalo, New York, and raised in Los Angeles, this Babe — Babe Herman — was a conundrum to those who followed his career. He suffered from mental lapses on the field, especially on defense. But could Babe Herman hit! He sported a lifetime .324 batting average and .532 slugging average, more than making up for the suspect aspects of his game. On July 20, 1933, he proved for a day that he was the full measure of the "Great Bambino" when he socked three home runs and drove in eight runs in a 10-1 drubbing of the Philadelphia Phillies by the Chicago Cubs at Wrigley Field.
Babe Herman seemed destined for baseball greatness. Hall of Famer Al Lopez said of the tall outfielder with a warm smile, "Babe swung a bat with more ease and grace than any man I ever saw."1
He began his major-league career playing six outstanding seasons with Brooklyn before being dealt to Cincinnati over a contract dispute in 1932. In that season with the beleaguered Reds, Herman led the team in batting (.326), home runs (16), and RBIs (87). Herman was sent to the Cubs in the offseason because the Reds were plagued with financial troubles and needed the cash — $75,000 — offered for the star outfielder.2
The Herman acquisition was considered the missing piece in the Cubs' quest to repeat as National League champions. Unfortunately for Cubs fans, the new face in the dugout was struggling with a leg injury during the early part of the 1933 season. Herman's batting average had dipped to .288 by the Philadelphia series, respectable for most ballplayers but clearly not up to expectations for a player of Herman's capability. Nevertheless, the star-studded cast of future Hall of Famers Gabby Hartnett, Billy Herman, and Kiki Cuyler led by player-manager Charlie Grimm had just completed an eight-game winning streak during an extended homestand and was locked in a tight pennant race with the New York Giants and the Pittsburgh Pirates by late July.
Coming into Wrigley Field for a four-game series against the Cubs was a Philadelphia club deeply burdened by too many losses and few bright lights. During the interwar years and beyond, the Phillies resided in the NL cellar 16 times and emerged from the second division only once, in 1932, when they finished in fourth place. But by late July of the 1933 season, the Phillies were two games shy of last place, thanks to an even weaker Cincinnati Reds squad. Hopes for a momentary rebound ran high in the Phillies clubhouse, however, as they had won two of three the last time both teams met at Wrigley Field, in late May.
The July 20 contest between the Cubs and the Phillies was a ladies day affair, attracting a crowd of 27,000 under sunny skies and a slight breeze blowing out toward right field. On the mound for the Cubs was right-hander Bud Tinning, who had just enjoyed a seven-game winning streak in June and early July. Tinning seemed to pitch his best against the Phillies, beating them three times in 1932 and nine times overall in his brief major-league career.3 Facing the Cubs was the workhorse of the Philadelphia staff, Ed Holley, who entered the game with an 8-6 record.
The only major change in the Cubs' lineup for this game was noteworthy. Grimm inserted Babe Herman in right field for Riggs Stephenson, who was suffering from a cold. During the previous series against the Boston Braves, Herman had been benched because of his hitting woes.4
Grimm's decision proved to be the right tonic for the Cubs right fielder as Herman began to climb out of his rut with a single to right in his first at-bat. That hit and Phillies' singles by right fielder Chuck Klein and left fielder Wes Schulmerich, were the only offense generated through the first 2½ innings.
The Cubs began their hitting barrage in their half of the third when third baseman Mark Koenig scored on a single to center by second baseman Billy Herman. Left fielder Kiki Cuyler got to first on a force play on Herman at second. Babe Herman advanced to the plate and proceeded to deposit the ball into the center-field bleachers for a two-run homer, his eighth round-tripper of the season.
The Phils continued to scatter hits off Tinning in the fourth and fifth innings, but failed to manufacture any runs. In the Cubs' fifth, Babe did it again. With one out, Cuyler slammed a triple off the wall in right field. As in the third, Herman took advantage of a Holley mistake and sent a towering shot into the right-field bleachers to put the home team ahead 5-0.
As the crowd buzzed over the renewed hitting exploits of their Babe, the Phillies' bats woke up and ended Tinning's hope for a shutout in the sixth. With one out, shortstop Dick Bartell beat out a well-placed bunt. Klein singled to right, advancing Bartell to second. After first baseman Don Hurst flied out to Frank Demaree in center, Schulmerich singled to center, scoring Bartell for the only Phillies run of the game.
Right-hander Clarence Pickrel relieved Holley in the bottom of the sixth and retired the Cubs in order. In the seventh, right-handed reliever Ad Liska came in for Pickrel and was treated rather rudely by the explosive Cubs' bats. With one out, Billy Herman hit a line drive over second baseman Jack Warner's head into right field. Cuyler doubled to left, moving Herman to third. Babe Herman came to the plate for the fourth time and grounded out to Warner, his only hitless appearance that afternoon. Demaree walked to load the bases. With the crowd sensing a huge rally, Hartnett spoiled the party by hitting a high foul fly near the Phillies' bullpen and first baseman Don Hurst made a nifty catch to end the inning.
After Tinning worked out of a bases-loaded jam in the Phillies' eighth by getting catcher Spud Davis to ground into a double play, the Cubs took full advantage of Liska. With two outs, Tinning helped his cause with a single to left. Koenig also singled to left, and when Schulmerich bobbled the ball, Tinning advanced to third. Billy Herman drew a walk to fill the bases. Cuyler continued his excellent day at the plate by driving in Tinning with an infield single to deep short. The bases remained loaded when up to the plate strode the day's hero. Liska threw an underhanded slow pitch practically over Herman's head. Babe somehow managed to make solid contact and sent the ball into the right-field bleachers for a grand slam, his 10th home run of the year and his third round-tripper of the day.
After the Phillies' Warner singled and third baseman Jim McLeod walked to open the ninth, Tinning ended the contest by striking out pinch-hitter Harry McCurdy and getting center fielder Chick Fullis to ground into a double play. With the crowd cheering mightily for their Babe, the Cubs headed into the clubhouse with a 10-1 victory.
For Babe Herman, this was the best day of his career in terms of hitting home runs (3) and driving in runs (8) in a single game. While he did not set any club or league records, it was the biggest hitting display by a Cub since Rogers Hornsby hit three homers in a 10-6 victory over the Pittsburgh Pirates on April 24, 1931. A tip of the cap should also be made to Bud Tinning, who yielded only one tally and 11 Phillies hits, and Kiki Cuyler, who came within a home run of hitting for the cycle. As for the Cubs, the win moved them to within 2½ games of the league-leading Giants. They would go on to sweep the Phillies in this four-game series.
As Cubs fans headed for the exits, it was Chicago's very own Babe who was the undisputed king of the diamond on this day. A disgruntled baseball scribe for the Philadelphia Evening Ledger cried in his beer when he commented, "From the Philly viewpoint, the opener was not so much a baseball episode as a terrifying experience with a bench-crazy athlete gone berserk to the great distress of pitchers Ed Holley and Ad Liska, and, of course, the rest of the Phillies. …"5
This article appears in "Wrigley Field: The Friendly Confines at Clark and Addison" (SABR, 2019), edited by Gregory H. Wolf. To read more stories from this book online, click here.
Sources
In addition to the sources cited in the Notes, the author consulted the following:
"Macks Win in 10th as Cubs Crush Phillies," Philadelphia Inquirer, July 21, 1933: 15.
"Chicubs Trounce Phillies, 10-1," Philadelphia Public Ledger, July 21, 1933: 12.
https://www.baseball-reference.com/boxes/CHN/CHN193307200.shtml
http://www.retrosheet.org/boxesetc/1933/B07200CHN1933.htm
Notes
1 Wayne K. Otto, "Babe Herman Hits 3 Homers; Cubs Whip Phils, 10-1," Chicago Herald and Examiner, July 21, 1933: 20-21.
2 Greg Erion, "Babe Herman," SABR Baseball Biography Project, accessed online at https://sabr.org/bioproj/person/48d34e71 on April 22, 2017; Jim Gallagher, "Babe Herman's 3 Homers Drive Eight Cubs Over Plate," Chicago American, July 20, 1933: 1.
3 John W. Keys, "Babe Herman Hit Two Home Runs as Cubs Get Big Lead Over Phillies," Chicago Daily News, July 20, 1933: 19.
4 Edward Burns, "Babe Herman Hits 3 Homers; Cubs Win, 10-1," Chicago Tribune, July 21, 1933: 23; "Cubs Jolt Phils, 10-1," Philadelphia Record, July 21, 1933: 18; "Herman Off Bench Hits 3 Home Runs," Philadelphia Evening Bulletin, July 21, 1933: 16; "Herman Shakes Off Slump; His 3 Homers Defeat Phils," Philadelphia Evening Ledger, July 21, 1933, Sports Section: 1-2.
5 "Herman Shakes Off Slump."
Additional Stats
Chicago Cubs 10
Philadelphia Phillies 1
---
Wrigley Field
Chicago, IL
Box Score + PBP:
Corrections? Additions?
If you can help us improve this game story, contact us.
Tags
https://sabr.org/sites/default/files/HermanBabe-Goudey.jpg
600
800
admin
/wp-content/uploads/2020/02/sabr_logo.png
admin
2019-12-02 14:33:15
2020-04-17 10:22:24
July 20, 1933: Babe Herman's three homers overwhelm Phillies