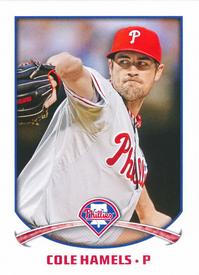 July 25, 2015: Phillies' Cole Hamels tosses no-hitter at Wrigley Field
---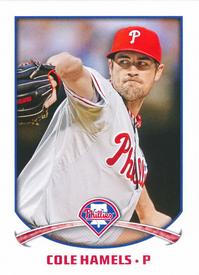 It was widely believed that Cole Hamels' start on Saturday, July 25, 2015, against the Chicago Cubs in Wrigley Field could be his last in a Philadelphia Phillies uniform. If so, it would end his memorable 9½-year run with the team, capped by his 2008 World Series MVP Award. The Phillies were limping along sporting the worst record in baseball and, with the trading deadline just days away, were shifting into full rebuilding mode. They were seeking top prospects to replenish their fallow farm system and the Cubs, Dodgers, Red Sox, and Rangers, among others, were known to be competing for Hamels.1
No one, however, in the capacity crowd of 41,683 that afternoon could reasonably have expected that their Cubbies would not record a hit that day. After all, it had been 49 full seasons since the Cubs had been no-hit at Wrigley Field, the longest span in major-league history.2 In addition, Hamels had pitched very poorly in his last two starts. After compiling a superb 2.48 earned-run average in 11 starts from May 8 to July 5, he had been rocked for 14 runs and 20 hits over 6⅓ innings in his two previous outings. That included a start on July 10 in San Francisco in which Hamels was knocked around for 12 hits and 9 earned runs in 3⅓ innings. It was the worst start of his career by a wide margin.
Hamels' mound foe on July 25 was Jake Arrieta, who, after a strong 2014, was in the midst of a breakout season. Arrieta allowed a two-out double by Maikel Franco in the top of the first before retiring Ryan Howard on a groundout. Hamels began the bottom of half of the inning by walking Dexter Fowler before retiring the next three batters on a fly ball, groundout, and strike out. In fact, he retired the next 17 batters in a row until he again walked Fowler, this time with two outs in the sixth. Eight of those outs were strikeouts and by then he had convinced veteran catcher Carlos Ruiz that something special was afoot.3 Meanwhile, the Phillies had jumped ahead 3-0 in the top of the third on a two-out double by Odubel Herrera, a walk to Franco, and a three-run homer to left-center field by Howard.
Hamels showed no signs of slowing down in the seventh, striking out Anthony Rizzo, Jorge Soler, and Chris Denorfia swinging to bring his strikeout total to 11. The Phillies tallied two unneeded insurance runs in the top of the eighth against reliever James Russell on a single by Cody Asche and a pop fly by Freddy Galvis that fell out of everyone's reach behind first base for a double. Galvis completed a trip around the bases on the play when Cubs first baseman Rizzo threw wildly to second.
With the tension mounting in the bottom of the eighth, Hamels retired Starlin Castro on a fly ball to right fielder Domonic Brown. David Ross then laid into a Hamels offering and sent a fly deep to center field that Herrera, aided by the wind blowing in, was able to corral just in front of the vines for the second out. Pinch-hitter Kyle Schwarber followed and topped a ball that traveled halfway to the mound, where Hamels fielded it and threw to Howard at first for the third out of the inning.
Cubs' right-hander Neil Ramirez retired the Phillies in the top of the ninth, surrendering only a one-out double to Howard. With the crowd hanging on every pitch, Hamels began the ninth by inducing Addison Russell to ground weakly to third. Third sacker Franco made a nice play on the ball, swooping in to nip Russell at first. Hamels then caught Fowler looking at a called third strike for the second out. That brought highly touted rookie Kris Bryant to the plate. Bryant had already smacked 13 home runs and was establishing himself as a force to be reckoned with. With little wasted motion, he lofted a hanging breaking ball to deep center field, sending Herrera scampering back to the warning track. He almost scampered too far back, as it turned out. With the wind blowing in, the ball seemed to die, forcing Herrera to lunge forward with his glove outstretched. He managed to snag the ball just short of the warning track and just above the ground while ending up on his stomach to secure Hamels' no-hitter. Everyone in the park, by now all rooting for Hamels, breathed a huge sigh of relief as his teammates mobbed him in the center of the diamond.4 
After the game, Hamels labeled his feat as "just a surreal moment," adding, "Nothing will top winning a World Series but this is probably on that top list. That's right under it." Of the final play by Herrera, Hamels said, "Thank goodness the wind was blowing in."5
The next day teammate Jeff Francoeur said, "The whole ninth inning everyone was so quiet in the dugout. Everyone wanted it – we might have wanted it worse than he did, to be honest with you. … [w]e all know what he's been going through a little bit. Everybody has to deal with trade rumors and I know he just hasn't been pitching like he's wanted to, and I know it's been frustrating for him. Cole's not the kind of guy that's going to show it, but I do know that it's been eating at him. To be able to come out and do that yesterday – there were a lot of smiles from Cole yesterday."6
In his masterpiece, Hamels struck out 13 and allowed two walks in 129 pitches, 83 of which were strikes. The no-hitter was just the 12th in the Phillies' long history, dating back to 1885.7 It was the first time the Cubs had been no-hit since Sandy Koufax's perfect game on September 9, 1965, in Dodger Stadium.8 
Arietta was the losing pitcher, dropping his record to 11-6. It was his last loss of the season; afterward he reeled off 11 consecutive wins to finish 22-6 and win the National League Cy Young Award by a wide margin. The up-and-coming Cubs won 97 games in 2015 to finish third in a tough division. They qualified for the wild-card game and defeated the Pittsburgh Pirates 4-0 behind a five-hit shutout by Arrieta. The Cubs went on to beat the division-winning St. Louis Cardinals three games to one in the Division Series before being swept by the New York Mets in four games in the League Championship Series.
Meanwhile, the Phillies plummeted to a 99-loss season, finishing last in the National League East Division for the second year in a row. Hamels' no-hitter was indeed his last start for the Phillies; six days later, on the trading deadline, the Phillies shipped him and Jake Diekman to the Texas Rangers in exchange for injured southpaw pitcher Matt Harrison and five highly regarded prospects.9 After the trade, Hamels won seven of eight decisions for the Rangers and helped propel them to the American League West Division title by a mere two games over the Houston Astros.10 
Interestingly, the Cubs and Phillies already had an odd no-hitter connection from a previous generation. On May 13, 1960, the Phillies had traded 24-year old pitcher Don Cardwell and first baseman Ed Bouchee to the Cubs in exchange for catcher Cal Neeman and second baseman Tony Taylor.  In his first start for the Cubs two days later, the journeyman Cardwell pitched a no-hitter for the Cubs in a 4-0 win over the St. Louis Cardinals.  So perhaps Hamels' no-hitter against the Cubs in his final start as a Phillie was in some way payback for Cardwell's gem 35 years before in his first start after leaving the Phillies.11  
This article appears in "Wrigley Field: The Friendly Confines at Clark and Addison" (SABR, 2019), edited by Gregory H. Wolf.

Sources
In addition to the sources cited in the Notes, the author also accessed Retrosheet.org, Baseball-Reference.com, and SABR.org.
https://www.baseball-reference.com/boxes/CHN/CHN201507250.shtml
https://www.retrosheet.org/boxesetc/2015/B07250CHN2015.htm
Notes 
1 Ryan Lawrence, "Will Cole Win Heart of Cubs?" Philadelphia Daily News, July 26, 2015: 45.
2 Jim Maloney of the Cincinnati Reds had last no-hit the Cubs at Wrigley on August 19, 1965, in a 10-inning game the Cubs lost 1-0 on a home run by Leo Cardenas off Larry Jackson.
3 Fred Mitchell, "Phillie Phantastic; Hamel's Sparkler Evokes Memories of Koufax in 1965," Chicago Tribune, July 26, 2015: C-3.
4 Mike Sielski, "A Philly Gem – Cole Hamels Pitches a No-Hitter in What Might Have Been the Final Game of His Stellar Phillies Career," Philadelphia Inquirer, July 26, 2015: 1; Jake Kaplan, "Herrera Saves Day with Key Grabs," Philadelphia Inquirer, July 26, 2015:D7..
5 John Kaplan, "A Parting Gift – Hamels Handcuffs Cubs with No-Hitter," Philadelphia Inquirer, July 26, 2015: D1.
6 Ryan Lawrence, "A Cole Day in July," Philadelphia Daily News, July 27, 2015: 62.
7 Hamels had participated in the 11th on September 1, 2014, in Atlanta when he pitched six hitless innings against the Braves. Three relievers, Jake Diekman, Ken Giles, and Jonathan Papelbon, followed with a hitless inning each to secure the no-hitter and a 7-0 Phillies win.
8 Mitchell, "Phillie Phantastic."
9 The prospects were outfielder Nick Williams, catcher Jorge Alfaro, and pitchers Jake Thompson, Alec Asher, and Jerad Eickhoff.
10  The Rangers then lost the Division Series to the Toronto Blue Jays three games to two. Hamels started Game Two and had a no-decision in a 14-inning Rangers win. He also started the decisive Game Five and was the losing pitcher thanks to three unearned runs.
11  The trade actually worked out well for the Phillies because Tony Taylor had a long career in Philadelphia and became one of the most popular Phillies' players in their history. 
Additional Stats
Philadelphia Phillies 5
Chicago Cubs 0
---
Wrigley Field
Chicago, IL
Box Score + PBP:
Corrections? Additions?
If you can help us improve this game story, contact us.
Tags
https://sabr.org/sites/default/files/HamelsCole-2015.jpg
600
800
admin
/wp-content/uploads/2020/02/sabr_logo.png
admin
2020-01-09 12:43:30
2020-07-25 00:24:38
July 25, 2015: Phillies' Cole Hamels tosses no-hitter at Wrigley Field