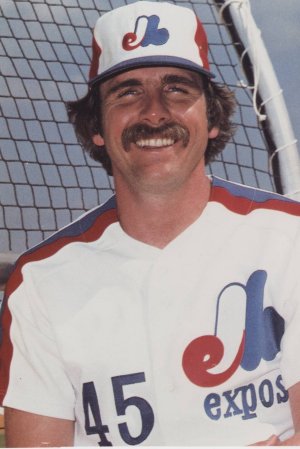 July 26, 1973: Steve Rogers tosses one-hit shutout to win first MLB game
---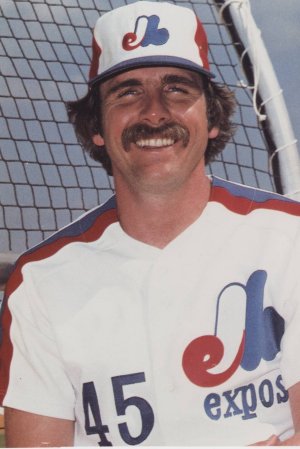 "He can pitch," said Montreal Expos skipper Gene Mauch about rookie right-hander Steve Rogers, who tossed a brilliant one-hit shutout over the Philadelphia Phillies to earn his first big-league win in his second start. "Rarely does a man with such experience have the confidence in his control of so many pitches."1 Described by Pat Jordan in Sports Illustrated as a "cowboy-lean, smooth-cheeked young man," the 23-year-old Rogers commanded a repertoire of pitches that included sinkers, fastball, sliders, curves, and changeups.2 The New York Mets' Tom Seaver, widely regarded as the best righty in the NL, considered Rogers' slider "one of the most devastating" in the major leagues.3
The Expos were reeling when they arrived to play a doubleheader at Veterans Stadium in Philadelphia on Thursday, July 26, 1973. They had lost eight of their last 10 games during a season-long 17-game road swing, to fall to 44-51 and fifth place in the National League East. Less than three weeks earlier, on July 7, the club had evened its record at 40-40, marking the latest date in the season that the Expos had possessed a .500 recordin their history. Philadelphia's first-year manager, Danny Ozark, had inherited a club that was coming off two consecutive last-place finishes in the NL East, including a miserable 59-97 record in 1972. The Phillies had not enjoyed a winning campaign since 1967, when Mauch guided them to what was then a franchise record sixth consecutive winning season.
Philadelphia sent ace Steve Carlton to the mound. The 28-year-old southpaw was the best hurler on the planet the previous season, leading the majors with 27 wins, 346⅓ innings, 310 strikeouts, and an NL-best 1.97 ERA for the NL's worst club; however he was struggling in 1973. His record stood at 9-10 and his ERA had more than doubled to 4.22 in 183⅓ innings. In desperate need of a starting pitcher, the Expos had called up Rogers on July 16. After beginning the 1973 season with the Quebec Carnavals of the Double-A Eastern League, Rogers was transferred to the Peninsula (Hampton, Virginia) Whips in the Triple-A International League, where he proved his big-league readiness by tossing four consecutive completegames. Rogers' "career with the Expos got off to a rocky start," wrote SABR member Norm King, when Canadian customs agents did not initially permit the pitcher into the country without his signed contract, forcing the rookie to spend an extra night in the US.4 The next day, contract in hand, he legally entered Canada to realize his dream. In his first big-league start, on July 18, Rogers yielded two runs on four-hit ball over eight innings in a no-decision against the Houston Astros in the Astrodome, which the Expos eventually won 3-2 in 10 innings.
A good crowd of 34,459 spectators turned out for the first game of the Expos-Phillies three-game series, and was treated to a classic scoreless pitchers' duel through six innings. Carlton yielded only three hits (one in each of the first three innings), and permitted as many as two baserunners in an innngonly once when he issued consecutive two-out walks in the fifth inning. Not to be outdone by his veteran counterpart, the Missouri native Rogers retired 13 of the first 14 batters he faced. His only blemish was a walk to Del Unser, whom catcher John Boccabella cut down at second in a steal attempt. The Phillies nicked Rogers for their only hit in the game in the fifth inning. Light-hitting third baseman Jose Pagan, in his 15th and final season, "topped a ball down the third base line," reported the AP. Third sacker Bob Bailey "tried to pick it up bare-handed but couldn't hold" and Pagan was safe without a throw.5
The pitchers' personalities stood in stark contrast to each other. Carlton, a nine-year veteran with 113 big-league wins, was enigmatic, had a reputation as a recluse who refused to speak with reporters, and seemed unemotional while pitching, tuning out distractions. Rogers was the exact opposite. "On the mound, he talks to himself," said Pat Jordan. "He curses an inadequate pitch, exhorting himself to a superior effort. If he is particularly displeased, he remains in his follow-through for a moment, his feet firmly planted, and then executes a tiny leap into the air."6 Rogers recognized that his emotions and intensity got him into trouble early in his professional baseball career and had worked hard to keep them in check. "I'm not exactly a stoic pitcher," he said. "I've always been an emotional person. In the minor leagues it used to destroy my concentration."7
The Expos scored the game's first run in the seventh inning. Boccabella singled and moved to second on shortstop Pepe Frias's sacrifice. Rogers recorded his first big-league hit on a hard-hit ball that drew first baseman Willie Montanez away from the bag. Rogers was safe when Carlton "failed to cover first on [the] infield grounder," reported the AP.8Boccabella had raced to third, and later scored on second baseman Ron Hunt's single to center. The Expos tacked on three more runs in a wild eighth inning that included two hits, three walks (two intentional), an error, a double-play, a sacrifice bunt, and two men left on base. Right fielder Ken Singleton smashed a double to center to drive in pinch-runner Mike Jorgensen for the first run of the rally; Frias's bases-loaded single to left plated Bailey and Singleton to give the Expos a 4-0 lead.
Carlton tossed a complete game, but was not at his best in the loss, yielding eight hits and seven walks. In the ninth inning he picked off Jorgensen at first; however, in the ensuing rundown he committed the Phillies' third and final error when he threw wildly, allowing Jorgensen to scamper to third. But the story of the game was Rogers, who closed out the game in impressive fashion.He set down 12 of the final 13 batters he faced, walking one, to pick up his first of 158 victories and 37 shutouts in a 13-year career. "I'm not disappointed," said Rogers of settling for a one-hitter. "[The hit] came too early in the game to be thinking of a no-hitter.9
"I've done everything I'm capable of doing in these last two games," added Rogers matter-of-factly.10
But Rogers had more in store for Montreal. Four days later he tossed his second consecutive shutout, a seven-hitter, against the New York Mets at Shea Stadium. Rogers has the "most super concentration I've ever seen," said Expos pitching coachCal McLish when asked to explain Rogers immediate success.11 In a magical debut season, Rogers dazzled baseball by going 10-5 with a sparkling 1.54 ERA in 134 innings, and finished second in NL Rookie of the Year voting behind Gary Matthews of the San Francisco Giants.
In the second game of the double header, Expos starter Steve Renko (6⅓ innings) and reliever Mike Marshall (2⅔ innings in relief) held the Phillies to six hits in a 5-1 victory.
This article appeared in "Au jeu/Play Ball: The 50 Greatest Games in the History of the Montreal Expos" (SABR, 2016), edited by Norm King. To read more articles from this book, click here.
Sources
In addition to the sources listed in the notes, the author consulted:
Baseball-Reference.com.
Retrosheet.org.
SABR.org.
http://www.baseball-reference.com/boxes/PHI/PHI197307261.shtml
http://www.retrosheet.org/boxesetc/1973/B07261PHI1973.htm
Notes
Additional Stats
Montreal Expos 4
Philadelphia Phillies 0
---
Veterans Stadium
Philadelphia, PA
Box Score + PBP:
Corrections? Additions?
If you can help us improve this game story, contact us.
Tags
http://sabr.org/sites/default/files/images/RogersSteve.jpg
600
800
admin
/wp-content/uploads/2020/02/sabr_logo.png
admin
2017-09-06 14:04:20
2020-04-17 10:25:45
July 26, 1973: Steve Rogers tosses one-hit shutout to win first MLB game