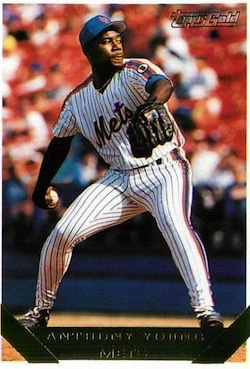 July 28, 1993: Anthony Young's 27-game losing streak ends with Mets' walk-off win
---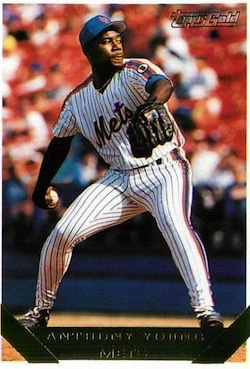 Futility is defined as a "lack of effectiveness or success." Baseball has had many examples in its history. For one, the Chicago Cubs, who went over 100 years without winning a World Series. The Boston Red Sox endured 86 years without a title. It can also be evidenced in individual performance. A prime example occurred between May 6, 1992, and July 24, 1993, when Anthony Young couldn't win. In fact, he lost 27 consecutive games — surpassing the previous major-league high of 23, set by Cliff Curtis in 1910-11.
Over a year without a victory on the mound certainly that fits the futility definition. But Young's effectiveness wasn't totally lacking; if he had been on a slightly more respectable team, he'd never find his name in the record books.
The team he was on arguably better fit the definition than Young.
During the losing streak, Young did record some saves between July 1 and September 22, 1992.1 But he just couldn't seem to get that elusive win. The streak included games started, as well as those in which he pitched in relief.2
On July 28, 1993, the Mets hosted the Florida Marlins in a night game at Shea Stadium. Sixteen of his 27 losses were suffered in front of a hometown Mets crowd. In 14 of the losses he was the starting pitcher; the other 13 came as he pitched in relief.3
The starters on the 28th were Bret Saberhagen for the Mets and Jack Armstrong for the Marlins. Saberhagen had twice previously won the Cy Young Award (1985 and 1989 with the Kansas City Royals) and had a record going into the game of six wins and seven losses. Armstrong had a record of 7-10 for the Marlins, who were in their first year of existence.
Saberhagen had an easy first inning, two fly outs to left field and a groundout to the shortstop, Tim Bogar. Armstrong had it a little tougher. He struck out leadoff hitter Ryan Thompson, then gave up a home run to Joe Orsulak. Future Hall of Famer Eddie Murray grounded out to third for the second out. Bobby Bonilla doubled to left field, and Jeromy Burnitz walked, but Jeff Kent grounded out, Armstrong to Orestes Destrade at first, which limited the damage to the solo home run by Orsulak.
Saberhagen had his second straight 1-2-3 inning in the top of the second with a groundout by Gary Sheffield, Destrade's strikeout, and a groundout by Marlins catcher Benito Santiago. Armstrong also had a 1-2-3 inning, getting a pop fly and then two straight groundouts.
In the top of the third inning, Saberhagen got two straight fly outs before allowing a single to center field by Armstrong. He bore down and got Marlins center fielder Chuck Carr to hit a force-play grounder.
The Marlins did not score a run in the fourth inning after getting two straight one-out singles, by Jeff Conine and Gary Sheffield. Both runners were left stranded as Saberhagen got a fly out and then a strikeout. New York scored a run in its half of the fourth as Burnitz led off with a single, stole second with two outs, went to third on a wild pitch, and scored on a single by Tim Bogar to make the score 2-0, Mets.
Florida tied the game in the sixth inning when Carr singled to left field and Bret Barberie hit a two-run homer to tie the score at 2-2. Saberhagen got out of the inning without any further damage as Conine grounded out and both Sheffield and Destrade flied out to left field.
The Mets went ahead in the seventh inning, 3-2, on a two-out solo home run by Thompson, but the Marlins restored the tie in the top of the eighth inning when Barberie hit a one-out single to right field, went to third on Sheffield's single to left, and scored on Destrade's double to center field. (Sheffield tried to score but was thrown out at home, right fielder Darrell Whitmore to shortstop Walt Weiss to catcher Santiago.)
New York did not score in the bottom of the eighth, stranding Kent at first base with a single. Anthony Young, with an 0-13 record in 1993 and 27 straight losses dating back to May 6, 1992, replaced Saberhagen and Santiago greeted him with a single to right field. Catcher Todd Hundley's error on a bunt by Darrell Whitmore put runners on first and second. Walt Weiss reached on a fielder's choice and the bases were loaded with nobody out. It looked as though Young's losing streak might run to 28. But he got Edgar Renteria to ground into a double play, third base to catcher to first base. But Carr was safe at first on a bunt single, and Whitmore scored the go-ahead run. Young struck out Barberie and the Mets came up in the bottom of the ninth inning trailing, 4-3.
The Marlins' Bryan Harvey came in seeking a save, but pinch-hitter Jeff McKnight singled to right field on his first pitch and was sacrificed to second by Dave Gallagher. Ryan Thompson's pop fly fell safely beyond first base and McKnight scored the tying run. Thompson held first on Orsulak's fly ball to left field. But Murray lined a double to right field and Thompson legged it home with the winning run.4 Anthony Young's losing streak was ended at 27 games. The victory was his only one in 1993; he finished the season 1-16.
In Young's 27 straight losses, New York scored a total of 71 runs while giving up 139 runs, certainly not a recipe for success. Young would pitch in the major leagues until June 19, 1996, when he was a member of the Houston Astros. He ended his major-league career with a record of 15 wins and 48 losses and a fairly decent 3.89 ERA.
This article was published in "Met-rospectives: A Collection of the Greatest Games in New York Mets History" (SABR, 2018), edited by Brian Wright and Bill Nowlin. To read more articles from this book at the SABR Games Project, click here.

Sources
Besides the sources cited in the Notes, the author also consulted Baseball-Reference.com and Retrosheet.org.
https://www.baseball-reference.com/boxes/NYN/NYN199307280.shtml
http://www.retrosheet.org/boxesetc/1993/B07280NYN1993.htm
Notes
1 Anthony McCarron, "Where Are They Now? Former Met Anthony Young Emerges a Real Winner," New York Daily News, January 3, 2009
2 Rory Costello, "Anthony Young," SABR Biography Project, sabr.org, accessed December 25, 2016.
3 Ibid.
4 Jennifer Frey, "Besieged 465 Days, Young Finally Breaks Free," New York Times, July 29, 1993.
Additional Stats
New York Mets 5
Florida Marlins 4
---
Shea Stadium
New York, NY
Box Score + PBP:
Corrections? Additions?
If you can help us improve this game story, contact us.
Tags
https://sabr.org/sites/default/files/images/YoungAnthony.jpg
600
800
admin
/wp-content/uploads/2020/02/sabr_logo.png
admin
2019-10-16 16:13:03
2020-04-17 10:22:27
July 28, 1993: Anthony Young's 27-game losing streak ends with Mets' walk-off win