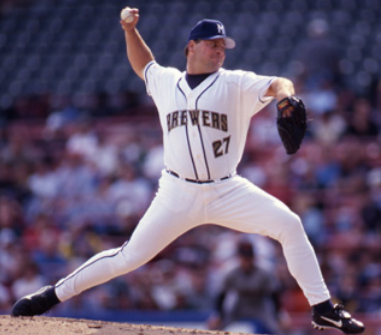 July 28, 1997: Brewers' Steve Woodard whiffs 12 in first big-league start
---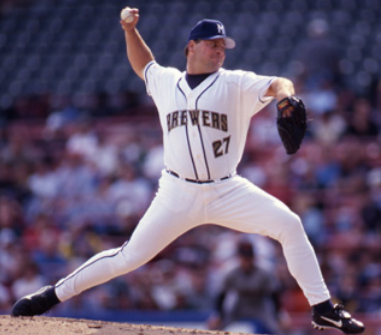 Steve Woodard proved to be just what the doctor ordered for the Milwaukee Brewers when other doctors were ordering Milwaukee pitchers to the disabled list in late July of 1997.
Woodard made a historic debut at Milwaukee County Stadium on July 28, outdueling his boyhood hero, Roger Clemens, in a 1-0 win over the Toronto Blue Jays. He struck out 12 and walked just one while twirling a one-hitter in the first game of a doubleheader sweep for the Brewers. The 12 strikeouts in a major-league debut equaled the American League mark established by Elmer Myers of the Philadelphia Athletics in 1915.
Woodard was pressed into service on the County Stadium mound as the Brewers continued to deal with repeated injuries to the pitching staff. Ben McDonald, considered the staff ace heading into the season, underwent shoulder surgery in Los Angeles while Woodard was making his big-league debut. McDonald was placed on the disabled list on July 17 and would never pitch again. A few days later, McDonald was joined on the DL by reliever Doug Jones, sidelined with back spasms.
Woodard, a 6-foot-4, 225-pound native of Hartselle, Alabama, was the Brewers' fifth pick in the 1994 draft. After winning 12 games at Class A Stockton in 1996, he put together an impressive first half of the 1997 season, winning 14 games at Double-A El Paso and one more in his lone start at Triple-A Tucson. He struck out 103 in 143 innings of work at the two minor-league levels before getting the call from the Brewers on Saturday, July 26, to start the first game of Monday's doubleheader in place of Jeff D'Amico.
D'Amico began the season as the Brewers' fifth starter behind McDonald, Cal Eldred, Scott Karl, and Jaime McAndrew. After being beaten by the Yankees June 8, D'Amico had a 2-3 record with a 5.08 earned-run average. But he became one of the Brewers' more reliable pitchers by going 6-1 over his next seven outings, posting an ERA of 3.45 during that span.
That run of solid outings ended after his July 18 start, a 6-4 win over the New York Yankees at County Stadium after which D'Amico experienced pain deep in his throwing shoulder. After skipping two starts, D'Amico was placed on the disabled list and was replaced in the rotation by Woodard.
Despite coming off a weekend three-game sweep of the Tigers at Detroit, manager Phil Garner and the Brewers weren't looking forward to the challenging week that began with two doubleheaders against Toronto. That consternation was compounded by what appeared to be a classic mismatch in the series opener that pitted the rookie Woodard against Roger Clemens.
With a 4 P.M. start time on a Monday, few in the announced crowd of 18,304 were on hand to witness Woodard slip out of the only trouble he faced in the game. Latecomers missed seeing Otis Nixon lead off the game with a double – the only hit Woodard would allow. With one out, the speedy Nixon stole third but Woodard left him there when he struck out Joe Carter and Carlos Delgado to end the Jays' lone threat.
The crowd grew with each scoreless inning tossed by Woodard and as fans settled into their seats the burly 22-year-old settled in on the mound, losing any big-league jitters he may have been feeling when he first toed the rubber.
Clemens came into the game with a 16-3 record and an ERA of 1.54, and had won his last four decisions. Clemens struck out 10 Brewers but Milwaukee cashed in its only scoring opportunity by plating a run in the fourth inning.
Jeff Cirillo got his first hit off Clemens in 12 lifetime at-bats when he doubled to lead off the inning. After Dave Nilsson struck out, Jeromy Burnitz singled to center to score Cirillo with the game's only run. Burnitz was picked off first before Matt Mieske flared a single to right for what would be Milwaukee's final hit of the game.
Three of the four Brewers hits allowed by Clemens came in the fourth inning.
"We were efficient," Garner told the Milwaukee Journal Sentinel. "We made them count."
Woodard took full advantage of the lone tally. He retired the last 17 batters he faced after issuing his lone walk of the game to Alex Gonzalez with one out in the third inning. Just two of the 24 outs recorded by Woodard were fly balls to the outfield.
The crowd, which had grown larger with the second game of the doubleheader still looming, booed Garner when he removed Woodard in the eighth inning. But Mike Fetters made Garner's decision stand up by retiring the Jays in order to record his third save since replacing Jones in the closer's role.
"There was no question," Garner said of his decision to pull Woodard. "He was at 120 pitches. We don't let them go too much more than 120. There will be no second-guessing. There was no question about it."
With four games scheduled in 31 hours against the Blue Jays to begin the week, Woodard's sparkling debut couldn't have come at a better time for the Brewers. It seemingly injected some badly needed positive energy into Garner's injury-ravaged club. "I was some kind of thrilled," the sixth-year manager told the Journal-Sentinel.1 "He threw strikes. He changed speeds. He had excellent control. It was as if he had the game plan written on his arm."
Showing the pinpoint control and poise of a veteran, Woodard kept the Blue Jays hitters off-balance by mixing curveballs and changeups with his average-speed fastball. "He was way above expectations," Garner said. "I expected him to pitch good. My reports on him were that he threw strikes and spotted his fastball well.
"Did I expect 12 strikeouts and a shutout? I don't guess that I suspected that."
Woodard was especially tough on the heart of the Blue Jays batting order. Toronto's two, three and four hitters – Orlando Merced, Carter and Delgado – each struck out twice. Ed Sprague, hitting fifth, fanned all three times he went to the plate and Woodard struck out the Blue Jays' sixth hitter, Shawn Green, twice.
Woodard was excited to be able to carry his minor-league success onto the County Stadium mound. "I feel like I'm dreaming," he told the Journal Sentinel. "I'm waiting for someone to pinch me right now."
He added, "I was nervous coming in. After I got the first couple of batters in the first inning, I was out of that."
The 12-strikeout performance was the most in a major-league debut by any pitcher since 1975. The total also equaled the third highest in Brewers history. Moose Haas set the franchise record with 14 strikeouts in 1978 against the Yankees and Teddy Higuera struck out 13 on three separate occasions during the 1986 and 1987 seasons.
Houston's J.R. Richard tied Karl Spooner's National League record for most strikeouts in a debut with 15 in 1971. Woodard's feat tied the American League standard set 82 seasons earlier by the little-known Myers, who struck out a dozen batters for the Athletics on the final day of the season as a 21-year-old in 1915.
The Brewers cruised to a 9-3 win in the second game of the doubleheader, pounding out 19 hits and turning the team's first triple play since 1979.
The sweep gave Milwaukee a five-game winning streak and the Brewers found themselves with a 50-52 record, just five games behind Central Division-leading Cleveland.
For a team fighting to get above the .500 mark with an injury-plagued pitching staff, Woodard's historic performance against Roger Clemens and the Blue Jays was just what the doctor ordered.
This article appears in "From the Braves to the Brewers: Great Games and Exciting History at Milwaukee's County Stadium" (SABR, 2016), edited by Gregory H. Wolf. To read more stories from this book at the SABR Games Project, click here.
Sources
Tom Haudricourt, "D'Amico lands on disabled list," Milwaukee Journal-Sentinel, July 29, 1997.
Notes
1 Drew Olson, "Woodard wows 'em," Milwaukee Journal-Sentinel, July 29, 1997. All quotations in this summary are from Olson.
Additional Stats
Milwaukee Brewers 1
Toronto Blue Jays 0
---
County Stadium
Milwaukee, WI
Box Score + PBP:
Corrections? Additions?
If you can help us improve this game story, contact us.
Tags
https://sabr.org/sites/default/files/WoodardSteve.png
600
800
admin
/wp-content/uploads/2020/02/sabr_logo.png
admin
2018-04-19 14:18:51
2020-04-17 10:24:48
July 28, 1997: Brewers' Steve Woodard whiffs 12 in first big-league start