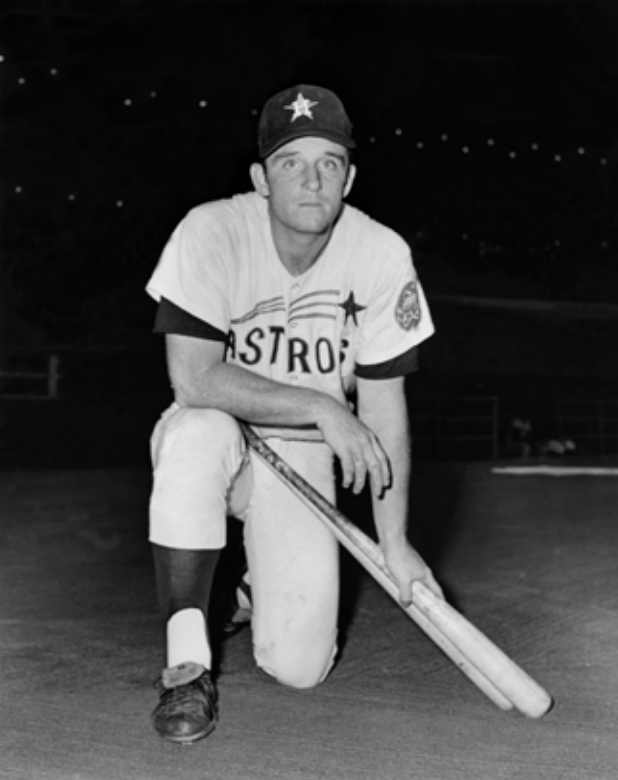 July 30, 1972: Astros, Padres split doubleheader in two extra-inning games
---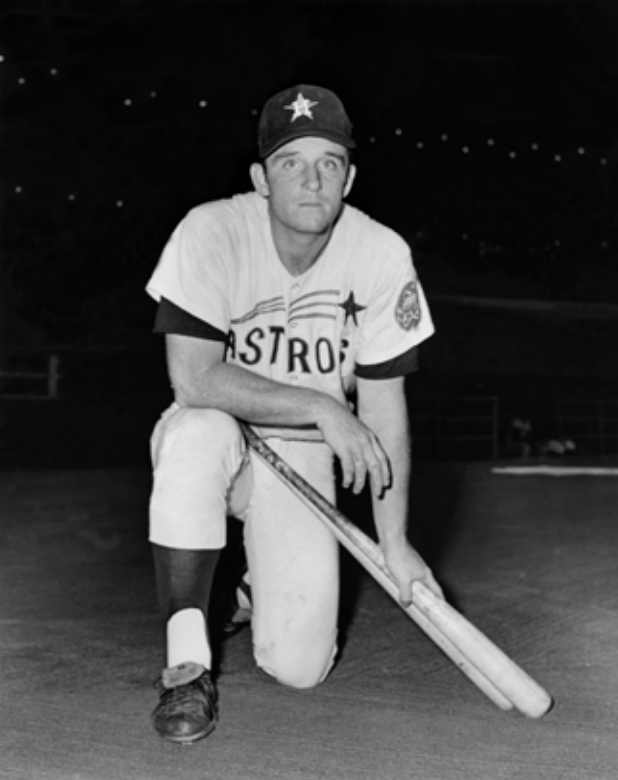 "Things just kept happening, unexpected things, rare things, exciting things, dramatic things," wrote John Wilson of the Houston Chronicle after the Astros doubleheader split with the visiting San Diego Padres that involved everything from dramatic home runs, controversial plays at home plate, and game-interrupting disputes to stellar defensive plays and even occasionally good pitching.1 "It was a long day of baseball at the Astrodome," he continued about the twin bill which began at 1:33 P.M. and ended at 9:06, "but it was never dull."2
The Astros were reeling when they took batting practice on July 30, 1972, to kick off a three-game set with the Padres as part of a season-longest 14-game homestand. Skipper Harry Walker's group had unexpectedly challenged the mighty Cincinnati Reds for first place earlier in the season and had even held the top spot in the NL West as late as June 24. But lately they had been in a freefall, having lost nine of their last 13 games to fall to 52-43, six games behind the Big Red Machine. The Padres were in familiar territory, last in the NL West (35-57), 21½ games off the pace. "[C]ollectively or individually," opined the Associated Press, "[they] make up a lousy baseball team.3 Manager Preston Gomez was fired 11 games into the season, giving Don Zimmer, the team's third-base coach, his first opportunity to pilot a big-league club. The Padres, who finished last in runs scored and 11th of 12 teams in ERA in 1972, probably left the fiery manager wishing he was still playing for the Brooklyn Dodgers of the 1950s.
Some of the 27,388 spectators who piled into the Astrodome on the last Sunday in July probably came to see the season debut of Houston's hard-throwing 22-year-old right-hander J.R. Richard, to whom Houston newspapers still referred by his given name, James Rodney. The towering, 6-foot-8 hurler had caught the attention of the baseball world the previous September when he struck out a big-league record 15 in his major-league debut. He had thus far spent the '72 season with Oklahoma City in the Triple-A American Association, where he fanned 169 but also walked 79 in 128 innings.
In the first inning Richard displayed his heater but also his wildness, his one glaring bugaboo. He walked leadoff hitter Derrel Thomas, who stole second and subsequently scored on Curt Blefary's two-out double. Richard also fanned two. The Padres, apparently feeling no effects of their 17-inning, 4-3 victory over the Reds the previous day, tacked on another run in the second when Fred Kendall singled and later scored on Thomas's two-out single.
After the Astros picked up a run in the second when Bob Watson doubled and scored on Doug Rader's groundout, Richard imploded. Larry Stahl singled, Blefary walked, both advanced on a wild pitch, and both scored on Cito Gaston's double, which made the score 4-1 and sent the big Louisianan to the showers.
Rader, celebrating his 28th birthday, belted a two-run homer in the fourth off the Padres' starter, 29-year-old southpaw Fred Norman, to make it a game, 4-3. A foot shorter than Richard, Norman had a career 10-24 record, including 5-7 thus far in '72. He was yanked the following inning after walking pitcher George Culver, who later scored on a wild pitch to tie the game and end Norman's afternoon. The ever dangerous Jim Wynn then doubled off reliever Ed Acosta, driving in Cesar Cedeño, who had singled, to give the Astros a 5-4 lead. Wynn tallied the Astros' sixth run after he stole third and scored on Watson's sacrifice fly to center.
The Astros' 6-4 lead evaporated in the eighth when Dave Roberts belted a one-out, three-run clout to left field off reliever Jim Ray to drive in Garry Jestadt, who had reached on a bunt single to third, and Thomas, whose hot grounder shortstop Roger Metzger fumbled. "I've got to make better pitches than that in that situation," fumed Ray about his faulty slider to Roberts.4
The game took a bizarre turn in the bottom of the frame. The Astros loaded the bases with no outs as Rader and Tommy Helms walked and Larry Howard greeted the Padres' sixth pitcher of the day, Mike Caldwell, with a "punch single" after faking a bunt.5 Pinch-hitter Jesus Alou followed with a chopper back to Caldwell, who immediately threw to catcher Fred Kendall.6 The stout, 6-foot-2, 210-pound Rader barreled over Kendall, who held on to the ball, as Alou raced to first. A "king-size rhubarb" ensued, wrote Jim Wilson, when home-plate umpire Stan Landes belatedly called interference on Rader, who had already walked back to the Astros dugout.7 Landes called Alou out and ordered him off first base, setting off an argument that interrupted the game for at least 10 minutes. "It was the worst call I've ever seen," said Astros catcher Johnny Edwards, who, like the rest of his teammates, argued that Rader had no alternative other than run into Kendall, who had been standing on home plate.8 Furthermore, the Astros complained that interference was rarely called on a double play. "I told Landes he was the worst umpire in the league," said Rader, who was tossed in the brouhaha. "When a man has the ball, he's fair game."9 With tempers boiling over, Landes kept his cool, even after Helms flung his batting helmet (which normally results in an automatic ejection), missing Landes by just a foot. Second-base umpire Bruce Froemming had little sympathy: "If they want charity they should have their family umpire [at the game]."10 When play finally resumed, Metzger grounded out to end the frame.
The "fireworks really came" in the top of the ninth, reported the AP's John Black, when Rader took the field, apparently not knowing he had been ejected.11 When Landes told him to leave the field, Rader charged him and had to be restrained by several teammates. But in the bottom of the ninth, Houston tallied the game-tying run after consecutive one-out singles by Wynn, Lee May, and Watson. The inning ended on Watson's baserunning blunder when he was doubled off first on Bobby Fenwick's fly to left field.
Caldwell mowed down the first 12 batters he faced in extra innings despite losing his batterymate, Kendall, in the 12th with an injured finger. His replacement, Dave Roberts, just two months removed from college, had not caught since high school. An inning earlier Caldwell had benefited from left fielder Larry Stahl's athletic catch of Cedeño's fly to deep left-center. According to Jim Wilson, Stahl raced to the warning track and made a "leaping going away catch just short of the wall."12
The Padres' Fred Stanley led off the 14th with a single off Jim York, the Astros' fourth reliever of the game, and moved to second on Jestadt's sacrifice bunt. After York walked slugger Nate Colbert intentionally, Thomas singled to right. Stanley raced home on contact and flattened catcher Larry Howard, jarring the ball from his glove. As Howard lay dazed on the ground, Stanley was called safe. "I didn't know where I was," said Howard, who was replaced by Johnny Edwards. "They stuck some smelling salt under me and I jerked my head around. I didn't know what was happening."13 Roberts followed with a single, his third hit of the game, off Tom Griffin, the Astros' sixth and final hurler of the game, driving in Colbert and Thomas and giving the Padres a 10-7 lead. It would be the only five-RBI game of Roberts's 10-year career.
By this time Helms was fuming and had had enough. He was ejected by Froemming for continuing to argue Landes's eighth-inning interference call. Griffith fanned Stahl and Caldwell to end the frame.
In the bottom of the 14th Wynn gave the Astros faithful a glimmer of hope by lining a two-out single and moving to second on Caldwell's wild pitch, but Caldwell induced May to ground weakly to short to end the game in 4 hours and 30 minutes.
Caldwell held the Astros to five hits and a run over seven innings of relief to even his record at 4-4. The 22-year-old rookie southpaw's performance was in stark contrast to his start just the previous day against the Reds when he lasted just three innings, yielding three hits and two runs. Jim York was collared with the loss. It was "one of those once-in-a-season affairs," opined Jim Wilson.14 It was a frustrating loss for the Astros in all aspects. The NL's highest-scoring team in 1972, Houston collected 11 hits and drew six walks, yet left nine men on base. The Astros committed baserunning blunders and two errors, and their pitching staff struggled against a team that batted a collective .227 for the season. Doing their best impression of Zimmer's Brooklyn Dodgers, the Padres belted out 15 hits and drew a season-high 10 walks, but also left 15 men on base.
The Second Game
The Astrodome crowd saw "every type of baseball before the second game ever started," opined John Black.15 After an intermission of about 25 minutes, the teams took the field around 6:30. The game featured two hurlers who were involved in what was widely considered a blockbuster trade the previous December when Houston shipped a highly touted prospect, right-hander Bill Greif; infielder Derrel Thomas, who had scored three times in the first game of the doubleheader; and southpaw reliever Mark Schaeffer to San Diego in exchange for pitcher Dave Roberts.
Roberts, a 27-year-old lefty in his fourth season, was considered a rising star. In 1971 he had a breakout season, going 14-17 for a dismal Padres team, and posting a stellar 2.10 ERA that trailed only the New York Mets' Tom Seaver. Despite elevated expectations now that he was pitching half his games in the cavernous Astrodome, Roberts was not as consistent thus far in '72. Recently he had been bothered by shoulder problems and was making his first start since a dismal outing (six hits and four runs in 4⅔ innings) against the Chicago Cubs a week earlier. Though Roberts had won eight of 13 decisions for Houston to improve his career record to 30-39, his 4.29 ERA was well above the league average. Greif, a 6-foot-4, 200-pound Texan, had struggled since shutting out Atlanta in his first start of the season and entered the game with a 5-11 record and a 5.06 ERA.
Both teams threatened in the first three innings, yet unlike the first game, neither team produced a run. After Thomas drew a leadoff walk to start the game, Dave Roberts the pitcher emerged victorious when Dave Roberts the Padres third baseman hit a sharp grounder to third baseman Doug Rader, back after his first-game banishment, who initiated a 5-4-3 twin killing. Jerry Morales singled, stole second, and reached third on Johnny Edwards' errant throw to second. Cleanup hitter Nate Colbert, whose 23 homers trailed Cincinnati's Johnny Bench by one for the NL lead, flied out to end the inning.
Houston also had its chances. Hot-hitting Cesar Cedeño, who entered the doubleheader leading the majors with a .351 batting average, belted a one-out triple in the first. He broke on contact when Jim Wynn mashed a hard grounder to third, but was gunned down at the plate by third baseman Dave Roberts' strike to catcher Curt Blefary. In the third Blefary was left stranded at third following his leadoff single.
Colbert put the Padres on the board in the fourth with a towering solo shot. Acquired from the Astros in the 1968 expansion draft, Colbert was among the most feared sluggers in the league. He had belted 24, 38, and 27 homers in his first three full seasons, and had just been named to his second of three consecutive All-Star teams. After Cito Gaston walked, Johnny Jeter bounced into an inning-ending 6-4-3 double play.16
While this game thus far lacked the barrage of hits of the first contest, the pitching of Greif and Roberts provided an equally tense situation. Rader led off the Astros' fifth with a single and moved to third when Roberts threw Tommy Helms' sharp grounder to third out of the reach of first baseman Colbert. Houston's Roberts then helped his own cause by driving in Rader with the tying run on a sacrifice fly.
Colbert gave the Padres a 3-1 lead with one stroke of the bat when, with a man on and two outs in the sixth, he parked a Roberts offering in the seats for his second clout of the game, and the 11th in his last 94 at-bats. The two RBIs gave him 23 in his last 24 games. "Both [home runs were] well into the pavilion seats," wrote Jim Wilson of the Houston Chronicle.17
The Padres were en route to their fourth consecutive last-place finish in the NL West, and their woes affected the good-natured Greif, who had passed up multiple football scholarships to embark upon a professional baseball career in 1968. "I pretty much collapsed under the pressure of losing," he admitted candidly in an interview with the author.18 "I had never encountered that kind of losing. I ended up internalizing it and blaming myself." Greif had lost eight straight decisions in May and June as well as his spot in the rotation. "I felt responsible for all of the losing," Greif continued about his years in San Diego during which he went 5-16, 10-17, and 9-19 from 1972 to 1974. "I'd try to tighten up the game and do something extra, but at a certain point, it became counterproductive. I got to the point that I didn't expect anything good to happen." And July 30 against the Astros was one of those days where nothing good happened. After May hit a seeing-eye single to short with one down in the sixth, Watson singled to center. Center fielder Jeter misplayed the ball, allowing it to carom past him. By the time he retrieved it, May had scored and Watson was standing on second. Greif retired Edwards and Rader on grounders to end the inning.
The Padres maintained a 3-2 lead until the eighth, when Cedeño and Wynn opened the frame with walks that ended Greif's night. Reliever Gary Ross gave the club a big boost by inducing May to ground into a 6-4-3 double play. The inning seemed to be over when Watson hit a routine grounder to third baseman Dave Roberts, but he misplayed it, enabling the speedy Cedeño to scamper home and tie the game. The Padres' third error of the game closed the book on Greif, who finished with eight strikeouts and six hits allowed in seven innings and surrendered three unearned runs.
After Roberts retired six of the seven batters he faced in the ninth and 10th innings, Cedeño led off with a walk. One of the brightest young stars of the game, he had earlier that month been named to his first of four All-Star games in five seasons. He stole second and reached third when Blefary misplayed Wynn's sacrifice bunt for the fourth San Diego error of the game. After Ross intentionally walked May to load the bases, 33-year-old journeyman Jimmy Stewart did his impression of George Bailey in It's a Wonderful Life by lining a walk-off, game-winning single to right-center field off reliever Mark Schaeffer that knocked in Cedeño, and ended the game in 2 hours and 37 minutes. Ross (3-2) was charged with loss.
In his first extra-inning outing since tossing a seven-hit, 12-inning shutout against the New York Mets on August 11, 1971, Roberts picked up his team-high ninth victory while fanning seven and yielding nine hits. "We needed a win for our starters," he said after the game while applying a heat pack to his ailing shoulder, and added that the Astros bullpen needed some rest.19 A modest player, who was just as likely to compliment players on other teams as those on his own, Roberts marveled at big Nate Colbert's power. "It's too bad that he doesn't receive the press he would if he played in New York or in other bigger cities," he said of his former teammate.20
After 24 innings and more than seven hours of action-packed, tense baseball on Sunday, the Astros played another nail-biter the following day. They took the rubber match on Monday evening when Johnny Edwards drew a game-ending bases-loaded walk off Padres starter Steve Arlin to preserve Larry Dierker's eight-hit complete game victory, 3-2.
This article appears in "Dome Sweet Dome: History and Highlights from 35 Years of the Houston Astrodome" (SABR, 2017), edited by Gregory H. Wolf. To read more articles from this book at the SABR Games Project, click here.
Photo caption
Nicknamed the "Red Rooster" for his red hair as well as his feistiness, Doug Rader spent nine seasons at third base for the Houston Astros and won five consecutive Gold Gloves from 1970-1974. (Courtesy of Houston Astros Baseball Club).
Sources
In addition to the sources cited in the Notes, the author also accessed Retrosheet.org, Baseball-Reference.com, the SABR Minor Leagues Database, accessed online at Baseball-Reference.com, SABR.org, and The Sporting News archive via Paper of Record.
Game 1 box scores:
https://www.baseball-reference.com/boxes/HOU/HOU197207301.shtml
http://www.retrosheet.org/boxesetc/1972/B07301HOU1972.htm
Game 2 box scores:
https://www.baseball-reference.com/boxes/HOU/HOU197207302.shtml
http://www.retrosheet.org/boxesetc/1972/B07302HOU1972.htm
Notes
1 John Wilson, "Astros Split Marathon; Never a Dull Moment," Houston Chronicle, July 31, 1972: Section 2, 1.
2 Ibid.
3 John Black, Associated Press, "Padres, Astros Wind-Up Dome Series Tonight," Baytown (Texas) Sun, July 31, 1972: 4.
4 Wilson, "Astros Split Marathon; Never a Dull Moment."
5 Ibid.
6 John Wilson, "Happy Birthday to Doug," Houston Chronicle, July 31, 1972: Section 2, 2.
7 "Wilson, Astros Split Marathon; Never a Dull Moment."
8 Wilson, "Happy Birthday to Doug."
9 Ibid.
10 Ibid.
11 Black.
12 "Wilson, Astros Split Marathon; Never a Dull Moment."
13 Ibid.
14 Wilson, "Happy Birthday to Doug."
15 Black.
16 Johnny Jeter is not related to Derek Jeter. his son Shawn briefly made it to the majors with the White Sox in 1992.
17 "Wilson, Astros Split Marathon; Never a Dull Moment."
18 Author's interview with Bill Greif on October 17, 2011. All quotations from Greif are from this interview. See Gregory H. Wolf's bio of Bill Greif on the SABR BioProject, https://sabr.org/bioproj/person/1946fe08.
19 Wilson, "Happy Birthday to Doug."
20 "Wilson, Astros Split Marathon; Never a Dull Moment."
Additional Stats
Houston Astros 7
San Diego Padres 10
14 innings
Houston Astros 4
San Diego Padres 3
10 innings
---
Astrodome
Houston, TX
Box Score + PBP:
Game 1:
Game 2:
Corrections? Additions?
If you can help us improve this game story, contact us.
Tags
https://sabr.org/sites/default/files/Screen%20Shot%202018-09-13%20at%2012.39.25%20PM.png
600
800
admin
/wp-content/uploads/2020/02/sabr_logo.png
admin
2018-09-13 12:37:07
2020-04-17 10:24:40
July 30, 1972: Astros, Padres split doubleheader in two extra-inning games