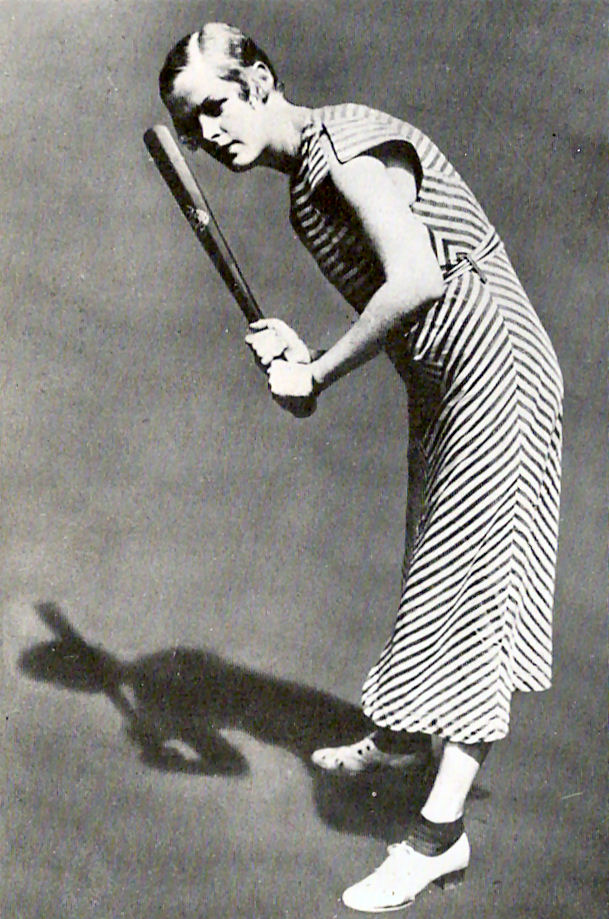 July 31, 1935: Kitty Burke comes to bat in Cincinnati
---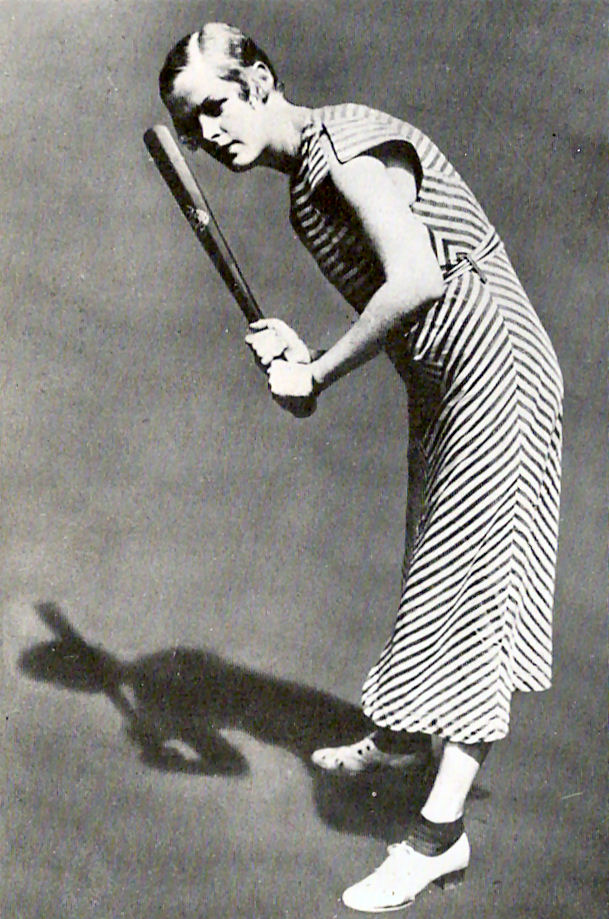 As most baseball fans know, the Cincinnati Reds hosted the first night major-league game on May 24, 1935. The attendance1 of 20,422 made the first night baseball game an immediate success in the declining-attendance era of the Great Depression. However, there was another notable night baseball game in Cincinnati that year, on July 31.
Night baseball is often credited as the brainchild of Reds general manager Larry MacPhail, but it was not a new idea. MacPhail had hosted a night games in the early 1930s as general manager of the Columbus International League team with much success. He convinced new Reds owner Powel Crosley Jr., a successful business owner and innovator, that night baseball was just the thing the sluggish Reds needed to bring people to the ballpark. The Reds scheduled seven home games under the lights for 1935, one against each of the other National League teams.2
As the season progressed, the Reds were in need of a boost in attendance. Other night games had been received with moderate success, but the Reds were fading fast in the National League standings. On Tuesday, July 30, they opened a three-game series against the defending World Series champion St. Louis Cardinals; only 1,331 were on hand that afternoon to see the Reds walk off a 6-5 victory.3 Despite the win, the last day of July found the Reds 41-53 for the season, 20 games out of first place.
That evening the Reds were set to host the Cardinals in the sixth of their seven scheduled night games. The novelty of night games seemed to have caught on. The Reds, through radio broadcasting of their games, were appealing to regional audiences. Special trains were scheduled from nearby cities in Ohio, Kentucky, and Indiana. These regional fans were promised special rates and plenty of available tickets to the game. However, when a train from Dayton was late in arriving at nearby Cincinnati Union Terminal, the riders' reserved seats were claimed by the overflow and standing-room crowd already inside the gates.4
Maybe it was the heat. The Ohio River Valley and much of the Midwest were in a severe heat wave; Cincinnati recorded a 97-degree high temperature that day and 100-degree highs were forecast for the remainder of the week.5 Did the extreme heat make people act differently, or just plain irrational? Were fans looking for some relief from the stifling heat and humidity? Maybe a night baseball game and a few beers would offer some comfort.
Whatever the reason, the crowds surged that night at Crosley Field, officially reaching 30,0016 but by some estimates as high as 35,000 in a ballpark that had a capacity of 25,000.7 The Reds were unprepared and understaffed for such a massive crowd packed into their classic ballpark. The team admitted to not having enough ushers, gatekeepers, and ticker sellers on hand, anticipating a maximum crowd of 20,000.8
By the time Reds pitcher Tony Freitas delivered the first pitch at 8:58 P.M., almost 30 minutes late to allow the massive crowd to be managed into place, things were already beginning to unravel. Then 2,500 fans on a special train from Dayton arrived late and found their reserved seats taken.9 Fights soon broke out in grandstand, Cincinnati vs. Dayton over the rightful ownership of the seats. A team of ushers and Cincinnati police were called to restore order. A compromise was struck allowing the overflow crowd to sit on the field in foul territory. They didn't stay there; soon the overflow fans occupied deep right field three to four deep along the outfield wall and then in foul territory between the dugouts and the field, wrapping all the way around from right field to the left-field line, some eight to nine rows deep. Players had to walk through the crowd to get to the batter's box.10
Reds manager Chuck Dressen could follow the game only by looking at the scoreboard. He told the Cincinnati Enquirer, "I could see the Cardinals got a run, but I don't know how they got it."11
One of the people who spilled onto the field and wound up to the right side of home plate was a diminutive, attractive, and vocal blonde, Kitty Burke, a local nightclub entertainer and baseball fan. Burke had some rather sharp heckling skills and carried on running heckling conversation with Cardinals left fielder Joe Medwick and pitcher Paul Dean, letting them both know what she thought of them, and telling Medwick she could hit better than he could.12
In the bottom of the eighth, time was called when two St. Louis outfielders collided. While they were attended to, Burke saw her chance. She ducked under the rope trying to hold the crowd back, grabbed the bat from Reds' on-deck hitter, Babe Herman, and stepped into the batter's box, daring Dean to pitch to her. Paul Dean smiled and went along with the joke, lobbing an underhand pitch to her. Burke swung and hit a grounder back to Dean. She ran part way to first, but stopped when she realized Dean would beat her to first.13 The umpires apparently didn't object. Kitty Burke would go on to promote herself as the first woman to have an at-bat in a major-league game, and even used a Reds uniform in her nightclub shows.14
The Reds scored two runs in the eighth on a two-run ground-rule double by Lew Riggs into the overflow crowd15 and ended up winning 4-3 in 10 innings, with a walk-off single by Billy Sullivan scoring Ival Goodman.
More memorable though was the crowd at Crosley that night. In a brief commentary on its front page, the Cincinnati Enquirer noted the dangerous situation of fans on the field, and insisted that the Reds must prepare and handle the night-baseball crowds better.16 Baseball Commissioner Kenesaw Mountain Landis was in attendance as the guest of owner Powel Crosley. Landis and Crosley did nothing to stop the game nor did they seem worried about fan safety, leaving the ballpark without comment.17
Reds outfielder Babe Herman seemed to sum up the night better than anyone when he said, "It was the first time a woman ever pinch-hit for me."18
Sources
In addition to the sources cited in the Notes, the author also consulted:
Cieradkowski, Gary, The League of Outsider Baseball, an Illustrated History of Baseball's Forgotten Heroes (New York: Simon and Schuster, 2015).
baseball-reference.com/boxes/CIN/CIN193507310.shtml
retrosheet.org/boxesetc/1935/B07310CIN1935.htm
Notes
1 Baseball Reference.com, 1935 Cincinnati Reds Schedule and Results
2 Greg Rhodes and John Erardi, Cincinnati's Crosley Field: An Illustrated History of a Classic Ballpark (Covington, Kentucky: Clerisy Press, 2009), 78. However, although they played seven night games, they played two against St. Louis and none against the New York Giants.
3 Baseball Reference.com, 1935 Cincinnati Reds Schedule and Results
4 Rhodes and Erardi, 82.
5 "Once Is Enough," Cincinnati Enquirer, August 1, 1935: 1.
6 Baseball Reference.com, 1935 Cincinnati Reds schedule and results.
7 Rhodes and Erardi, 82-83.
8 Ibid.
9 Ibid.
10 "Once Is Enough."
11 Rhodes and Erardi, 82-83.
12 Lonnie Wheeler and John Baskin, The Cincinnati Game (Wilmington, Ohio, Orange Frazer Press, 1988), 75.
13 "Girl Tells How She Hit One of Dean's Pitches," Star-Tribune (Minneapolis), August 3, 1935, 14.
14 Rhodes and Erardi, 82-83.
15 The Reds hit five ground-rule doubles, the Cardinals two. Each team scored two runs with the aid of those hits.
16 "Once Is Enough."
17 Rhodes and Erardi, 82-83.
18 Wheeler and Baskin.
Additional Stats
Cincinnati Reds 4
St. Louis Cardinals 3
10 innings
---
Crosley Field
Cincinnati, OH
Box Score + PBP:
Corrections? Additions?
If you can help us improve this game story, contact us.
Tags
https://sabr.org/sites/default/files/BurkeKitty.jpg
600
800
admin
/wp-content/uploads/2020/02/sabr_logo.png
admin
2019-08-12 16:00:05
2020-04-17 10:22:35
July 31, 1935: Kitty Burke comes to bat in Cincinnati