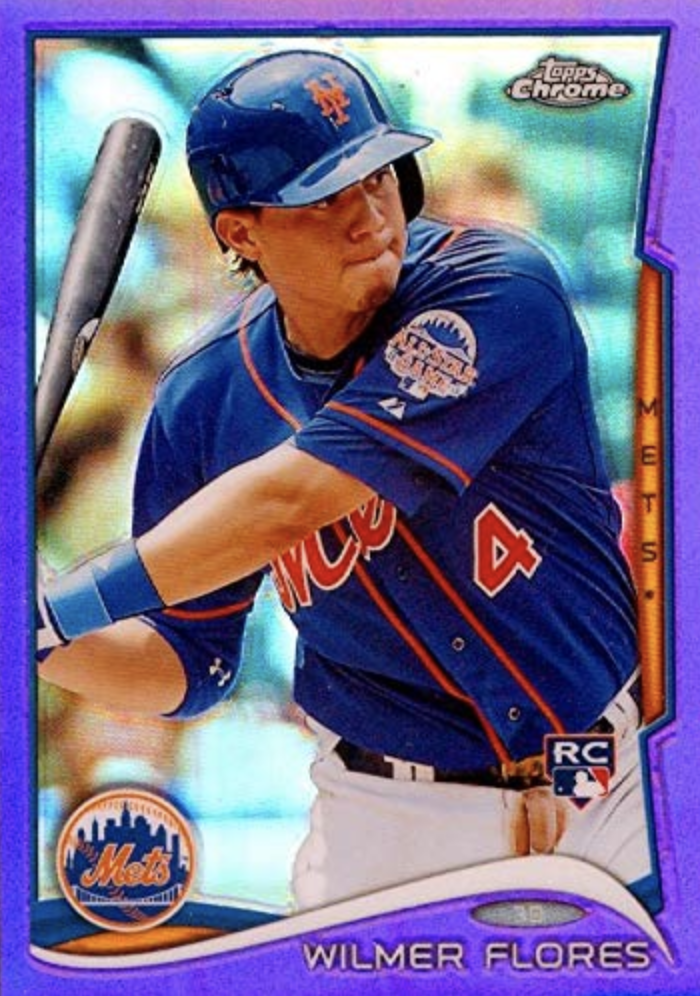 July 31, 2015: For Mets' Wilmer Flores, there's (life after) crying in baseball — and a walk-off homer
---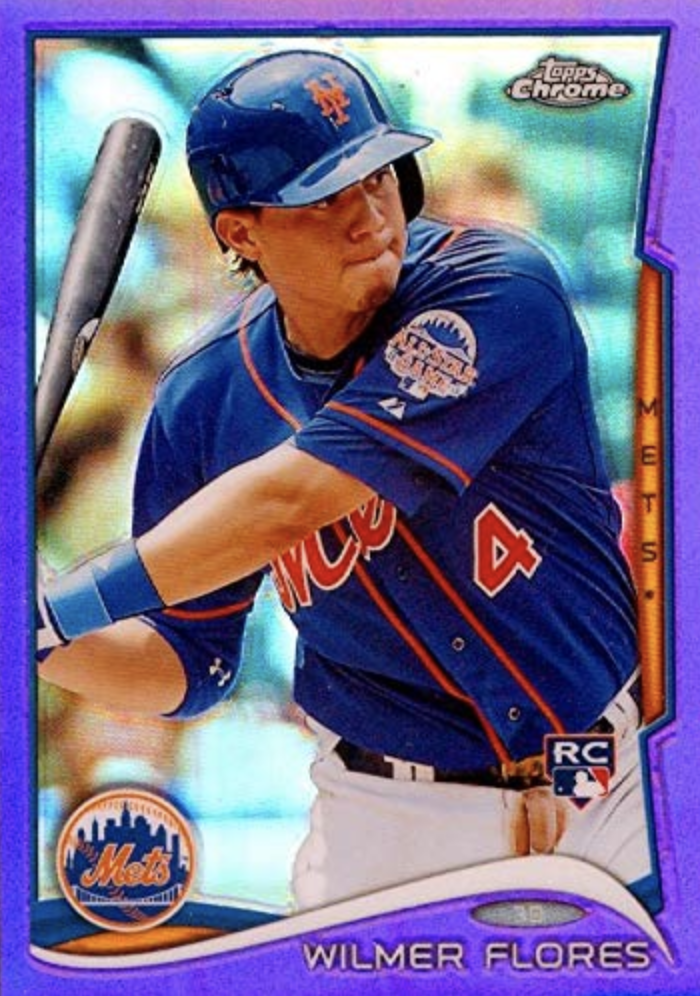 Shown sobbing just days earlier after receiving word of a trade from his beloved Mets, Wilmer Flores, who remained in Queens after the transaction fell through, stroked an even more dramatic than usual walk-off homer to power New York over Washington by a 2-1 score in 12 innings.
Of the storybook tale, columnist Phil Mushnick opined, "Just when it seems time to swear off sports as a business predicated on doing one-way bad business, something happens to cause a reconsideration. … Nationals-Mets, start to finish, did the trick."1
Two days before this game, Flores, originally signed by the Mets nearly eight years earlier, cried on the field when he learned that the only professional organization for which he had ever played had traded him to the Brewers. But New York did not consummate the transaction due to concerns about the condition of Carlos Gomez's hip.
The day before his heroics, Flores talked about how he had to move on past his publicly painful humiliation. "I didn't want to make that scene out there," he said after Thursday's [game]. "I couldn't help it. … What happened yesterday, it's in the past. Now we've got to play."2
Flores certainly came to play with both his bat and his glove. His blast put an explanation point on the end of the nearly four-hour contest that saw little in the way of offensive production. The two teams used nine pitchers who yielded only 11 hits. The starting pitchers — Gio Gonzalez for the Nationals and Matt Harvey for the Mets — each gave up but one run, albeit in vastly different fashions.
Harvey started with a perfect top of the first. "The second batter, Yunel Escobar, hit a sharp grounder to second base, and Flores dived to his left and threw to first for the out. The crowd exploded and gave him a standing ovation."3
Leadoff hitter Curtis Granderson singled for New York, but a strikeout-caught-stealing double play bookended by the arms of Gonzalez and Washington catcher Jose Lobaton snappily erased the threat by the Mets.
Harvey also had a 1-2-3 second, and New York again got its leadoff hitter on thanks to a walk to Juan Uribe. Gonzalez retired the next three hitters to keep the game scoreless through two innings.
After Uribe reached, neither team had a baserunner until the bottom of the fourth. With two outs and none on, Gonzalez got wild, walking Uribe for the second time and walking Travis d'Arnaud as well. Flores beat out a grounder to short that plated Uribe from second, giving the Mets a 1-0 lead and Flores the first RBI of his memorable day. Gonzalez issued his third walk of the inning by passing Juan Lagares before fanning Eric Campbell to end the frame with a trio of New Yorkers stranded.
Harvey had retired the first 15 Nats in a row through five innings. The Mets threatened again with two outs in the bottom of the fifth. Ruben Tejada singled, and Daniel Murphy doubled him to third. Washington manager Matt Williams hooked the inefficient Gonzalez, who had needed 105 pitches to get only 14 outs, in favor of Tanner Roark. The reliever retired Uribe to keep the Nationals within a run.
With one out in the sixth, Lobaton singled off Harvey for Washington's first baserunner. Roark tried to sacrifice the catcher to second but struck out bunting. The failure to execute this fundamental play hurt the Nationals. Anthony Rendon's single moved Lobaton to third rather than scoring him, and Washington still trailed 1-0 after Harvey retired Escobar.
Roark set down New York in order in the bottom of the sixth, and the Nationals threatened again in the top of the seventh thanks to a leadoff double by Jayson Werth. But Harvey bore down against Bryce Harper, Ryan Zimmerman, and Ian Desmond to leave Werth at second.
After another clean inning by Roark, who faced seven hitters and got them all (including four strikeouts), Washington rallied to tie the score. With two outs and none on, Clint Robinson hit for Roark and Harvey hit Robinson. Danny Espinosa pinch-ran. Rendon singled Espinosa to second, and Escobar hit a clutch RBI single on Harvey's 109th and final pitch of the game. Tyler Clippard kept the game deadlocked by coming in and fanning Werth.
Aaron Barrett replaced Roark. Tejada had a leadoff single but could not score in the bottom of the eighth.
In the top of the ninth with one out, Clippard walked Zimmerman and Desmond, the only two free passes the Nationals would earn all game. With the save situation gone, manager Terry Collins brought in Jeurys Familia, the closer for the Mets, who escaped the jam by striking out Michael Taylor "before Eric Campbell snagged Jose Lobaton's sinking line drive in left field."4
The New York and Washington bullpens both did great work. With an easy ninth, Barrett ended up getting the final six batters he faced to send the game into extra innings. Likewise, Familia faced five Nationals and escaped unscathed. Felipe Rivero got New York in order in the bottom of the 10th and the bottom of the 11th; Hansel Robles and Carlos Torres did the same against the Nationals in the top of the 11th and 12th innings, with the final five Washington hitters of the game striking out.
Harper, the fourth National to fan, struck out looking. The tempestuous star complained about the call, causing home-plate umpire Jerry Meals to eject the Washingtonian. Even though a team's best player really should do all he can to stay in a tight game, Harper still tried to defend his indiscretion after the game: "He called a strike," he said. "I don't know. He'd been doing it all night. I told him what I said and that was it. … I'm sticking up for my team and myself at the same time. He was bad all night. I didn't get up the next inning so nothing hurt."5
Having already pitched two full innings, Rivero stayed on for the bottom of the 12th to face Flores "though Casey Janssen, Drew Storen and Jonathan Papelbon, the Nationals' deadline acquisition, had not yet pitched. Nationals manager Williams said two relievers were unavailable, but he would not specify who."6
Nearly traded days earlier, Flores played the storybook hero. Having not hit a round-tripper since June 12, he hit a walk-off home run to left-center field to give New York the win. The crowd gave him its fourth standing ovation.7
"I am sitting here looking at some guys who are outstanding writers — outstanding — and you can't write that. You guys couldn't come up with that. … Unbelievable," Terry Collins said. "Can it happen to a better person in a bigger situation than that? We're all thrilled for him."8
"Words can't really describe what has been going through his head and us as a team the last couple days," Harvey said. "For tonight to happen the way it did, it's pretty unreal."9
The man the Mets did not want delivered a sweet home victory to New York over the team's fiercest divisional rival. With the win, the Mets pulled to within two games of the Nationals for the division lead. Better yet, New York had a major reinforcement on the way, having acquired Yoenis Céspedes from Detroit earlier that day just before the trade deadline. With an old hand having come to the rescue and a new star heading to Queens, the Mets looked poised to make some playoff noise in 2015.
This article was published in "Met-rospectives: A Collection of the Greatest Games in New York Mets History" (SABR, 2018), edited by Brian Wright and Bill Nowlin. To read more articles from this book at the SABR Games Project, click here.

Sources
https://www.baseball-reference.com/boxes/NYN/NYN201507310.shtml
http://www.retrosheet.org/boxesetc/2015/B07310NYN2015.htm
Notes
1 Phil Mushnick, "Just When Sports Is at Its Darkest, Here Comes Wilmer Flores," New York Post, August 2, 2015.
2 Roger Rubin, "Mets' Flores Ready to Move On After Trade Story Caused Tears," New York Daily News, July 31, 2015.
3 Rob Harms, "Wilmer Flores Swaps Tears for Cheers With Walk-Off Home Run," New York Times, August 1, 2015.
4 Mike Puma, "Unbelievable! Flores Dries Tears for Walk-Off HR in Thriller," New York Post, July 31, 2015.
5 James Wagner, "Bryce Harper Ejected in 11th Inning of a Crucial Game for Arguing a Called Strike Three," Washington Post, August 1, 2015.
6 Chelsea Janes, "Extra Dramatic: Nationals Fall to Mets in 12 Innings, 2-1," Washington Post, August 1, 2015.
7 This claim comes from Gary Cohen of SportsNet New York. See the archived video of the home run at youtube.com/watch?v=UmL4rNYmJ9U (accessed February 28, 2018).
8 Peter Botte, "Wilmer Flores, Nearly Traded, Hits Walk-Off HR in Mets Win," New York Daily News, August 1, 2015.
9 Mike Fitzpatrick, Associated Press, "Fan Favorite Flores Homers in 12th, Mets Beat Nationals 2-1," Washington Times, August 1, 2015.
Additional Stats
New York Mets 2
Washington Nationals 1
12 innings
---
Citi Field
New York, NY
Box Score + PBP:
Corrections? Additions?
If you can help us improve this game story, contact us.
Tags
https://sabr.org/sites/default/files/Screen%20Shot%202019-10-17%20at%201.51.49%20PM.png
600
800
admin
/wp-content/uploads/2020/02/sabr_logo.png
admin
2019-10-17 13:45:32
2020-04-17 10:22:26
July 31, 2015: For Mets' Wilmer Flores, there's (life after) crying in baseball — and a walk-off homer