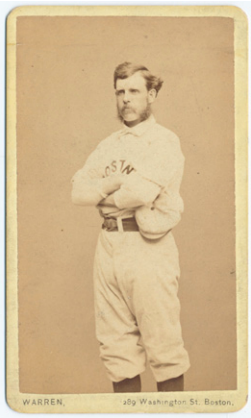 July 4, 1873: Elizabeth Resolutes spoil Boston Red Stockings' parade in first professional doubleheader
---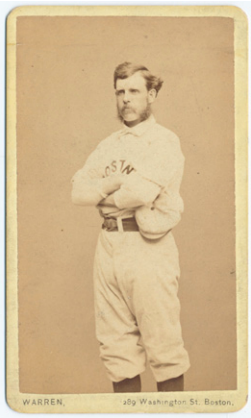 After a win on June 17 over the Philadelphia White Stockings, Harry Wright and his Boston club had a lot of time to mull over their progress, or lack thereof, in the 1873 championship season. It would be almost two weeks before the Red Stockings were scheduled for their next championship match, a June 30 contest against the New York Mutuals. Boston's record thus far in 1873 was 13-6, which left them in third place, 3½ games behind the White Stockings, a situation not exactly meeting the expectations of the team and its fans. Not surprisingly, the players used part of their respite from championship play to take out their frustrations on a series of local clubs, beginning with a 64-6 pounding of the Lowell team. Boston even gave two other opponents five outs per inning, but it made little difference as the Red Stockings thrashed Chelsea of Massachusetts and the Olympics of Providence, Rhode Island, by scores of 36-5 and 39-6.1
However, neither the easy victories nor a convincing 17-6 defeat of the Mutuals could completely drive away all of the storm clouds on Harry Wright's horizon as he contemplated three early July games with the woeful Elizabeth Resolutes. Although the 1-14 New Jersey club didn't appear to pose much of a challenge on the field, the Boston leader was doubtless concerned that the gap between his club's third-place position and that of first-place Philadelphia was now at six games. Wright's worries were not limited solely to the club's performance on the field; its 1872 championship season had been a financial disaster. By the end of that season the club was over $5,000 in debt (including a balance due on players' salaries), and it took an infusion of new capital to ensure that the Red Stockings would even take the field in 1873.2
Attention to the club's finances was therefore a mandatory part of Wright's job and he had no illusions about the Resolutes' potential drawing power. On a recently concluded "Southern trip," Boston's share of the gate receipts for two matches with the Resolutes, including one played at Brooklyn's Union Grounds, was a paltry $124.67, less than one day's receipts with more competitive opponents.3 To make matters worse, the three coming matches were scheduled around July 4, a major holiday in the Boston area. Independence Day itself was of special concern because of multiple competing activities, including a rowing competition in the morning, a patriotic concert, and a sailing regatta scheduled for 2:30 in the afternoon.4 Trying to make the best of a bad situation, Wright decided to offer Bostonians two opportunities to watch base ball on a day when few people would be working, thereby creating the first professional doubleheader.5 But the games would carry separate admission charges, based on the perhaps questionable premise that anyone would pay twice in one day to see the Resolutes.
Having to play the Resolutes in the first place was due to the National Association's dubious practice of accepting any club willing and able to pay the $10 annual admission fee. As a cooperative club dependent on gate receipts to fund players' salaries, Elizabeth had little financial wherewithal to upgrade its 1873 amateur roster beyond adding the Allison brothers, Doug and Art. Both had reputations as "hard-core complainers," which put them in good company with another Resolute brother combination, Hugh and Michael Campbell, also "renowned grumblers."6 All of this negativity may have led the Red Stockings and their fans to overlook another fact about the Campbells. Only seven years earlier, the two had been part of one of the biggest upsets of the pre-professional period, the Irvington Club's 1866 victory over the defending champion Brooklyn Atlantics.
If those in attendance for the 10:00 A.M. first pitch thought the early start might beat the heat, they were quickly disabused of that notion; the Boston Daily Globe reported intense heat even in the morning. The Boston Daily Advertiser and the Boston Evening Journal agreed about the heat, but not about the crowd. The Advertiser reported a large crowd while the Journal wrote that attendance was kept down by the oppressive weather. The Advertiser also accused the Boston club of playing a "second-class nine," but the only change appears to have been a game off for star shortstop George Wright, allowing old Cincinnati Red Stockings luminary Charlie Sweasy to play his only game for the Boston version of the Red Stockings.7 Not surprisingly, Boston's ace pitcher, Albert Spalding, kept the Resolutes off the scoreboard in the first two innings, but the home team didn't fare much better against Hugh Campbell, managing only single runs in their first and second at-bats.
When the Resolutes came up in the third, they surprised everyone, perhaps most of all themselves, by erupting for five runs and a 5-2 lead. The visitors from New Jersey were by no means finished, scoring six more times over the last four innings. No play-by-play accounts survive, but six Resolutes had at least two hits which, combined with five Boston errors, helped build a balanced attack. Leading the Resolutes hit parade were Henry Austin (.248 batting average), Frank Fleet (.258), Art Allison (.320), and Mike Campbell (.143). These averages paled in comparison with the Red Stockings, who featured one .400 hitter and five others over .300; in fact, Boston had a team batting average of .340. All of which made Hugh Campbell's pitching performance even more remarkable as he shut Boston out the rest of the way, aided by a defense that made only two errors behind him.8
As they walked off the field after the last Boston batter was retired, no one could blame the Campbell brothers if they took special satisfaction in adding a second major upset to their playing record. Then, as now, the media was quick to rub in the ignominious defeat; the Daily Advertiser hoped the Boston club now understood "that every game of base ball is liable to be hard to win." It was rubbing salt in Harry Wright's wounds as he endured not only the apparently meager gate receipts, but also another missed opportunity to gain ground on Philadelphia.9
This article was originally published in "Boston's First Nine: The 1871-75 Boston Red Stockings" (SABR, 2016), edited by Bob LeMoine and Bill Nowlin. To read more articles from this book at the SABR Games Project, click here.
Notes
1 New York Clipper, July 5, 1873: 107.
2 William J. Ryczek, Blackguards and Red Stockings: A History of Baseball's National Association, 1871-1875 (Wallingford, Connecticut: Colebrook Press, 1992), 96.
3 Harry Wright Account and Notebooks, in Spalding Baseball Collection, Manuscript and Archives Division, New York Public Library. Astor, Lenox, and Tilden Foundations, New York Clipper, June 21, 1873: 90.
4 Boston Evening Journal, July 3, 1873: 2.
5 Ryczek, 116.
6 Ryczek, 101.
7 Boston Daily Advertiser, July 5, 1873: 4; Boston Globe, July 5, 1873: 1; Boston Evening Journal, July 5, 1873: 1.
8 New York Clipper, July 12, 1873: 117.
9 Boston Daily Advertiser, July 5, 1873: 4.
Additional Stats
Elizabeth Resolutes 11
Boston Red Stockings 2
Game 1, DH
---
South End Grounds
Boston, MA
Corrections? Additions?
If you can help us improve this game story, contact us.
Tags
https://sabr.org/sites/default/files/WrightHarry.png
600
800
admin
/wp-content/uploads/2020/02/sabr_logo.png
admin
2018-09-04 13:41:25
2020-04-17 10:24:42
July 4, 1873: Elizabeth Resolutes spoil Boston Red Stockings' parade in first professional doubleheader