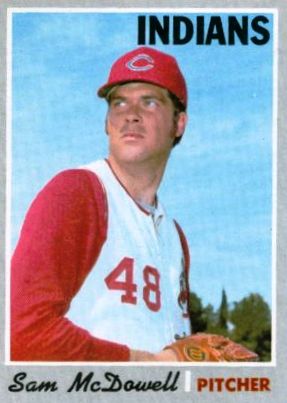 July 6, 1970: The game when Sam McDowell played second base for the Indians
---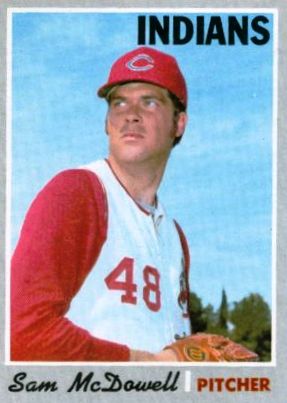 Judging by the announced attendance of 11,950, those who pushed their way through the turnstiles at Cleveland Stadium on July 6, 1970, were not expecting much. And who could blame them? The visiting Washington Senators and the hometown Indians were bottom dwellers in the American League's Eastern Division. The Nats occupied fifth place while the Tribe was in the cellar in sixth.
Their positions in the standings had just switched, as Washington was leading Cleveland at the beginning of the month. Each team had different results in their four-game series over the Fourth of July holiday. The Indians were swept in a four-game series by Boston at Fenway Park while Washington took three of four from New York at Yankee Stadium.
Perhaps one of the reasons there were that many folks at the ballpark was that Indians' ace Sam McDowell was the starting pitcher. He was opposed by the Senators' Joe Coleman. McDowell was having a strong season to date (11-4, 2.64 ERA). He had already recorded 10 or more strikeouts in seven games. The high mark was 15 punchouts at Chicago on May 6, a 2-1 loss for the Indians. McDowell and catcher Ray Fosse would be headed to the All-Star Game the following week.
As for Coleman, the first half of the season had its highs and lows. Coleman, the son of Joe Coleman Sr., a former major-league pitcher, started the season with a 5-3 record and a 3.05 ERA. However, he had now lost his last four games coming into the matchup with Cleveland, and had a 5-7 record with a 3.95 ERA.
The Senators broke through on the scoreboard in the first inning. With one out, McDowell surrendered three straight singles to center. The last one, by Rick Reichardt, drove in the first run. A walk to Aurelio Rodriguez filled the bases and Paul Casanova tallied another run with a sacrifice fly. McDowell got out of the jam by striking out Tim Cullen, but it seemed as if Sudden Sam was not on his game. He had to fan Reichardt with the bases loaded to get out of the second inning and walked Rodriguez to open the third inning. Casanova doubled to left field. Both runners scored on a single by Cullen, as Washington extended its lead to 4-0.
The Indians finally cut into the deficit in their third when Graig Nettles smacked a two-out, two-run home run over the right-field fence. The blast was his 12th of the season. The Indians inched a bit closer at 4-3 when Duke Sims nicked Coleman for his 11th home run, to left-center field, in the bottom of the fourth inning.
After his initial bout of ineffectiveness, McDowell settled in and was having little trouble with the Senators. A walk to Frank Howard in the fourth inning and a single by Ed Brinkman were the only blemishes in the middle frames for Sudden Sam. "I had to change everything," he said after the game. "I was going with all my four pitches and getting creamed. I'd throw inside and they'd hit the opposite way. I'd throw outside; they'd go the other way. Bloops were going here and there. I said the heck with the game plan. I'm going to my fastball. From the fifth inning on, 99 percent were blazers."1
The Indians pulled ahead in the sixth inning. Nettles led off with a double to left field and moved up on a wild pitch by Coleman. Vada Pinson singled him home to knot the score at 4-4. It didn't stay that way for long when Sims smashed his 12th home run, and second of the game, to right field with a man aboard. Cleveland had seized a 6-4 advantage.
Washington attempted a rally of its own in the top of the seventh inning. Howard and Reichardt led off with singles. But with runners on first and second and no outs, McDowell reached back deep for his vaunted fastball, striking out Rodriguez, Casanova, and Cullen to retire the side.
Even though McDowell was now going with his bread-and-butter pitch, the Senators were still putting runners on base. In the top of the eighth inning, Ed Stroud led off with a single to right field. One out later, Ed Brinkman also singled to right. A wild pitch moved the runners up to second and third base. McDowell then struck out Tom Grieve for the second out.
Up to the plate stepped Frank Howard. The 6-foot-7 first baseman was nicknamed the "Washington Monument." But it was not only his size that pitchers feared. He had the power to go with it. He was one of the most feared sluggers of his era. It was strictly power vs. power when they faced each other. For his lifetime, Howard hit .368 off McDowell. He also had more walks (25) and intentional walks (9) against McDowell than any other pitcher.
Cleveland manager Alvin Dark was very much aware of Howard's ability against his left-handed ace. Dark paid a visit to the mound. "Here's what I think I am going to do," said Dark. "I think I am going to put you on second base, move Eddie Leon to third, and bring in Dean Chance to pitch to Howard."2
McDowell was taken off-guard by Dark's strategy. "When I could talk, I said that's fine, I can handle it," Sam said.3
Chance arrived at the mound and took the ball from Dark. Chance was instructed to walk Howard. "All of a sudden, I realized what Alvin was doing," said Chance. "Even though I walk Howard, who is the potential winning run, now we can counter any move [Washington manager] Ted Williams might make.
"If Williams sends up a left-handed pinch-hitter, Sam comes back to face him. If Reichardt stays in, I handle him."4
The crowd buzzed with anticipation as McDowell took his position at the keystone position. One of those fans who couldn't bear to watch the action was McDowell's wife, Carol. "I can never watch when Sam's in trouble," she said. "I just don't look at times like that. I ask whoever is sitting next to me what happened?"5
Williams left Reichardt in to hit. The Senators' right fielder tapped one to Leon, who threw to McDowell to force Howard for the second out. Later, McDowell said, "I saw Leon come up with the ball and start to throw to me, but then I lost it momentarily in the white-shirt background. So I just got over the base and got down to both knees. Then I looked for the ball. Finally, I found it – but there was no way it could have gone through me, believe me."6
Sudden Sam returned to the hill for the ninth inning. He struck out the side for the victory, his 12th of the year. His 15 punchouts were one shy of a career high. He threw 148 pitches in the game.
Sam McDowell won 20 games in 1970, the only season in his career that he reached that mark. He led the league with 304 strikeouts. His career began to go downhill after that season. His battle with alcoholism was a big contributor to his downward spiral. McDowell was traded to San Francisco in 1971. He was out of baseball in 1975.
Eventually McDowell beat his disease and worked as a counselor to professional athletes who suffered in the same way. He was very successful in his new career, which he worked at well into the twenty-first century.7
Sources
The author used BaseballReference.com and Retrosheet.org for box scores, play-by-play accounts the game, and other pertinent material.
Notes
Additional Stats
Cleveland Indians 6
Washington Senators 4
---
Cleveland Stadium
Cleveland, OH
Box Score + PBP:
Corrections? Additions?
If you can help us improve this game story, contact us.
Tags
http://bioproj.sabr.org/bp_ftp/images3/McDowellSam.jpg
600
800
admin
/wp-content/uploads/2020/02/sabr_logo.png
admin
2016-10-27 19:20:47
2020-04-17 10:26:00
July 6, 1970: The game when Sam McDowell played second base for the Indians