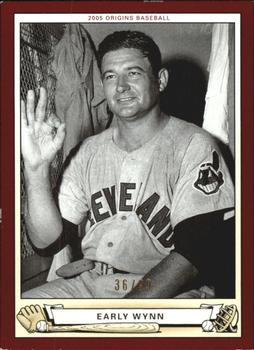 July 7, 1963: Early Wynn misses 300th win again as Cleveland's 9th-inning rally falls short
---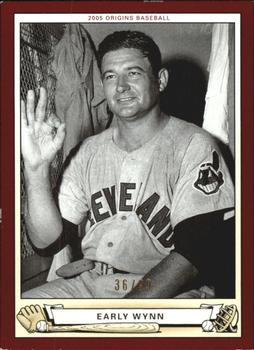 One game short of his 300th career victory, Early Wynn was without a job in baseball as the 1963 season began. Wynn, who first pitched in the major leagues in 1939 for the Washington Senators, had been a four-time 20-game winner for Cleveland in the 1950s. Traded to the White Sox in December of 1957, Wynn turned in another 20-victory performance in 1959 for Chicago. His 22 victories led all major-league pitchers and he was named the Cy Young Award winner. He was inducted into the Hall of Fame in 1972.
Still pitching for the White Sox in 1962 at the age of 42, Wynn notched his 299th career win on September 8. He was the losing pitcher in his next three starts before the end of the season. With a won-lost record of 7-15 and a 4.46 ERA, 1962 was Wynn's worst year since he was traded from Washington to Cleveland after the 1948 campaign. He was released by the White Sox after the 1962 season.
Wynn reported to Chicago's spring-training camp the following February in an attempt to make the White Sox roster and win his 300th game. However, on April 2, general manager Bob Short informed Wynn that there wasn't a spot for him on the White Sox pitching staff.1 Manager Al Lopez later explained, "He pitched well, but with the young fellows we have to protect, we just don't have room for him right now."2
Although contacted by several teams in April and May, Wynn did not receive any offers. In June he was close to signing with the Kansas City Athletics when Cleveland stepped in with a better offer. "I feel like I'm coming home," said Wynn after signing with the Indians. "Cleveland is where I learned to pitch."3
On June 21, in his first action since signing with the Indians, Wynn started against the White Sox in Cleveland. Pitching shutout ball for eight innings, he lost 2-0 after giving up a two-run homer to Ron Hansen with two outs in the ninth inning.
Wynn's next two starts resulted in no-decisions. In his June 28 start in Chicago, he was replaced at the beginning of the seventh inning with the Indians trailing the White Sox 3-2. Cleveland rallied for two runs in the ninth for a 4-3 victory. On July 4 Wynn started against the Red Sox in Cleveland. He didn't allow a run through six innings. After allowing a leadoff single in the seventh, Wynn was relieved with the Indians ahead 1-0. The Red Sox tied the score in the eighth, but the Indians eventually won, 4-3 in 14 innings.
When the first-place Yankees arrived in Cleveland the next day, July 5, for a four-game weekend series, there was little expectation that Wynn would be pitching. With the All-Star break coming up, Wynn's next start would be the following weekend in Kansas City. The Indians won Friday night's series opener, 4-1, as Dick Donovan pitched a complete game. The Yankees won Saturday's game 11-6, with both Yogi Berra and Roger Maris hitting home runs.
The Indians took the first game of Sunday's doubleheader, 11-3. Jack Kralick's complete-game effort was supported by home runs from Max Alvis, Al Luplow, and Joe Azcue. In the second game, the Indians jumped out to an early 1-0 lead off Yankees starting pitcher Stan Williams. Tito Francona led off the home half of the first inning with a double and scored when Willie Kirkland singled. The Yankees took a 2-1 lead in the fifth inning on Hector Lopez's two-run homer off Indians starter Pedro Ramos. The lead didn't last long as Luplow hit a solo homer in the bottom of the inning to tie the score, 2-2.
New York regained the lead in the top of the sixth. Tony Kubek reached on an error by second baseman Mike de la Hoz. One out later, Tom Tresh singled, moving Kubek to third. An errant throw by de la Hoz on Joe Pepitone's grounder scored Kubek. After a passed ball moved the runners up, Berra was intentionally walked to load the bases. Johnny Blanchard's sacrifice fly scored the second unearned run of the inning, giving the Yankees a two-run lead, 4-2.
Williams walked the first two Indians batters in the bottom of the sixth and was relieved by Hal Reniff. After getting the first out on a force play, Reniff hit Alvis with a pitch to load the bases. Reniff got out of the inning by striking out Fred Whitfield and getting John Romano out on a groundball to short. A scoreless seventh inning ended with Reniff's strikeout of Gene Green, who was batting for Indians starter Ramos.
Cleveland manager Birdie Tebbetts sent Wynn to the mound to start the eighth with the Yankees still leading 4-2. After the first two Yankees batters were retired, Pepitone and Berra singled, but Wynn got the final out of the inning when Blanchard grounded to short. The Indians didn't score in the bottom of the inning, and Wynn stayed in the game to pitch the top of the ninth. He struck out Lopez and Clete Boyer, then Reniff tapped a groundball back to the mound and Wynn threw to first for the final out.
With the Indians still trailing by two runs, Alvis doubled to start the bottom of the ninth. After Whitfield struck out, Alvis scored on Romano's single to right, cutting the Tribe's deficit to one run. Larry Brown ran for Romano. Luplow, after fouling off several pitches,4 walked to put runners at first and second, and Reniff was relieved by Jim Bouton. Joe Adcock batted for Jerry Kindall and popped up to third for the second out. With Wynn due up next, Azcue pinch-hit and delivered a single to left, scoring Brown and tying the game, 4-4.
With runners on first and second, Francona came to the plate. A hit would give Wynn victory number 300. Francona took a called third strike, a changeup he thought was low. After the game Bouton explained what happened: "Tito was getting good wood on the ball and I didn't want to give him anything good to hit. The count was 2-and-2 and I figured he'd expect a fastball. So I gambled and threw that changeup. I didn't think there was any question about it being a strike."5
Ted Abernathy, now pitching for the Indians, retired the first two Yankees he faced in the 10th. A walk to Tresh and Pepitone's single put runners at first and third. Berra doubled to right to score Tresh. Gary Bell relived Abernathy. Jack Reed, who had entered the game in the eighth inning as a defensive replacement for Blanchard in right field, grounded to short. De la Hoz, now playing shortstop, made a wild throw past first for his third error of the game, and two more unearned runs scored. Reed was caught stealing to end the inning, but the Yankees led, 7-4 going into the bottom of the 10th. Whitey Ford, making his only relief appearance of the season, retired the Indians on two strikeouts and a pop foul to third.
"It was tragic," said Indians skipper Tebbetts during batting practice at the All-Star Game, held in Cleveland two days later. "The old guy missed several times with the White Sox at the end of last season and he pitched great ball for us since we signed him as a free agent. What gave so much drama to the game with the Yankees last Sunday was that I stuck him in as a relief pitcher when we were losing by two runs. But we tied the score and Tito Francona, my most expensive player, was at bat in the ninth. Any kind of hit would have won it for Old Gus."6
Author's Note
I attended this game along with my family, seated in the lower deck halfway between first base and right field. The next day's Cleveland Plain Dealer wrote that the noise level after Azcue's ninth-inning hit was the loudest in the ballpark all season. What I remember was the almost total silence after Francona struck out, as we realized we had missed the chance to witness Wynn's 300th victory.7
Sources
The author accessed Baseball-Reference.com and Retrosheet.org. for box scores/play-by-play information, player, team, and season pages, pitching and batting game logs, and other data:
baseball-reference.com/boxes/CLE/CLE196307072.shtml
retrosheet.org/boxesetc/1963/B07072CLE1963.htm
Notes
1 Edgar Munzel, "Wynn Glances for Signal – Sees No-Vacancy Sign," The Sporting News, April 13, 1963: 23.
2 Edgar Munzel, "Lopez Denies White Sox Gave Wynn Raw Deal in Camp," The Sporting News, April 20, 1963: 32.
3 Chuck Heaton, "Wynn's Goal with Tribe Is 2 Seasons," Cleveland Plain Dealer, June 1, 1963: 21.
4 Robert Dolgan, "Tribe Wins,11-3, Then Falls in 10th," Cleveland Plain Dealer, July 8, 1963: 1.
5 Chuck Heaton, "With 'Everything Riding,' Tito Takes Third Strike," Cleveland Plain Dealer, July 8, 1963: 31.
6 Arthur Daley, "Chirps from Birdie," New York Times, July 12, 1963: 17.
7 Wynn did finally earn his 300th career victory the following weekend in Kansas City. See "July 13, 1963: Early Wynn wins his 300th game" by Joseph Wancho (sabr.org/gamesproj/game/july-13-1963-early-wynn-wins-his-300th-game).
Additional Stats
New York Yankees 7
Cleveland Indians 4
---
Cleveland Stadium
Cleveland, OH
Box Score + PBP:
Corrections? Additions?
If you can help us improve this game story, contact us.
Tags
https://sabr.org/sites/default/files/WynnEarly-300.jpg
600
800
sabr
/wp-content/uploads/2020/02/sabr_logo.png
sabr
2020-04-19 15:37:58
2020-06-22 16:52:01
July 7, 1963: Early Wynn misses 300th win again as Cleveland's 9th-inning rally falls short