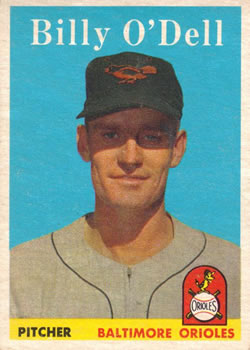 July 8, 1958: Orioles' Billy O'Dell pitches three scoreless innings in American League's All-Star victory
---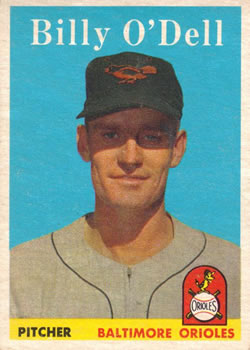 Orioles pitcher Billy O'Dell was surprised when he was greeted by a host of reporters after the American League's 4-3 win in the 1958 All-Star Game. Two days earlier, he believed he had no chance of getting into the game, and now he was the All-Star Game's MVP. "I had good stuff all right," O'Dell told the reporters.1 "I'll tell you something about O'Dell," said Orioles catcher
Gus Triandos. "On a day or night then Billy is right, he's as good as any batter he faces."2 On this day O'Dell needed just 27 pitches to retire nine consecutive batters in the last three innings.
The 25th All-Star Game, on July 8, 1958, was the first played in Baltimore. "The weather was hot and humid, but every seat was taken long before game time in picturesque Memorial Stadium, for this was a big day in the history of baseball in Baltimore and the folks weren't going to miss a minute of it," wrote New York Times sportswriter John Drebinger.3 The game featured another All-Star Game first: The players selected the starters instead of the fans. "It was a good system," Ted Williams said of the new system, "although I believe it would be good to let the fans back in on the voting." Most believed that Williams and Yogi Berra would've been in the American League's starting lineup had the fans voted. "Yes, maybe, said Williams. "But Bob Cerv deserved it. He's having a great year."4
This game wouldn't go down as a thrilling midsummer classic. "The most forgettable of all times," said a National Leaguer. "It was one of the dullest," penned a sportswriter.5 The two teams combined for 13 singles and no extra-base hits.
Willie Mays, the game's first batter, stepped in to face American League starting pitcher Bob Turley. The leadoff spot was unusual for Mays, and it baffled him. "What do I do up there?" he asked before the game. "The leadoff man is supposed to draw walks, Willie," Stan Musial said with a smile. "That's right, Willie," said National League manager Fred Haney. "That's no fun," Mays said with alarm. Then he beamed happily when he realized he was being teased.6
Mays drilled the game's first pitch for a bullseye, a shot that hit third base and bounced into left field for a hit. After an out, Musial advanced Mays to third on a single to right field. A long fly out by Hank Aaron was deep enough to allow Mays to score the game's first run. A hit batsman, a walk, and a wild pitch followed to give the National League a 2-0 lead.
The American League scored an unearned run in its first inning against National League starting pitcher Warren Spahn. Nellie Fox led off with a grounder that shortstop Ernie Banks fielded but threw high for an error. Mickey Mantle followed with a single to put runners on the corners. Fox scored when the next batter, Jackie Jensen, grounded into a double play. The National League made it 3-1 with a tally in the top of the second. Mays, who reached base on a fielder's choice, attempted to steal. Triandos threw to shortstop Luis Aparicio, covering second. The catcher's low throw skipped past Aparicio and rolled into the outfield to allow Mays to advance to third. "It wasn't a bad throw at all," Triandos said after the game, "but with Mays sliding, Aparicio couldn't get his glove on the ball."7 Bob Skinner singled between short and third to score Mays, and that was all for Turley. American League manager Casey Stengel summoned Ray Narleski from the bullpen. "I didn't have much, that's for sure," Turley said after the game. "I guess it just wasn't my day."8
The American League cut the lead to one with a run in the bottom of the second. Triandos singled, Aparicio forced him at second, Narleski smacked a sharp single to center, and Fox produced an RBI single.
In the bottom of the fifth, with the score still 3-2, National League, 40-year-old Mickey Vernon, pinch-hitting for Narleski, hit Bob Friend's first offering for a single. Nellie Fox, the only player to get more than one hit in the game, also singled, and Mantle walked on four pitches to load the bases. Jensen followed with a short-hopper to Friend's left. A force at home was in sight, but Friend was unable to come up with the ball. Second baseman Bill Mazeroski got to the ball and threw out Jensen at first base, but a run scored on the play to tie the game.
Early Wynn came on to pitch for the American League in the top of the sixth and retired the side in order. Frank Malzone began the bottom of the inning with a single. Gus Triandos was due up, but Stengel elected to go with a pinch-hitter, which did not appease the hometown crowd. The spectators grew angrier when Yogi Berra, a Yankee, was the pinch-batter. "Did that bother you?" a writer asked Stengel after the game. "No, I knew I was going to get it when I sent up Berra for their catcher (Triandos)," he replied. "I knew I was going to get it, too," Berra said with a laugh. "They boo us all over the league, but I believe they do a better job of it here than anywhere else."9 Triandos agreed with the manager's decision. "We were tied and Casey was out to win a ballgame, not a popularity contest. The booing was unfair to Casey and embarrassing to me."10
After Berra popped out, Ted Williams batted for Aparicio and grounded to the left side of the infield. Third baseman Frank Thomas stepped to his left, gloved the ball, and then dropped it as he tried to extract it from his mitt.
Now with runners on first and second with only one out and the pitcher due up, Stengel called on his "Mr. Versatility,"11 Gil McDougald, another Yankee, to pinch-hit, and as expected, the crowd gave another Bronx cheer. The move paid off, however, as McDougald delivered an RBI single to give the American League a 4-3 lead.
The stage was now set for O'Dell, and his presence on the mound in the top of the seventh baffled the scribes in the press box. Why would Stengel elect to go with O'Dell, who had yielded 10 runs on 22 hits in his last two starts, instead of the hottest pitcher in the league? Billy Pierce
had allowed just one earned run in his last 42⅔ innings and appeared in four previous All-Star Games. Unbeknown to the sportswriters, Pierce's pitching arm had stiffened during the last few innings of his 8-1 win over the Tigers the previous Saturday. "Casey told me to let him know if the arm felt all right after I threw in the bullpen," Pierce explained after the game. "The stiffness was still there."12 O'Dell retired the National League in order in the top of the seventh. In the bottom of the inning, Turk Farrell came on for the National League and was impressive. After issuing a walk to start the inning, he retired the next three batters, two by strikeout. "He's really fast," National League catcher Del Crandall said of the 22-year-old Farrell. "I haven't seen anyone faster."13
O'Dell believed that the top of the eighth would be his biggest challenge, because Musial, Aaron, and Banks were due up. "Musial was the man I feared the most," said O'Dell. "I got him out on a slider." Then, after retiring Aaron on a groundout, O'Dell offered Banks nothing but sliders. "I tried him on fastballs in Arizona this spring, and a couple of them disappeared out into the desert," the pitcher said. Sticking with sliders, O'Dell got three past Banks.14
Farrell struck out Malzone and Williams to retire the American League in the bottom of the eighth. Then, to the delight of a capacity crowd of 48,829, O'Dell retired the National League in order in the top of the ninth for a 4-3 American League win.
Sources
In addition to the sources cited in the Notes, the author consulted Retrosheet.org.
Notes
1 Bob Maisel, "O'Dell Best, Stengel Says," Baltimore Sun, July 9, 1958: Part 1, 1.
2 Louis Effrat, "O'Dell of Orioles Is the Brightest of All-Stars at Baltimore," New York Times, July 9, 1958: 31.
3 John Drebinger, "Wynn Gets Credit for 4-3 Triumph," New York Times, July 9, 1958: 30.
4 Maisel, Part 1, 16.
5 Edward Prell, "Wynn Winning Hurler in Dull All-Star Game," Baltimore Sun, July 9, 1959: Part 3, 1.
6 Arthur Daley, "Sports of the Times," New York Times, July 9, 1958: 30.
7 Maisel, Part 1, 16.
8 Maisel, Part 1, 16.
9 Maisel, Part 1, 1.
10 Effrat.
11 Lou Hatter, "McDougald's Hit Wins Game; Oriole Pitcher has 3 Perfect Innings," Baltimore Sun, July 9, 1958: Part 1, 1.
12 Edward Prell, "Casey Stengel Jeered by Oriole crowd; Pierce Ailing," Baltimore Sun, July 9, 1958: Part 3, 1.
13 Roscoe McGowen, "Haney Supports Players' Choices," New York Times, July 9, 1958: 30.
14 Maisel, Part 1, 1.
Additional Stats
American League 4
National League 3
---
Memorial Stadium
Baltimore, MD
Box Score + PBP:
Corrections? Additions?
If you can help us improve this game story, contact us.
Tags
https://sabr.org/wp-content/uploads/2022/07/ODell-Billy.jpg
350
250
sabr
/wp-content/uploads/2020/02/sabr_logo.png
sabr
2022-07-18 00:03:20
2022-07-12 15:58:37
July 8, 1958: Orioles' Billy O'Dell pitches three scoreless innings in American League's All-Star victory