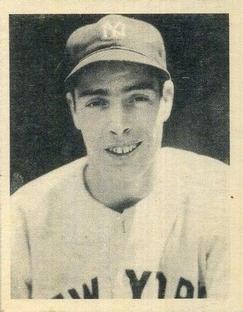 July 9, 1937: Joe DiMaggio hits two homers as part of cycle
---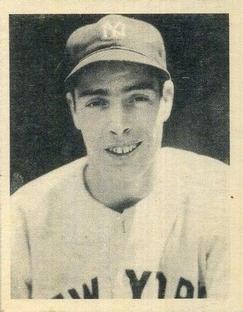 The Associated Press referred to Joe DiMaggio as "Murderers' row's sophomore executioner"1 after he slaughtered the pitching of the Washington Senators in the first of a three-game series at Yankee Stadium before a Friday afternoon crowd of 5,625.2
In this, the first scheduled game after the 1937 All-Star Game, New York walloped the Senators, 16-2, as Joltin' Joe hit for the cycle. In addition to DiMaggio's perfect 5-for-5 performance at the plate, the contest featured another type of walloping — a full-scale brawl on the field between players on the two teams. According to the Washington Post, "Washington broke even in a twin bill with the Yankees [as] the Nats lost a ball game and won a fight."3
Five of the starting nine players on the 1937 AL All-Star squad were members of the Yankees (third baseman Red Rolfe, DiMaggio — playing right field, first baseman Lou Gehrig, catcher Bill Dickey, and pitcher Lefty Gomez), and the four position players collected seven of 13 hits in the midsummer classic, so the Senators knew they had their work cut out for them in this contest. Just before the All-Star Game, New York had visited Washington and had taken two of three games. The Senators (30-35) finished the first half of the season in sixth place, 13½ games behind the top-spot Yankees (44-22).
Monte Pearson, a right-hander, made his eighth start of the season for New York. Coming into the match, he was a perfect 5-0 with a 2.57 earned-run average. Because of a sore elbow, he had not pitched since June 20. In the other dugout, Washington manager Bucky Harris called on southpaw Carl Fischer (4-3, 3.48 ERA) to start against the Yankees.4
The Senators jumped on Pearson after two were down in the first inning. Back-to-back-to-back singles by Joe Kuhel, John Stone, and Cecil Travis (RBI) accounted for a quick run. DiMaggio eliminated Washington's lead in the home half by depositing an offering from Fischer into the left-field stands, 420 feet from home plate,5 and the game was tied.
Two innings later, Pearson led off with a single. An out later, Rolfe tripled, plating Pearson. DiMaggio traded places with Rolfe with his fifth triple of the season, and he scored when Gehrig singled. The Yankees now had a three-run advantage and never looked back. In the fourth, New York's Myril Hoag singled with one out. After Pearson was retired, Frankie Crosetti singled. Fischer walked Rolfe to load the bases, and Harris made the trip to the mound for a replacement. Ed Linke came on in relief, making his 19th appearance of the season. He walked DiMaggio, bringing in Hoag, and then Gehrig drove a ball to right field for a single, but three runners scored, as Mel Almada's throw was wild and DiMaggio scored from first base. New York had doubled its run total and now led, 8-1.
The fifth frame saw the Yankees threaten again. Jake Powell singled but was forced at second by Tony Lazzeri's grounder to short. Hoag walked, and Pearson singled to right. This time, Almada's throw was on the mark, and Lazzeri was called out trying to score from second. Crosetti followed with an RBI single, bringing Hoag home. When Rolfe grounded out to second, Linke and the Senators escaped the inning with only one run allowed.
In the sixth, Washington got two runners aboard (a single by Travis and a walk to Buddy Myer), but both runners were stranded. The New York attack then continued, with the assistance of some long balls. Both DiMaggio and Gehrig sent souvenirs to the bleacher fans for consecutive homers to lead off the inning. The near-riot started soon after. Dickey flied out and Powell hit a grounder to third. Powell was thrown out at first, and as he crossed the bag, he was pushed by Kuhel.6 Powell then came back to the bag and "threw a right to the cheek, a left to the stomach, and another stevedore's right which swished over Kuhel's pompadour. Kuhel retaliated with two left jabs to the nose [and] a stinging right to the short ribs."7 Both benches cleared and mayhem ensued. Powell had a handicap in the brawl, as "catcher Walter Millies, of Washington, perched on his back."8 Once home-plate umpire Cal Hubbard gained control of the situation, he ejected Kuhel and Powell.
After the seventh-inning stretch, DiMaggio strode to the plate with runners on first and second (Pearson and Crosetti had drawn bases on balls) and two outs. This time, the Yankee Clipper drove Pearson home with an RBI single to make the score 12-1.
In the eighth, Washington managed its second run. Jesse Hill led off with a single. Millies followed with another single, sending Hill to third. Linke flied out to right, driving the ball deep enough for Hill to tag and score. Almada also singled, but Pearson retired both Buddy Lewis and Ossie Bluege (who had entered the game replacing Kuhel) to end the inning. New York exploded in the bottom of the eighth with four more runs. Linke walked Tommy Henrich (who was playing for the banished Powell) and, an out later, hit Hoag with a pitch. Pearson cleared the bases with a two-run double. Crosetti singled and Rolfe walked, again loading the bases for DiMaggio. This time he smacked a double, and both Pearson and Crosetti scored. The Yankees now held a 16-2 lead, and DiMaggio had hit for the cycle.
All Washington could manage in the ninth was a single by Travis, and the blowout game ended. Pearson went the distance for the Yankees, his fourth complete game of the season. He struck out six and walked four. Although Pearson allowed 11 hits, they were all singles, and the Senators scored in only two frames. Washington "left thirteen runners marooned on the trail to home."9 The New Yorkers, led by their 17-hit assault, earned their fifth consecutive victory. With his two round-trippers, DiMaggio's season total increased to 22, causing the New York Daily News beat writer, Jack Smith, to proclaim that "Babe Ruth's home run record of 60 is now within striking distance of Signor DiMaggio."10 DiMaggio had a hand in 10 of the 16 New York runs, as he drove in seven and scored four himself. Gehrig's line for the game was 3-for-4 with two walks and four runs batted in. Pitcher Pearson helped his own cause with a walk, two singles and a double, three runs scored, and two others driven home. He raised his batting average 74 points, to .360.
In hitting for the cycle, DiMaggio saw his slugging percentage shoot up to .702 (from .661). He extended his hitting streak to 10 games. (It would eventually reach 22 games.) DiMaggio became the seventh Yankees batter to hit for the cycle. Three weeks later, on August 1, 1937, teammate Lou Gehrig hit for the cycle for the second time in his career. However, Gehrig's accomplishment was second fiddle to DiMaggio's hitting his 31st home run of the season in that game. DiMaggio, Gehrig, and Detroit's Gee Walker (who accomplished the rare feat on Opening Day, April 20) were the only major leaguers to hit for the cycle in 1937.
Eleven seasons went by before DiMaggio again hit for the cycle. On May 20, 1948, he went 5-for-6, again hitting an extra home run in addition to his cycle of four different hits. He homered in that game's first inning as well.
On this date, other blowout games were also played. Six other teams scored at least 10 runs. The Washington Post reported that "[m]ajor league pitchers wilted under a generally terrific heat and an equally terrific shelling as batsmen [proved] the two-day lay-off entailed by the All-Star game had sharpened rather than dulled their batting eyes."11
New York kept up the offensive output throughout the 1937 season, going 58-30 in the second half and winning the American League pennant by 13 games. The Yankees rolled into the World Series and defeated the New York Giants in five games. Sophomore DiMaggio contributed his first postseason home run in that Series.
Sources
In addition to the sources mentioned in the Notes, the author consulted baseball-reference.com, mlb.com, sabr.org, and retrosheet.org.
baseball-reference.com/boxes/NYA/NYA193707090.shtml
retrosheet.org\boxesetc\1937\B07090NYA1937.htm
Notes
1 "Yankees Wallop Senators, 16 to 2; Draw In Free-for-All Fist Fight," Baltimore Sun, July 10, 1937: 9.
2 James P. Dawson, "Yanks Equal Their Season's High for Run-Making in 16-2 Triumph," New York Times, July 10, 1937: 9.
3 Shirley Povich, "Powell Hits Kuhel After Rough Play," Washington Post, July 10, 1937: 13.
4 This was Fischer's final season in the majors. Washington claimed him on waivers from the Cleveland Indians on May 8, 1937.
5 Povich.
6 Different accounts show that Powell was pushed by Kuhel. The Retrosheet play-by-play simply states, "Joe Kuhel tagged Jake Powell unnecessarily." It was a routine groundout with no need for a tag.
7 Jack Smith, "Yanks Win in Riot, 16-2; DiMag Clouts 2, Lou 1," New York Daily News, July 10, 1937: 28.
8 Povich.
9 Smith.
10 Ibid. DiMaggio led the American League in homers in 1937 with 46, fourteen shy of Ruth's record. He also led the league with a slugging percentage of .673.
11 "Batters Have Field Day at Pitchers' Expense," Washington Post, July 10, 1937: 15.
Additional Stats
New York Yankees 16
Washington Senators 2
---
Yankee Stadium
New York, NY
Box Score + PBP:
Corrections? Additions?
If you can help us improve this game story, contact us.
Tags
https://sabr.org/sites/default/files/DiMaggio-Joe-1939.jpg
600
800
admin
/wp-content/uploads/2020/02/sabr_logo.png
admin
2018-12-04 12:09:09
2020-04-17 10:23:43
July 9, 1937: Joe DiMaggio hits two homers as part of cycle