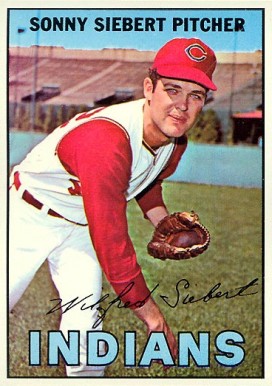 June 10, 1966: Cleveland's Sonny Siebert promises and delivers a no-hitter
---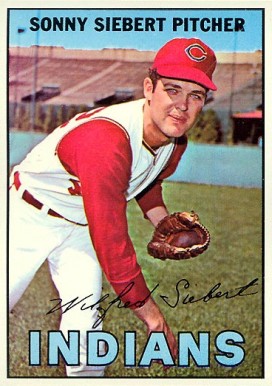 The 1965 Indians won 87 games, the first time since 1959 that the team had won more games than it lost. At the end of the season, Cleveland manager Birdie Tebbetts declared, "Next season will be our year. There are no ifs or maybes about it. We're going to win the whole thing." General manager Gabe Paul agreed: "We can win the pennant, and we can do it with only a normal performance. We don't need a super season from any of our players to win, just a normal effort. Our pitching is such that we're not depending heavily on anyone except Sam McDowell and Sonny Siebert."1
Both McDowell and Siebert, after promising performances for the Indians in 1964,2 established themselves in 1965 among the top American League pitchers. McDowell, with a won-lost record of 17-11, led the league in ERA (2.18) and strikeouts (325).3 Siebert (16-8) was third in ERA (2.43) and fourth in strikeouts (191).
The Indians opened the 1966 season at Washington on April 11. They scored four runs in the top of the ninth inning for a 5-2 victory over the Senators. McDowell, Cleveland's Opening Day starter, received credit for the win after being replaced by a pinch-hitter in the ninth. Siebert, after recuperating from a sprained finger suffered three weeks earlier during spring training,4 retired the Senators in order in the bottom of the ninth for the save. After another relief appearance in which he was charged with a blown save in the Indians' extra-inning win on April 15, Siebert made his first start of the season on April 20 against New York, a seven inning no-decision effort in a game the Indians won 4-2.
Siebert's first win came in his next start, on April 28 against the Angels. After the 2-1 victory, the Indians record was a perfect 10 wins and no losses. Although the Indians lost their next game, they won their following four games to run their record to 14-1. Among those four wins were McDowell's second consecutive one-hitter, Luis Tiant's third consecutive shutout, and Siebert's second win of the season, a complete-game 2-1 victory against the Yankees.
Baltimore, with Frank Robinson in his first year as an Oriole, had the second-best start to the season, with a record of 12-3, when the Indians arrived on May 6 for a four-game weekend series. The Orioles won three of the four games to pull even in the standings. The following weekend in Cleveland, the Indians re-established their two-game lead over the Orioles by taking three of four from Baltimore.
Although the Indians would finish the season in fifth place, 17 games behind the eventual World Series champion Orioles, during the first two months of the season the team appeared to be fulfilling the predictions of Tebbetts and Paul. On May 26, after an 8-4 win at Detroit, the first-place team's lead stood at 4½ games over the Tigers and Orioles. However, the day before, McDowell exited his start against the Tigers in the second inning, complaining of a sore left shoulder. McDowell was expected to miss at least his next two starts with a strain of the heavy deltoid muscle in his shoulder.5
On June 10, the Senators came to Cleveland for the start of a three-game weekend series. The Indians had fallen one game behind the league-leading Orioles, with Detroit only a half-game behind them. Siebert was the starting pitcher for Friday night's opener. In his previous start, at Minnesota, he had allowed seven earned runs in six innings. The loss dropped Siebert's record to 4-3 and increased his ERA to a season-high 3.39. Opposing him on the mound for the Senators was Phil Ortega (5-2, 2.48 ERA).
In the bottom of the first, left fielder Leon Wagner hit a two-out, solo home run off the facing of the left-field upper deck6 to give the Indians an early lead. Siebert retired the first nine batters he faced on routine outs, and the score remained 1-0 as the Indians came up to bat in the bottom of the third inning. With one out, Vic Davalillo walked, stole second base, and scored on Chico Salmon's single to center. The throw to the plate was cut off by the third baseman and Salmon was thrown out at second. An error and a walk put Indians runners at first and second, but Fred Whitfield's fly out to center ended the inning with the score 2-0.
After the third inning, Ortega allowed only two Indians baserunners for the rest of the game. In the fifth inning, Salmon was left at first after a two-out single, when Wagner fouled out to the third baseman. With one out in the sixth inning, Whitfield singled to right, but did not advance on Rocky Colavito's fly out to left. The inning ended when Dick Howser took a called third strike.
Siebert had retired all 13 batters he had faced when Dick Nen came to the plate for the Senators with one out in the fifth inning. With the count three balls and one strike, Nen took a fastball that was just inside,7 and the Senators had their first baserunner of the game. Siebert struck out the next batter, Don Lock, and the inning ended when Paul Casanova grounded out to second.
Siebert struck out Ed Brinkman and retired Ortega on a grounder back to the mound for the first two outs of the sixth inning. Don Blasingame hit a bouncer up the middle, over Siebert's reach, but Salmon, playing shortstop, fielded the ball and threw out Blasingame by a step.8 Leading off the seventh, Bob Saverine, hit a 3-and-2 pitch hard, but directly at first baseman Whitfield, who caught the line drive without having to move a step.9 After a strikeout and a foul caught by catcher Joe Azcue, the Senators were still without a hit.
With one out in the eighth inning, Indians third baseman Max Alvis made a leaping grab of Lock's liner.10 Salmon's throwing error put Casanova on first base. Siebert ended the inning by recording his seventh strikeout of the game when pinch-hitter Bob Chance fanned on three straight fastballs.11
Indians manager Tebbetts sent in defensive replacements Chuck Hinton (left field, replacing Colavito) and Jim Landis (right field, taking over for Wagner) for outfielders Colavito and Wagner to start the ninth inning. Fred Valentine, pinch-hitting for Ortega, grounded to second for the first out. Blasingame grounded to Whitfield, who tossed to Siebert covering first, and the pitcher was one out away from a no-hitter. Saverine, who had hit the ball hard in his last at-bat, came up to the plate for the Senators. After a ball and two fouls, Siebert delivered a letter-high fastball.12 Saverine took a half-swing. Siebert thought he had struck the batter out, but home-plate umpire Jim Honochick called it a ball. Siebert threw another fastball. Saverine hit it to left-center, where Hinton made a running catch to end the game.13
In the clubhouse afterward, catcher Azcue described Siebert's no-hit performance: "He was hitting the corners. He threw mostly sliders and fastballs." When asked about the pitch in the ninth that Saverine took with two strikes, Azcue felt it might have been a strike, regardless of whether the batter swung, saying, "It was too close to take."14 Siebert said his catcher kept him focused throughout the game. "I had been getting the ball too high my last couple of starts," he explained. "Joe kept after me. He made me keep it down."15
Siebert also revealed a conversation he had had with his wife, Carol, earlier that day. "I hadn't been going so good," he said, "and she had been kidding me about being bombed so much. That's when I told her I'd pitch a no-hitter if she'd lay off … but I wasn't really serious. I was being sarcastic." Carol confirmed the gist of the conversation, but added, "He wasn't kidding when he said it."16
Sources
The author accessed Baseball-Reference.com and Retrosheet.org. for box scores/play-by-play information, player, team, and season pages, pitching and batting game logs, and other data:
baseball-reference.com/boxes/CLE/CLE196606100.shtml
retrosheet.org/boxesetc/1966/B06100CLE1966.htm
Notes
1 William Leggett, "Scouting Reports," Sports Illustrated, April 18, 1966: 82.
2 McDowell started the 1964 season with Cleveland's Triple-A affiliate, but after being called up from the minors posted an 11-6 record with a 2.70 ERA. Siebert made the 1964 Opening Day roster as a rookie and went 7-9 with a 3.23 ERA.
3 McDowell also led the American League in walks with 132.
4 "Siebert Tries to Go Route," Cleveland Plain Dealer, April 10, 1966: 50.
5 "McDowell Out with Injured Shoulder," Cleveland Plain Dealer, May 26, 1966: 60. The 4½-game lead the Indians held from May 26 through May 28, 1966, was the largest lead achieved by any Indians team after their 1954 pennant-winning year until the strike-shortened season of 1994.
6 Russell Schneider, "Siebert Pitches No-Hitter," Cleveland Plain Dealer, June 11, 1966: 1.
7 Russell Schneider, "Siebert No-Hits Senators, 2 to 0," Cleveland Plain Dealer, June 11, 1966: 22.
8 Russell Schneider, "Wife's Needle Helped Sew Siebert Gem," The Sporting News, June 25, 1966: 3.
9 Schneider, "Siebert No-Hits Senators, 2 to 0."
10 Schneider, "Wife's Needle Helped Sew Siebert Gem."
11 Schneider, "Siebert No-Hits Senators, 2 to 0."
12 Schneider, "Wife's Needle Helped Sew Siebert Gem."
13 Schneider, "Siebert Pitches No-Hitter."
14 Charles Heaton, "Sonny Gives Tribe Big Lift," Cleveland Plain Dealer, June 11, 1966: 19.
15 Charles Heaton, "Siebert 'Promised' No-Hitter, Cleveland Plain Dealer, June 11, 1966: 22.
16 Schneider, "Wife's Needle Helped Sew Siebert Gem."
Additional Stats
Cleveland Indians 2
Washington Senators 0
---
Cleveland Stadium
Cleveland, OH
Box Score + PBP:
Corrections? Additions?
If you can help us improve this game story, contact us.
Tags
http://bioproj.sabr.org/bp_ftp/images5/SiebertSonny.jpg
600
800
sabr
/wp-content/uploads/2020/02/sabr_logo.png
sabr
2020-07-13 19:22:49
2020-07-13 19:22:49
June 10, 1966: Cleveland's Sonny Siebert promises and delivers a no-hitter