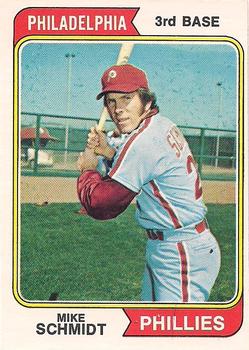 June 10, 1974: Mike Schmidt hits the Astrodome speaker and Phillies trounce Houston, 12-0
---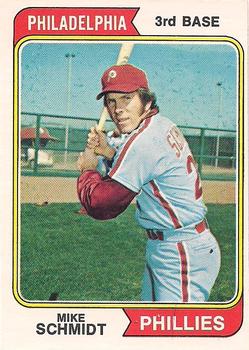 From the moment they selected Mike Schmidt in the June 1971 amateur baseball draft, the Philadelphia Phillies undoubtedly must have envisioned that one day Schmidt would become a premier major-league power hitter. "Happy and surprised"1 were the Phillies to find Schmidt still available when their chance to pick came up in the second round. Recently named Ohio University's Most Valuable Player, Schmidt, the Bobcats' starting shortstop and a 1970 first-team All-American, was almost a lock to be accorded that honor again. In addition to his .331 batting average in 1971, Schmidt had led his team in home runs (10), doubles (13), and total bases (89), and over his three varsity seasons the senior had set several batting records, including 27 home runs. Natural sluggers like Schmidt didn't come around very often.
Schmidt proved as much during his relatively brief stay in the minor leagues. After half a season in 1971 in Double-A, where he hit a modest eight home runs, Schmidt moved up to Triple-A in '72 and blasted 26 homers to go with a .291 batting average. The Phillies had seen enough. Called up to Philadelphia at the tail end of the 1972 season, Schmidt soon hit the first of 548 career home runs. He was off and running, on the way to baseball immortality.
It took the slugger a year to truly figure things out. In his first full season, Schmidt connected for 18 home runs, yet staggered home with a batting average of just .196 and 136 strikeouts. Never again, though, would he approach such a batting nadir.
Schmidt's ascension to the elite level of home-run hitters came in 1974. In the process he delivered one of the most bizarre blasts in baseball history. On June 10 the Phillies arrived in Houston for a three-game series with the Astros. Philadelphia, whose baseball fortunes had paralleled the upward trajectory of the team's new superstar, held first place in the National League Eastern Division, with a 30-26 record. In contrast, Houston, with an almost identical 30-28 record, stood fourth in the West, 12 games behind the front-running Los Angeles Dodgers.
The confrontation offered the promise of a pretty good pitching matchup. On the mound for the Phillies was right-hander Jim Lonborg, in his second season with the team and bound for 17 wins. Making his 14th start of the campaign, Lonborg entered the game with a record of 6-5 and an impressive 2.48 ERA. Pitching for the Astros was veteran left-hander Claude Osteen, winner of 185 big-league games, who had come to Houston in an offseason trade and was making his 13th start. Thus far, Osteen had split 10 decisions for the Astros, and he took the mound with a fine 3.23 ERA. In this game, though, one of these veteran pitchers was destined for a very short evening.
Disappointingly for the Astros, only 9,487 fans were on hand in the Astrodome to witness the strange event. Perhaps those who stayed home were unaware just how torrid Schmidt's performance had been of late, otherwise they might have rushed to the ballpark hoping to see a power barrage from the slugger. Earlier in the afternoon, Schmidt had been named the National League's Player of the Week for the June 3-9 period. Over that span he'd gone 12-for-23, scored eight runs, blasted four home runs, and driven in 10 runs. In his last nine games, Schmidt had driven in 16 runs and in June he'd hit six of his season's 14 home runs; his season total placed him second for the major-league lead to the Dodgers' Jimmy Wynn (16).
"I'm just feeling good, relaxed, and swinging good and my timing is perfect now," said Schmidt of his hot streak.2 With a .310 batting average so far, Schmidt had left 1973's dismal performance firmly behind.
It would be up to the 34-year-old Osteen to try to cool off the Phillies' hottest hitter. The veteran had quieted Schmidt's bat once before. On May 30, 1973, the only time the two had previously faced each other, Osteen, then pitching for the Dodgers, had collared the rookie, rendering him 0-for-4. This time, however, Schmidt would get the better of their battle.
Osteen found himself in trouble immediately. After leadoff hitter Dave Cash walked, Larry Bowa singled into left field, with Cash stopping at second base. That brought Schmidt to the plate. From the moment he swung, it looked as though he had launched home run number 15. As Schmidt's huge blast soared toward straightaway center field, Astros center fielder Cesar Cedeno, a two-time Gold Glove winner, retreated to the fence and looked up, hoping for a chance to make a play. Suddenly, though, as the ball rose it struck a speaker that hung from the Astrodome roof, and dropped to the turf, 50 feet in front of Cedeno. By Astrodome ground rules, the ball was in play; Schmidt was given credit for a single, and neither of the runners scored. It was the first time a player had hit a speaker in fair territory since the Astrodome opened in 1965.3
As anticlimaxes go, Schmidt's single was momentous; from then on, the game was a blowout. The next hitter, Bill Robinson, drilled a double, scoring Cash and Bowa, and then Mike Anderson drove in a third run with a sacrifice fly. In the second, after consecutive singles to open the frame by Willie Montanez and Bob Boone, and a Lonborg sacrifice, Cash singled home the Phillies' fourth run, which chased Osteen. Cash stole second and Bowa was walked by reliever Jim York to load the bases. Schmidt batted and scorched a double off the left-field wall to score all three runners. Anderson ended the five-run frame by banging a single up the middle, scoring Schmidt. The Phillies' 8-0 margin held up until the ninth, when they plated four more runs on four hits, to make it 12-0.
Meanwhile, Lonborg proved masterful. Only twice were the Astros able to mount any sort of threat: in the seventh Bob Watson hit a two-out double but was stranded at second; and in the bottom of the ninth, Roger Metzger and Cedeno delivered consecutive two-out singles, only to be stranded as Watson grounded out to end the game. In all, Lonborg scattered five hits and the Phillies won, 12-0.
After the game Schmidt professed frustration at the loss of a home run. "There's no doubt it would have been a home run," he reasoned, "and I said to myself, 'That damn speaker cost me a homer.' If for some reason late in the season I'm one short [of the home run lead], I'll think back about it."4
He needn't have worried. Schmidt ended the season with a major-league-leading 36 home runs. It was the first of six times he led the major leagues in homers and the first of eight NL home-run titles.
So how far would Schmidt's ball have gone had it not hit the speaker 117 feet above the playing field? Some days after the game, a reporter asked Dr. Martin Wright, head of the University of Houston's department of mathematics, how far he estimated the ball would have traveled unimpeded. Wright replied: "The ball probably reached its maximum height 50 feet before it hit the speaker, or 250 feet from home plate. That would make it travel about 500 feet.5
Instead of a home run, Schmidt delivered one very long single.
This article appears in "Dome Sweet Dome: History and Highlights from 35 Years of the Houston Astrodome" (SABR, 2017), edited by Gregory H. Wolf. To read more articles from this book at the SABR Games Project, click here.
Sources
https://www.baseball-reference.com/boxes/HOU/HOU197406100.shtml
https://www.retrosheet.org/boxesetc/1974/B06100HOU1974.htm

Notes
1 Athens (Ohio) Messenger, June 9, 1971.
2 United Press International, Huntingdon (Pennsylvania) Daily News, June 11, 1974.
3 Gettysburg Times, June 11, 1974.
4 United Press International, Huntingdon (Pennsylvania) Daily News, June 11, 1974.
5 The Sporting News, June 29, 1974: 14.
Additional Stats
Philadelphia Phillies 12
Houston Astros 0
---
Astrodome
Houston, TX
Box Score + PBP:
Corrections? Additions?
If you can help us improve this game story, contact us.
Tags
https://sabr.org/sites/default/files/SchmidtMike-1974.jpg
600
800
admin
/wp-content/uploads/2020/02/sabr_logo.png
admin
2018-09-18 12:19:31
2020-04-17 10:24:39
June 10, 1974: Mike Schmidt hits the Astrodome speaker and Phillies trounce Houston, 12-0