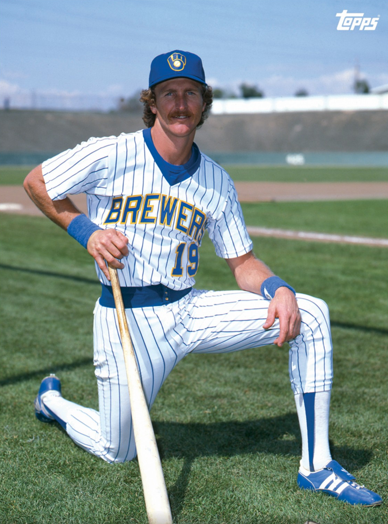 June 12, 1988: Robin Yount hits for the cycle as Brewers blast White Sox
---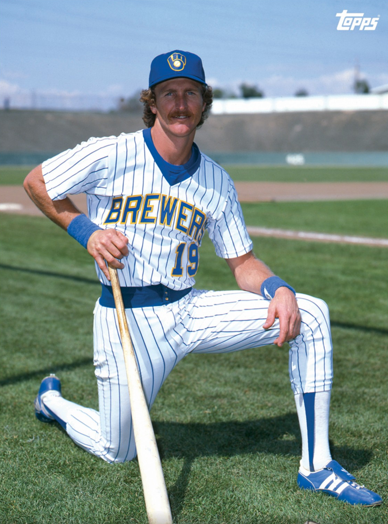 The Milwaukee Brewers were playing .500 baseball through the first 60 games of the 1988 season (30-30). On June 12 the American League East fourth-place Brewers played the final game of a three-game series against the AL West's fifth-place Chicago White Sox (26-32). Chicago had won the first two games, holding Milwaukee to a total of three runs. That all changed after a Sunday afternoon outburst, when the Brewers batters pounded out 16 runs on 16 base hits.
Two first-round draft choices faced off on the mound.1 Milwaukee rookie right-hander Don August had just been called up and was making his third major-league appearance (and second start). He sported a 1-1 record with an impressive 0.96 earned-run average. Opposing him for Chicago was Joel Davis, in his fourth (and final) big-league season, making his second start of the season. Looking for his first win of the season, Davis had an unenviable 8.31 ERA.
Chicago got off to a fast start. Although Milwaukee's Paul Molitor and Robin Yount each singled in the top of the first, the Brewers could not capitalize. In the home half, Gary Redus led off by stroking a double to left field. He advanced to third on a groundout by Steve Lyons. An out later, Iván Calderon singled to left and Redus scored. An inning later, the White Sox manufactured another solo run. Daryl Boston led off with a single and stole second base. Harold Baines grounded out, with Boston taking third. He scored when Ozzie Guillen singled into right field. Two innings, two runs for the home team.
Bill Schroeder singled to left to start the Brewers' third inning. Davis then gave up walks to both Jim Gantner and Molitor to load the bases. Darryl Hamilton grounded into a 6-4-3 double play, as Schroeder scored and Molitor moved up to third base. Yount worked a 2-and-2 count before blasting an opposite-field home run, well over the wall in right field. Milwaukee had taken the lead, 3-2.
The Brewers had almost gone through the batting order twice by the time the fifth inning started, and they seemed to have Davis's number. Gantner singled and Molitor grounded a double into left field. With two runners in scoring position and none out, Chicago manager Jim Fregosi made a pitching change, bringing in Bill Long to replace Davis. Long was mainly used as a short reliever. In 26 appearances to this point in the season, the right-hander had pitched three or more innings just three times. Hamilton grounded out to second, but again he gained an RBI, as Gantner scored and Molitor went to third. Yount battled through a full count and drew a walk. Jeffrey Leonard lifted a fly ball to right, but right fielder Calderon misplayed the sacrifice fly into an error. Molitor scored, and the Brewers now had runners at second and third. Rob Deer drove the ball deep into the hole at short. Guillen managed to stop it, but Yount scored. An out later, switch-hitter Dale Sveum, batting left-handed, "tagged Long for a three-run homer."2 This marked the end for the Chicago pitcher. Steve Rosenberg entered as Chicago's third hurler, and he stopped the rally. However, the Brewers had batted around and added six runs to their tally, although only two were earned.
August threw only 14 pitches in the bottom of the fifth, so the Brewers' bats were still hot in the top of the sixth. After Gantner singled, Molitor drove Long's offering into the left-center gap for an RBI triple. Hamilton continued his hitless production with another RBI groundout, this time to first unassisted. (Molitor scored.) Yount jumped on the first pitch he saw and drilled a double to deep left-center. Two batters later, Deer launched a home run to left. Milwaukee now led, 13-2.
Meanwhile, August was cruising. Through seven innings pitched, he had allowed eight hits and two walks, but only two Chicago runners had scored. The Brewers weren't done scoring, though. Leading off the eighth inning, Yount accomplished the rare feat of hitting for the cycle by "rocketing a shot into the left-centerfield alley"3 and racing to third base for a triple. Leonard walked, and then Jim Adduci (he had replaced Deer defensively in the sixth inning) flied out to left, but the ball was deep enough for Yount to score. After another fly out by Billy Jo Robidoux, Sveum settled into the batter's box, this time from the right side, and he sent Rosenberg's offering out of the park in right for a two-run home run. With only two hits, Milwaukee had scored three more runs and the score was 16-2.
August allowed a single to Baines to lead off the bottom of the eighth, but then he retired six in a row to close the game and earn his second victory. Davis took the loss. Allowing five earned runs in four innings increased his ERA to 9.72.
Sveum had a big day for the Brewers. With the two homers, his slugging percentage shot up to .452. This was only the second time in his career that he homered from both sides of the plate in a game.4 (The switch-hitter struck out in his other three at-bats.) Hamilton was 0-for-6, but he accounted for three runs with productive groundouts (although he had only two official runs batted in, due to the double play).
In hitting for the cycle, Yount was certainly another hero for the Brewers. After the game, the future Hall of Famer told reporters, "It takes some luck and you have to hit the ball in the right places."5 The only luck involved was that Brewers skipper Tom Trebelhorn had penciled Yount into the lineup as his team's designated hitter, which allowed him to play the entire game. "Yount was DHing and getting a rest for the day. If Robin had been playing the outfield, I would have picked him up," Trebelhorn said. "With the score being what it was, we don't play for records, we play for tomorrow."6 This strategy surely prevented Molitor from also hitting for the cycle. Molitor had three hits (single, double, and triple) before being replaced in the sixth inning. Had he remained in the game and connected for a home run, this game would have marked the first time in history that two players, let alone teammates, had hit for the cycle in a game.
Yount was obviously proud of his accomplishment, as he became just the third player in franchise history to hit for the cycle, following Mike Hegan (September 3, 1976) and Charlie Moore (October 1, 1980). In addition, Yount was the first of three batters who cycled in 1988. On July 9 San Francisco's Chris Speier hit for the cycle for the second time in his career,7 in a game against the St. Louis Cardinals. On September 14, Boston's Mike Greenwell accomplished the feat against the Baltimore Orioles.
With the victory, the Brewers avoided a three-game sweep by the White Sox. They then won five of their next six games before finishing June by losing eight of 10 games. The Brewers had a great second half of the 1988 season, though. By October 1 they were in second place, two games out of first, but they had only one game left to play and could not catch the eventual East Division champion Boston Red Sox. The White Sox continued their slide, and although they remained in fifth place in the AL West, they fell from 13 games back on June 12 to 32½ games out of first by the end of the season.
Author's note
Paul Molitor, who also became a Hall of Famer, did join the ranks of batters who have hit for the cycle. Three seasons later, on May 15, 1991, Molitor became the fourth Brewers player to accomplish the rare feat with a 4-for-5 performance against the Minnesota Twins. He entered that contest with his lowest batting average of the season (.302) but raised it 20 points with his quartet of hits.
Sources
In addition to the sources mentioned in the Notes, the author consulted Baseball-Reference.com, MLB.com, Retrosheet.org, and SABR.org.
https://baseball-reference.com/boxes/CHA/CHA198806120.shtml
https://retrosheet.org/boxesetc/1988/B06120CHA1988.htm
Notes
1 August was chosen in the first round (17th pick overall) of the free-agent draft by the Houston Astros. Davis was selected in the first round (13th pick overall) of the 1983 free-agent draft by the White Sox.
2 Ed Sherman, "Yount's Cycle Carries Brewers Past the Sox," Chicago Tribune, June 13, 1988: 3, 1.
3 Joe Mooshil (Associated Press), "Yount Got His Chance to Go for Cycle Because He Was DH," Daily Tribune (Wisconsin Rapids, Wisconsin), June 13, 1988: 11.
4 Mooshil.
5 Mooshil.
6 Mooshil.
7 Speier's first cycle came on July 20, 1978, when he was playing for the Montreal Expos, in a game against the Atlanta Braves.
Additional Stats
Milwaukee Brewers 16
Chicago White Sox 2
---
Comiskey Park
Chicago, IL
Box Score + PBP:
Corrections? Additions?
If you can help us improve this game story, contact us.
Tags
https://sabr.org/sites/default/files/images/YountRobin-Topps.png
600
800
admin
/wp-content/uploads/2020/02/sabr_logo.png
admin
2020-05-19 17:50:36
2020-11-10 12:34:09
June 12, 1988: Robin Yount hits for the cycle as Brewers blast White Sox