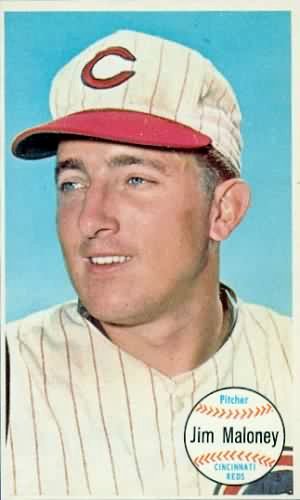 June 14, 1965: Reds' Jim Maloney strikes out 18 in 10-inning no-hitter — then loses to Mets
---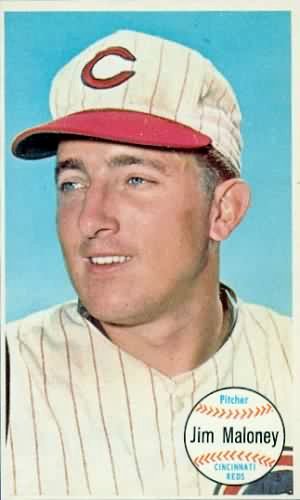 From Sandy Koufax and Don Drysdale to Sam McDowell, Bob Veale, and Jim Bunning, baseball in the 1960s witnessed some of the hardest-throwing and most intimidating pitchers in the sport's history. Included in that fraternity of strikeout artists was Jim Maloney, who broke in with the Cincinnati Reds as a 20-year-old rookie in 1960. Four years later, he enjoyed a breakout season, winning 23 games and fanning 265 while leading the majors by averaging 9.53 punchouts per nine innings. A threat to throw a no-hitter every time he went to the mound, Maloney seemed destined to hurl his first no-no in an overpowering performance on June 14, 1965, in the Queen City, if only his teammates could score.
Skipper Dick Sisler's Reds (31-25) were in third place, five games behind the Los Angeles Dodgers when they hosted the hapless New York Mets for a three-game series to kick off an 11-game homestand. Following a second-place finish in 1964 during which popular manager Fred Hutchinson was forced to resign because of lung cancer, the Reds had legitimate pennant aspirations. The Mets, piloted by Casey Stengel since joining the NL as an expansion club in 1962, were in last place (20-39).
The "Old Perfessor" called on the old Yankee Killer Frank Lary to end the Mets' 10-game losing streak. A onetime workhorse who had led the AL in innings pitched three times as a member of the Detroit Tigers, the 35-year-old Lary was on his last legs and in his final of 12 big-league campaigns. Purchased from the Milwaukee Braves during spring training, Lary had a 127-114 record, including 1-1 as a swingman in '65.
On paper neither Lary nor the Mets seemed a match for Maloney. In his first start of the season, the 6-foot-2 Californian held the Braves hitless until Denis Menke led off the bottom of the eighth with a single. Maloney settled for a one-hitter, his third in 46 starts. Roughed up in his last outing (five runs in 4⅔ innings against the St. Louis Cardinals), Maloney entered the game with a 5-2 slate (2.69 ERA), which improved his career record to 60-39.
The sparse crowd of just 5,989 spectators at Crosley Field for a Monday night of baseball was treated to one of the best games ever pitched in the venerable ballpark, which the Reds had called home since 1912. Maloney came out throwing smoke, fanning leadoff hitter Billy Cowan, and set down the side in order. In the second he issued his only free pass of the game, a leadoff walk to Ed Kranepool, and also struck out two more. The 25-year-old hurler whiffed the side in the third.
Lary, who hadn't started since the Pittsburgh Pirates shelled him for seven runs in 6⅔ innings on May 29, kept pace with Maloney. He yielded his first hit of the game in the third, a leadoff single by Johnny Edwards, who moved up a station on Leo Cardenas's sacrifice bunt, but was left stranded.
In the fourth the Mets' Charley Smith reached first with one out after swinging at a third-strike wild pitch. And then it was lights out for the Mets. Maloney induced Kranepool to hit a chopper to second baseman Pete Rose, who started an inning-ending twin killing. Maloney mowed down the Mets, collecting strikeouts as though they were S&H Green Stamps. He fanned the side again in the eighth and had 15 K's at the end of regulation play. He benefited from excellent defense in the seventh when Chuck Hiller led off with a smash that sportswriter Lou Smith of the Cincinnati Enquirer thought was "ticketed for two bag territory" down the right-field line.1 First sacker Gordy Coleman made a "tumbling stop," wrote Joseph M. Sheehan of the New York Times, blocked the ball and easily beat Hiller to the bag to keep the no-hitter intact.2
Lary matched Maloney's zeroes while the Reds wasted a single in each inning from the fourth through the seventh. In the fourth, Vada Pinson, who entered the game batting .319 and was en route to collecting 200 hits for the fourth time in seven seasons, singled to right with one out. One out later, Pinson was caught stealing but shortstop Roy McMillan couldn't hold on to catcher Chris Cannizzaro's throw. Then in a "freakish play," according to the Times, Pinson tried to score from second when the third strike to Coleman eluded Cannizzaro for a passed ball; however, Pinson was thrown out with Lary covering home plate.3 With two outs in the eighth, Lary plunked speedy Tommy Harper, who swiped second and moved to third when Cannizzaro's throw flew into center field. Rose tapped innocuously to the mound to end the threat.
Maloney set down the Mets in order in the top of the 10th, fanning two more to bring his total to 17 and break the Reds' single-game record that Noodles Hahn set in 1901 and Maloney himself had tied on May 21, 1963 in 8⅓ shutout innings against the Braves. Edwards led off the bottom of the frame with a single off right-hander Larry Bearnarth, who had relieved Lary to begin the ninth. Maloney's road roommate and batterymate, Johnny Edwards led off the tenth with a single, and was replaced by pinch-runner Chico Ruiz who moved to second on Cardenas's sacrifice bunt. A half-century later, Edwards was still upset about being removed. "You just don't take a catcher, or a pitcher, out when you are working on a no-hitter," he told the author.4 Maloney, adept with the stick (he batted .225 on 20 hits in '65) had a chance to be the hero in his own masterpiece, but he grounded out, though Ruiz managed to advance to third. Harper hit a routine grounder to third baseman Charley Smith, whose poor throw Kranepool dug out of the dirt for a game-saving catch.
Described by Reds beat writer Lou Smith as "faster and sharper" than at any time thus far in '65, Maloney was back on the mound to start the 11th.5 It was just the third time in his career that he had ever pitched into extra innings and both of those were heartbreakers. On May 28, 1964, he hurled 11⅓ frames and fanned 12 in an eventual 17-inning, 2-2 tie with the Dodgers. He ended the '64 campaign by blanking the Pirates on three hits over 11 innings in a game the Reds lost 1-0 in 16 innings.
Maloney took the mound with a new catcher, Don Pavletich, behind the plate. The big-right-hander stared down the first batter, Johnny Lewis, who had fanned in his three previous trips to the plate, and unleashed a fastball on a 2-and-1 count. Lewis met the ball squarely with the head of the bat, sending it "on an ascending line to straightaway center," wrote the Times poetically, for a home run, stunning the Crosley Field crowd.6 "I was trying to keep the ball in on him," said a dejected Maloney after the game, "and it got out just a little bit."7 It was probably Lewis's most dramatic home run of the 22 he hit in his four-year big-league career.  "I never saw a pitcher throw harder to me as Maloney did," he said. "I wasn't aware sure it was a homer. I kept running  … until I saw the umpire signal."8 Maloney regrouped and punched out the next batter, Ron Swoboda, the Mets' 18th and final strikeout victim. McMillan followed with a single, but was erased on an inning-ending double play.
In the bottom of the 11th Frank Robinson gave the silent crowd a few seconds of hope by lining a two-out single to center, but Coleman grounded to short to end the game in 2 hours and 50 minutes.
"It's a shame that "[Maloney's] mistake had to be in a game like this," said Sisler in the subdued Reds clubhouse. "It was absolutely as fine a game as I've ever seen him pitch."9 Maloney's 18 punchouts tied the NL record for most strikeouts in a game. Warren Spahn had fanned 18 in a 15-inning complete game loss to the Chicago Cubs on June 14, 1952; and Sandy Koufax had achieved the mark twice (in 1959 and 1962) in nine-inning complete-game victories.
Not only did Maloney fail to become the first hurler to toss a no-hitter at Crosley Field since Ewell Blackwell turned the trick against the Braves on June 18, 1947, he also had the dubious distinction of joining Harvey Haddix as the only pitchers since the Live-Ball era (post 1920) to throw a no-hitter for at least 10 innings. In one of the most famous games in baseball history, Haddix tossed 12 perfect innings against the Braves on May 26, 1959, only to lose in the 13th.
About two months later, it was déjà vu for Maloney, who held the Cubs hitless for nine innings in the first game of a doubleheader at Wrigley Field on August 19, 1965. After Leo Cardenas belted a home run in the 10th for the Reds' only run, Maloney overcome his 10th walk of the game to record his first no-hitter. On April 30, 1969, Maloney tossed his second no-hitter, defeating the Houston Astros at Crosley Field.
This article was published in "Cincinnati's Crosley Field: A Gem in the Queen City" (SABR, 2018), edited by Gregory H. Wolf. To read more articles from this book at the SABR Games Project, click here.
Sources
In addition to the sources cited in the Notes, the author also accessed Retrosheet.org, Baseball-Reference.com, SABR.org, and The Sporting News archive via Paper of Record.
https://www.baseball-reference.com/boxes/CIN/CIN196506140.shtml
http://www.retrosheet.org/boxesetc/1965/B06140CIN1965.htm
Notes
1 Lou Smith, "Reds Hurler Whiffs 18 Mets in Masterpiece," Cincinnati Enquirer, June 15, 1965: 1.
2 Joseph M. Sheehan, "Mets Homer Wrecks a No-Hitter in 11th," New York Times, June 15, 1965: 1.
3 Ibid.
4 Author's phone interview with Johnny Edwards on March 7, 2017.
5 Smith.
6 Sheehan.
7 Dick Forbes, "Jim's Heartbreak Pitch Was a Fastball," Cincinnati Enquirer, June 15, 1965: 35.
8 Ibid.
9 Ibid.
Additional Stats
New York Mets 1
Cincinnati Reds 0 
11 innings
---
Crosley Field
Cincinnati, OH
Box Score + PBP:
Corrections? Additions?
If you can help us improve this game story, contact us.
Tags
https://sabr.org/sites/default/files/images/MaloneyJim1.jpg
600
800
admin
/wp-content/uploads/2020/02/sabr_logo.png
admin
2019-10-07 15:01:27
2020-08-31 11:33:06
June 14, 1965: Reds' Jim Maloney strikes out 18 in 10-inning no-hitter — then loses to Mets