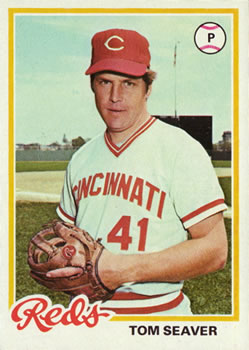 June 16, 1978: Tom Terrific! Seaver tosses only no-hitter
---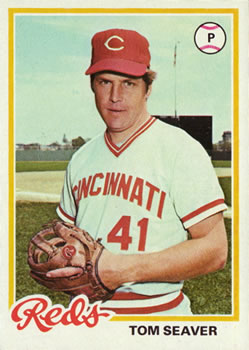 "If you pitch long enough with good enough stuff," said Tom Seaver, "you are bound to pitch a no-hitter sooner or later."1 But even Tom Terrific probably did not think it would take 396 starts and 211 victories into his Hall of Fame career to toss his first and only no-hitter. Seaver's masterpiece was "more a matter of skill over power," opined sportswriter Bob Hertzel of the Cincinnati Enquirer. "He didn't have overpowering stuff. His fastball wasn't much. But he had control and made it look easy."2
Seaver had come oh-so-close before. Three times he had begun the ninth with a no-no intact. On July 9, 1969, he lost his bid for a perfect game when Jim Qualls of the Chicago Cubs singled with one out; the San Diego Padres' Leron Lee broke up a no-hitter in the first game of a doubleheader on July 4, 1972. Both times Seaver settled for one-hitters. Seaver was just one agonizing pitch away from joining the no-hit club on September 24, 1975, when the Cubs' Joe Wallis lined a single on a 3-and-2 count. Adding insult to injury, Seaver had to settle for a no-decision in that game, having tossed 10 scoreless innings and yielding three hits.
Perhaps the strangest aspect of Seaver's no-hitter was the color of his cap: red instead of blue. Seaver had accomplished almost everything possible for a pitcher, including winning three Cy Young Awards (1969, 1973, 1975) and leading the New York Mets to a "miracle" World Series championship in 1969, but underwent what Cincinnati sportswriter Bill Braucher described as "emotional surgery" when he was traded to the Reds on June 15, 1977. It was the culmination of Seaver's long-running feud with the Mets chairman, M. Donald Grant.3
Seaver's combined 21-6 record (14-3 with the Reds) in 1977 suggested another typical "Seaveresque" campaign for the 33-year-old right-hander. However, when he went winless in his first six starts with a 6.52 ERA in 1978, many wondered if the 12-year veteran was washed up. The perception of Seaver had changed dramatically by the time the second-place Reds (37-25) faced their rivals from the East Division, the last-place St. Louis Cardinals (23-41), in the first game of a three-game set in the Queen City. Seaver (7-4, 3.53) had won his previous six starts with a 1.63 ERA and seemed primed to extend his winning streak against the NL's worst club.
Riverfront Stadium, located on the northern bank of the Ohio River, was packed with 38,216 spectators on a warm Friday evening, June 16. Any hope of seeing perennial All-Star and former two-time MVP Johnny Bench behind the plate was dashed when Don Werner crouched to take warm-up throws from Seaver. It Werner's 19th consecutive game behind the plate subbing for the ailing future Hall of Famer, out with a back injury. "Tom runs the show out there," said Werner about Seaver calling his own pitches. "I was more of a spectator."4
The game unfolded as a tense pitchers' duel between Seaver and John Denny, neither of whom allowed a hit through four innings. Seaver escaped a jam in the second after issuing a one-out walk to Keith Hernandez, who stole second with two outs and moved to third on Werner's throwing error. After walking Ken Reitz, Seaver dispatched Mike Phillips to end the frame. In the fourth Seaver benefited from the first of three stellar defensive plays when second baseman Joe Morgan dashed to his left to secure a one-hop grounder from Hernandez. "It wasn't a tough play if I get to it," said the former two-time MVP. "The only question was if I'd get to it on the AstroTurf."5Morgan's defensive agility was not lost on Seaver. "That was a case of intelligence getting an out rather than raw ability," he said.6 Denny, a 25-year-old right-hander and a former NL ERA champ (2.52 in 1976), owned a career record of 35-28 in parts of five seasons, including 6-4 with a sparkling 2.67 ERA thus far in '78. He walked four batters in the first four frames, including two in the fourth with no outs, after which he induced Dan Driessen to hit into a 1-6-3 double play, then retired Dave Concepcion with Morgan on third.
Cesar Geronimo and Werner led off the fifth with singles. After Denny fanned Seaver, there was a "lengthy delay," according to Hertzel when Denny broke his athletic supporter and was forced to go to his locker room to change.7 Upon his return, Pete Rose doubled into the left-center gap, driving in both baserunners and moving to third on an error by catcher Ted Simmons. Two batters later, Morgan doubled, plating Rose. The Reds tallied their last run when Driessen led off the sixth with his ninth round-tripper of the season.
"I got stronger at the end of the game," said Seaver. "From the seventh inning on I began to feel the excitement of the fans."8 The partisan crowd gave Seaver a raucous standing ovation when he took the mound in each of the last three innings. Seaver also benefited from a little luck in the seventh when Hernandez rocketed a two-out grounder back to the mound. According to Hertzel, the ball caromed off Seaver's glove and landed in Concepcion's mitt.9 Reacting instinctively, the All-Star shortstop fired to Driessen at first for an easy out.
The Reds mounted a rally in the seventh when Seaver led off with a walk and Rose singled to end Denny's outing. The Cardinals' pitcher of record, Denny gave up six hits and four runs, and walked five. Reliever Buddy Schultz put out the fire by inducing Ken Griffey (not yet known as senior) to ground into a 4-6-3 twin killing. Morgan grounded to short to end the frame.
In the eighth inning the Reds infield supplied the third stellar play of contest. Ray Knight, who had replaced Rose at third for defensive purposes to start the frame, made what sportswriter Neal Russo of the St. Louis Post-Dispatch called a "great play" by charging a high bouncer from Jerry Morales and throwing an off-balance strike to Driessen for the first out.10
"No curveballs," Seaver thought to himself when he took the ninth. "They have to hit fastballs."11 Seaver had retired 19 straight batters, but yielded a leadoff walk to pinch-hitter Jerry Mumphrey. Seaver was "overthrowing his fastball," opined Hertzel, "trying too hard."12 In a split-second, Seaver's attention went from a no-hitter to trying to win the game. He retired Lou Brock on a fly ball to left and got Garry Templeton to hit into a force play on a steady diet of heaters. To the plate stepped powerful George Hendrick, who had slugged 112 homers in his first five full seasons (1973-77); however, he had slumped since his trade from the Padres to the Cardinals on May 26, batting just .188 (12-for-64). On a 1-and-2 count, Hendrick grounded softly to Driessen, who stepped on first to end the first no-hitter thrown in Riverfront Stadium, in 2 hours and 9 minutes.
Seaver was mobbed by his teammates on the mound, and the celebration continued in the Reds' clubhouse. "I had my best stuff at the end," said Seaver. "I did have a good slider most of the way and my fastball came around later."13 In fashioning his 47th of 61 career shutouts, Seaver's masterpiece was not his most overwhelming performance. Seaver had led the NL in strikeouts five times with the Mets, and once struck out a major-league record 10 consecutive batters against the Padres in 1970 when he set a single-game record with 19 punchouts; however, against the Cardinals, he fanned only three and issued three walks. Skipper Sparky Anderson beamed with pride and admonished the press, "That should silence all the people who thought Seaver was through."14
Overcome with excitement in the immediate aftermath of his no-hitter, Seaver was more subdued the next day. "It's nothing like the feeling you get if you win the World Series," he said of his no-hitter, the first by a Cincinnati hurler since Jim Maloney tossed one on April 30, 1969, in Crosley Field. "[Winning a championship] is the feeling of achievement. A no-hitter, it's momentary. You enjoy the moment, that's all."15 A consummate professional, Seaver recognized that the Reds acquired him to lead the fading last vestiges of the Big Red Machine to the postseason, and not for single-game heroics. "I would never do anything to jeopardize a game just to make a no-hitter for myself," he continued.16
Seaver lost five of his next six starts after his no-hitter. He pitched well (2.93 ERA), but was the victim of poor run support. He concluded his first full season with the Reds with a 16-14 record and 2.88 ERA, and ranked second in strikeouts (226), marking the 10th and final time he fanned at least 200. The Reds were runners-up to the Los Angeles Dodgers for the second straight season.
Sources
In addition to the sources cited in the Notes, the author also accessed Retrosheet.org, Baseball-Reference.com, the SABR Minor Leagues Database, accessed online at Baseball-Reference.com, SABR.org, and The Sporting News archive via Paper of Record.
http://www.baseball-reference.com/boxes/CIN/CIN197806160.shtml
http://www.retrosheet.org/boxesetc/1978/B06160CIN1978.htm
Notes
Additional Stats
Cincinnati Reds 4
St. Louis Cardinals 0
---
Riverfront Stadium
Cincinnati, OH
Box Score + PBP:
Corrections? Additions?
If you can help us improve this game story, contact us.
Tags
http://sabr.org/sites/default/files/SeaverTom-1978Topps.jpg
600
800
admin
/wp-content/uploads/2020/02/sabr_logo.png
admin
2017-01-12 14:37:55
2020-04-17 10:25:56
June 16, 1978: Tom Terrific! Seaver tosses only no-hitter