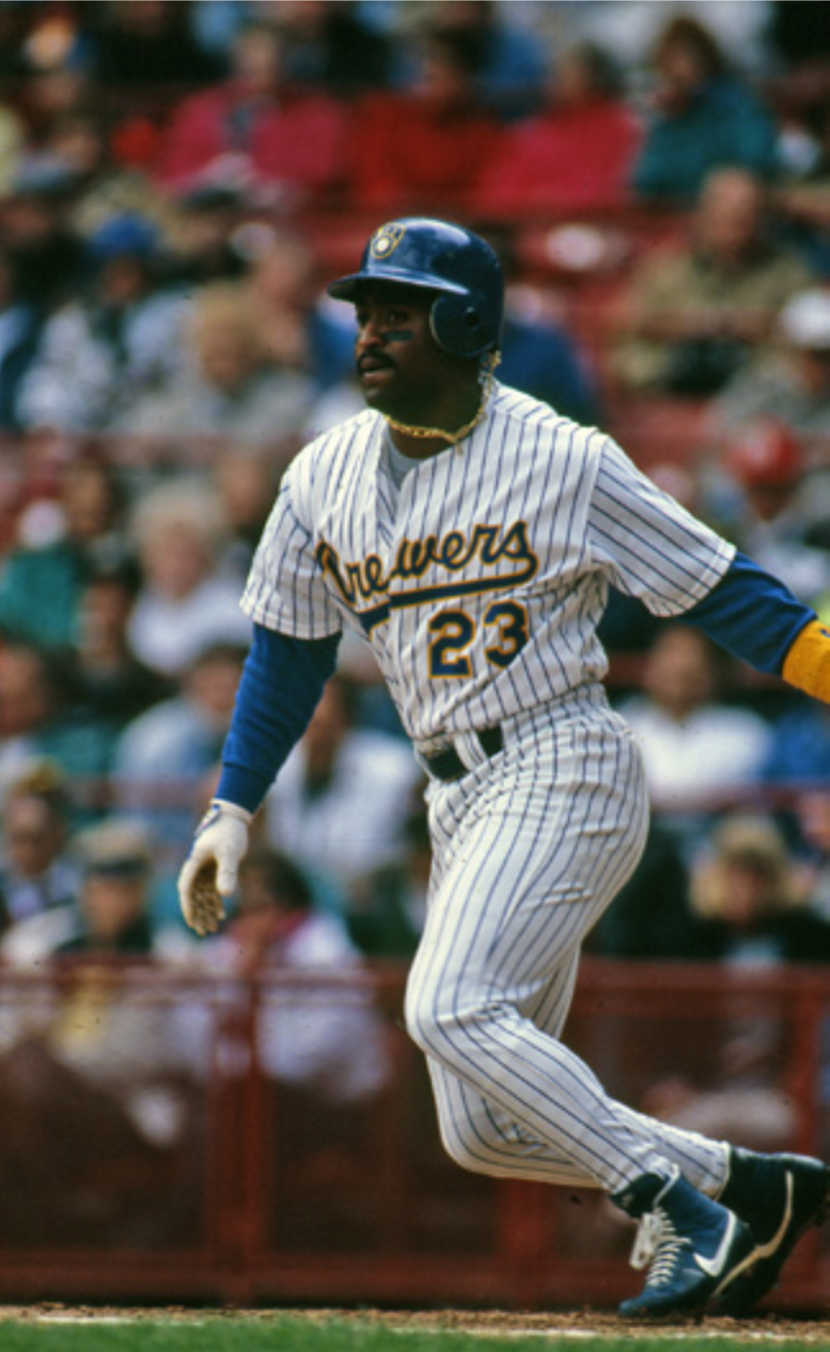 June 16, 1991: Greg Vaughn's walk-off slam gives Brewers win
---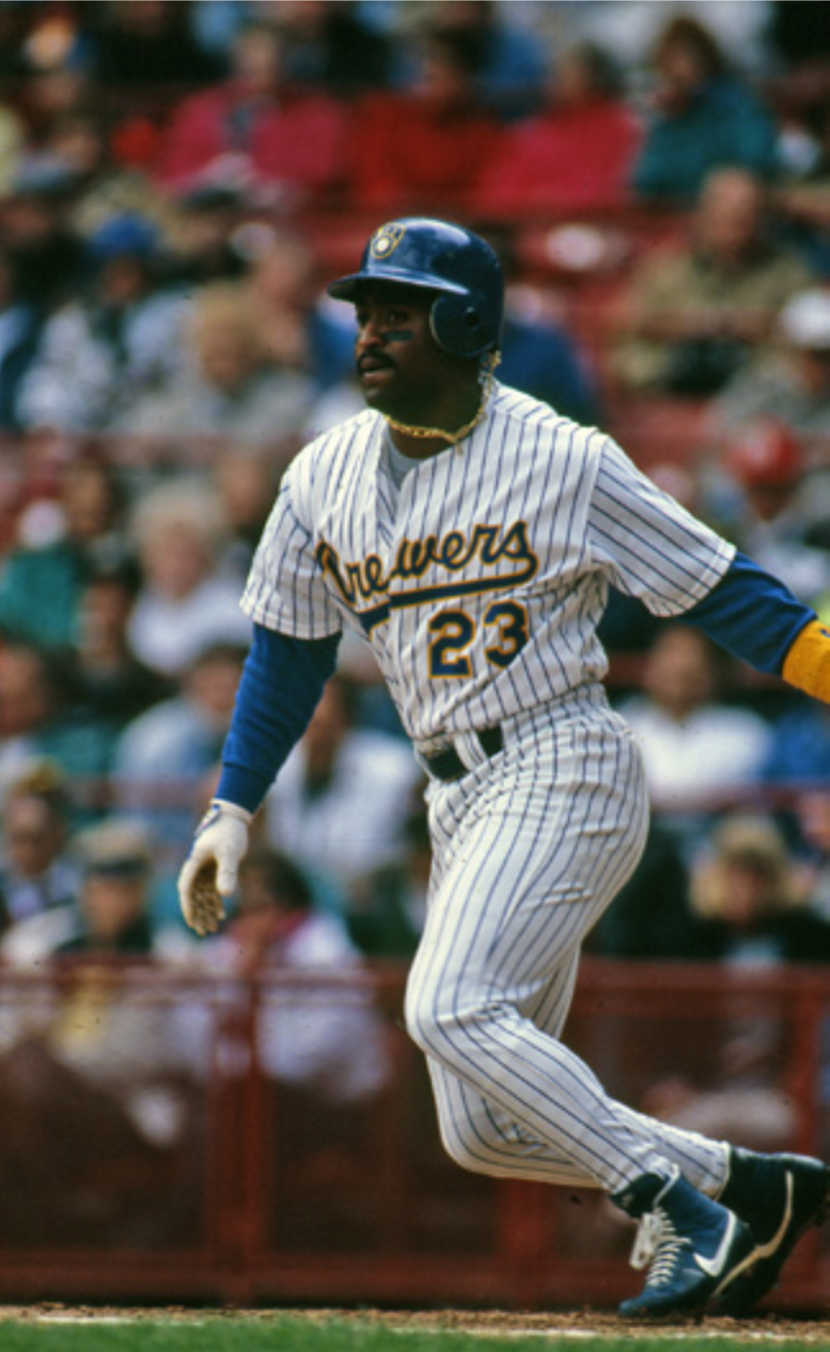 Although Greg Vaughn hit 17 home runs in 1990, his first full season, the 25-year-old outfielder batted only .220 and then played poorly in training camp the following spring. When the Brewers signed veteran free agent Candy Maldonado and swapped Dave Parker to the California Angels for promising young slugger Dante Bichette, Vaughn appeared to be the odd man out in the Milwaukee outfield. There were reports that he was headed to the minor leagues or was being shopped around for a trade.
But when Paul Molitor was sidelined during spring training with a sore shoulder and a fractured thumb, the Brewers, anticipating the need for a designated hitter, kept Vaughn on the roster. When Molitor returned in full health for the season opener, Vaughn was relegated to the bench. Maldonado broke his foot in the second game of the season, however, and Vaughn was installed in the lineup as the regular left fielder.
By June 15, although his batting average hovered around .250, Vaughn's nine home runs were second on the Brewers only to Dante Bichette's 11, and his 30 runs batted in were bettered only by Robin Yount's 39 and Bichette's 35.
The team itself, though, was struggling, stuck in fifth place in the East Division with an uninspired 25-32 record, and was playing host to the Oakland A's in a four-game weekend series. The formidable Oakland squad, American League champions the last three seasons, was once again on top of the West Division at 36-23 thanks to a lineup that included the swift Rickey Henderson, who in just his 13th season had already passed Lou Brock to become the greatest basestealer of all time, and the slugging young "Bash Brothers," Jose Canseco and Mark McGwire, who'd hammered 76 home runs between them the previous year and a combined 341 in six-plus seasons. Coming into Milwaukee, though, the A's were under pressure from the hard-charging Minnesota Twins, just two games behind and winners of their last 13 games.
The Brewers and A's split the Saturday-afternoon doubleheader, the first game going to Milwaukee, 6-4, the A's taking the nightcap, 7-3. Vaughn tagged A's ace Dave Stewart for two home runs, his 10th and 11th of the season, and five RBIs in the opener. But to the Brewers' dismay, Molitor, their leading hitter (and third in the AL at .336), and lone All-Star representative, had been hit hard on the wrist by a pitch in the second game. Although X-rays showed no fracture, he was lost for the next day's game.
Before a Sunday-afternoon crowd of 28,774, the Brewers capitalized on a three-run home run by Franklin Stubbs and a muffed grounder by A's shortstop Mike Gallego that led to three unearned runs to chase A's rookie starter Joe Slusarksi (2-3, 4.73) and stake Milwaukee starter Chris Bosio (5-6, 2.80) to a 7-1 lead after five innings. Four hits by the A's in the sixth inning, including a two-run home run by Canseco, his 13th of the season on his way to his second home-run crown, narrowed the Brewers' lead to 7-4. A three-run homer in the eighth by McGwire, his second of the game and 11th of the season, knotted the game at 7-7.
After two singles and a walk in the bottom of the eighth, Milwaukee had the bases loaded with two outs against reliever Gene Nelson, only to leave them stranded when Darryl Hamilton popped out to second.
"That was a tough one," remarked Hamilton. "That's the way the game was going."1
Chuck Crim, the workhorse of the Brewers' bullpen, pitching in his 28th game of the team's 60 so far, took the mound for the ninth inning. The A's leadoff hitter, ex-Brewer Ernie Riles, singled to left. Willie Wilson, the aging speedster, was brought in to run for Riles, but the move went for naught as Dave Henderson struck out swinging and catcher B.J. Surhoff gunned down Wilson attempting to steal second for a double play. Canseco grounded out to short to end the inning.
Manager Tom Trebelhorn judged the double play a game-saver. "B.J. made a tremendous play to throw Wilson out," said the Brewers' skipper. "That got us through that inning."2
Nelson returned to the mound for the A's for the bottom of the ninth. Jim Gantner led off with a line-drive single to right-center. Surhoff attempted a sacrifice bunt and was safe when Nelson's throw to second for a force was late. Yount followed with another bunt, and when third baseman Vance Law's toss to first was high for an error, the bases were loaded.
Vaughn, who already had a walk and two hits, including a two-run double in the third that put the Brewers up 4-0, connected on Nelson's first pitch, a high fastball, with a long drive to deep left field that cleared the fence for his 12th home run of the season and his first career grand slam, giving Milwaukee a stunning 11-7 victory.
It was the fourth walk-off grand slam in Brewers history, following those by Cecil Cooper (June 26, 1977), Sixto Lezcano (April 10, 1980), and Ted Simmons (April 25, 1985).
Vaughn finished the day with three hits and six runs batted in, giving him three homers and 11 RBIs against the A's in the last two days. The loss dropped Oakland out of first place, for good as it turned out, as the Twins extended their winning streak to 15 games and edged into the lead. The Brewers won the next day, 5-0 on Don August's five-hitter, to take three of four from Oakland.
"The A's must think (Vaughn is) the greatest thing since sliced bread," offered Crim (4-4), winner of the game in relief. "That guy has torn that club up. You've got to give a lot of credit to that guy. He's gotten some real big, key hits."3
Vaughn was humble. "I just happened to be the guy coming up in that situation," he said. "There's a lot of other guys on the team who could have done it."4
As to his development as a hitter, though, Vaughn was more outspoken. "I'm staying within myself and letting my ability take over and not pressing," he explained. The struggle for a roster spot "has been extra motivation. It's not so much that I'm throwing it in (the Brewers') face. I'm just showing them. I just asked them to put me out there. Don't tell me anything, don't mess with me. Just let me alone."5
Trebelhorn concurred, recalling a conversation with Vaughn back in April. "Greg said, 'Let me play and leave me alone.' He was right. We've let him play, left him alone, and he's done a very good job."6
This article appears in "From the Braves to the Brewers: Great Games and Exciting History at Milwaukee's County Stadium" (SABR, 2016), edited by Gregory H. Wolf. To read more stories from this book at the SABR Games Project, click here.
Sources
Newspapers
Los Angeles Times
Wisconsin State Journal (Madison, Wisconsin)
Milwaukee Journal
Milwaukee Sentinel
San Francisco Chronicle
Santa Cruz (California) Sentinel
The Sporting News
Websites
Baseball-reference.com
Notes
1"Red Hot Vaughn Singes A's," Milwaukee Sentinel, June 17, 1991, 3B.
2Ibid.
3"Vaughn HR Slams A's,"Milwaukee Sentinel, June 17, 1991, B1.
4"Brewers' Weekend Hero Drives Home His Point," Milwaukee Sentinel, June 17, 1991, B1.
5"A's Clubbed by Vaughn," Santa Cruz (California) Sentinel, June 17, 1991, 13.
6"Brewers, Vaughn Slam A's," Wisconsin State Journal(Madison, Wisconsin), June 17, 1991, 9.
Additional Stats
Milwaukee Brewers 11
Oakland A's 7
---
Milwaukee County Stadium
Milwaukee, WI
Box Score + PBP:
Corrections? Additions?
If you can help us improve this game story, contact us.
Tags
https://sabr.org/sites/default/files/Vaughn.Greg_.png
600
800
admin
/wp-content/uploads/2020/02/sabr_logo.png
admin
2018-04-19 12:06:18
2020-04-17 10:24:49
June 16, 1991: Greg Vaughn's walk-off slam gives Brewers win