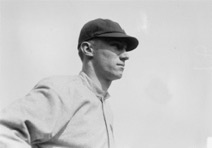 June 18, 1916: The death of Johnny Dodge
---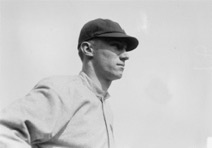 There are records from baseball's early years of deaths that were either directly or indirectly caused by a player being struck by a pitched or batted ball. However, the first major-league alumnus to succumb after being hit by a pitch — four years before Ray Chapman — was John Dodge. The infielder was beaned during a Southern Association game in 1916, a few years after his brief stay in the majors had ended.
The Nashville Volunteers — a team that had released Dodge before the 1916 season — had come to Mobile for a four-game series against the Sea Gulls. Mobile was in last place but had taken two out of the first three games from the first-place Vols. Former Detroit Tiger Tillar H. "Pug" Cavet was called on to start the finale for the Gulls. Dodge's good friend and former teammate Tom Rogers countered for the Volunteers. While Cavet was sliding down the minor-league ladder after a short spell in the majors, Rogers — known as "Shotgun" for his fastball — was working his way up. He would soon embark on his big-league career (1917-19; 1921).
The Sunday afternoon game on June 18 started out as a pitchers' duel. Cavet pitched masterfully, tossing a one-hit complete-game shutout, giving up only a single to Gus Williams. He faced only 29 batters, walking none and striking out three. The only other Vol baserunner came on an error by shortstop Eddie Holly, who made up for his miscue with a stellar defensive play. No Nashville batter reached second base the entire game.
Rogers started off pitching just as effectively until the Gulls finally got to him for two runs in the sixth. Dodge's single contributed to the scoring.
In the seventh inning, Rogers got two outs but found himself in trouble again when he walked Mike Massey, who then swiped second base. Right fielder Holt McDowell sent a pop fly to right field that was dropped by Nashville outfielder Howard Baker, letting Massey score. Baker then uncorked a wild throw back to the infield and McDowell came all the way around.
Dodge came up next for his third at-bat against Rogers. Dodge was known to stand up toward the front of the batter's box, and as usual he took a couple of steps toward the pitcher. "Shotgun" would occasionally have one of his big fastballs take off on him — he'd already hit Massey with a pitch in this game, and in July of the previous summer he'd beaned Bill Taff of the Chattanooga Lookouts, fracturing Taff's skull and effectively ending his career.1
Rogers let loose on the first pitch of the at-bat with a high and tight fastball that broke in toward Dodge, who tried to duck out of the way, but the pitch caught him just above the left eye.
Dodge dropped to the ground. Some accounts of the game state that he immediately lost consciousness; others make no mention of his being knocked out. At any rate, he was carried off the field to the clubhouse. Razor Ledbetter, a "cup-of-coffee" player whose sole game in the majors came the previous year for the Tigers, ran for Dodge.
The next batter, player-manager Charley "Boss" Schmidt, hit a comebacker. Rogers fielded it cleanly — but, undoubtedly shaken up by watching had happened to his pal Dodge, he threw the ball wildly past first base and into the Negro bleachers of the park. Ledbetter scored the third run of the inning. Rogers completed the rest of the game without giving up any more runs, but the Gulls won, 5-0, and knocked Nashville out of first place.
There was no ill will on the part of Gulls fans or any others toward Rogers after the game. Dodge getting struck was regarded as one of those "unavoidable tragedies which are likely to occur in any strenuous sport."2 As he later expressed, Rogers never wanted to see his good friend harmed.
The initial prognosis was that Dodge was not seriously hurt. The doctors knew there was a chance of skull damage and took him to nearby Inge Bondurant Sanitarium for observation, but he was still expected to return to action after a brief stay. In fact, Dodge's injury wasn't even considered serious enough to be the top story of the game. Headlines instead covered the "wonderful pitching" by Pug Cavet.3
The following morning Dodge's condition began to worsen. At about 10:00 A.M. he fell into a coma, and he never regained consciousness. That evening, at about 7:15, 27-year-old Johnny Dodge was dead from internal hemorrhaging of the brain.
The news quickly spread throughout the region. Accounts of his death appeared the next day in newspapers in all Southern Association cities, and in other locations where Dodge had lived or played in his lifetime. The death of the former major leaguer warranted a writeup in the June 22 edition of The Sporting News. The matchup scheduled for June 20 between Mobile and Memphis was called off, and shows of respect began flooding in for Dodge. Representatives of both the Mobile and Memphis teams attended Dodge's funeral the next day, Nashville sported armbands in remembrance during their next game, and floral arrangements and telegrams of sympathy arrived from all of the Southern Association teams.4
Tom Rogers was especially shocked and saddened over the death of his friend. He sent the following wire to Boss Schmidt:
"Words cannot express how grief stricken I feel over the death of Player Dodge. It is the saddest thing that has occurred in my life. No one can imagine my feelings and how much I regret it occurred. The entire club is in sympathy with his relatives."5
Rogers went on to have an admirable career in professional baseball. On July 11, 1916, less than a month after the accident, he pitched a perfect game against Chattanooga, the third in Southern Association history. In addition to his time in the majors, he pitched with various minor-league teams through 1930. But accounts from friends say he never got over throwing the pitch that killed John Dodge. He reportedly later suffered from emotional problems and alcoholism, and died in 1936 at the age of 44 from pneumonia — potentially the result of passing out and aspirating after a drinking binge.6
Johnny Dodge's death prompted some discussion about penalizing pitchers who intentionally throw beanballs, but it was generally agreed that this policy would be too difficult for umpires to enforce.7 In their book Death at the Ballpark, Robert M. Gorman and David Weeks noted that the Base Ball Player's Fraternity advised players to take a lesson from the tragedy and be more mindful of the dangers of the game. For a time, batters were a bit more cautious about crowding the plate, and some pitchers likewise eased off on "dust him off" pitching. Yet the incident soon faded into obscurity, a sad narrative brushed to the side as new stories took precedence (thoughts of the United States entering World War I, for example).
It was not until Ray Chapman's more high-profile death in 1920, however, that serious consideration was given to measures to improve the safety of the game. In much the same way, it took the deaths of minor-league coach Mike Coolbaugh in 2007 and Dodgers fan Linda Goldbloom in 2018 to accelerate changes to better protect baseball players, coaches, and fans alike. Stories like Johnny Dodge's are thankfully few and far between, but they do serve as reminders that though baseball has its tales to celebrate heroes, record breakers, and underdog victors, it also has its share of tragic stories that should not be forgotten.
Sources
Game-day and death report accounts from the Mobile Daily Register and the Mobile Daily Item, June 19 and 20, 1916.
Gorman, Robert M., and David Weeks. Death at the Ballpark: A Comprehensive Study of Game-Related Fatalities of Players, Other Personnel and Spectators in Amateur and Professional Baseball, 1862-2007 (Jefferson, North Carolina: McFarland & Co., 2015).
Notes
1 "Taff Improves From Fracture," Chattanooga News, July 13, 1915.
2 "Pitched Ball Kills Dodge," Chattanooga Daily Times, June 20, 1916.
3 "Dodge Dies from Blow on Head in Sunday Game," Mobile Daily Register, June 20, 1916.
4 "Funeral Held for John Dodge," Tennessean (Nashville), June 21, 1916.
5 "Rogers Is Grief-Stricken Over Death of Dodge," Montgomery Advertiser, June 21, 1916.
6 John P. Lopez, "Baseball Death Jogs Painful Memory for Longtime Fan," Houston Chronicle, August 19, 2007.
7 "'Bean Ball' Under Fire," Chattanooga Daily Times, July 8, 1916.
Additional Stats
Mobile Sea Gulls 5
Nashville Volunteers 0
---
Monroe Park
Mobile, AL
Corrections? Additions?
If you can help us improve this game story, contact us.
Tags
https://sabr.org/sites/default/files/john.jpg
600
800
admin
/wp-content/uploads/2020/02/sabr_logo.png
admin
2020-04-16 13:23:28
2020-06-22 16:30:08
June 18, 1916: The death of Johnny Dodge