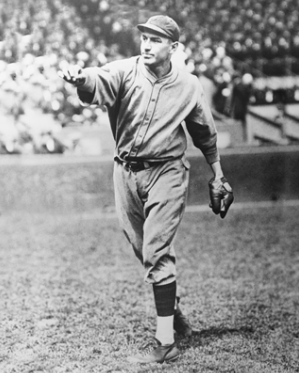 June 19, 1934: Pie Traynor replaces George Gibson as Pirates manager
---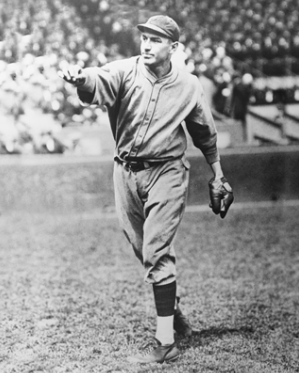 When Pie Traynor reached the major leagues1 as a 21-year-old rookie with the Pittsburgh Pirates in 1920, his manager was George Gibson, a rookie skipper and a local fan favorite throughout his Deadball Era tenure as the team's catcher. Although Gibson delivered a positive overall 201-171 record in two-plus seasons at the Bucs' helm, by June 30, 1922, Pittsburgh stood a game under .500 and Gibson resigned in favor of a popular local native, Bill McKechnie.2
By 1932 McKechnie's Pirates had won the 1925 World Series but "Wilkinsburg Bill" had packed off to the St. Louis Cardinals as a coach (1927),3 Donie Bush (1927-29) and Jewel Ens (1929-31) had come and gone, and the Pirates brought Gibson back for an encore as manager. Traynor was still there and solidly entrenched as arguably the best third baseman in baseball. As Pittsburgh began the 1934 season Gibson was still the skipper. Traynor, now 35, although off to a solid start at the plate, had played sparingly in the early season due to a sore throwing arm.4 By Tuesday, June 19, the Pirates, atop the National League at 20-11 in late May, had stumbled to fourth place, losing seven of eight games from June 8 to stand a pedestrian 27-24; they trailed the New York Giants by 7½ games. Those first-place Giants had strutted into town on June 16 and defeated the Bucs twice. The Sunday, June 17, loss was particularly ugly, as "for the first time in his latest term as pilot, a stretch of three seasons, Gibson was roundly booed by 15,000 customers" every time he trudged from the dugout to the third-base coaching box.5
The Pirates got a much-needed rainout on Monday, but Tuesday morning there was big news — Gibson was once again stepping down during the season, this time to be replaced by Traynor as player-manager. Announced just prior to the game with the Giants at Forbes Field, the move was "by mutual agreement."6 That Gibson had already resigned once in Pittsburgh and had a reputation as a leader "intolerant of mental mistakes and his temperament left him ill-suited to the task of managing locker-room politics"7 may have been factors in the move.
Fans got their beloved Pie's "promise to give the opposition plenty of headaches" by "stealing every time [we] get a break; we've all got to hustle." Of the Giants' lead, he said: "A couple of winning weeks and that lead will be washed up. That old flag isn't lost yet – we've got lots of time."8 He named respected four-year veteran first baseman Gus Suhr to replace him as team captain9 and was ready to go, all in the span of a few hours.
Traynor, who had missed 17 of Pittsburgh's 51 games to this point in the season but was hitting .320, penciled himself in at the number-three slot of the batting order at third base and between two other future Hall of Famers, right fielder Paul Waner and shortstop Arky Vaughan. He tabbed lefty Larry French, as close to an ace as the Pirates had, to start the contest. French, 26, was in his sixth Pittsburgh season since having broken into the majors in 1929. He'd had 11 starts for the season and sported an uninspiring 3-5 record and a 4.17 ERA.
New York's own player-manager, Bill Terry, countered with 23-year-old "Prince Hal" Schumacher. He was a 19-game winner for the Giants in 1933 and was 8-4 so far in 1934, coming off a shutout in Cincinnati five days before. The consistent young righty was at this point in his career giving the Giants' older lefty "King Carl" Hubbell a run for his money as ace of the staff.
The rapid succession of events culminating in a managerial change, which wasn't even reported in the papers until the next day, plus the reality of a midseason Tuesday game before the advent of night baseball10 combined to hold the Forbes Field attendance to "around 2,500" as the Pirates took the field under Traynor for the first time.11
The new manager nicked Schumacher for the first safety of the game in the Pittsburgh first but, trying to practice the hustle he preached, was out attempting to stretch the hit into a double. Mel Ott opened the scoring in the Giants' second with a two-bagger of his own, coming home on Blondy Ryan's double after French had managed two outs.
Vaughan continued the game's doubles carousel leading off the Pittsburgh second and moved to third on Suhr's infield grounder. Vaughan had to remain at third as Cookie Lavagetto rolled out to second, but the Pirates then evened the score at 1-1 when Woody Jensen singled to score Vaughan.
With Tom Padden batting next, Schumacher wild-pitched Jensen to second base. Padden then hit a shot that Giant shortstop Travis Jackson booted. With two outs, Jensen churned around third and headed home, but a "heroic heave"12 by Jackson from short left field, atoning for his error, nipped Jensen at the plate to preserve the tie.
French got two outs in the New York third before a single by Hughie Critz and a walk to Terry put two on. They didn't stay there long, as the always dangerous Ott lashed a bases-clearing triple to right field. The Giants, 2½ innings in, led 3-1.
The Pirates tried a comeback in their half of the third. After French struck out, Lloyd Waner singled. Then brother Paul singled and advanced to second as the Giants' attempt to get Lloyd at third base failed. The Pirates were set up nicely with the Waners in scoring position and Traynor batting. Even Schumacher seemed unnerved as he unleashed his second wild pitch of the game in that crucial situation. He reacted quickly, though, to cover home plate successfully on catcher Gus Mancuso's throw to nab Lloyd Waner. The "out" call by home-plate umpire Beans Reardon was "hotly contested"13 by the Pirates — conveniently, manager Traynor was already on the scene. Still up, but with two outs, Pie could have used a duplicate of his first-inning hit here to score Paul Waner from third; instead, he grounded to short and the Pirates got nothing out of the once-rosy situation.
In the fourth inning, both teams got runners to third but failed to score. Pittsburgh started its sixth with promise, but Suhr was cut down at third on a botched sacrifice attempt for the first out and pitcher Red Lucas,14 pinch-hitting for Padden, grounded into a double play; New York's 3-1 lead stood.
The Giants bumped that to 5-1 in their seventh on Terry's clutch two-run single with two outs. Pittsburgh countered in the bottom of the eighth as Jensen's single scored Suhr with the second run of the inning and chased Schumacher. With the score now 5-3, two outs, and lefty-hitting Earl Grace, who had replaced Padden, coming to the plate as the potential tying run, Terry played some book baseball and brought in his ace, the portsider Hubbell.15 It worked, as Grace lined out to Homer Peel in center field for the third out.
The game ended 5-3, Giants. The Pirates advanced Lloyd Waner as far as second base with two outs in the ninth with Traynor up. There were no storybook heroics, though — as the rookie skipper flied out to center.
A little more than a week later, Pittsburgh had won seven of 11 games under Traynor and had closed to within 5½ games of the Giants.16 Over the new manager's 1934 tenure, however, the Pirates were a lackluster 47-52, and finished fifth, 19½ games behind the pennant-winning Cardinals. Pitching was the problem. It had been spotty under Gibson and with Traynor at the helm the hurlers didn't get better. Although the Pirates hit .287, their 4.20 ERA against a league average of 4.06 essentially assured the middle-of-the-pack finish. An undaunted Traynor, however, looked at the bigger picture. The October 2, 1934, Pittsburgh Press sports section carried a page-wide banner headline look ahead to the 1935 season hinting at why the club had installed him back in June.
"Pie Traynor peeled off his coat in the Pirates' winter baseball headquarters today and announced to the world that he is going to make every effort to give Pittsburgh a stronger baseball team next season. … Traynor isn't trying to kid himself and he knows there is plenty of work to be done before the Pirates go to spring training next March."17
This article appears in "Moments of Joy and Heartbreak: 66 Significant Episodes in the History of the Pittsburgh Pirates" (SABR, 2018), edited by Jorge Iber and Bill Nowlin. To read more stories from this book at the SABR Games Project, click here.
Acknowledgments
James Forr's SABR biography of Pie Traynor provided a good overview for my research, as did Pie Traynor, A Baseball Biography (Jefferson, North Carolina: McFarland & Co., Inc., 2010), which Forr co-authored with David Proctor.
Sources
In addition to the sources listed in the Notes, I used the Baseball-Reference.com and Retrosheet.org websites for box scores, play-by-play, player, team, and season pages, pitching and batting games logs, and other material pertinent to this account. The Newspapers.com website provided access to all of the cited newspaper articles except the item from The Sporting News, accessed through PaperofRecord.com.
https://www.baseball-reference.com/boxes/PIT/PIT193406190.shtml
https://www.retrosheet.org/boxesetc/1934/B06190PIT1934.htm
Notes
1 Born Harold Joseph Traynor on November 11, 1898, in Framingham, Massachusetts, Traynor acquired the nickname "Pie" in boyhood. The name stuck throughout his baseball and later business careers and appears with Traynor's given name on his Hall of Fame plaque.
2 McKechnie was born in Wilkinsburg, Allegheny County, Pennsylvania. The Pirates brought him to the majors in 1907, and after a two-season sojourn in the minors he played in Pittsburgh from 1910 through 1912. The Pittsburgh managerial post was his first in the majors, although the ultimate Hall of Fame inductee gained experience as a player-manager with the Newark (New Jersey) Federal League team in 1915.
3 McKechnie coached for the Cardinals in 1927, then managed them in 1928 and 1929. His 1928 team won the National League pennant. Mitchell Conrad Stinson, Deacon Bill McKechnie: A Baseball Biography (Jefferson, North Carolina: McFarland & Co., Inc., 2012), 123-128.
4 Chester L. Smith, "The Village Smithy," Pittsburgh Press, April 23, 1934: 27.
5Volney Walsh, "Gibson on 'Spot,' But He Laughs at Fans' Boos," Pittsburgh Press, June 18, 1934: 27.
6 Edward F. Ballinger, "Pie Traynor Given Gibson's Manager Post," Pittsburgh Post-Gazette, June 20, 1934: 16-17.
7 Trey Strecker, "George Gibson," SABR Baseball Biography Project, sabr.org. See also: "Pie Traynor," SABR Baseball Biography Project, sabr.org, where Traynor historian James Forr notes: "Officially, the Pirates said Gibson had resigned, but he admitted to friends that he had been fired."
8 Jack Berger, "A Pencil Interview With Our New Manager," Sports cartoon, Pittsburgh Press, June 20, 1934: 26.
9 Ralph Davis, "Traynor, as Pilot, Insists Bucs Make Better Use of Their Speed," The Sporting News, June 28, 1934: 1.
10 The first night game at Forbes Field was played on June 4, 1940. Lester Biederman, "Bees Open Night-Light Season Tuesday," Pittsburgh Press, June 2, 1940: 27.
11 "Pirate Notes," Pittsburgh Post-Gazette, June 20, 1934: 17. The Pirates had drawn 15,000 for the Tuesday home opener back in April and 40,000 for a Memorial Day doubleheader.
12 Chester L. Smith, "Traynor Gives Bucs Command – 'Hustle,'" Pittsburgh Press, June 20, 1934: 26, 28.
13 Ibid. Smith opines that Reardon badly blew the call and laments, "Something always turns up to thwart [the Pirates'] efforts," in reporting this play.
14 Lucas, who had 157 pitching wins in his major-league career, was often used as a pinch-hitter. Over 16 seasons (1923-1938) and 1,606 plate appearances, all in the National League, he hit .281 and drove in 190 runs.
15 In addition to 35 starts in 1934, Carl Hubbell made 14 relief appearances for the Giants. His eight saves (retroactively calculated) would have led the 1934 National League had that statistic then existed.
16 "Pirate Notes," Pittsburgh Post-Gazette, June 28, 1934: 14.
17 Volney Walsh, "Pie Plans to Rebuild Pirates for Next Season: This Year's Outfit, Without Changes, Will Wind Up in Third or Fourth Place Again Next Year, Pirate Manager Announces," Pittsburgh Press, October 2, 1934: 29.
Additional Stats
New York Giants 5
Pittsburgh Pirates 3
---
Forbes Field
Pittsburgh, PA
Box Score + PBP:
Corrections? Additions?
If you can help us improve this game story, contact us.
Tags
https://sabr.org/sites/default/files/Pie%20Traynor.png
600
800
admin
/wp-content/uploads/2020/02/sabr_logo.png
admin
2019-02-08 10:52:11
2020-04-17 10:23:39
June 19, 1934: Pie Traynor replaces George Gibson as Pirates manager