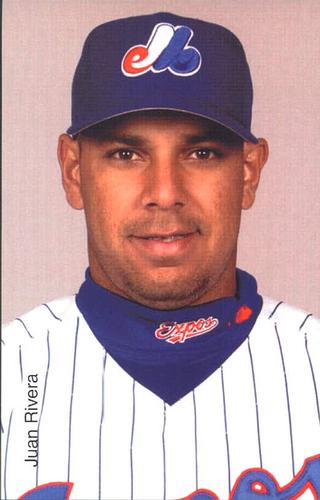 June 19, 2004: Blast-Off in the Big O
---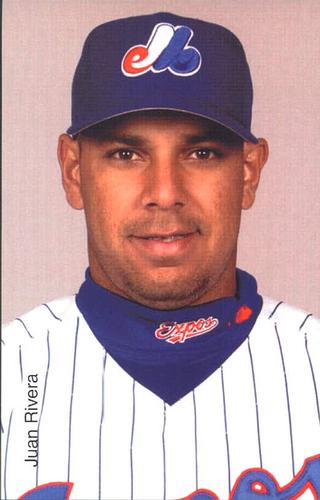 It was Juan wild night in an otherwise sad and dreary 2004 season at Olympic Stadium as the balls were flying out, even if the fans weren't filing in. And it's a game neither the Expos' Juan Rivera nor the White Sox' Juan Uribe was likely to forget.
This was a weird one in many ways: Rivera hit two home runs in one inning, including a grand slam; Uribe drove in seven runs; for White Sox starter Arnie Munoz, it was the first — and last — start of his major-league career; Expos reliever Jeremy Fikac made his final major-league appearance that night and won the seventh game of his career; and the Expos almost blew a 10-run lead.
At game time, the White Sox were in second place in the American League Central Division with a 35-28 record, a half-game behind the Minnesota Twins. The Expos, meanwhile, were going nowhere except to Washington with a 20-45 record and in last place in the National League East.
The game began innocently enough, with Expos starter Tony Armas setting the White Sox down 1-2-3 in the top of the first. In the bottom half of the inning, Munoz, making his first major-league appearance after being called up from the Birmingham Barons of the Double-A Southern Association, gave up a one-out double to third baseman Jamey Carroll. One out later, Carroll stole third with left fielder Carl Everett still waiting for the first pitch of his at-bat, then scored when Everett doubled to left to give the Expos a 1-0 lead. The White Sox tied it in the top of the second. Armas walked center fielder Aaron Rowand with two out, then gave up a run-scoring double to third baseman Jose Crede.
If Munoz had a case of the nerves in the first inning, he had an out-and-out anxiety attack in the second as the Expos sent everyone but the batboy to the plate, scored nine runs, and had one of their players, Rivera, perform a feat that had previously been done only 27 times since the National League came into being in 1876.
The carnage began when shortstop Orlando Cabrera led off with a single and scored on Rivera's home run to left-center. Munoz then became his own worst enemy when he hit the number-eight hitter in the lineup, catcher Brian Schneider, with a pitch. That brought up Armas, who sacrificed Schneider to second. Center fielder Brad Wilkerson moved Schneider to third with a single, but then gave Munoz a break by getting caught trying to steal second. At this point there were two out and two runs in. With a little luck, Munoz could have gotten out of the inning without too much damage. But alas, it was not to be.
Munoz walked the next batter, Carroll, then moved him up to second with a wild pitch. Second baseman Jose Vidro doubled home Schneider and Carroll to make the score 5-1. Everett was walked intentionally to bring up first baseman Nick Johnson, the ninth batter of the inning. That move failed when Johnson singled to score Vidro and move Everett to third. Cabrera came up for the second time in the inning, so Munoz decided to prove that the wild pitch to Vidro was no fluke by uncorking another one that sent Johnson to second. Cabrera walked on four pitches, bringing Rivera up again with the bases loaded.
We'll pause at this juncture to give a brief history of players who have hit two home runs in one inning. The first to do it was Charley Jones of the Boston Red Stockings in 1880. Prior to this game, the feat had been achieved only 27 times in the National League and 18 times in the American League. Oddly enough, the Expos had already done it four times even though they had been around only since 1969, while the Mets, Padres, and White Sox hadn't.
It is unlikely any of these facts were on Rivera's mind when he strode to the plate and sent the fourth pitch of the at-bat over the wall for a grand slam; he not only made history, but he gave the Expos a seemingly insurmountable 10-1 lead.
For whatever reason, Munoz was still on the mound when Carroll came to the plate in the bottom of the third after Wilkerson singled. He tripled to center, his second extra-base hit of the game, driving in the Expos'11th run. That was the extent of the damage and Munoz's night mercifully came to an end.
Many's the game where one team took a huge lead early only to fritter it away. Since the White Sox were proficient at both scoring runs (865, third in the American League in 2004) and home runs (242, tied for first in the AL in 2004 with the New York Yankees), it's no surprise that they didn't let an 11-1 deficit get to them. First baseman Paul Konerko led off the top of the fourth with a solo shot. Rowand followed that up with a double, and scored on a single by catcher Sandy Alomar. After Frank Thomas flied out pinch-hitting for the shell-shocked Munoz, leadoff hitter Timo Perez singled, and with runners on first and third, Uribe smacked a three-run shot to narrow the score to 11-6 Expos.
Cliff Politte came on in relief of Munoz and found out that Nos Amours really did have their hitting shoes on that night. He had a relatively easy fourth, giving up only a solo home run to first baseman Nick Johnson. The Expos then tacked on two more runs in the fifth. Wilkerson doubled, moved to third on a groundout by Carroll, and scored on a single by Vidro. Everett drove Vidro home with a double to right-center, giving the Expos a 14-6 lead.
Sun-Woo Kim had a scoreless fifth in relief of Armas, but his goose-egg streak ended at one. In the top of the sixth, singles by Alomar and Willie Harris (pinch-hitting for Politte) and a walk to Perez loaded the bases. Uribe then cleared the bases with a double to left. Expos manager Frank Robinson had seen enough and brought Rocky Biddle in to replace Kim. Biddle got the next three batters out to end the inning with the score now 14-9 Expos.
The Expos got one run back when the White Sox brought in reliever Michael Jackson to contribute to this thriller. Schneider singled with one out and was sacrificed to second by Biddle. Jackson walked Wilkerson intentionally, hit Carroll with a pitch to load the bases, then quite unintentionally gave Vidro a free pass and an RBI. After six, it was 15-9 Expos.
To the White Sox' credit, they didn't give up. In the top of the seventh, Biddle copied Jackson's style by loading the bases with one out. He hit Crede with a pitch, then walked Alomar. Harris singled to load the bases, and Biddle gave up a run-scoring single to Perez. Robinson, tired after all those walks to the mound, brought in Fikac. Uribe greeted him with a run-scoring single, and pinch-hitter Ross Gload drove home another two, also with a single. The Expos were still up, 15-13.
Something unusual happened in the bottom of the seventh. The Expos went down 1-2-3, thanks to the fourth White Sox pitcher of the game, Neal Cotts. It was the only inning in which they didn't score, and that gave the White Sox a fighting chance.
With all the runs, hits, and personnel changes, scorecards were starting to look like convoluted physics formulae. Chicago added to the mess in the top of the eighth. Rowand doubled and moved to third on a single by Kelly Dransfeldt (who had replaced Crede at third in the seventh), and scored when Alomar hit into a fielder's choice.
Now it was 15-14, but the Expos were determined not to let this one get away from them. Cotts did not duplicate his easy seventh. He gave up a single to Schneider and then a two-run homer to Terrmel Sledge, who came on as part of a double-switch in the top of the inning. Reliever Chad Cordero had a 1-2-3 ninth to end the game. After 31 runs, 35 players, and 33 hits, it was over. Final score: Expos 17, White Sox 14.
This article appeared in "Au jeu/Play Ball: The 50 Greatest Games in the History of the Montreal Expos" (SABR, 2016), edited by Norm King. To read more articles from this book, click here.

Sources
In addition to the sources listed in the notes, the author consulted:
Baseball-reference.com.
MLB.com.
Chicago Tribune.
Box scores for this game can be found on baseball-reference.com, and retrosheet.org at:
http://www.baseball-reference.com/boxes/MON/MON200406190.shtml
http://www.retrosheet.org/boxesetc/2004/B06190MON2004.htm
Additional Stats
Montreal Expos 17
Chicago White Sox 14
---
Olympic Stadium
Montreal, QC
Box Score + PBP:
Corrections? Additions?
If you can help us improve this game story, contact us.
Tags
https://sabr.org/sites/default/files/RiveraJuan.jpg
600
800
admin
/wp-content/uploads/2020/02/sabr_logo.png
admin
2017-11-14 14:18:20
2020-04-17 10:25:00
June 19, 2004: Blast-Off in the Big O