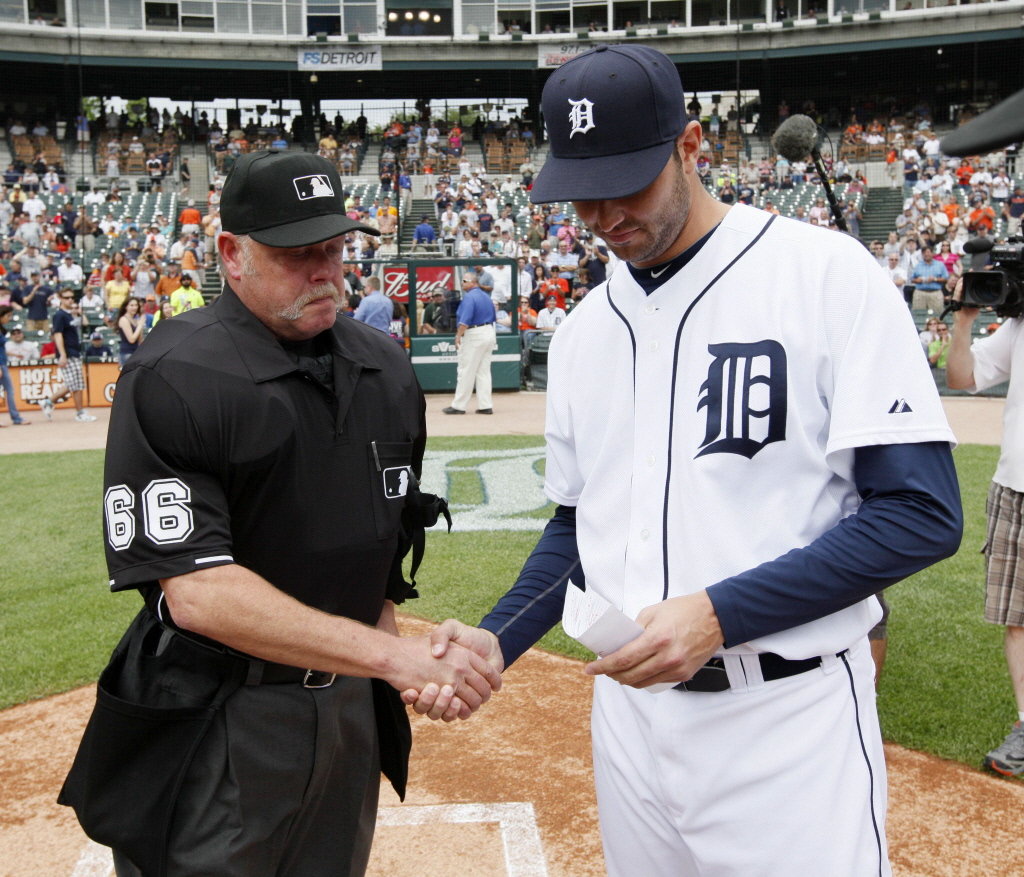 June 2, 2010: Blown call costs Tigers' Armando Galarraga a perfect game
---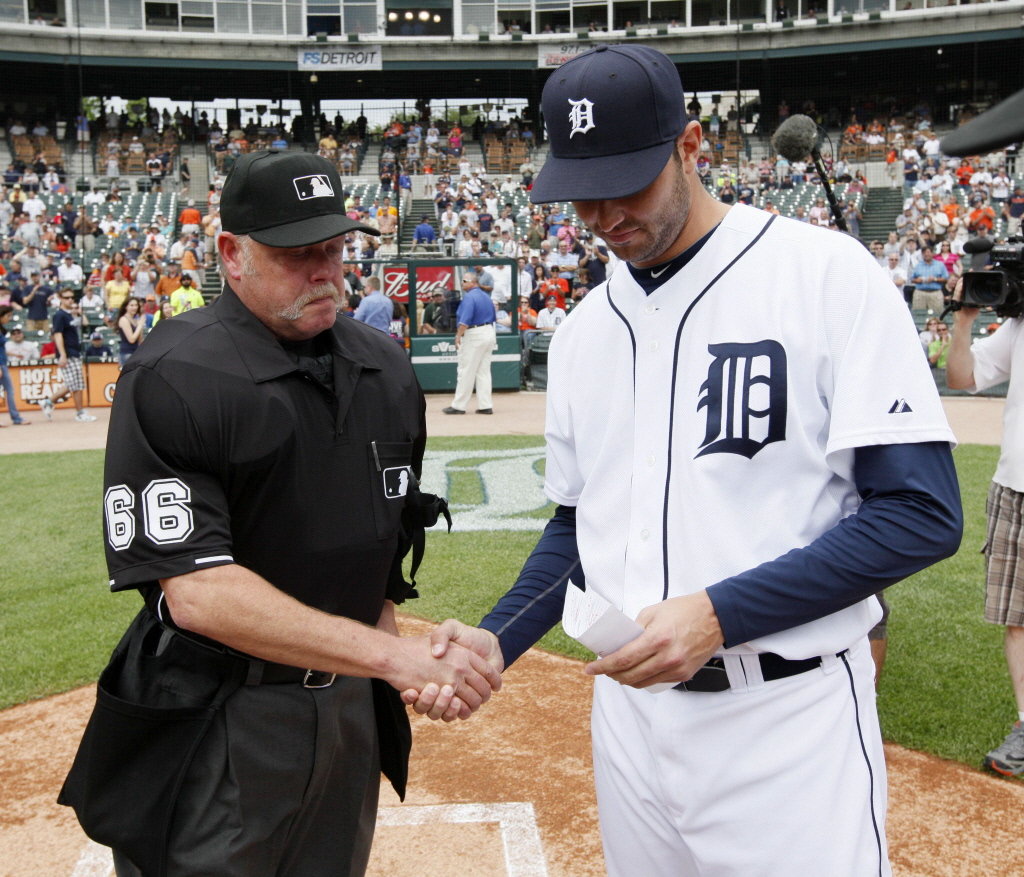 After a fourth-place finish in the 2008 American League Rookie of the Year voting, Detroit Tigers starting pitcher Armando Galarraga suffered a sophomore slump in 2009 that saw his ERA balloon by nearly 2 points. And things were not looking any better heading into the 2010 campaign, after manager Jim Leyland sent the 28-year-old to the minor leagues to begin the season after a poor performance in spring training.1 The need for an emergency spot starter brought Galarraga back to the big-league club in mid-May, however.2 And with the release of struggling starter Dontrelle Willis shortly thereafter, he was able to find a temporary place in the Tigers' starting rotation.3 Given the starting nod at home against the Cleveland Indians on the night of June 2, 2010, Galarraga made improbable history — and became an example of how to handle adversity with class and sportsmanship — even though he failed in his attempt to pitch a perfect game due to what was once termed as "the most heartbreaking call in baseball history."4
The Tigers drew first blood in the game off Indians starter Fausto Carmona in the bottom of the second inning on Miguel Cabrera's solo home run. The game remained a 1-0 pitchers' duel between Galarraga and Carmona until the bottom of the eighth inning, when Detroit padded its precarious lead on a single by Magglio Ordonez that scored Austin Jackson. Johnny Damon also scored on the play after a throwing error by Indians right fielder Shin-Soo Choo, giving the Tigers a 3-0 lead heading into the top of the ninth inning.
Although Carmona had pitched well in allowing only two earned runs in eight innings, it was Detroit's hurler who was truly magnificent. Galarraga had cruised through his first eight innings without allowing a single baserunner. And he made very easy work of the Indians' bats, with the only slight threats to that point coming in the fifth inning. During that frame, Galarraga took DH Travis Hafner to a three-ball count — Galarraga's only three-ball count of the game — before retiring him on a fly ball. Two batters later, Russell Branyan hit a ball up the middle that deflected off Galarraga, but charging third baseman Brandon Inge was able to scoop it up and toss Branyan out.5
Things were not as easy, however, when Galarraga faced Cleveland's Mark Grudzielanek to begin the top of the ninth inning. Grudzielanek crushed Galarraga's first offering deep to the left-center-field gap. Center fielder Jackson — doing his "best impression of Willie Mays" — made a spectacular over-the-shoulder catch after running the ball down to the edge of the warning track, however, to keep Galarraga's perfect game intact.6 "It was one of the most unbelievable catches I've ever seen," manager Leyland said the next day.7 After getting the next batter on a groundout, Jason Donald — the ninth hitter in Cleveland's lineup — was the only person standing in the way of Galarraga's quest to record only the 21st perfect game in the major leagues.
With the count at 1-and-1 — and with the 17,738 fans in attendance at Comerica Park on their feet cheering — Donald hit a groundball in the right-side hole. First baseman Cabrera backhanded the ball, then turned and threw to Galarraga, who had raced over to cover first base. Despite video replay evidence that clearly showed that the throw had indeed beaten the runner, longtime veteran umpire Jim Joyce emphatically called Donald safe on the play. Although Galarraga was certain his perfect game had just been robbed — with even the Indians' Donald looking "a bit distraught" by the call — the Tigers hurler did not have an expected "classic baseball meltdown."8 Instead, he gracefully smiled and walked away as the "boos echoed" at Comerica Park.9 "I was in shock," Galarraga later said. "I was nervous, angry, happy — so many feelings together. I didn't know how to react."10 Manager Leyland charged onto the field to protest the call, but to no avail.
Although Galarraga was now dealing with his first baserunner of the contest when play resumed, he continued to pitch from the windup to Cleveland's next batter, Trevor Crowe.11 This enabled Donald to advance all the way to third base on defensive indifference, but no harm was done when Crowe bounced out to end the game. Along with streaming onto the field to congratulate Galarraga on his phenomenal performance, Detroit players and coaches also took the opportunity to confront Joyce after having had the chance to see the replay — all the while the embattled umpire was being "booed lustily by the crowd."12 The final line of Galarraga's one-hit shutout and first career complete game included three strikeouts and only 88 pitches — with 67 of those being strikes.
"It was the biggest call of my career, and I kicked the (stuff) out of it," a distressed Joyce said in the umpires' locker room immediately after the game. "I just cost that kid a perfect game."13 Joyce apologized to Galarraga that night. "(Joyce) probably feels more bad than me," Galarraga said after their meeting. "Nobody's perfect. Everybody's human. I understand. I give the guy a lot of credit for saying, 'I need to talk to you.' You don't see an umpire tell you that after a game. I gave him a hug."14 Leyland was also sympathetic toward the doleful umpire. "It's a crying shame," the veteran manager said. "Jim is a class guy. This sounds crazy, but after looking at the play, nobody is going to feel worse than he does. I yelled a bit [at Joyce] after the game because emotions are high. You just want it so bad for the kid."15 A few days after the game, Joyce — "one of the game's most respected umpires" — admitted that he knew he had blown the call even before watching the replay.16
Fans, sportswriters, and even government officials appealed to Commissioner Bud Selig to overturn the blown call and award Galarraga the perfect game. Selig ultimately decided against establishing a potentially problematic precedent by reversing the call. He did, however, commit to evaluating the expansion of existing instant-replay rules as a result of the incident.17
Although Joyce and his family received death threats during the tumultuous night of Galarraga's near-perfect game, public opinion had quickly turned in his favor — largely due to his willingness to admit his mistake, apologize, and take responsibility.18 Further healing came during Detroit's series finale with Cleveland the next day. Before the game, General Motors honored Galarraga by presenting him with a new Chevrolet Corvette convertible.19 And with Joyce serving as home-plate umpire for the contest, Leyland enlisted Galarraga to deliver the lineup card to him in an attempt to calm fans and bring closure to the issue. The "majority of the fans rose and cheered" during the lineup exchange, while the tearful umpire shook hands with the smiling pitcher in a display of mutual respect.20 "I didn't expect (to see Galarraga)," an emotional Joyce said after the game. "That shows me a lot of class. The sportsmanship that he holds in his inner being is right there with the best of them."21
As a testament to the historical importance of the game, the National Baseball Hall of Fame and Museum requested that Galarraga's spikes, the first base, and a ball from the contest be donated to document the "seminal" moment in the annals of baseball.22 Galarraga and Joyce also received commendation for their exemplary sportsmanship from then-President Barack Obama. "I thought that showed something about sportsmanship that you don't see enough of in America today," the president said.23 Additionally, in a show of unity Galarraga and Joyce jointly presented an award during the prominent ESPYS ceremony held a little more than a month after their incident.24 In 2011 the pair teamed up again to write a book about their experience. And when asked several years later about the experience he shared with his unlikely ally, Galarraga still had no bitterness. "It was a good experience for me," he said.25
Sources

The author accessed Baseball-Reference.com (www.baseball-reference.com/boxes/DET/DET201006020.shtml) for box scores/play-by-play information and other data as well as Retrosheet (www.retrosheet.org/boxesetc/2010/B06020DET2010.htm)
In addition to the sources cited in the Notes, the author also accessed ESPN.com; Newspapers.com; and YouTube.com.
Notes
1 Shawn Windsor, "Former Starter Galarraga Sent to Mud Hens," Detroit Free Press, March 19, 2010: 2B.
2 John Lowe, "Redemption for Galarraga?" Detroit Free Press, May 15, 2010: 2B.
3 John Lowe, "In Return to the Tigers' Rotation, Galarraga Seeks Permanent Role," Lansing State Journal, May 16, 2010: 1D; John Lowe, "D-Train Is Done in the D," Detroit Free Press, May 30, 2010: 11C.
4 Tom Verducci, "A Heartbreaking Call That Could Change the Course of Baseball," Sports Illustrated, si.com/more-sports/2010/06/02/joyces-missedcall, June 2, 2010, accessed March 29, 2018.
5 John Lowe, "Perfect Mistake," Detroit Free Press, June 3, 2010: 4C.
6 Michael J. Happy, "Jackson's Catch Saved It — for a While," Fox Sports Detroit, foxsports.com/west/story/jacksons-catch-saved-it-for-a-while-060210, June 2, 2010, accessed March 29, 2018.
7 Chris Iott, "Tigers Still in Awe of Austin Jackon's sic Catch in Armando Galarraga's Perfect Game Bid," MLive, mlive.com/tigers/index.ssf/2010/06/tigers_still_in_awe_of_austin.html, June 3, 2010, accessed March 29, 2018.
8 Ted Berg, "Retiring Journeyman Armando Galarraga Leaves Behind an Outsized Legacy," USA Today, ftw.usatoday.com/2015/12/armando-galarraga-perfect-game-jim-joyce-retirement-replay-detroit-tigers-mlb, December 8, 2015, accessed March 29, 2018.
9 Associated Press, "Blown Call Costs Galarraga," Times Herald (Port Huron, Michigan), June 3, 2010: 1B.
10 Paul White, "Missed Call Leaves Detroit's Armando Galarraga One Out Shy of Perfect Game," USA Today, content.usatoday.com/communities/dailypitch/post/2010/06/detroits-armando-galarraga-3-outs-from-another-perfect-game/1#.Wr2X8YjwbIU, June 2, 2010, accessed March 29, 2018.
11 Tyler Kepner, "Perfect Game Thwarted by Faulty Call," New York Times, nytimes.com/2010/06/03/sports/baseball/03detroit.html, June 2, 2010, accessed March 29, 2018.
12 Associated Press, "Detroit Tigers' Armando Galarraga Loses Perfect Game Bid on Controversial Call by Umpire Jim Joyce," New Jersey On-Line, nj.com/yankees/index.ssf/2010/06/detroit_tigers_armando_galarra.html, June 2, 2010, accessed March 29, 2018.
13 Larry Lage, "Galarraga Almost Perfect Against the Indians," News-Messenger (Fremont, Ohio), June 3, 2010: B1.
14 White, "Missed Call Leaves Detroit's Armando Galarraga One Out Shy of Perfect Game."
15 Ibid.
16 Berg, "Retiring Journeyman Armando Galarraga Leaves Behind an Outsized Legacy"; Shawn Windsor, Mark Snyder, Jo-Ann Barnas, and John Lowe, "An Ump and the Margin of Error," Detroit Free Press, June 6, 2010: 6C.
17 "Extra Points," Detroit Free Press, June 4, 2010: 1B; Robert Gibbs, "Press Briefing by Press Secretary Robert Gibbs," White House Office of the Press Secretary, web.archive.org/web/20100607063754/http://www.whitehouse.gov/the-press-office/press-briefing-press-secretary-robert-gibbs-632010, June 3, 2010 (archived by the Internet Archive from the original on June 7, 2010), accessed March 29, 2018; John G. Robertson and Andy Saunders, The Games That Changed Baseball: Milestones in Major League History (Jefferson, North Carolina: McFarland & Company, 2016), 227-228; Shawn Windsor, "Taking the High Road," Detroit Free Press, June 4, 2010: 1B.
18 "Extra Points"; Robertson and Saunders, The Games That Changed Baseball: Milestones in Major League History.
19 Izzi Bendall, "Detroit Tigers Pitcher Armando Galarraga Gets a 2010 Chevrolet Corvette from GM," Autoweek, autoweek.com/article/car-news/detroit-tigers-pitcher-armando-galarraga-gets-2010-chevrolet-corvette-gm, June 2, 2010, accessed March 29, 2018.
20 Windsor, "Taking the High Road."
21 Ibid.
22 John Odell, "Perfect Sportsmen," National Baseball Hall of Fame and Museum, baseballhall.org/perfect-sportsmen, accessed March 29, 2018; Associated Press, "Bagged! Hall of Fame to Get Base, Spikes of Armando Galarraga Gem," MLive, mlive.com/tigers/index.ssf/2010/06/bagged_hall_of_fame_to_get_bas.html, June 8, 2010, accessed March 29, 2018.
23 "Extra Points," Detroit Free Press, June 9, 2010: 1B.
24 Aaron Gleeman, "Armando Galarraga and Jim Joyce, Together Again at ESPYs," NBC Sports, mlb.nbcsports.com/2010/07/15/armando-galarraga-and-jim-joyce-together-again-at-espys, July 15, 2010, accessed March 29, 2018.
25 George Sipple, "Armando Galarraga Retires, Wants to Be Pitching Coach," Detroit Free Press, freep.com/story/sports/mlb/tigers/2015/12/07/armando-galarraga-retires-detroit-tigers/76929124, December 7, 2015, accessed March 28, 2018.
Additional Stats
Detroit Tigers 3
Cleveland Indians 0
---
Comerica Park
Detroit, MI
Box Score + PBP:
Corrections? Additions?
If you can help us improve this game story, contact us.
Tags
https://sabr.org/sites/default/files/Galarraga-Armando-Joyce-Jim-2010.jpg
600
800
admin
/wp-content/uploads/2020/02/sabr_logo.png
admin
2018-05-22 14:29:07
2020-04-17 10:24:47
June 2, 2010: Blown call costs Tigers' Armando Galarraga a perfect game