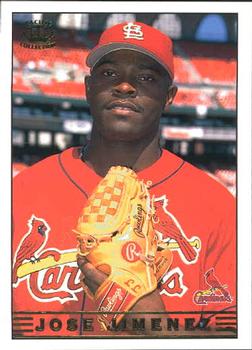 June 25, 1999: Cardinals' José Jiménez throws a no-hitter in Arizona
---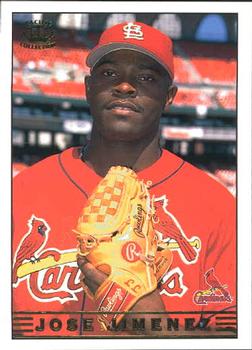 The 1999 SABR convention in Scottsdale, Arizona, included a trip to a St. Louis Cardinals-Arizona Diamondbacks game in Phoenix. During the afternoon of Friday, June 25, members in the lobby of the convention hotel discussed that night's game with anticipation because Randy Johnson was pitching for Arizona.
"Who's pitching for St. Louis?" asked one member. "José Jiménez," was the reply. The mention of Jiménez, a nonentity in contrast to the Cooperstown-bound Johnson, brought up a better-known but fictional José Jiménez, the creation of comedian Bill Dana. One member did the Dana éshtick, "My name Jose Jiménez." By the end of the night SABR members and others treated the real José Jiménez with greater respect.
Johnson, who already had a no-hitter and a Cy Young Award in his career, was going for his 10th win of the 1999 season while Jiménez, a rookie, had lost seven of his last eight decisions. Regardless of reputations and recent performances, both were outstanding as they performed before a crowd of more than 45,000 that included several hundred SABR members.
Jiménez made it through the first three innings by allowing only a walk and hit batter. Johnson was even better, retiring the first nine batters and at one point striking out five Cardinals in a row. However, Super Joe McEwing extended his hitting streak to 17 with a double inside third base to lead off the top of the fourth. One of the SABR members, lamenting the end of a possible no-hitter for Johnson, jokingly observed, "Well, maybe Jiménez can pitch a no-hitter."
Darren Bragg moved McEwing to third with a sacrifice as Johnson decided against trying to throw out McEwing and opted for the safer move of retiring Bragg at first. Johnson then faced his former college teammate at the University of Southern California, Mark McGwire.
Big Mac was also one of the star attractions for the fans. The season before, he had hit 70 home runs and the night before McGwire had hit his 23rd of the 1999 season. Johnson won this matchup, getting McGwire to look at a third strike, and then got Eric Davis to ground out to end the inning.
The Cardinals threatened again in the fifth when Edgar Renteria doubled with one out but failed to advance on what would have been a passed ball with Alberto Castillo at bat. Castillo lined out to third baseman Matt Williams, who threw to Jay Bell to double Renteria off second.
David Howard led off the top of the sixth with a double, but the Cardinals again couldn't capitalize. Jimenez, trying to sacrifice, struck out, as did the following batters, McEwing and Bragg. Johnson now had nine strikeouts in the game and had gotten through the threats the Cardinals had produced in the middle innings.
Jiménez still had his no-hitter into the bottom of the sixth when Andy Fox hit a drive to right-center. Racing to his right, Eric Davis made a diving catch. Johnson hit a liner to center that held up long enough for Bragg to make a catch around his ankles. Those two at-bats were the closest to anything the Diamondbacks came to a hit to that point.
In the bottom of the eighth a couple of fans ran onto the field, delaying the game but failing to rattle Jiménez, who finished the inning still hit-free. Of bigger concern was the need for St. Louis to score to allow Jiménez the chance to complete a no-hitter.
With one out in the top of the ninth, Johnson walked Bragg on a 3-and-2 pitch, and McGwire looked at four balls to put runners at first and second. Johnson came back to strike out Davis — his 14th strikeout of the game and the 2,500th of his career – and looked as though he would work his way out of another jam as he faced a lesser threat, Thomas Howard.
Howard broke his bat and sent a liner to left, softly enough hit that it dropped in front of Luis Gonzalez. Bragg scored, and McGwire was thrown out trying to go to third on the play, but St. Louis finally had the run it needed to give Jiménez his chance for a no-hitter.
Andy Fox thought he had walked on a 3-and-2 pitch to open the bottom of the ninth, but plate umpire Bruce Froemming had a different thought, calling him out on strikes. David Dellucci hit for Johnson and delivered a fly to right-center, similar to where Fox had placed his in the sixth. Davis put on the same show he had earlier, running right, extending, and catching the ball as he tumbled to the ground.
This time Davis celebrated a bit after the catch, whipping his arm around his body with enough vigor to have the ball come out. Umpires Mark Wegner and Jeff Nelson both signaled out, and Arizona manager Buck Showalter came out to argue, probably not so much because of a sincere opinion that the call was incorrect as it was to upset Jiménez's rhythm.
Once again, the rookie resisted. He got a called strike on Tony Womack, who grounded the next pitch to McEwing at second. A scoop and throw to first set off a celebration as Jiménez had a no-hitter. He became only the second St. Louis rookie to pitch a no-hitter, joining Paul Dean, who had done it in 1934.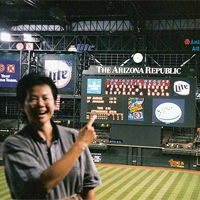 A no-hitter by a visiting pitcher brings mixed reactions from the crowd. However, the SABR contingent — most of whom had no allegiance to either team and also appreciated the significance of such a feat — was thrilled by the results. Some were disappointed by the lack of excitement by others as they walked out, even overhearing one young Diamondback fans say to his dad, "What a lousy game. We didn't even get a hit!"
However, the buzz missing from the concourse was evident in the buses SABR members boarded to get back to their hotel. "First no-hitter?" one member asked as members got on the bus. Regardless of the answer, the SABR members were agog at what they had seen.
As one bus rolled back to Scottsdale, Paul Rittenhouse remarked loudly, "Like I always say, if you want to see a no-hitter, go the night Randy Johnson pitches."
Johnson had pitched in tough luck that night, and it remained so through his next few starts. The Diamondbacks gave him barely any more support after failing to get him a hit on this night. His next time out, Arizona produced only one hit at Cincinnati as Johnson lost 2-0 to the Reds on June 30. On July 5 the Diamondbacks went to St. Louis and Johnson dueled Jiménez again with nearly similar results– the Cardinals won 1-0 as Jiménez pitched a two-hitter. Arizona managed three hits but no runs on July 10 in losing 2-0 as Johnson had another strong outing in a losing effort.
Johnson won 17 games in 1999, tying him for the eighth most in the National League, but he led the league with a 2.48 earned-run average. Voters for the Cy Young Award recognized that a pitcher will have trouble winning when his team gets shutout four times in a row while he's on the mound, and Johnson received the award, the second of his career and the first of another four in a row.
Arizona also survived the setback of being held hitless. Despite the loss, the Diamondbacks, with a 42-32 record, were still in first place by two games over the San Francisco Giants. Arizona increased that gap, won 100 games, finished 14 games ahead of the Giants, and went to the playoffs in only their second year of existence.
Sources
Retrosheet.org: http://www.retrosheet.org/boxesetc/1999/B06250ARI1999.htm
Baseball-reference.com: http://www.baseball-reference.com/boxes/ARI/ARI199906250.shtml
Rick Hummel, "Jimenez Gives Arizona Nothing," St. Louis Post-Dispatch, June 26, 1999, 4 OT.
Author's scoresheet from game and author's memory of the SABR convention.
Additional Stats
St. Louis Cardinals 1
Arizona Diamondbacks 0
---
Bank One Ballpark
Phoenix, AZ
Box Score + PBP:
Corrections? Additions?
If you can help us improve this game story, contact us.
Tags
http://sabr.org/sites/default/files/JimenezJose.jpg
600
800
admin
/wp-content/uploads/2020/02/sabr_logo.png
admin
2022-09-27 00:32:05
2022-09-28 17:23:18
June 25, 1999: Cardinals' José Jiménez throws a no-hitter in Arizona