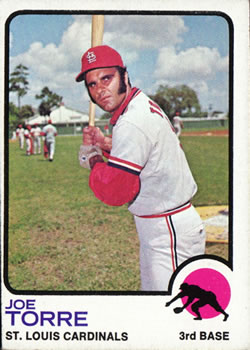 June 27, 1973: Cardinals clobber Pirates as Torre hits for the cycle
---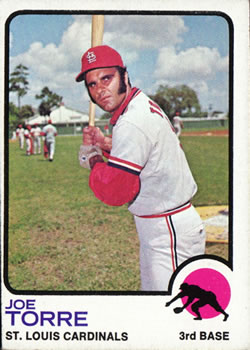 In the first of a two-game series with the division rival St. Louis Cardinals, Pittsburgh Pirates pitcher Jim Rooker was given his first National League start by skipper Bill Virdon. The former Kansas City Royals hurler had made 23 appearances, all in relief, since joining the Pirates after an offseason trade for Gene Garber.1 The Cardinals sent right-hander Reggie Cleveland to the mound to oppose Rooker. Cleveland had won the 1971 NL Rookie Pitcher of the Year Award and was making his 15th start of 1973. While Cleveland kept the Pittsburgh bats in check, Rooker responded by "giving the Cardinals seven earned runs on eight hits before being lifted with one out and two on in the third inning."2     
The "clobbering by the Cards"3 was witnessed by 33,041 fans at Three Rivers Stadium. More than half of them (16,617) were guests of a local bread company. The 16-and-under youngsters were admitted to the ballpark if they produced six bread wrappers. According to the Pittsburgh Post-Gazette, almost 100,000 wrappers were turned in, equating to $38,000 worth of bread. The company paid the Pirates 65 cents for each youngster admitted. The crowd was treated to an offensive show by the visiting team that included seeing Joe Torre hit for the cycle.  
Rooker was roughed up from the start. Lou Brock and Ted Sizemore hit back-to-back singles to center. Torre then drove a double to center, plating Brock. Ted Simmons followed with a two-run double to right, and St. Louis led 3-0, before the first out was registered. Rooker settled down to retire Ken Reitz on a groundout and struck out Bill Stein and Jose Cruz.  
The Pirates fought back in their half of the first. Gene Clines singled and went to third when Al Oliver doubled with one down. Willie Stargell lifted a fly ball to left for Pittsburgh's first tally.
 After Rooker retired Sizemore to begin the third, Torre and Simmons slugged back-to-back home runs, igniting a seven-hit, six-run inning. Reitz singled, Stein doubled, and Virdon strode to the mound to make a pitching change. Luke Walker, a lefty in his eighth season with the Pirates, entered the fray but could not silence the St. Louis bats. He allowed Cruz and Mike Tyson to reach on RBI singles. Cleveland then hit a grounder to Richie Hebner at third, who threw the ball past first baseman Bob Robertson. Cruz scored and Tyson advanced to third, but Cleveland was thrown out at second when right fielder Clines gunned the ball to Robertson (who was covering the bag at second). Walker threw a wild pitch, allowing Tyson to cross the plate, and the Cardinals led, 9-1.  
With Bob Johnson now on the mound for Pittsburgh, Torre led off the next inning with a triple to left. He trotted home on a fly by Simmons. After only four innings of play, Torre was a single shy of hitting for the cycle. He had another chance in the fifth, with runners at first and third and only one out, but he grounded into a 5-4-3 double play to end the inning. In the bottom of the fifth, Cleveland ran into a bit of trouble. Manny Sanguillen led off with a single and Cleveland walked Robertson. An out later, Dave Cash batted for Johnson and stroked a single to center with Sanguillen scoring.  
Steve Blass entered the game in the sixth with mop-up duty for the Pirates. A starter for almost all of his career, Blass was sent to the bullpen two weeks before this game, after 12 starts in which he pitched into the sixth inning only five times. His ERA was 9.44 entering this game. The Cardinals reached Blass for a run in the seventh when Brock singled Cruz home from second.  
In the bottom of the seventh, Hebner and Robertson deposited balls beyond the fence. Hebner led off with his 12th homer, while Robertson's solo shot (his ninth home run) came after Sanguillen had grounded out. Those were the last runs Pittsburgh would score.  
Torre led off the eighth still looking for a single. Instead, Blass gave him a base on balls. He moved to third on Reitz's single, but both runners were stranded. According to the St. Louis Post-Dispatch, "Torre came very close to missing a chance at hitting for the cycle. After walking in the eighth inning, he asked manager Red Schoendienst to give him the rest of the night off. But Schoendienst, sniffing a possible extra chance, pointed Torre to first base."4 After the game Torre said, "You have to give Red an assist — I'm glad he ignored me this time."5 Schoendienst admitted, "There were only two innings to go. I told him he might get another shot. I told him to stay in there."6 
That extra shot did arrive in the top of the ninth, Blass retired Tyson and Cleveland on infield grounders. Bernie Carbo, who had replaced Brock in left field in the eighth, drew a walk, as did Sizemore. This brought Torre back to the batter's box. He singled into center field, driving in Carbo and completing the cycle. Torre clapped his hands as he ran to first base. Simmons then doubled (Sizemore scored) and Reitz hit his fourth single of the game, driving in Torre and Simmons. Reitz tried to stretch the hit into a double but was thrown out at second for the final out. Cleveland pitched a 1-2-3 ninth and the game ended 15-4.  
Every starter (including Cleveland the pitcher) for the Cardinals joined in on the hit parade. Although Carbo did not get a hit, he did walk and score a run. The heart of the St. Louis lineup — Torre, Simmons, and Reitz — collected half of the season-high 22 hits, drove in 10 runs, and scored seven. Simmons's five RBIs set a career high. Brock and Cruz added three hits each to the attack.  
Cleveland went the distance for the Cardinals, upping his record to 8-5. He commented that his teammates were aggressive in the batter's box. "We were ahead by 9-1, yet they went up there swinging at the first pitch."7 Cleveland scattered seven hits in the complete-game win, including the two homers, while striking out five Pirates.  
Rooker took the loss for Pittsburgh, his second of the season. Walker, who pitched only in the third inning, said, "The harder you try, the worse it gets."8 All 15 of the Cardinals runs were earned. The loss dropped Pittsburgh back into last place in the National League East Division, 10½ games behind the Chicago Cubs. Virdon lamented that "it was the worst game of the season."9 The struggling Pirates had surrendered 25 runs and 35 hits in their last two games.  
After the game, Torre said it was "like having a day off."10  He explained: "I'm a terrible ballplayer when I go for myself. In a game so one-sided, though, you can just sit back and relax."11  His 4-for-5 performance, with a walk, raised his batting average 11 points, to.330. All of his seven home runs to this point in the season came on the road. Torre, who had 51 career three-baggers in 13-plus seasons entering this game, said, "I didn't think I'd ever hit for the cycle because I'm not a triples hitter."12 (His triple in this game was one of only two he hit all season.)13  He admitted that he was "pressing like crazy"14  for the single. "If I would have hit that last ball off the wall I would have stopped at first base," Torre said, adding, "It was a 3-and-1 pitch and I sure wasn't going to take another walk."15  
Torre's rare feat came nine seasons after Ken Boyer hit for his second career cycle (June 16, 1964 — Boyer's first came on September 14, 1961), and it was the 14th time a Cardinals player had hit for the cycle.16  His cycle was the only one in in the majors during the 1973 season.    
Sources  
In addition to the sources mentioned in the Notes, the author consulted baseball-reference.com, mlb.com, sabr.org and retrosheet.org.  
baseball-reference.com/boxes/PIT/PIT197306270.shtml.   retrosheet.org/boxesetc/1973/B06270PIT1973.htm.  
Notes
1 Rooker had made 68 starts in 106 games for the Royals, compiling a 21-44 record. In eight seasons in Pittsburgh, Rooker started in 187 of 213 contests, going 82-65 in his 147 decisions.
2 "Torre Leads Cards Past Poor Pirates," Daily Notes(Canonsburg, Pennsylvania), June 28, 1973: 5.
3 Charley Feeney, "Cards Stagger Limp Bucs, 15-4," Pittsburgh Post-Gazette, June 28, 1973: 14.
4 Neal Russo, "Torre's Cycle Powers Cards," St. Louis Post-Dispatch, June 28, 1973: 1B.
5 Ibid.
6 Jeff Samuels, "Bucs Lambasted, 15-4," Pittsburgh Press, June 28, 1973: 40.
7 Feeney.
8 Samuels.
9 Daily Notes.
10  Ibid.
11  Ibid.
12  Russo.
13  Torre had hit his other 1973 triple on May 3 against the San Diego Padres.
14  Russo.
15  Samuels.
Additional Stats
St. Louis Cardinals 15
Pittsburgh Pirates 4
---
Three Rivers Stadium
Pittsburgh, PA
Box Score + PBP:
Corrections? Additions?
If you can help us improve this game story, contact us.
Tags
https://sabr.org/sites/default/files/Torre-Joe-1973.jpg
600
800
admin
/wp-content/uploads/2020/02/sabr_logo.png
admin
2019-03-01 10:20:17
2020-06-16 15:27:31
June 27, 1973: Cardinals clobber Pirates as Torre hits for the cycle