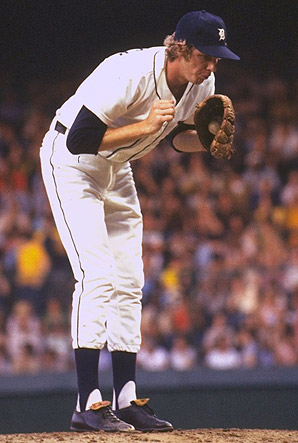 June 28, 1976: The Bird captivates the nation
---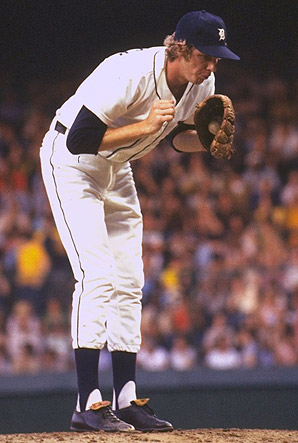 Baseball fans throughout the country in 1976 had been hearing the scattered chatter, ever since mid-May. Talk of something new and exciting happening in Detroit. Some rookie pitcher with long hair. Didn't they say he talked to the baseball? Got on his knees before each inning and groomed the mound? Stomped around the field like a hyperactive kid? Kind of a flake? He certainly hadn't been pitching like one. He'd started eight games, winning seven of them. Of his seven complete games, two were 11-inning affairs. His only loss was a complete-game six-hitter in which he'd given up only two runs, while the Tigers had been shut out. His ERA was hovering in the low 2's. "I don't think even Walter Johnson even started this fast," said his manager, Ralph Houk.1
And he was drawing crowds. Big crowds. The year before, the Tigers had lost 102 games, an awful team with no identity, which had given their fans no reason to want to come out to Tiger Stadium. But suddenly here was this gregarious 21-year-old kid, who came out of nowhere to mow down hitters and wow the fans, who were packing the ballpark. He was from Worcester, Massachusetts, and his name was Mark Fidrych. But they called him The Bird because his curly golden locks made him look like Big Bird, one of the signature Muppet characters from "Sesame Street." And June 28, 1976 was the night that greatness was thrust upon him, as the rest of the nation finally found out what all the fuss was about.
Here were the Tigers, an otherwise ordinary team, facing the Yankees, who had been making mincemeat of the rest of the American League. New York was in first place by a wide margin, with stars like Thurman Munson, Chris Chambliss, Graig Nettles and Mickey Rivers. New York's manager was Billy Martin, who had guided Detroit to a division title just a few years before. The ABC television network was featuring the game on "Monday Night Baseball," to be broadcast coast to coast (except in Detroit itself, where the game was blacked out). Tiger Stadium was rocking from the get-go, with 47,855 Birdwatchers. Thousands, according to various estimates, were turned away when the box office ran out of tickets. Things hadn't been this exciting at the corner of Michigan and Trumbull since the Tigers won the World Series in 1968. "My phone started ringing at eight in the morning and didn't stop all day," noted Detroit's Bill Freehan, who had starred on that '68 team, and was now in his final year. "Everyone wanted tickets to see The Bird pitch."2
Reporters wanting to learn more about Fidrych peppered him with questions before the game. Surely he must feel some sense of awe to face the Yankees? Had he ever heard of Mickey Mantle? "Sure," he said, "he was a ballplayer, but now he's retired." What about Roger Maris? "No," chirped The Bird, "never heard of him." OK, maybe that's going back a ways, but what about the 1968 Tigers? He must have heard of them, since he would have been 12 years old at the time. "I was only 11, but I never heard of them, either. I was too busy working trying to make a living. Carry groceries, carry golf clubs — anything to make a buck. I had to go out once in a while, you know."3
Game time neared. The fans stood up and cheered as Fidrych bolted out of the dugout and headed for the bullpen for his pregame warm-up. Once the contest started, the Bengals jumped out in front in the first inning on a two-run homer by Rusty Staub. That was all they needed in a 5-1 win. In yet another complete game, Fidrych clowned the Yankees, scattering seven hits with zero walks, the only New York tally being a home run by Elrod Hendricks. The radar gun had him clocked as high as 93 miles an hour, both in the first inning and in the ninth. Working quickly, he talked to the ball (or to himself) the whole time. But it was his excellent control, hard slider, and fearlessness that gave the Yanks fits all evening. The game lasted only an hour and 51 minutes. The Bird was now 8-1. All the while, he was, in the words of Detroit Free Press writer Charlie Vincent, "a perpetual motion machine on the mound."4
Near the end, Bob Uecker, one of the announcers on the ABC broadcast, raved, "I gotta tell you. … I've seen a lot of ball games played, and I've caught a few. I don't think I've ever seen a pitcher this keyed up, in the ninth inning of a ball game, or all through the ball game. You'd think this guy'd be running out of gas by now …but he is just starting to heat it up."5 Not to be outdone, his broadcast partner, Bob Prince, marveled, "He's giving me duck bumps and I've watched over 8,000 ballgames!"6 The crowd kept chanting "Let's Go Mark!" Elrod Hendricks grounded out to end the game, but the drama was just beginning. Also in the ABC booth was Warner Wolf. As Fidrych dashed off the mound to hug backstop Bruce Kimm — who caught all of Fidrych's starts that season — as well as other teammates, Wolf cried, "And the Tigers act like Fidrych has just won the seventh game of the World Series!"7 Prince added, "He is some kind of unbelievable!"8 The Bird hopped around, shaking hands with teammates, with the umpires, with anybody in his path, much to Wolf's utter amazement. "Young Mark Fidrych, thanking his teammates! Look at that, he's thanking his teammates! He's thanking the umpires … everybody … the ground crew!"9 Then The Bird ducked into the dugout and disappeared down the runway.
But nobody left. Nobody went home. The fans stood chanting "We want Mark! We want Mark!" "He's gotta come back," Wolf declared. "Come on, Mark! Nobody has left the ballpark!"10 The clubhouse attendant had to go back and find Fidrych to tell him to get himself back out there. Finally, after about two minutes, a dazed Bird popped back up out of the dugout, doffing his cap with a boyish grin. Tiger Stadium erupted again. He reached over the top of the dugout, shaking fans' hands (including those of a policeman). Overcome with emotion, Fidrych covered his head in his arms, and tried to escape into the dugout, but his teammates urged him back onto the field.
Uecker corralled Fidrych in front of the Detroit dugout for an interview. "Mark," he noted, "I've never seen anything like this in my life, and I know it's a very emotional moment for you."11 "Hell, yeah," said Fidrych.12 The Bird's youthful innocence was on full display, as he claimed that "everything is just so new to me." He referred to Hendricks, who had hit the home run, as "that one guy." "Damn," he said at one point, "I couldn't ask for anything more!" Uecker asked him what he was doing when he was grooming the mound. "I want to dig my own hole," The Bird clarified. The camera got a close-up of Fidrych's oversized feet as he stood there, sans shoes, in stirrups and dirty stockings. "I never played before this many people before. In the minor leagues, sometimes they had 2,000 people there. And when the place is packed, you want to do good."13 The national television audience ate up The Bird. On a warm June night in Detroit, his legend had been born.
His teammates were enthusiastic in their praise of the rookie. "The best part about this game," said Freehan, "was that with all of its ballyhoo, Fidrych didn't disappoint them. Lots of times in these situations the game turns into a dud. … It takes a lot of courage, ability, and concentration to do what he did."14
"Every person can see the enthusiasm in Mark," gushed Staub. "He brings out exuberance and an inner youth in everybody. It's contagious."15
"[Denny] McLain didn't draw that many people," said John Hiller, a teammate of McLain's on the 1968 championship squad. "I even watched the game. I don't usually do that."16
"It was fun as hell," noted Mickey Stanley, another '68 hero. "It was like a World Series game."17
The Yankees won the American League pennant in 1976. The Tigers finished fifth. Mark Fidrych numbered 19 wins, led the AL in complete games with 24, and ERA at 2.34. After the season, he became the first baseball player ever to get his picture on the cover of Rolling Stone magazine. But arm problems cut short his career seemingly before it had even started. At age 26, his time in the big leagues was finished. But the memories lasted forever. "One word doesn't describe it," Fidrych said of that exciting summer of '76. "It was the ultimate."18
This article originally appeared in "Tigers by the Tale: Great Games at Michigan & Trumbull" (SABR, 2015), edited by Scott Ferkovich.
Notes
Additional Stats
Detroit Tigers 5
New York Yankees 1
---
Tiger Stadium
Detroit, MI
Box Score + PBP:
Corrections? Additions?
If you can help us improve this game story, contact us.
Tags
http://sabr.org/sites/default/files/images/FidrychMark.jpg
600
800
admin
/wp-content/uploads/2020/02/sabr_logo.png
admin
2014-07-17 23:39:18
2020-04-17 10:26:59
June 28, 1976: The Bird captivates the nation